| | |
| --- | --- |
| www.ourladyscenter.net • 410-461-5066 | |

December is dedicated to Advent.
While the world rushes ahead in festivities and activities often devoid of their primary purpose, we wait, pray, and prepare ourselves to welcome the Christ Child into our hearts. More here.
O come, O come, Emmanuel and ransom captive Israel that mourns in lonely exile here until the Son of God appears. Rejoice! Rejoice! Emmanuel shall come to thee, O Israel.
Thy Word Newsletter
December 2015
St. Nicholas comes to
Our Lady's Center
December 7th, 10:30 am

Mass for the Opening of the Jubilee Year of Mercy
December 8, 12:00 noon

OLC Christmas Basket Raffle & Pot Luck Party
December 21, 1:00 pm
Be sure to call ahead in inclement weather.
Like us on
Facebook
for the most up to date info!
St. Nicholas is Coming
To Our Lady's Center!
Monday, December 7, 10:30 am
Bring the kids! St. Nicholas, Bishop of Myra, will once again be visiting Our Lady's Center to tell the children all about his love for the Lord and the joy of giving. Children will have an opportunity to sit on St. Nick's knee for a photo, color Christmas pictures, and leave their shoes under the Christmas tree for a surprise. Last year was a huge success as dozens of children came on the Feast of St. Nicholas. Since his feast day falls on a Sunday this year, we will be celebrating on Monday, December 7th. We will begin at 10:30 am sharp in the chapel. Mark your calendar now!
Mass Celebrating the Opening of the Jubilee Holy Year of Mercy Tuesday, December 8, 12:00 pm

On December 8th, the Feast of the Immaculate Conception, the global Holy Year of Mercy will begin. This is the first Jubilee since 2000 and the first Extraordinary Jubilee since 1987. Join us for Noon Mass at Our Lady's Center followed by a recitation of the Divine Mercy Chaplet and to pray the Prayer of Entrustment to the Divine Mercy. Also, stop by the gift shop to pick up your copy of

"Journey to Mercy, Your Guide to the Extraordinary Jubilee Year of Mercy"

with a list of local pilgrimage sites, including the Shrine of St. Anthony! Learn more about the Extraordinary Year of Mercy

here.
OLC's Christmas
Raffle & Potluck Party

Monday, December 21, 1:00 pm
Join us for our annual OLC Patrons' Potluck Christmas Party after the noon Mass. We are a great big family here, and you are an important part of it. Bring a favorite dish to share if you're able, but join us regardless to celebrate the Christmas spirit. Enter to win an enormous gift basket which we are filling to bursting with fantastic contributions from dozens of local companies. Previous baskets have had over $1,800 worth of prizes! To enter, purchase tickets in the store ($1/ea or 6/$5). We'll draw the winning ticket at the party, and it could be yours!
Come Experience the Beauty of the Latin Mass! Tuesday, December 29, 6:30 pm

Please join us for a meditative low Mass

offered by Fr. Marc Lanoue, chaplain of Johns Hopkins Medicine and former Pastor of St. John the Evangelist in Severna Park.

Missals are provided with Latin on one side and English on the other, so it is not difficult to follow along. After Mass, we will enjoy another fun potluck in the conference room. Please bring something to share if you can and take advantage of a great chance to ask Father questions and to make some new friends. Find out why Traditional Latin Mass is so awesome here.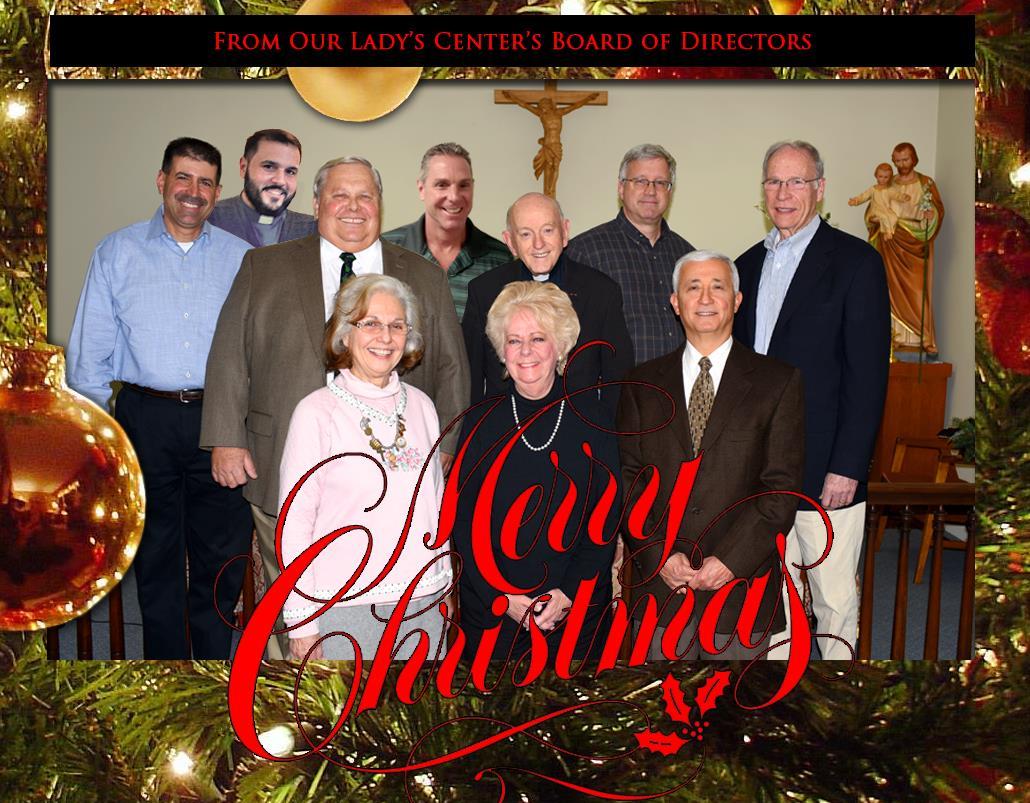 The Board of Directors of Our Lady's Center:
Nick Nucci, Deacon Brandon Justice, President Jack Kissane, Doug Schenk, Msgr. Joseph Lizor, Carl Kleinschmidt, Bob Nichols, Ada Vergne, Sec./Treas. Carolyn Niebauer, Jean Ayoub

"Community is first of all a quality of the heart. It grows from the spiritual knowledge that we are alive not for ourselves but for one another." --Henri Nouwen
After having surveyed the many activities of this past year at Our Lady's Center, the quote above repeats in my mind over and over and certainly rings true with every passing day. Nowhere have I witnessed such a sincere outpouring of Faith, Love, and Generosity.... not sometimes, but at all times. Our patrons, volunteers, financial supporters and devoted staff have become a family here. When we have a need, it is taken care of. When we have asked for your help, you have responded enthusiastically. You have enhanced the beauty of this special place by your presence at Mass and Reconciliation, at Adoration and the Rosary, at the Latin Mass, Friday Night Masses and other devotions. By so doing, you have helped secure Our Lady's Center in the hearts of those who continue to find this 'Oasis of Peace.' Many times have I been told, "I am so glad I found Our Lady's Center. I love it here!" And although it is not the function of a chapel and a bookstore to tell a story, Our Lady's Center does just that. Your presence here confirms the interdependence of people, each related to the other through Faith and Love and chips away a little more at that solitary island. With that thought in mind, we thank each of you most sincerely. Merry Christmas and a blessed New Year!
-- On behalf of the Board of Directors, Carolyn Niebauer, Secretary/Treasurer.
OLC Visits St. Agnes & Resurrection
Our Lady's Center was honored to be invited to St. Agnes Parish to be a part of the St. Agnes/St. William of York 40 Hours Eucharistic Adoration, a lovely, grace-filled three day event. Also, we attended the Church of the Resurrection's Craft Fair and Bake Sale where we had a wonderful time displaying our wares and seeing so many of our regular patrons.
Thanksgiving Raffle Winner a Familiar Face at OLC!
On the day before Thanksgiving, we asked a brother and sister who happened to be present to draw the winning ticket for our Thanksgiving Basket Raffle. After stirring the jar well, Veronica drew out the winning name: Bill Commins. Bill was in fact actually standing right behind her! A daily Mass attendee and volunteer server/lector, Bill had only signed up for the raffle just a half hour or so before the drawing. The Blessed Mother was certainly smiling down upon this gentle, humble man, the father of so many devoted and attentive children. The basket contained a pie plate that says, "In All Things, Give Thanks," and this is something we find easy to do here at OLC. We are so thankful for patrons like Bill and each and every one of you!
Every item you purchase here and every donation you give goes toward supporting this unique and fruitful ministry. On the door, we have a little plaque that says, "Peace to all who enter here," and we dearly pray that we may ever remain an oasis of peace for all who find their way (challenging as it may be to find!) down our little lane.
A Mass in Honor of Those Who Have Served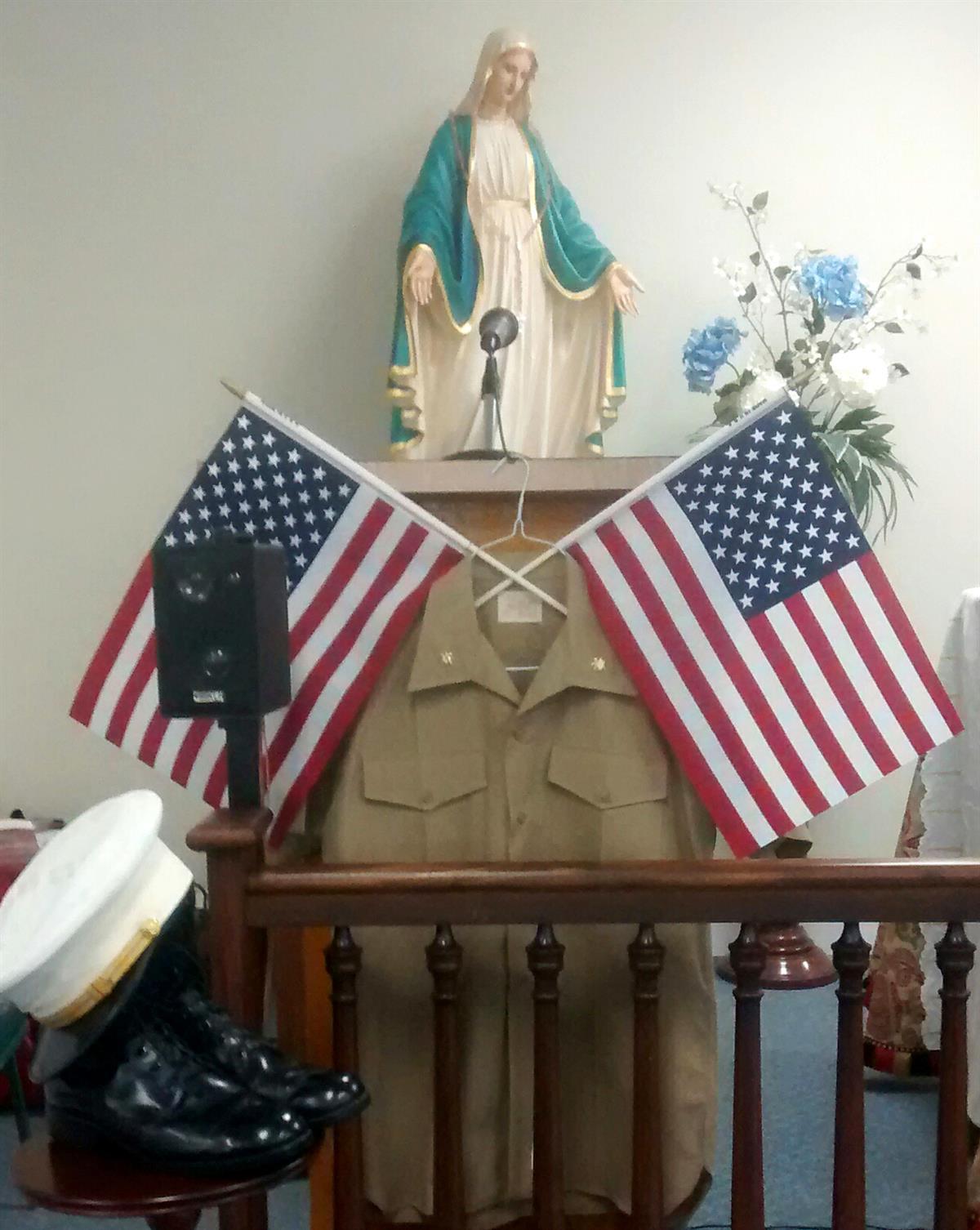 Fr. Canisius Tah offered the Mass on Veteran's Day for all who have served in the Armed Forces, and he gave a deeply insightful homily connecting the sacrifice of our soldiers, our daily sacrifices, and the sacrifice of the Mass. Many veterans as well as the family and friends of those who have served were in attendance. Former U.S. Marine Major and current President of the Board Jack Kissane brought some items from his time of service for display. Board member Carolyn Niebauer was even able to borrow some items which had been worn by her friend's great-grandfather in the Civil War! OLC will always remain eternally grateful to those who have fought for our freedoms, most especially our Freedom of Religion.
Msgr. Charles Pope's Talk on the Miracle of Marriage
We had a solid turnout for Msgr. Charles Pope's talk entitled "The Miracle of Marriage'" which wrapped up the Fall Defend Life Speaker Tour. Msgr. Pope is a dynamic speaker who was able to slice effortlessly through the moral confusion of our times to clarify the fundamental purpose and supernatural power of the sacrament of Holy Matrimony. If you were unable to attend, his talk here at OLC was recorded, and you can view it online

here.

As always, thank you for showing your support for the great speakers we have at OLC and for helping us spread the Gospel of Truth and the culture of life in a desperate, hurting world.
December Special Feasts


St. Francis Xavier


December 3



St. Nicholas


December 6



St. Ambrose


December 7



The Immaculate Conception; Opening of the Extraordinary Jubilee Year of Mercy


December 8



St. Juan Diego


December 9



Our Lady of Guadalupe


December 12



St. Lucy


December 13



St. John of the Cross


December 14



Nativity of the Lord


December 25



St. Stephen


December 26



The Holy Family; St. John the Evangelist


December 27



The Holy Innocents


December 28



St. Thomas Becket


December 29



St. Sylvester


December 31



Solemnity of the Mother of God


January 1


Who's on Board:
Nick Nucci
Nick Nucci, PE has been on the OLC Board of Directors for less than a year, but he has already become an invaluable addition. Originally from the Pittsburgh area, Nick moved here after graduating college to work for an engineering firm. After four years, he joined a start up engineering consulting firm, Leach Wallace Associates, Inc. One of the first six employees, Nick is now Senior Vice President of the firm which currently employs 120. Nick met fellow Pittsburgh area native and President of the Board Jack Kissane at the home of a mutual friend and soon accepted his invitation to become involved with OLC. As an engineer, Nick brings invaluable skills and knowledge to the Center, particularly in the continuing assessment of any building and grounds maintenance and repairs necessary to keep the center in satisfactory working order. Nick also is activity chairperson of two Eagle scout projects at the center. Nick and wife Stephanie have been married for 18 years, and Nick is the proud father of two sons. Thank you, Nick, for your service to OLC!
Volunteer Spotlight:
Ed Frankovic

You may have noticed one server here who consistently coordinates the colors he wears with the vestments of the priest. If so, then you have witnessed a manifestation of Ed Frankovic's meticulous attention to detail. Raised in northern NJ, Ed earned a BS degree in Mechanical Engineering from Newark College in 1961 and enlisted in the Army Security Agency the same year. After three years in the military including a year in Turkey, he moved to Laurel and worked for HRB-Singer and then Raytheon for 44 years, earning an MS in Engineering Management from GW University in 1973 and progressing to Director. Ed and wife Beth of 15 years attend OLPH Parish, where Ed is active in several ministries. He also serves as President and Treasurer for the Village Crest Neighbor Assoc. Ed is blessed with three children and seven grandchildren and enjoys trivia, books on tape, and sports. OLC thanks you, Ed, for serving and covering in times of need. God bless your servant's heart!

IN THE BOOK STORE:
Lovely Christmas Decorations and Gifts!

Beautiful Christmas ornaments and decorations. New pieces are arriving daily!
| | |
| --- | --- |
| Elegant Christmas cards to mix and match | Christmas DVD's for adults and kids! |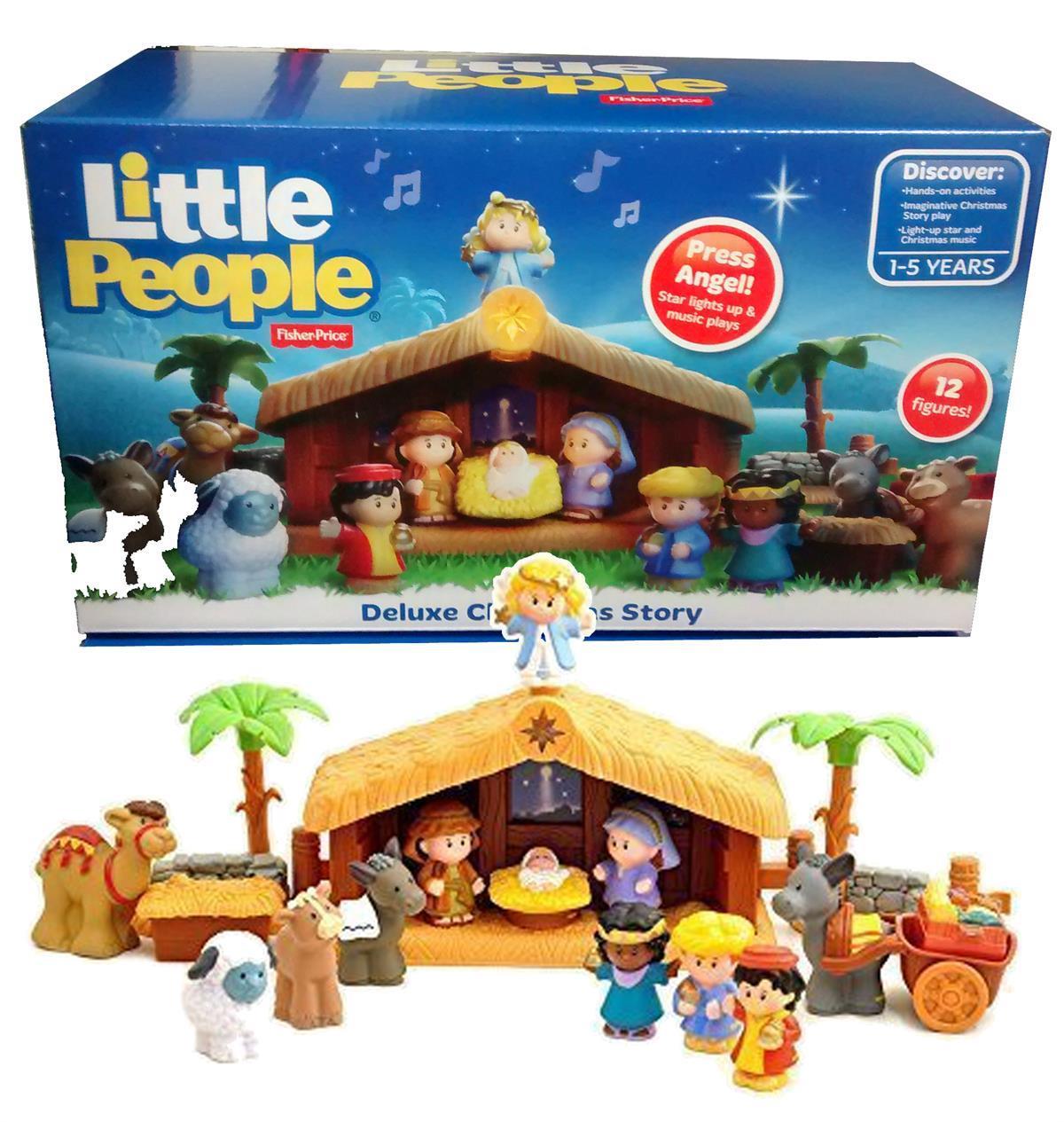 Adorable Little People Nativities in stock. Quantity limited, so hurry in!
Hail Mary Pashminas!
Just in time for Christmas, we have another shipment of our exclusive and very popular Hail Mary Pashminas on the way. They come in royal blue and silver and have the entire Hail Mary printed on them so you or someone you love can feel wrapped in the warmth of Our Lady's mantle. We love what Patricia Onyemeziem has done with hers!

Also, we have a selection of lovely silk blend infinity scarves. Our most popular ones say, "Holy Mary, my mother above, wrap me in your mantle of love" in an aqua blue and snowy white. Inspirational "I am a daughter of God" infinities are also available in a variety of colors and make lovely gifts for the beautiful women in your life who could use a little reminder of just how amazing they are.
SAVE YOUR INK!
Click
here
for a printer-friendly coupon.
DECEMBER SPECIAL!
15
% OFF
Any One
Non-Discounted Item
Regularly $50 or less.
Must present at time of purchase. Valid on regularly priced items only. Coupon not valid on previously purchased items. Limit one coupon per visit.
Expires 12/31/2015
Our Lady's Center Marian Shrine

Can't Get to our Store?


Our homebound and out-of-town patrons have found shopping at our online store convenient and helpful. We carry a wide variety of medals, crucifixes, and rosaries there for your convenience. You can shop anytime and choose to have your items shipped either to your home address or to anywhere you need them sent. We thank you for supporting OLC and appreciate any and all patronage as the proceeds of all sales go toward supporting our unique apostolate. Click here to visit now:
Donate to OLC
for FREE!

If you're shopping on Amazon this Christmas (or throughout the year), you can donate a percentage of your purchases to OLC! Just go to smile.amazon.com, select Our Lady's Center, Inc. in Ellicott City, MD as your charity, and you're set! After that, whenever you make a purchase through smile.amazon.com, Amazon will make a donation to us. Of course, you should always make your religious purchases through us, but what a blessing to donate when you purchase kitchenware, games, movies, furniture, or whatever else you need! Thanks for all of your support!
Store Hours
Monday - Thursday: 10:00 am - 4:00 pm*
Friday: 10:00 am - 7:30 pm*
First Saturday: 10:00 am -10:30 am; 12:30 pm - 2:00 pm
*Please note that the store is always closed during the noon Mass
Chapel Hours:

Holy Sacrifice
of the Mass

Monday-Friday: 12:00pm
Friday night: 7:30 pm
1st Saturdays: 10:30 am

Rosary


Monday-Friday: 11:30 am



Confessions


Following all Masses



Adoration


Friday: 12:30 - 7:30 pm


Friday Night Devotions



Holy Mass: 7:30 pm
Followed by: Confessions, Rosary, Divine Mercy Chaplet, Adoration of the Blessed Sacrament and Benediction
| | |
| --- | --- |
| Our Lady's Center Marian Shrine is a Catholic lay apostolate within the Archdiocese of Baltimore located outside of Baltimore, Maryland in Ellicott City. We offer the Holy Sacrifice of the Mass and confessions upstairs in our chapel each weekday and on first Saturdays. Downstairs in our beautiful store, we carry a large selection of Catholic books and religious articles to meet every need. We have many events and activities throughout each month. | |