July is dedicated to the Most Precious Blood of Jesus. More about this devotion
here
and
here
.
"Eternal Father, I offer Thee the most precious blood of Thy Divine Son, Jesus, in union with the Masses said throughout the world today, for all the Holy Souls in Purgatory, for sinners everywhere, for sinners in the universal Church, those in my own home and within my family." - St. Gertrude.
Thy Word Newsletter
July 2016
Summer Reading
Book Raffle
Enter throughout the
whole month of July!

Monthly Latin Mass
& Pot Luck
Tuesday, July 26th
6:30 pm

Children's Story Time
& Coffee Hour
Friday, July 29th
10:30 am
Please note: OLC will be OPEN on July 2nd for First Saturday Mass and Devotions. However, we will be CLOSED on Monday, July 4th for Independence Day. Please attend Mass at your local parish, and keep our beloved country in your prayers!
2016 Summer Reading Book Raffle

For the whole month of July!

Our Lady's Center is stocked up with new arrivals and time-tested classics for your summer reading.

Plus every $5 you spend on new books will give you another entry to win a Prize Basket of Books!

The more you buy, the more entries you get. We'll even round your book sales to the nearest dollar to calculate the number of entries you will receive. So come fill your tote with edifying books and possibly win even more. (Bring your return address labels for faster ticket filling-out!) Drawing will be held after noon Mass on Monday, August 1st.
Traditional Latin Mass
& Pot Luck Tuesday, July 26th, 6:30 pm

Come join us for a meditative Low Mass. It will be offered by Fr. Canisius Tah of Resurrection in Ellicott City. As always, m

issals will be provided with Latin on one side and English on the other, so it is not difficult to follow along. After Mass, we will enjoy a potluck in the conference room. Bring something to share and take advantage of a great chance to ask the Father questions and make some new friends. Find out why Traditional Latin Mass is so awesome HERE and HERE.
Children's Story Time and Coffee Hour

Friday, July 29th, 10:30 am

The "lazy" days of summer are upon us. Encourage your children to put away the electronics and develop a lifelong love of reading awesome books. Join Miss Ginny in the conference room for a storybook reading and a fun craft. We will be providing a snack and juice for the kids and fresh-brewed Mystic Monk coffee for the accompanying adults. And, since you'll be here anyway, why not stay for Mass?

RSVP

so we have an idea of how many snacks and crafts to have on hand!
>>> SAVE THE DATE <<< 2000 Hail Marys

Saturday, August 13th

Our Legion of Mary "Our Lady Undoer of Knots" Praesidium is once again hosting a

2000 Hail Marys Day of Devotions

in OLC's chapel on Saturday, August 13th, in honor of the Feast of the Assumption. It will begin with 8:30 am Mass and continue with the Exposition of the Blessed Sacrament and devotions throughout the day. The devotions begin with praying a complete Rosary, then each of 20 petitions is read and followed by 100 Hail Marys. Come for part or all of the day. Refreshments available.

Email us

for more info.
Gorgeous Weather for Clean Up Day!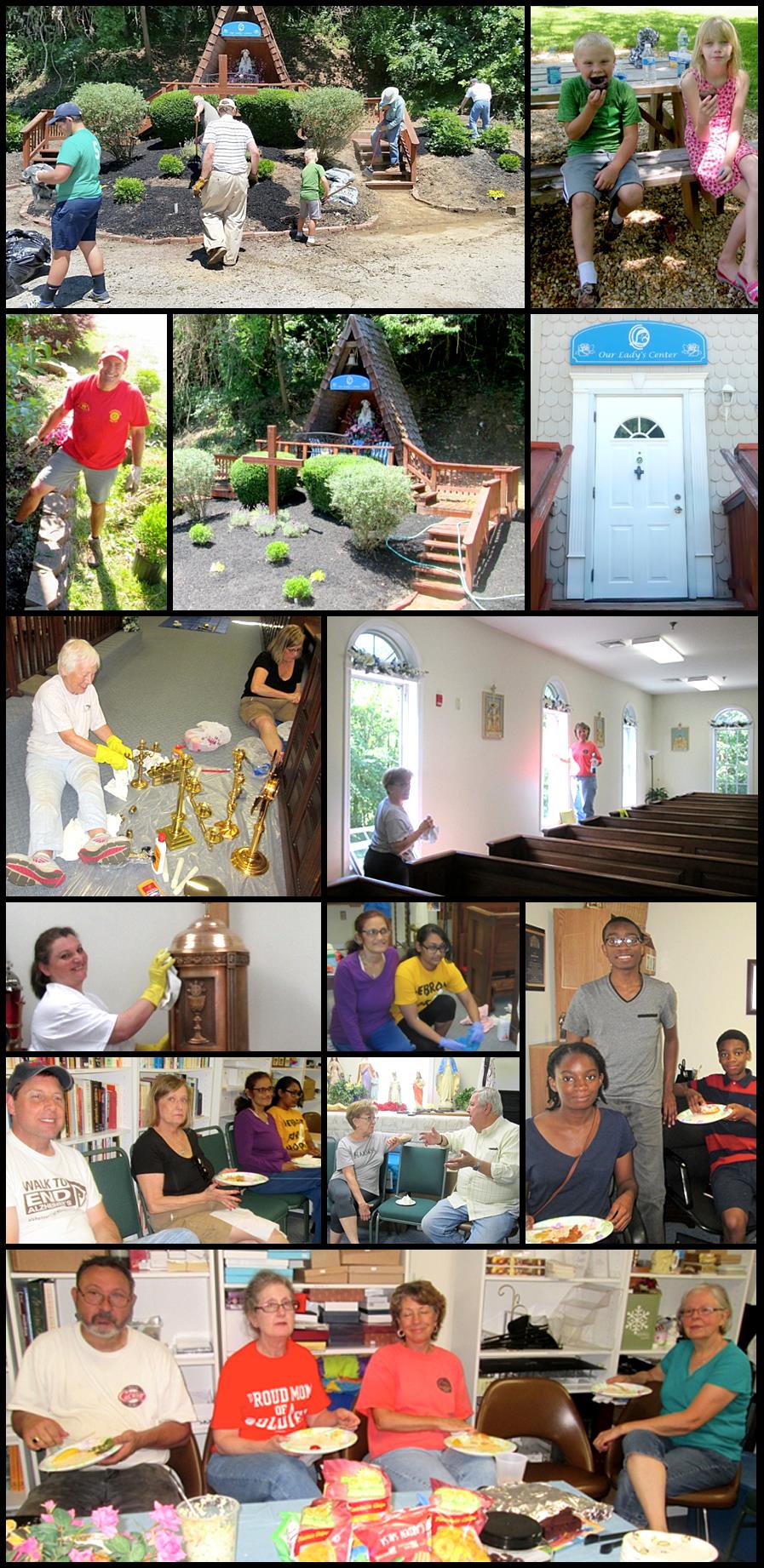 Finally, the weather cooperated, and clean up day went off splendidly. About 30 dedicated patrons came together on a beautiful sunny day to spruce up the Center and grounds. Much overgrowth was cleared and hauled away, the grotto was weeded, mulched, and replanted, and landscaping was repaired. Our front door received a fresh coat of paint, too. Inside, the chapel was polished and spruced up to a sparkling shine. Afterwards, everyone came together for a pot luck, exhausted but satisfied in being of service to Our Lady and her beloved little shrine.
Board member Ada Vergne's words reflect the gratitude of everyone here for all the help: "A big THANK YOU for your great help at Our Lady's Center Cleanup Day last Saturday. You all worked very hard and did a great job! Everything has that special "shine" of work done with love and dedication, and Our Lady thanks and blesses you all! It was a beautiful day, lots of fun, in spite of the work, and plenty of good food! Thanks to all that brought something to share!" We would especially like to thank Board Member Nick Nucci, for his excellent leadership in the planning and implementation of Clean Up Day. And thankfully, the tornado which came through Howard County just a few days later ended its track a few miles from us, and the wind and rain did amazingly little damage to our recently tidied grounds.
June OLC Story Time all About Forgiveness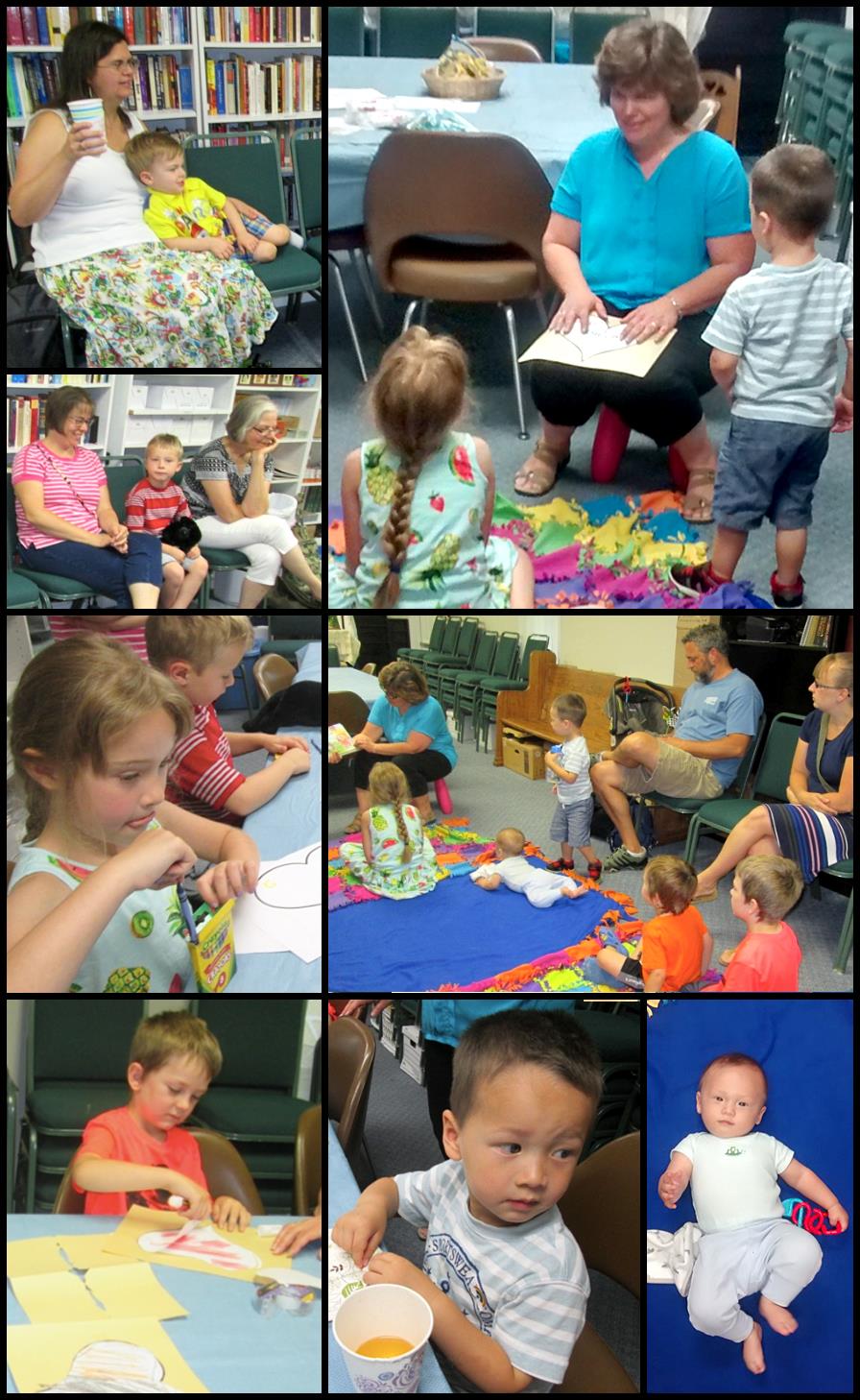 The theme of the first Story Time of the year was "forgiveness," and a small but engaged group of children listened to the book, "I Forgive You," by Nicole Lataif and learned the importance of being able to forgive one another. Story Time was led by the newest member of our OLC family, Ginny Sniezek, whose engaging manner of reading kept the children interested and active in discussion. Following the story, the children did a craft and snacked on cookies and juice while their parents enjoyed freshly brewed coffee and socialized right up until Mass time. Be sure to mark your calendars now for the next Story Time, which will be held Friday July 29th at 10:30 am.
A Sister's Endorsement of our Hail Mary Pashmina

Dr. Russell Reiss, the brother of OLC's Secretary and Board member Carolyn Niebauer, gave our Hail Mary Pashminas as gifts to some of his friends who are consecrated religious. They absolutely loved them, and one of them, Sr. Martina of Huntingdon Valley, PA, told him that she wants to die wearing the scarf! It is hard to imagine a better endorsement for one of our products, for a nun to want to wear it to meet her espoused beloved!

We have our Hail Mary Pashminas in royal blue and silver back in stock, as well as Daughter of God, Divine Mercy, Holy Mary my Mother Above, and brand new Serenity Prayer infinities in various colors.


July Special Feasts



St. Junipero Serra
July 1

First Saturday Mass & Devotions
July 2

Independence Day (Center closed)
Bl. Giorgio Frassati
July 4

St. Maria Goretti
July 6

St. Benedict
July 11

St. Kateri Tekakwitha
July 14

St. Bonaventure
July 15

Our Lady of Mount Carmel
July 16

St. Mary Magdalene
July 22

St. Bridget
July 23

St. Sharbel
July 24

St. James
July 25

Sts. Anne & Joachim
July 26

St. Martha
July 29th

St. Ignatius Loyola (patron saint of the Archdiocese of Baltimore)
July 31
July Buys. Summer good. Summer even better!
Come see what we have to help you celebrate all the special days in July.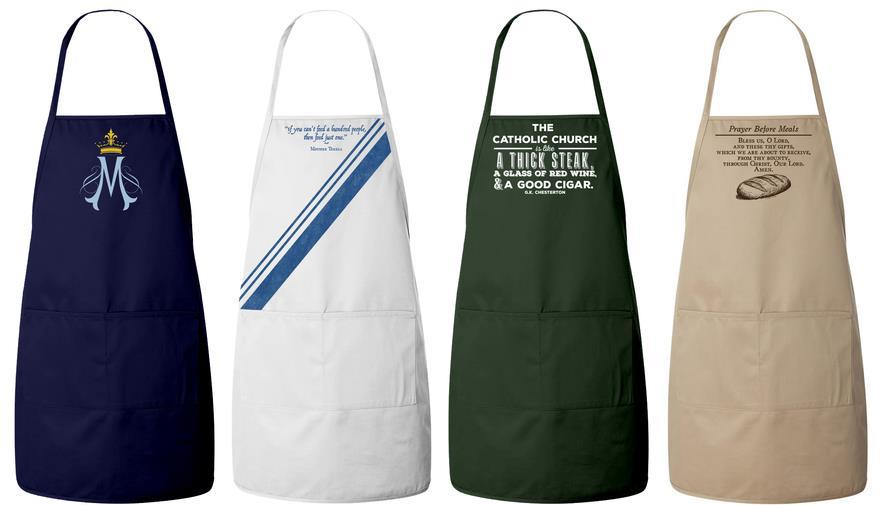 Awesome new Catholic aprons for the chef, short-order cook or grill master in your life!
| | | |
| --- | --- | --- |
| Brown scapulars for OL of Mt. Carmel, and Sts. Benedict and Sharbel's feast days! | Those Trappistine nuns are at it again, this time whipping up delicious Almond Brittle! | Think you know the faith? Some thought challenging questions from the founder of Catholic Answers |
| | | |
| --- | --- | --- |
| A personal portrait of our soon-to-be saint, Mother of Teresa of Calcutta | Mother Angelica's last years conveyed by her devoted friend, Raymond Arroyo | Raymond Arroyo's new adventure book is here! Summer reading for the kids just got more awesome. |
SAVE YOUR INK!
Click
HERE
for a printer-friendly coupon.
JULY SPECIAL!
20
% OFF
One New Book
Must present coupon at time of purchase. Valid on regularly priced items only.
Coupon not valid on previously purchased items and cannot be combined with other coupons. Limit one coupon per visit.
Expires 07/31/2016
Our Lady's Center Marian Shrine

Can't Get to our Store?

Our homebound and out-of-town patrons have found shopping at our online store convenient and helpful. We carry a variety of medals, crucifixes, and rosaries there for your convenience. You can shop anytime and choose to have your items shipped either to your home address or to anywhere you need them sent. We thank you for supporting OLC and appreciate any and all patronage as the proceeds of all sales go toward supporting our unique apostolate. Click here to visit now:
WHY shop at Our Lady's Center?
(instead of an online retailer)
Get your Goods and your Grace all in one Place!
Here, you don't just check an errand off your to do list. At OLC, you visit a joyful, beautiful sanctuary of immense peace where you can go to Mass, receive Confession during the week, even attend Adoration.
Pick our Brains before you Pick your Books:
You get to peruse our books before you purchase, ask our staff questions about the materials, receive recommendations, and even help us become more informed by sharing your own knowledge and insights.
Make New and Lasting Friends:
Meet awesome priests and wonderful Catholics from various area parishes and truly feel a part of a vibrant community of the faithful.
You Will Be Treated with Dignity:
Here, you are never just another customer or order number. You are a beloved brother or sister in Christ. Let us joyfully serve you, and don't be surprised if we remember your name the next time you come in.
Receive Spiritual Satisfaction
Knowing you are helping to support a small but important ministry as we strive to serve Our Lord through the intercession of his Blessed Mother.
Enjoy Our Eternal Gratitude and Appreciation:
We are deeply grateful for your business and spiritual support. May God continue to bless us through your patronage!
Store Hours
Monday - Thursday: 10:00 am - 4:00 pm*
Friday: 10:00 am - 7:30 pm*
First Saturday: 10:00 am -10:30 am; 12:30 pm - 2:00 pm
*Please note that the store is always closed during the noon Mass
Chapel Hours:

Holy Sacrifice
of the Mass

Monday-Friday: 12:00pm
Friday night: 7:30 pm
1st Saturdays: 10:30 am

Rosary


Monday-Friday: 11:30 am



Confessions


Following all Masses



Adoration


Friday: 12:30 - 7:30 pm


Friday Night Devotions



Holy Mass: 7:30 pm
Followed by: Confessions, Rosary, Divine Mercy Chaplet, Adoration of the Blessed Sacrament and Benediction
| | |
| --- | --- |
| Our Lady's Center Marian Shrine is a Catholic lay apostolate within the Archdiocese of Baltimore located outside of Baltimore, Maryland in Ellicott City. We offer the Holy Sacrifice of the Mass and confessions upstairs in our chapel each weekday and on first Saturdays. Downstairs in our beautiful store, we carry a large selection of Catholic books and religious articles to meet every need. We have many events and activities throughout each month. | |