August is dedicated to the Immaculate Heart of Mary.
More
HERE
and
HERE
about this devotion and its connection to the First Saturdays requested by Our Lady of Fatima (OLC's patroness) nearly 100 years ago. First Saturday Mass and Devotions are offered at OLC beginning at 10:30 am on the first Saturday of each month. Please join us!
O most merciful God, who for the salvation of sinners and the refuge of the wretched, has made the Immaculate Heart of Mary most like in tenderness and pity to the Heart of Jesus, grant that we, who now commemorate her most sweet and loving heart, may by her merits and intercession, ever live in the fellowship of the hearts of both Mother and Son, through the same Christ our Lord. Amen.
Thy Word Newsletter
August 2016
2000 Hail Marys
Day of Devotion
Saturday, August 13
Starting at 8:00 am

Children's Story Time
& Coffee Hour
Friday, August 26th
10:30 am

Monthly Latin Mass
& Pot Luck
Tuesday, August 30th
6:30 pm
2000 Hail Marys
Day of Devotions Saturday, August 13th
Beginning with

8:00 am

Mass

OLC's Legion of Mary "Our Lady Undoer of Knots" Praesidium is hosting the 2nd Annual

2000 Hail Marys Day of Devotions

in OLC's chapel on Saturday, August 13th, in honor of the Feast of the Assumption. It will begin with

8:00 am Mass

and continue with the Exposition of the Blessed Sacrament and devotions throughout the day. The devotions begin with praying a complete Rosary, then each of 20 petitions is read and followed by 100 Hail Marys. Come for part or all of the day. Refreshments available.

Email us

for more info.
Children's Story Time and Coffee Hour

Friday, August 26th, 10:30 am

Encourage your children to put away the electronics and develop a lifelong love of reading awesome books. Join Miss Ginny in the conference room for another storybook reading and a fun craft. We will be providing a snack and juice for the kids and fresh-brewed Mystic Monk coffee for the accompanying adults. And, since you'll be here anyway, why not stay for Mass?

RSVP

so we have an idea of how many snacks and crafts to have on hand! And see below for what we did in July including a link to a video!
Traditional Latin Mass
& Pot Luck Tuesday, August 30th, 6:30 pm

Come join us for a meditative Low Mass. It will be offered by Fr. Canisius Tah of Resurrection in Ellicott City. As always, m

issals will be provided with Latin on one side and English on the other, so it is not difficult to follow along. After Mass, we will enjoy a potluck in the conference room. Bring something to share and take advantage of a great chance to ask the Father questions and make some new friends. Find out why Traditional Latin Mass is so awesome HERE and HERE.
Come See Us at the Howard County Fair!

For the first time, the Catholic parishes and communities of Howard County will have a booth at the Howard County Fair this year to raise awareness of the Catholic Church's vibrant, active presence in our county. Representatives from all the various parishes, as well as Our Lady's Center, the Shrine of St. Anthony, and Bon Secours Retreat and Conference Center will take shifts at the booth, greeting visitors, and sharing information on available resources. The Fair runs from August 6th through the 13th. Stop by and say hello! We will be manning the booth on Monday 8/8 from 5:30 to 10:00 pm. Fair info

HERE.

Our Lady's Center is excited to once again be invited to exhibit at the 6th Annual Maryland Catholic Women's Conference taking place on the weekend of October 7th-9th. This year's theme is
"Witness of Mercy", An Inspirational Retreat celebrating the Jubilee Year of Mercy.
This conference will feature Dynamic Speakers, Peaceful Adoration, Mass, Confession, Holy Rosary, Chaplet of Divine Mercy, Catholic Exhibitors and more! More info
HERE.
Register now, and we'll see you there with lots of our most exciting merchandise!
Deluge Damages OLC Grounds but Spares Center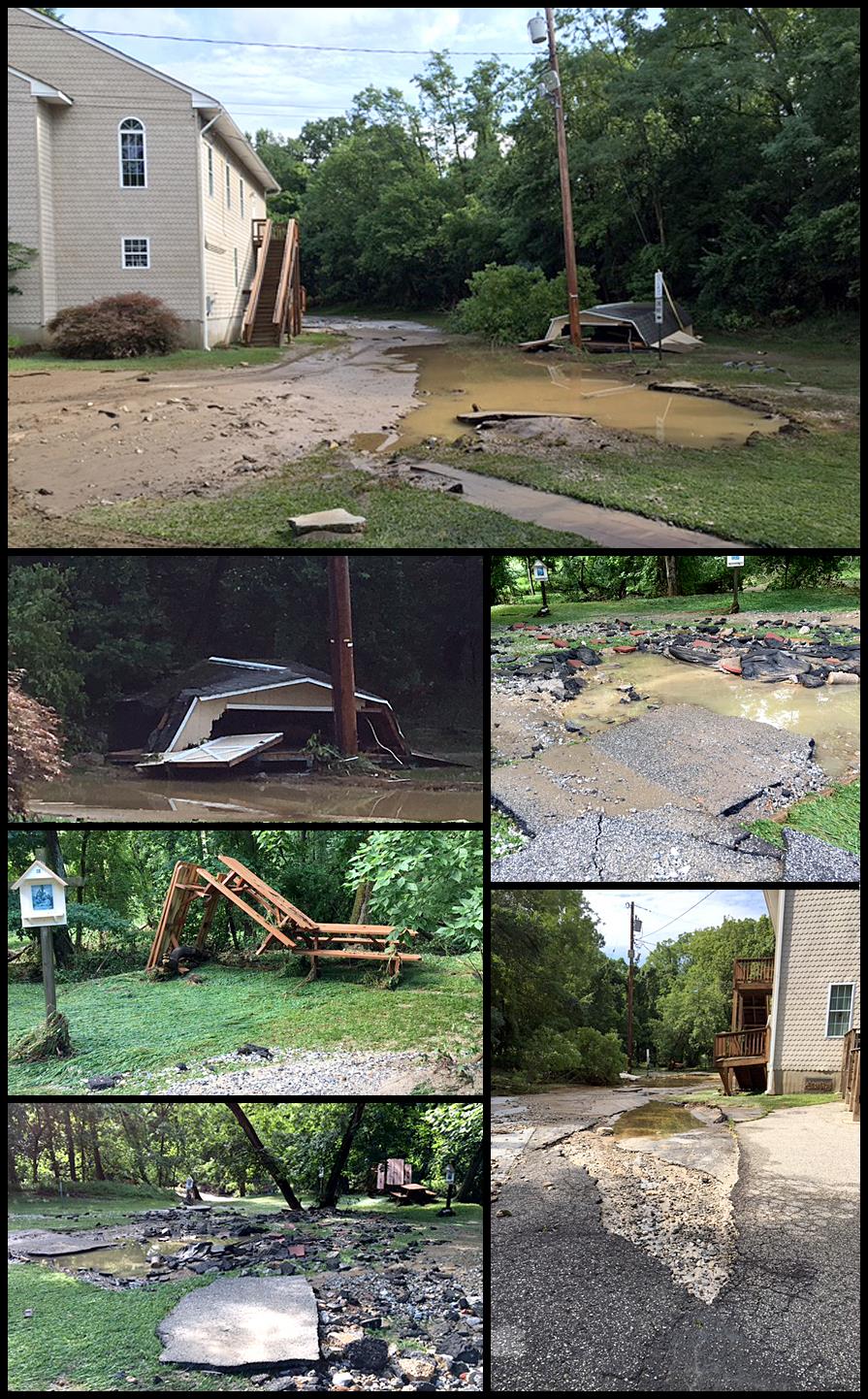 An unbelievable SIX inches of rain fell within a few hours on July 30th, causing devastating damage to Old Ellicott City. Our prayers are with all who have experienced loss. Our Lady's Center sustained significant damage to the parking lot and grounds as the dam behind the center partially gave way, allowing an estimated three feet of water to flow through the parking area and grounds. Our shed was completely destroyed, and almost everything in it was washed away. The beautiful picnic area was also destroyed, and the picnic tables were left in a pile on the bank of the stream. Much of the blacktop was damaged, a crater was left, and debris and mud was piled up all around. Fortunately the Center itself was spared the worst, as it was designed during the post-2001 fire reconstruction to sit 42" above ground. We sent out a call for big equipment volunteers and have had an amazing response. We will be closed 8/1 & 8/2 to address the dam repair, major debris removal, and parking lot repair. After that, volunteers are welcome to come assist in the clean-up whenever they are available, to pick up debris, trim branches, and retrieve articles from the stream that washed away when our shed was destroyed. You can email
HERE
to let us know you'd like to help.
The Dedication of the Holy Face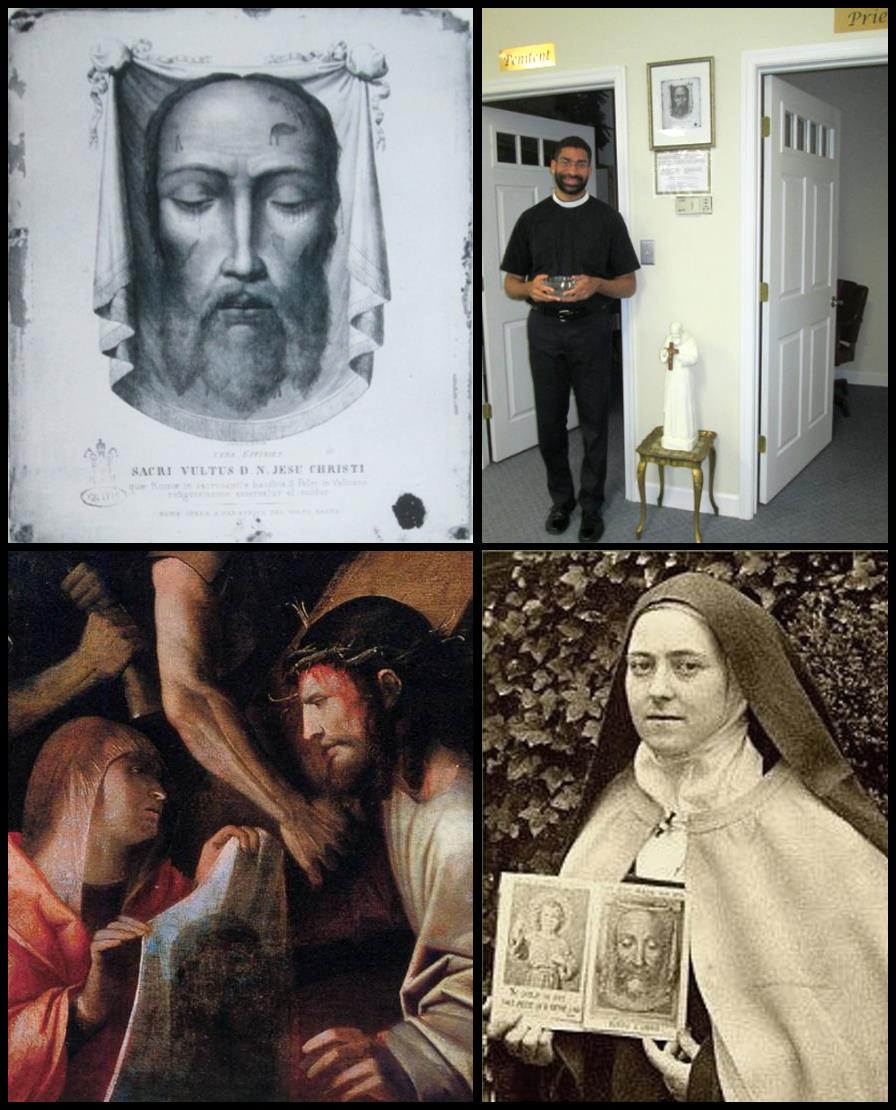 An OLC patron recently donated a framed image of the Holy Face of Jesus which they had obtained from the Discalced Carmelites in Philadelphia. The image is now displayed between the confessional doors in the chapel. Fr. David Verghese, a Redemptorist from St. Mary's in Annapolis, celebrated First Saturday Mass in July for us and blessed the image after his homily. These prints are copies
of an engraving of the Holy Face which was rendered from the reproduction of the true image of the Holy Face of Our Lord Jesus Christ which is venerated in Rome in the Most Holy Basilica of St. Peter, known as "
Vera Effigies"
of the veil of Veronica. The image of the official red wax seal indicating its authenticity is clearly visible in the lower right corner. Our Lord told us that whoever sees Him sees the Father. In His Mercy, He left us His "photograph" in Veronica's Veil and in the Shroud of Turin and has asked, through various revelations, for His Holy Face to be honored and consoled in reparation for sins, blasphemies, profanities, conversion of sinners, and salvation of souls.
Let us make a practice of honoring the Lord, and saying the Litany to the Holy Face (available in the book store) before the image and reciting the Golden Arrow prayer every time we hear the Lord's name blasphemed (how often a day this happens in our culture!) St. Therese of Lisieux had a special devotion to the Holy Face. More on this powerful devotion HERE and HERE.
WHOOO knew Story Time Could be so MOOO-ving!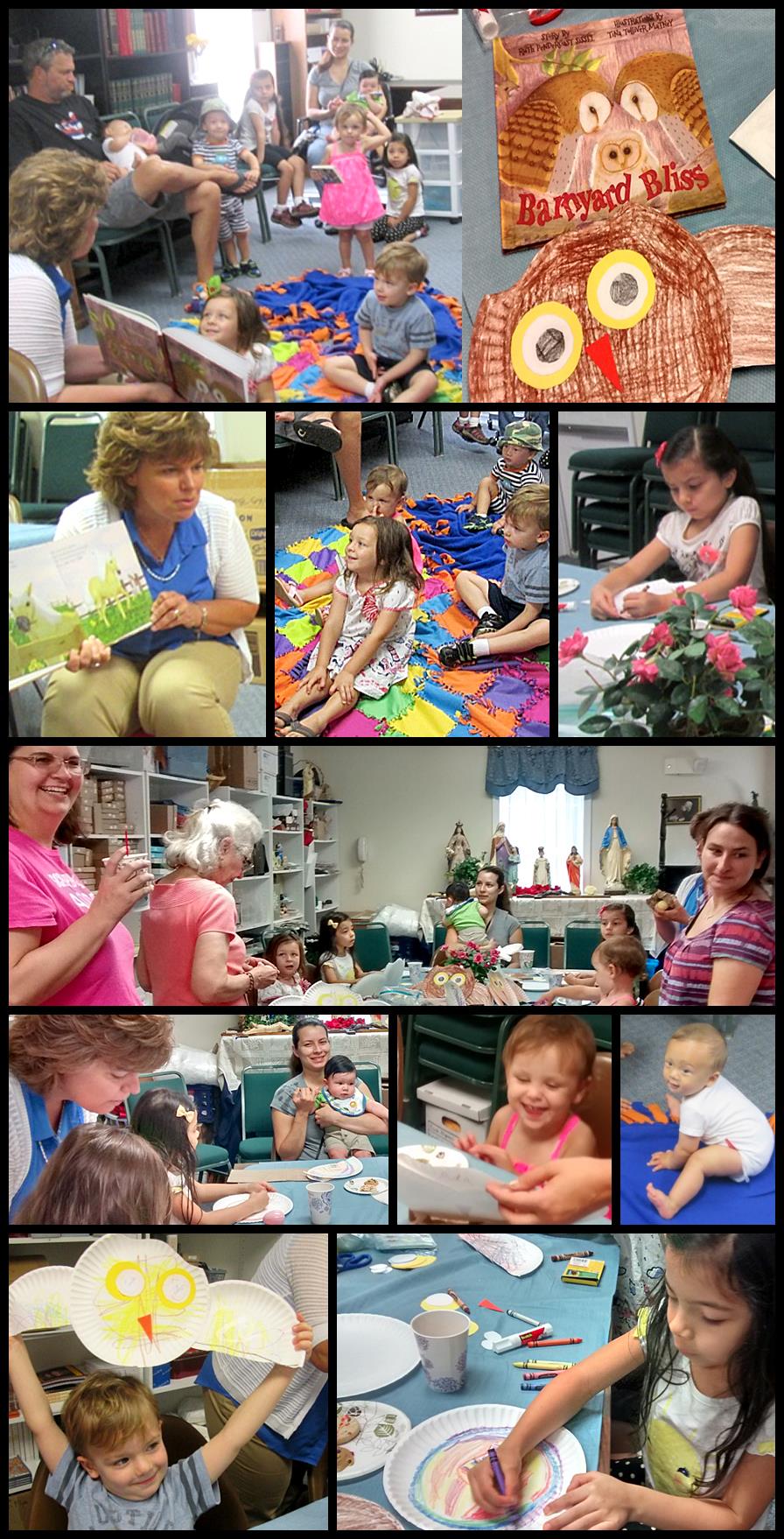 July's Story Time was filled with the lively sounds of barnyard animals! The children listened to the life-affirming storybook
"Barnyard Bliss"
read by "Miss Ginny" and joyfully mimicked all the sounds the animals were making in their excitement to relay the news of the arrival of a brand new life! The children then made owls and a nest with a bird egg in it and snacked on cookies and juice. Their grown-ups enjoyed freshly brewed coffee and socialized right up until Mass time. We've posted an adorable
video
on our Facebook page! Be sure to mark your calendars now for the next Children's Story Time, which will be held Friday August 26th at 10:30 am.
Over 500 Likes for Our Facebook Page!

In commemoration of the occasion, we decided to give away a Tiny Saint to the 500th person to like our page. It turns out that it is a priest in the Baltimore Archdiocese, Fr. Patrick Besel! Fr. Patrick has his choice of any of the over 80 kinds of

Tiny Saints

we have in stock. Will it be St. Patrick, St. Francis of Assisi or Pope Francis? We can't wait to find out. Liking us on Facebook is a great way to hear about upcoming events as well as to be notified of any changes or cancellations to our schedule due to weather or unforeseen events. You can go to our FB page to Like us by clicking

HERE.
Let us Know! ---->

As our loyal patrons and benefactors, your opinion matters a great deal to us. Please take a moment to let us know how we are doing. What do you love about OLC? What can we improve upon? Have you had an experience here you would like to share with us? We are committed to being the best apostolate of Our Lady that we can be. We are eternally grateful for each of you and hope that we can be a place of grace for you and your family, offering temporal and spiritual treasures to help you grow in your faith and navigate your way to Heaven. Please let us know how we are doing by emailing your feedback to us

HERE

. Thank you and God bless you.
OLC Welcomes
Ginny Sniezek!
Ginny is the newest member of the OLC team, bringing with her a bright smile, a gentle disposition, and boundless energy. She has caught on quickly here at OLC and is already taking on specific responsibilities, including Children's Story Time. Ginny is very active at her parish, St. Louis, where she is a 2nd grade Religious Education catechist preparing the children to receive their Sacraments. She also is involved in the American Heritage Girls, Troop MD0413 and the Women's ACTS Ministry. She and husband John are the proud parents of five including four daughters. They have homeschooled four of their children through fourth grade before sending them to their parish school and Catholic high schools. As their youngest will be entering fourth grade in the fall, this is Ginny's last year educating her own kids, and she is excited to be beginning another chapter in her life being a part of Our Lady's Center's apostolate. We are glad to have her!


August Special Feasts




8/1: St. Alphonsus Ligouri

8/4: St. John Vianney

8/6: The Transfiguration

8/8: St. Dominic

8/9: St. Teresa Benedicta of the Cross

8/10: St. Lawrence

8/11: St. Clare

8/12: St. Jane Frances de Chantal

8/14: St. Maximilian Kolbe

8/15: Feast of the Assumption

8/20: St. Bernard

8/22: The Queenship of Mary

8/23: St. Rose of Lima

8/24: St. Bartholomew

8/25: St. Louis, King of France

8/27: St. Monica

8/28: St. Augustine

8/29: Passion of St. John the Baptist

August in the Book Store
Check out these hot items!
Bl. Teresa of Calcutta will be canonized on Sept. 4th! Come see all we have in stock on this holy woman.

Lovely plaques and prints of the
Immaculate Heart of Mary to
grace a place in your home.
| | | |
| --- | --- | --- |
| An honest non-Catholic sets the record straight about the Church in history. | Scott Hahn's newest book will be shipping soon! Reserve your copy now. | Beautiful Liscano pieces hand-painted by widows in Colombia, S.A. |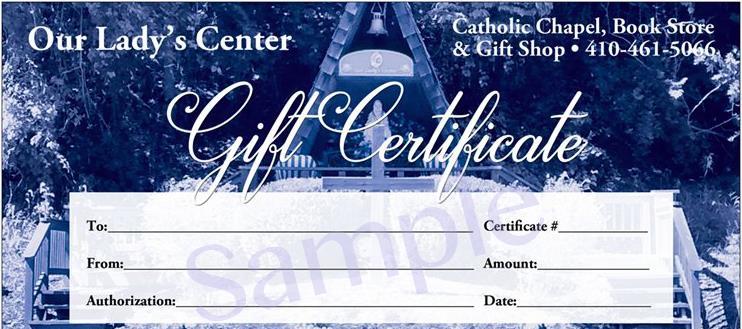 Not sure what to get someone? Introducing our beautiful new Gift Certificates printed on card stock. What better gift can there be than a shopping spree at OLC?
SAVE YOUR INK!
Click
HERE
for a printer-friendly coupon.
AUGUST SPECIAL!
15
% OFF
Any One Immaculate Heart of Mary OR Mother Teresa
Item in Stock
Must present coupon at time of purchase. Valid on regularly priced items only.
Coupon not valid on previously purchased items and cannot be combined with other coupons. Limit one coupon per visit.
Expires 08/31/2016
Our Lady's Center Marian Shrine

Can't Get to our Store?

Our homebound and out-of-town patrons have found shopping at our online store convenient and helpful. We carry a variety of medals, crucifixes, and rosaries there for your convenience. You can shop anytime and choose to have your items shipped either to your home address or to anywhere you need them sent. We thank you for supporting OLC and appreciate any and all patronage as the proceeds of all sales go toward supporting our unique apostolate. Click here to visit now:
Store Hours
Monday - Thursday: 10:00 am - 4:00 pm*
Friday: 10:00 am - 7:30 pm*
First Saturday: 10:00 am -10:30 am; 12:30 pm - 2:00 pm
*Please note that the store is always closed during the noon Mass
Chapel Hours:

Holy Sacrifice
of the Mass

Monday-Friday: 12:00pm
Friday night: 7:30 pm
1st Saturdays: 10:30 am

Rosary


Monday-Friday: 11:30 am



Confessions


Following all Masses



Adoration


Friday: 12:30 - 7:30 pm


Friday Night Devotions



Holy Mass: 7:30 pm
Followed by: Confessions, Rosary, Divine Mercy Chaplet, Adoration of the Blessed Sacrament and Benediction
| | |
| --- | --- |
| Our Lady's Center Marian Shrine is a Catholic lay apostolate within the Archdiocese of Baltimore located outside of Baltimore, Maryland in Ellicott City. We offer the Holy Sacrifice of the Mass and confessions upstairs in our chapel each weekday and on first Saturdays. Downstairs in our beautiful store, we carry a large selection of Catholic books and religious articles to meet every need. We have many events and activities throughout each month. | |