| | |
| --- | --- |
| www.ourladyscenter.net • 410-461-5066 | |

November is dedicated to the Holy Souls in Purgatory. It opens with the Feast of All Saints, then continues with the Feast of All Souls. Through our intensified prayers for the Holy Souls throughout November, we find perhaps the greatest expression of the connection between the Church Triumphant, the Church Suffering and the Church Militant. More here.
Eternal rest grant unto them, O Lord. And let the perpetual light shine upon them.
And may the souls of all the faithful departed, through the mercy of God, rest in peace. Amen.
Thy Word Newsletter
November 2016
All Day Eucharistic Election Prayer Vigil, Tuesday
November 8th, 9 am-11 pm

Veteran's Day Mass
Friday, November 11th
12:00 Noon Mass

Fall Defend Life Lecture:
Mark Harrington, Friday
November 18th, 1:00 pm
We will be

CLOSED

for Thanksgiving November 24th-27th.
Pray a Novena for Our Motherland

Please join us in praying a Novena for our Motherland for its sanctification. Although we at Our Lady's Center began praying the Novena after all noon Masses on 10/31 in order to finish on Election Day, the Novena can be started anytime and said anywhere. One of our board members has generously put together an extensive compendium of powerful prayers. You can do the Novena with any or all of the prayers in this compendium. A number of printed copies are available at the Center, or you can access it

HERE

. The main thing is to pray and pray fervently for our Motherland.
Eucharistic Election
Prayer Vigil in the Chapel
Tuesday, November 8th
9:00 am - 11:00 pm
On Election Day, be sure to vote and then come pray and fast before the Blessed Sacrament for our beloved nation and for the election of representatives who will recognize and defend the dignity and worth of all human life and who will respect our right to freely practice our religion according to our consciences. Pray, too, that these leaders, imperfect as they may be, might simply humble themselves and allow the Lord to work through them to fulfill His most perfect will. We are hopeful that we may have at least two committed adorers for every hour, so if you are certain you will be here, call 410-461-5066 to let us know! Late afternoon and evening slots still available.
Veteran's Day
Military Mass
Friday, November 11, 12:00 pm
Our Lady's Center invites all those who have served in or who have family members currently serving in the Armed Forces to a special Military Mass on Friday, 11/11/15 at 12 pm. Join us as we honor our beloved veterans and ask for God's blessings upon those loved ones who currently offer their service for the protection and freedoms of our country.
No one has greater love than this, to lay down one's life for one's friends.
Defend Life Lecture:
Mark Harrington Friday, November 18th, 1:00 pm
Mark Harrington founded Created Equal in 2011 and serves as its director. Created Equal concentrates on visiting universities to raise the issues of Abortion, Embryonic Stem Cell Research and Cloning. Mark's talk is entitled Equipping the Next Generation for Pro-Life Victory, and he ardently professes, "If, at the end of my life, I do not see a long line of young apologists I have equipped behind me, I will have failed." Find out more about Created Equal HERE. Following the talk, please join us in the conference room to continue discussion over cake and refreshments.
| | |
| --- | --- |
| Come Experience the Beauty of the Latin Mass! November Date TBA We are still determining dates for our November and December Latin Masses. One or possibly both may be a High Mass with a visiting schola! We'll post the information on the Events page of our website HERE just as soon as details become available. You may also call 443-804-4809 to find out more information. As always, missals will be provided with Latin on one side and English on the other, so it is not difficult to follow along. After Mass, we will gather in the conference room to enjoy refreshments and fellowship. Bring something to share if you can.Find out why Traditional Latin Mass is so awesome HERE. | |
Catholic Daughters
Craft Fair & Bake Sale Saturday, 11/19 after the 5:30 Mass
& Sunday, 11/20, 8:00 am - 1:30 pm
Church of the Resurrection,
Paulskirk Rd., Ellicott City


We are excited to once again be invited to exhibit at the Resurrection Craft Fair and Bake Sale hosted by the Catholic Daughters of America. We will be displaying our lovely and festive Advent and Christmas items as well as a wide variety of our store merchandise. We will be bringing our wonderful selection of Trappistine Fudge, Penuche and Chocolates as well as Mouth Party Sea Salt Caramels and Mystic Monk Coffees. See you there!
St. Nicholas is Coming
to Our Lady's Center! Tuesday, December 6, 10:30 am


Bring the kids and share the news! St. Nicholas, Bishop of Myra, will once again be visiting Our Lady's Center on his feast day to tell the children all about his love for the Lord and the joy of giving. Children will have an opportunity to pose with St. Nick for a photo, color Christmas pictures, enjoy some Christmas cookies, and leave their shoes under the Christmas tree for a surprise. Last year was another huge success as dozens of children visited on the Feast of St. Nicholas. Mark your calendar now!
Phil Adinolfi, Devoted Friend & Patron of OLC,
Passes into Eternal Life
It is with great sadness that we must relay the news of the very recent passing of a dear and devoted friend of Our Lady's Center. Phil Adinolfi passed into eternity on the morning of October 29th, with his beloved wife Grace at his side. Phil was a trained architect and mechanical engineer and a very close friend of Our Lady's Center's founder, Frank Lancelotta, Sr. After a devastating fire leveled the Center in 2001, it was Phil who, in planning the reconstruction of the Center, fortuitously designed it to sit 42" above ground, to save it from flooding. Just three months ago, we were thanking the Lord for Phil and his providential decision as 36" of raging flood water churned around the Center but did not breech its doors. You can read an article about the 2001 fire HERE and about the Center's reopening in our current building in 2007 HERE.

Jack Kissane, President of the Board, remembers Phil as "a soft spoken, gentle man with tremendous tenacity to complete the jobs he accepted" and that "his commitment to Our Lady and this Center, which he designed and built twice, was unparalleled; he would not let the Center disappear on his watch." Jack was able to speak with Phil several weeks ago to relay the news about the Center surviving the flood and also how so many people now visit and are blessed by the Center. Secretary Carolyn Niebauer (pictured above on right) had the following to say, "Well done, Phil. You completed the race. You were an inspiration to all of us, a good holy man and a most faithful follower of Christ and His Church. Thank you now and forever." We all second these heartfelt words. Phil is survived by his beloved wife Grace (pictured above), daughter Debbie Upchurch and son Greg Adinolfi. Please keep Phil and his family in your prayers.

Arrangements: For those wishing to pay their respects, a wake is planned for Wednesday, November 16th at Slack Funeral Home, 3871 Old Columbia Pike, Ellicott City. Please call 410-465-4400 to confirm time. A Mass of Christian Burial will be held on Thursday, November 17th at noon at St. John the Evangelist in Columbia, the Adinolfi's parish of many years. He will then be laid to rest with full military honors.
Our Flood Recovery Appreciation Mass & Dinner Practically Overflowed with Gratitude
With the deepest gratitude, Our Lady's Center hosted a Flood Recovery Appreciation Mass and Reception for all those who helped with our recovery efforts following the devastating Ellicott City flood of July 30th. Pierce Flanigan of P. Flanigan and Sons, a construction company who came to our rescue, received a plaque conveying our deep appreciation for their services. They donated a massive amount of man hours and paving materials to repair our severely damaged grounds and parking lot, enabling us to resume normal operation within four days. Maryland State Senator Bill Ferguson received a certificate commemorating his assistance in procuring P. Flannigan and Sons' help. The Senator's mother, Marie, had recently shopped at Our Lady's Center for a Baptism gift for the Senator's daughter, and she had told him how impressed she was with the Center. When our emailed plea for help following the flood reached her inbox, she let him know, and the rest is history.

Howard County Executive Allan Kittleman also received a certificate of gratitude for the help his office has given the Center. As it was the County Executive's birthday, he was unable to attend. To stand on his behalf, Mr. Kittleman sent James Forest, his assistant, and Joseph Herr. Mr. Herr, the deputy Manager of HoCo Emergency Recovery directing the recovery efforts in Ellicott City, just happened to have been the Fire Inspector when Our Lady's Center burned to the ground in 2001! He shared some of his memories with us and remarked on the resiliency of the Center.

The Department of Public Works was also recognized for its outstanding work in clearing the clogged stream and shoring up its banks along the entrance lane. For their outstanding and professional assistance, Rick Hoffman and Brian Cleary were recognized. Knights of Columbus, St. Agnes and St. Francis of Assisi councils, and various other patrons and benefactors were given tokens of appreciation, as well. Everyone enjoyed a banquet of delicious food from Mission Bar-B-Q and, of course, cake. The press was also well represented. The Baltimore Sun and Howard County Times ran the same article on us with photos and video HERE. We were also featured in the Columbia Flier on page 4, with a window of info on the front page. The Catholic Review also published an article HERE.
Dedicated Prayer Warriors Storm Heaven
at the Annual Rosary Rally
Our Lady's Center once again took part in the Annual Rosary Crusade, hosting one of an estimated 16,000 rosary rallies all across the nation which were held on the Saturday closest to the Feast of Our Lady of the Rosary. Last year it was said that, within one hour, 31,500,000 Hail Mary's were offered up all across the country for our beloved nation and for world peace, and this year's was even bigger. Our rally was led once again by Board Member Ada Vergne and attended by many of the area faithful. Mass was offered by our own Msgr. Joseph Lizor, who is the Center's spiritual director and also on the Board of Directors. Thanks to all who came out!
Eric Scheidler of the Pro-Life Action League
Speaks on Doing Hard Time for "Life"
Another great in the Pro-Life movement, Eric Scheidler, came and spoke at OLC as part of the Fall Defend Life Speaker Tour. Eric relayed his experience with being suddenly arrested while peacefully protesting, and he spoke of what he learned while doing hard time. He is the son of the great Joe Scheidler, the Father of the Pro-Life Movement, and is certainly making his father proud by carrying on the good fight. He lives in Aurora, Illinois with his wife and eight children where he led the battle to keep Planned Parenthood from opening America's largest abortion facility. You can find out more about the remarkable work Eric is doing HERE.
OLC at the Maryland Catholic Women's Conference
Our Lady's Center was honored to be asked back to exhibit at the 2016 Maryland Catholic Women's Conference at Mount St. Mary's University in Emmittsburg, MD. The Conference was a resounding success, and we are proud to relay that we had our best show ever. The attendees were enthusiastic about the items we brought and were amazed at the variety and selection of merchandise. We felt like we brought half the store, but it is always worth it to introduce new customers to our beautiful Catholic items!

Upcoming Events


First Saturday Mass & Devotions
Saturday November 5, 10:30 am

Veteran's Day Mass
Friday, November 11th, 12:00 Noon

Defend Life Speaker Mark Harrington
Friday, November 18th, 1:00 pm

Traditional Latin Mass & Potluck
Tuesday, November 29th, 6:30 pm



All Saints Day
November 1

All Soul's Day
November 2

St. Martin de Porres
November 3

St. Charles Borromeo
November 4

Dedication of St. John Lateran Basilica
November 9

St. Leo the Great
November 10

St. Martin of Tours; Veterans Day
November 11

St Frances Xavier Cabrini
November 13

St. Margaret of Scotland; St Gertrude
November 16

St. Elizabeth of Hungary
November 17

Presentation of the Blessed Virgin Mary
November 21

Feast of Christ the King
November 20

St Cecelia
November 22

Thanksgiving
November 24

First Sunday of Advent
November 27

St. Andrew
November 30

IN THE BOOK STORE...
Praying for the Holy Souls & Advent Items!

Susan Tassone Books on Praying for the Holy Souls in Purgatory
Let us redouble our efforts to pray for them this November!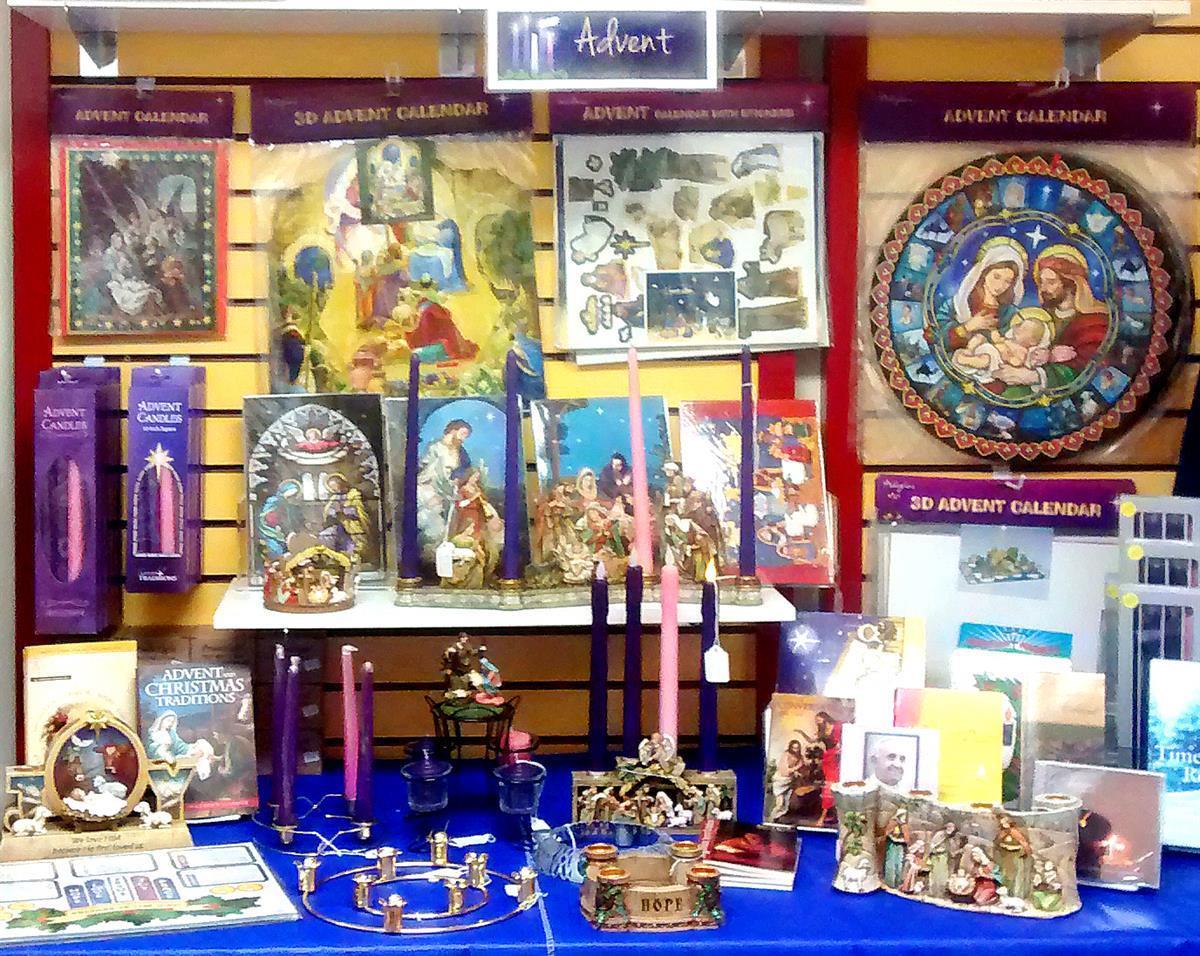 ADVENT BEGINS NOVEMBER 27th!
Get a handle on your candles now! We have them in 10" and 12" tapers, votives and New LED! We also have your Advent calendars, wreaths and devotionals.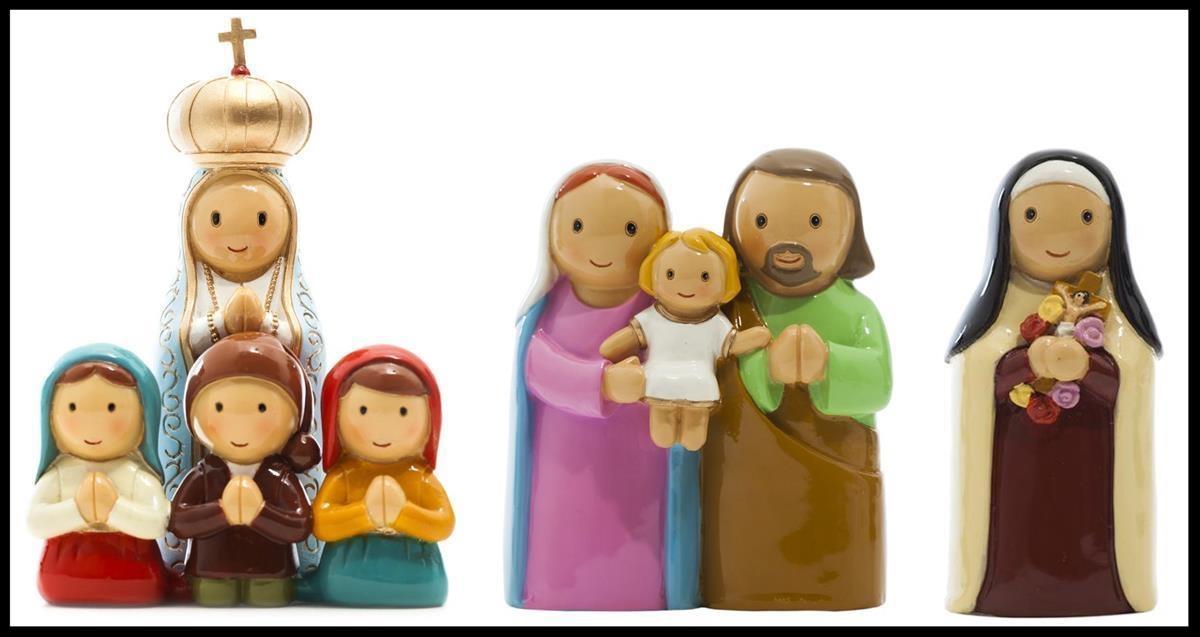 Introducing the Little Drops of Water collection of quality lacquered statues. They are SO adorable! We have a whole bunch of different ones in stock.

SAVE YOUR INK!
Click
here
for a printer-friendly coupon.
20
% OFF
Any One Advent Item in stock
Coupon must present at time of purchase (may be shown on device at check out).
Limit one coupon per person per visit,
Expires 11/30/2016
Can't Get to our Store?

Our homebound and out-of-town patrons have found shopping at our online store convenient and helpful. We carry a wide variety of medals, crucifixes, and rosaries there for your convenience. You can shop anytime and choose to have your items shipped either to your home address or to anywhere you need them sent. We thank you for supporting OLC and appreciate any and all patronage as the proceeds of all sales go toward supporting our unique apostolate. Click here to visit now:
Our Lady's Center Marian Shrine

3301 Rogers Ave

Ellicott City, MD 21043

(410) 461-5066

Store Hours

Monday - Thursday: 10:00 am - 4:00 pm*
Friday: 10:00 am - 7:30 pm*
First Saturday: 10:00 am -10:30 am; 12:30 pm - 2:00 pm
*Please note that the store is always closed during the noon Mass
Chapel Hours:

Holy Sacrifice
of the Mass

Monday-Friday: 12:00pm
Friday night: 7:30 pm
1st Saturdays: 10:30 am

Rosary


Monday-Friday: 11:30 am



Confessions


Following all Masses



Adoration


Friday: 12:30 - 7:30 pm


Friday Night Devotions



Holy Mass: 7:30 pm
Followed by: Confessions, Rosary, Divine Mercy Chaplet, Adoration of the Blessed Sacrament and Benediction
| | |
| --- | --- |
| Our Lady's Center Marian Shrine is a Catholic lay apostolate within the Archdiocese of Baltimore located outside of Baltimore, Maryland in Ellicott City. We offer the Holy Sacrifice of the Mass and confessions upstairs in our chapel each weekday and on first Saturdays. Downstairs in our beautiful store, we carry a large selection of Catholic books and religious articles to meet every need. We have many events and activities throughout each month. | |