| | |
| --- | --- |
| www.ourladyscenter.net • 410-461-5066 | |

December is dedicated to Advent.
While the world rushes ahead in festivities and activities often devoid of their primary purpose, we wait, pray, and prepare ourselves to welcome the Christ Child into our hearts. More HERE.
O come, O come, Emmanuel and ransom captive Israel that mourns in lonely exile here until the Son of God appears. Rejoice! Rejoice! Emmanuel shall come to thee, O Israel.
Thy Word Newsletter
December 2016
Two Latin Masses this Month:


December 1st

& 27th
6:30 pm

St. Nicholas comes to
Our Lady's Center
December 6th, 10:30 am

OLC Christmas Basket Raffle & Pot Luck Party
December 19th, 1:00 pm
Christmas & New Years Holiday Schedule:
We will be CLOSED Sat.-Tues., December 24-27
& Sat.-Mon., December 31-January 2nd.
Traditional Latin Mass
& Fellowship

TWO DECEMBER DATES:


Thursday, December 1st &
Tuesday, December 27th
Come experience the beauty and reverence of the Latin Rite, and bring a friend or two. As always, missals will be provided with Latin on one side and English on the other, so it is not difficult to follow along. After Mass, we will gather in the conference room to enjoy refreshments and fellowship. Bring a snack or treat to share. Find out why Traditional Latin Mass is so awesome HERE.

St. Nicholas is Coming
To OLC!
Tuesday, December 6, 10:30 am
Bring the kids! St. Nicholas, Bishop of Myra, will once again be visiting Our Lady's Center on his Feast Day to tell the children all about his love for the Lord and the joy of giving. Children will have an opportunity to get their photo taken with St. Nick, color Christmas pictures, and leave their shoes under the Christmas tree for a surprise. Past years have been a huge success as dozens of children have come to meet good St. Nicholas. We will begin at 10:30 am sharp in the chapel.
You are Invited...
to OLC's Christmas
Raffle & Potluck Party!

Monday, December 19, 1:00 pm
Join us for our annual OLC Patrons' Potluck Christmas Party after the noon Mass. We are a great big family here, and you are an important part of it. Bring a favorite dish to share if you're able, but join us regardless to celebrate the Christmas spirit. Enter NOW to win an enormous gift basket bursting with fantastic contributions from dozens of local companies. Previous baskets have had over $1,800 worth of prizes! To enter, purchase tickets in the store, over the phone, or through Paypal. Tickets are just $1.00 ea or six for $5.00! We'll draw the winning ticket at the party!
Be sure to call ahead in inclement weather.
Like us on
Facebook
for the most up to date info!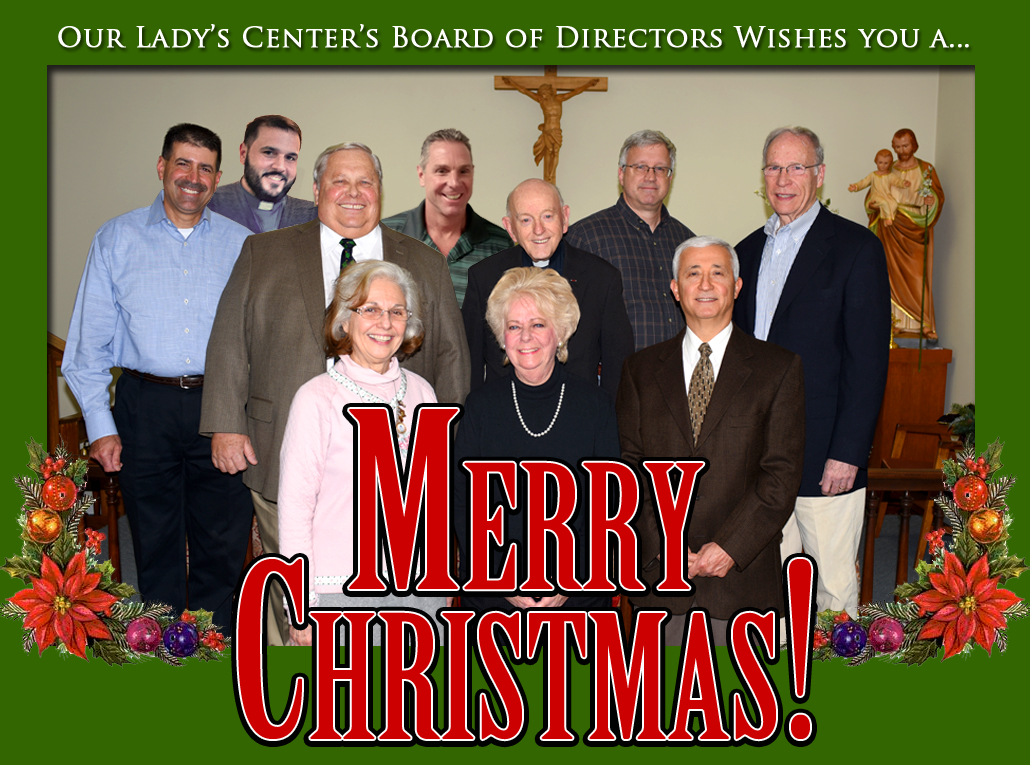 The Board of Directors of Our Lady's Center:
Nick Nucci, Deacon Brandon Justice, President Jack Kissane, Doug Schenk, Msgr. Joseph Lizor, Carl Kleinschmidt, Bob Nichols, Ada Vergne, Sec./Treas. Carolyn Niebauer, Jean Ayoub

Christmas Thoughts 2016
Christmas is coming and the joy of Advent will soon be realized. It is interesting to think about the many ways we see Our Lord and Our Lady each day but look right past them. They're sort of hiding in plain sight to us, starting for many with the Eucharist itself. So many go through the motions but is true belief there? When I think about the year just ending it is hard to doubt the answers to prayer and the presence of God in our midst. We began with a blizzard, but the Center was spared damage. Later we had a flood. Again, the Center survived intact and the damaged grounds were quickly restored by many generous souls. Weeks later, I had serious heart surgery, but others stepped in to fill that void and I recovered. Even through this contentious election cycle, Our Lord and Our Lady heard and answered your prayerful petitions on behalf of the cause of life. Once again we approach the time of our Lord's birth... Emmanuel, God among us. And yet, He is always in our midst, bourn in the hearts of the faithful. We can clearly discern Our Lord or Our Lady residing inside many of you. On behalf of the Board of Directors, we want to thank all of the many patrons who donated time, treasure, and talent to our many projects here this year. May you be blessed this Christmas in spectacular ways as you light the way for the One who is arriving. Merry Christmas and a blessed, healthy New Year. - Jack Kissane, President

OLC Mourns the Loss of a Devoted Friend
Just before November's newsletter was published, word reached us of the passing of Phil Adinolfi, a dear friend and benefactor of Our Lady's Center who poured his heart and soul into keeping our doors open and candles burning. Read more about what Phil did for OLC HERE. Board Secretary Carolyn Niebauer oversaw the creation of a beautiful arrangement, complete with an Our Lady of Grace Statue from our shop, and she wrote a note that perfectly expressed our deep emotions at his passing. Carolyn is shown above with Phil's daughter, Debbie Upchurch on the left and Phil's friend, Don Schmidt, on the right. Carolyn and Jack Kissane along with his wife Grace, attended the services and brought with them the condolences of many who will forever remember Phil with affection and gratitude. The family has generously asked that donations in Phil's memory be made out to Our Lady's Center.
Thank you to all who Prayed for Our Nation
Our Lady's Center would like to thank the many prayer warriors who stormed Heaven on behalf of our nation, both in the Novena for Our Homeland and the Election Day Prayer Vigil before the Blessed Sacrament. Together, we petitioned the Lord to watch over and protect our beloved homeland from evil, protect its citizens and leaders from violence, and to further the cause of respect for human life in all its stages. We know our prayers were heard and answered, and in gratitude we recently offered a Mass of Thanksgiving. And yet, our country is still divided and in need of continued fervent prayer. Please consider starting a 54 Day Rosary Prayer Novena. More about it HERE.
A Veteran's Day Mass
in Honor of All Those
Who Have Served

Fr. Anthony Anichukwu offered the Mass on Veteran's Day for all who have served in the Armed Forces. Many veterans as well as the family and friends of those who have served were in attendance. President of the Board Jack Kissane, who is a former U.S. Marine Corps Major, gave a small reflection on what it means to serve. He

brought some uniform items from his time in service for display. Bob Palace, a former Army Air Corps enlisted man also gave a reflection on how his military service directed his whole path through life. Our Lady's Center will always remain eternally grateful to those who have fought for our freedoms, most especially our Freedom of Religion. May we never take it for granted.



"Jesus, you said, 'There is no greater love than to lay down one's life for one's friends.' We pray for those men and women who have, in their military service, sacrificed their time, strength, ambition, health and even their lives on this earth to benefit 'friends,' known and unknown....We honor our veterans in your name. We thank you – as we thank them – for their sacrifice...We ask that you would give our veterans a peace beyond the peace they fought to secure, a peace in their own hearts, wrapped in the joy of a life touched by your strong hand." Full prayer HERE
Mark Harrington of Created Equal Speaks at OLC
Mark Harrington founder and director of Created Equal spoke at Our Lady's Center to conclude the Fall Defend Life Speaker Series. Created Equal concentrates on visiting universities to raise the issues of Abortion, Embryonic Stem Cell Research and Cloning. Mark's compelling talk, Equipping the Next Generation for Pro-Life Victory, was accompanied by a Powerpoint presentation. Mary Ellen Cote, OLC's Volunteer Coordinator, described the talk as compelling and perhaps the best that she has seen. She and Board Member Ada Vergne are shown above with Mark Harrington (sporting their awesome LifeCulture pro-life apparel!) Stay tuned for announcements on the Spring Defend Life Speaker Series, as OLC welcomes more great leaders in the movement. As always, thank you for showing your support for the great speakers we have at OLC and for helping us spread the Gospel of Truth and the culture of life in a desperate, hurting world.
Eagle Scout Project Success Story:
A Retaining Wall for Our Lady's Grotto
Our Lady's Center is no stranger to adversity, a fact well noted by an aspiring Eagle Scout. For his Eagle Scout project, Ben Ward of Troop 62 chose to build a retaining wall behind the grotto of Our Lady's iconic outdoor shrine. Built as it is into the side of a steep embankment, it has long been in peril of storm water damage as well as from the effects of natural erosion. Ben headed up a huge effort to install a retaining wall behind the grotto, an endeavor which included much brush clearing and excavation before a cement block wall could be installed with poured concrete base as a solid foundation. This was no easy task given the slope of the hill and the volume of gravel and concrete required. Added to that was the unforeseen onslaught of unusual weather. From the tornado-spawning sustained high winds and heavy rains on the day excavation began to the record-breaking torrential flooding which damaged much of OLC's property, Ben and his crew braved much adversity to complete the job before the cold weather set in. They even set aside their efforts and helped with storm clean-up. We at OLC are extremely grateful for the dedication with which the task was completed, and we will now rest easy knowing our beloved grotto with its beautiful statue of the Blessed Mother will stand the test of time. Ben's name will be added to the plaque we have hanging inside the Center honoring all the young people who have chosen OLC for their Scout service project, and we will always include them in our intentions every First Saturday Mass, which is always dedicated to the benefactors of OLC.
December Special Feasts


St. Francis Xavier


December 3



St. Nicholas


December 6



St. Ambrose


December 7



The Immaculate Conception
(Holy Day of Obligation)


December 8



St. Juan Diego


December 9



Our Lady of Guadalupe


December 12



St. Lucy


December 13



St. John of the Cross


December 14



Nativity of the Lord


December 25



St. Stephen


December 26



St. John the Evangelist


December 27



The Holy Innocents


December 28



St. Thomas Becket


December 29



The Holy Family


December 30



St. Sylvester


December 31

Deacon Brandon Justice Stepping Down from the Board After 8 Years

Please join us in wishing OLC Board member Deacon Brandon Justice a fond farewell as he and his family move to Colorado. Deacon Justice, a member of OLC's Board of Directors since 2009, served as the spiritual director for the Legion of Mary O.L. Undoer of Knots praesidium and also assisted us with various Marian devotions and Benedictions. He was ordained in 2010 and served at Our Lady of the Mills Parish in Laurel. He and his wife Erin have been married 18 years and have five children. Thank you, Deacon Justice, for being such a strong example of active, vibrant faith for all those whom you serve. We wish you all the best in your new adventure!

IN THE BOOK STORE:
Lovely Christmas Decorations and Gifts!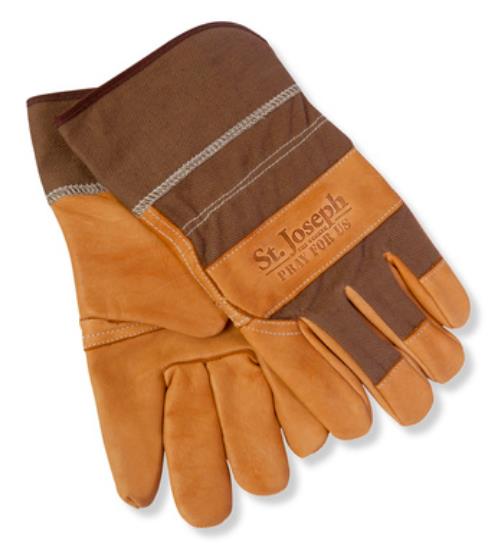 AN OLC EXCLUSIVE! St. Joseph the Worker embossed cowhide leather work gloves!

NEW! Stunning 21" Sine Cera Our Lady of Guadalupe crushed onyx statue
Her Feast Day is December 12th!


NEW! 23" Resin Mother's Kiss Statue
by Avalon Gallery. Also comes in a
7.5" statue and a 4" ornament!
This Song of Angels
9" Musical Figurine plays Ave Maria!

Lots of Christmas DVD's in stock
for adults and kids!
A nice selection of children's Christmas books including these brand new titles from Magnificat!
DECEMBER COUPON!
15
% OFF
Any One
Item from our
Christmas Department
Regularly $50 or less.
Must present at time of purchase. Valid on regularly priced items only. Coupon not valid on previously purchased items. Limit one coupon per visit.
Expires 12/30/2016

Can't Get to our Store?


Our homebound and out-of-town patrons have found shopping at our online store convenient and helpful. We carry a wide variety of medals, crucifixes, and rosaries there for your convenience. You can shop anytime and choose to have your items shipped either to your home address or to anywhere you need them sent. We thank you for supporting OLC and appreciate any and all patronage as the proceeds of all sales go toward supporting our unique apostolate. Click here to visit now:
Donate to OLC
for FREE!

If you're shopping on Amazon this Christmas (or throughout the year), you can donate a percentage of your purchases to OLC! Just go to smile.amazon.com, select Our Lady's Center, Inc. in Ellicott City, MD as your charity, and you're set! After that, whenever you make a purchase through smile.amazon.com, Amazon will make a donation to us. Of course, you should always make your religious purchases through us, but what a blessing to donate when you purchase kitchenware, games, movies, furniture, or whatever else you need! Thanks for all of your support!
Our Lady's Center Marian Shrine

3301 Rogers Ave

Ellicott City, MD 21043

(410) 461-5066

Store Hours

Monday - Thursday: 10:00 am - 4:00 pm*
Friday: 10:00 am - 7:30 pm*
First Saturday: 10:00 am -10:30 am; 12:30 pm - 2:00 pm
*Please note that the store is always closed during the noon Mass
Chapel Hours:

Holy Sacrifice
of the Mass

Monday-Friday: 12:00pm
Friday night: 7:30 pm
1st Saturdays: 10:30 am

Rosary


Monday-Friday: 11:30 am



Confessions


Following all Masses



Adoration


Friday: 12:30 - 7:30 pm


Friday Night Devotions



Holy Mass: 7:30 pm
Followed by: Confessions, Rosary, Divine Mercy Chaplet, Adoration of the Blessed Sacrament and Benediction
| | |
| --- | --- |
| Our Lady's Center Marian Shrine is a Catholic lay apostolate within the Archdiocese of Baltimore located outside of Baltimore, Maryland in Ellicott City. We offer the Holy Sacrifice of the Mass and confessions upstairs in our chapel each weekday and on first Saturdays. Downstairs in our beautiful store, we carry a large selection of Catholic books and religious articles to meet every need. We have many events and activities throughout each month. | |