| | |
| --- | --- |
| www.ourladyscenter.net • 410-461-5066 | |

Glorious Saint Joseph, tenderhearted father, faithful guardian of Jesus, chaste spouse of the Mother of God, we ask you to join with us in praising God the Father through his divine Son who died on the cross and rose again to give us sinners new life. Through the holy name of Jesus, pray with us that we may obtain from the eternal Father the favors we ask. Amen.
Read more on St. Joseph

HERE

.
Thy Word Newsletter
March 2017
Venerate the True Cross
Friday, March 3 after
Noon & 7:30 pm Masses

Defend Life Talk
with Ed Dacarrett
Friday, March 17, 1:00 pm

Traditional Marriage
Rosary Rally, Saturday,
March 18, 11:30 am


ASH WEDNESDAY MASS
Come to Our Lady's Center
for Noon Mass on Wednesday,
March 1st and receive ashes.
Pick up some Lenten resources in the
bookstore while you are here!

Venerate the True Cross
Friday, March 3rd after
Noon & 7:30 pm Masses
Join us for this special opportunity to venerate the actual cross upon which Our Lord died for our salvation! Our Lady's Center is the humble steward of this small fragment of the True Cross. This relic will be made available for veneration during two Fridays this Lent: March 3rd and April 7th, following both our noon and 7:30 pm Masses. Veneration will take place before Exposition of the Blessed Sacrament for Friday Adoration and will also be followed by Confessions and the Stations of the Cross. Come make this Lent an extra special one with us! And click

H

ERE to learn more about the Catholic Church and relics.
First Saturday Mass & Devotions and Monthly Mission Presentation Saturday, March 4th
Beginning with 10:30 am Mass
Along with our regularly scheduled First Saturday Mass and Devotions, we are now also featuring a short presentation by a ministry each month, along with materials and information to take home. Next up will be the Columbia Pregnancy Center. Come learn more about this important and active ministry, meet the new director, Nancy Vawter, and ask her questions! Their website is HERE.
Defend Life Talk:
Ed Dacarrett Friday, March 17th, 1:00 pm


The Defend Life Lecture Tour continues with Ed Dacarrett speaking on

"Doing Ingenious Things to End Abortion in Florida."

Mr. Dacarrett is

a great unsung hero who has saved thousands of pre-born babies from abortion in Florida with his 240 giant billboards lining Florida's Interstate Highways in the last 15 years. He has been active in the pro-life movement for 3 decades and has established a Catholic radio station. There is much we can learn from his methods and his determination. The talk will take place in the conference room and will be followed by cake and lively discussion. Please join us.
Rosary Rally for
Traditional Marriage
Saturday March 18th, 11:30 am

The month of March is dedicated to St. Joseph, our model for Catholic fathers and the head of the home. America Needs Fatima has organized a national Public Square Rosary Crusade to be held on the Saturday closest to St. Joseph's feast day to ask for his and Our Lady's intercession to protect and preserve traditional marriage in America. In The Secret of the Rosary, St. Louis de Montfort said: "Public prayer is far more powerful than private prayer to...call down His mercy, and Holy Mother Church, guided by the Holy Ghost, has always advocated public prayer in times of public tragedy and suffering." Mass will begin at 11:30 am, followed by the Rosary.
Traditional Latin Mass
& Pot Luck Tuesday, March 28th, 6:30 pm
Please join us for a meditative low Mass offered by Fr. Canisius Tah of the Church of the Resurrection in Ellicott City. Missals are provided with Latin on one side and English on the other, so it is not difficult to follow along. After Mass, we will enjoy light fare and lively conversation in the conference room. Please bring something to share if you can. Find out why Traditional Latin Mass is so awesome

H

ERE.
2017 Catholic Men's Fellowship of MD Conference

Saturday, March 25th


The 2017 Catholic Men's Fellowship of Maryland conference will be at Morgan State University in Baltimore. This year's theme is "Rise Up, O Men of God: Mobilizing for the New Evangelization" and will feature amazing speakers such as Scott Hahn, Paul Shelton and Alex Zunca. Read their bios HERE. Our Lady's Center has once again been invited to exhibit at the show, and we are so excited! Stop by and check out our selection of Bibles, devotionals and sacramental items.
Pilgrim Statue of
Our Lady of Fatima
Visiting St. Philip Neri
Sunday, March 26th
The Fatima Centennial US Tour for Peace is bringing the pilgrim Statue of Our Lady of Fatima to 100 Dioceses, and it is coming to the Archdiocese of Baltimore to St. Philip Neri Parish in Linthicum on Sunday, March 26th. The statue will be present in the sanctuary during all Masses, and there will be Exposition of the Blessed Sacrament, Rosaries and the Divine Mercy chaplet throughout the day. Please come to pray for peace! Our Lady's Center will be there with a beautiful selection Pilgrim Statues from Fatima for you to purchase, as well as Rosaries, Scapulars and Devotionals.

WMET AM 1160 Broadcasts Live from OLC!
St. Valentine's Day turned out to be an exciting day at OLC.

WMET AM 1160

of the Guadalupe Radio Network broadcast live from our kitchen! Mike Washabaugh, the station's Community Relations Director, brought his laptop, some very compact broadcasting equipment and two microphones, and he proceeded to conduct lively and entertaining live interviews with OLC's board members and staff. First up was President of the Board, Jack Kissane, followed by Secretary Carolyn Niebauer, Msgr. Joseph Lizor and Manager Christine Cunningham in the first hour of uninterrupted broadcast. Listen to it HERE. For the next two hours, Mike broke into regular programming every fifteen minutes to broadcast more interviews from OLC. Ada Vergne filled one of the slots speaking Spanish, which you can hear HERE. Msgr. Lizor's blessing upon the listening audience can be heard HERE. We're thrilled with how many listened to us over the radio and over the internet, including people throughout the country! Some traveled from near DC to find us during the broadcast and we're so glad they did.

During the broadcast, Our Lady's Center raffled off a pilgrim statue of Our Lady of Fatima in honor of the 100th Anniversary of the apparitions. Nikki Henson, our former manager of many years, won it...and then donated it back! A second ticket was drawn, and the winner was delighted to hear the news. She is planning on donating the statue to a very special place. More info and photos to come! This is yet another example of the generosity of those associated with this wonderful place of grace! Photos clockwise from top: President of the Board Jack Kissane with WMET Community Relations Director Mike Washabaugh, OLC staff member Ginny Sniezek with Jack, Board members Msgr. Joseph Lizor and Secretary Carolyn Niebauer, a group shot, Manager Christine Cunningham, and Board member Ada Vergne.
Our Lady's Center is a Fatima Pilgrimage Site!
2017 is the 100th Anniversary of the Apparitions of Our Lady in Fatima, Portugal. This is the year of Fatima. Our Lady's Center is excited to announce that we will be a place of pilgrimage where pilgrims may come and pray before our Pilgrim Statue in the chapel and fulfill the other necessary requirements to receive a plenary indulgence. The special days to gain an indulgence will be the 13th of each month between May and October, the days on which Our Lady appeared to the three children in Fatima Portugal 100 years ago. Read more

HERE

and

HERE

. Our Lady of Fatima is the Center's patroness and protector, and we are dedicated to her and receive her constant protection. We always offer the First Saturday Masses and devotions as she requested.
Energetic Volunteers Needed to help us with our offsite shows!
Contact Mary Ellen HERE for more info.
We need you!

March Feasts


3/01 Ash Wednesday
3/03 St. Katharine Drexel
3/04 St. Casimir of Poland
3/07 Sts. Perpetua & Felicity
St. Thomas Aquinas


3/08 St. John of God


3/12 St. Gregory the Great


3/17 St. Patrick


3/18 St. Cyril of Jerusalem
3/19 Joseph, spouse of Mary
3/21 St. Benedict


3/24 St. Gabriel, Archangel


3/25 The Annunciation

3/01 Ash Wednesday Ashes at 12:00 Mass

3/03 Veneration of the Relic of the True Cross and
Stations, 12:00 pm and 7:30 pm Masses

3/04 First Saturday Mass & Devotions beginning
at 10:30 am

3/17 Defend Life talk with Ed Dacarrett, 1:00 pm

3/18 Rosary Rally for Traditional Marriage, 11:30 am

3/28 Traditional Latin Mass & Pot Luck, 6:30 pm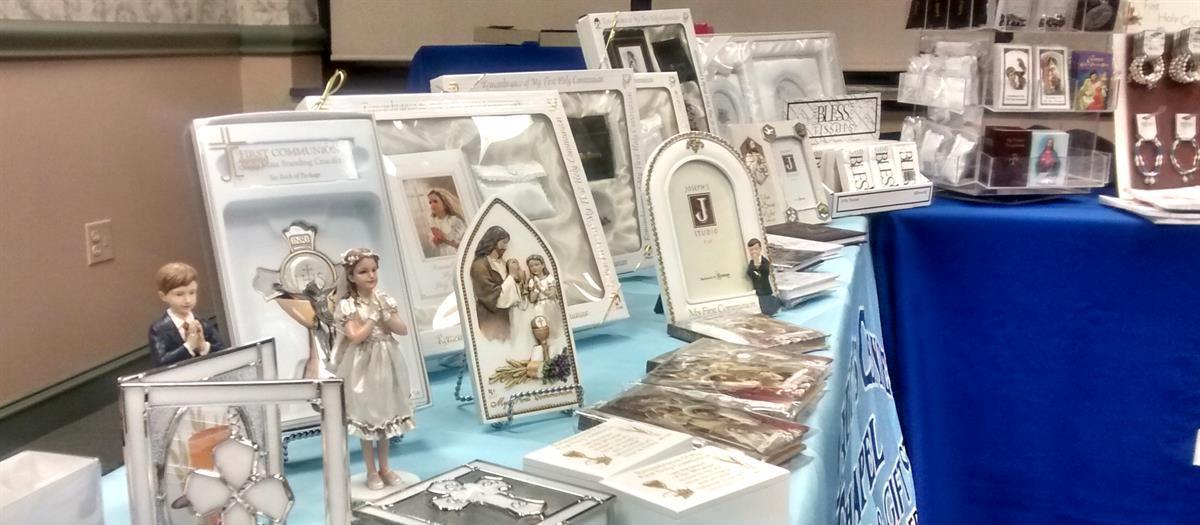 Visit our huge First Holy Communion section filled with boy's and girl's missal sets, children's bibles, handmade veils, purses, communion jewelry, medals, pins, greeting cards, statues, frames, and giftware! New items arriving daily.
| | |
| --- | --- |
| This NEW beautiful First Holy Communion Musical Figurine will go quickly! | First Holy Communion Holy Mass Crucifix comes with a Papal Blessing when blessed. |
| | |
| --- | --- |
| This 11" St. Joseph Statue has a drawer containing a prayer for his intercession! | Irish giftware for St. Patrick's Day: crosses, mugs, rosaries and more. |
SAVE YOUR INK!
Click
HERE
for a printer-friendly coupon.
MARCH SPECIAL!
20% OFF
One St. Joseph Item OR
one St. Patrick item


Must present coupon at time of purchase. Valid on regularly priced items only.
Coupon not valid on previously purchased items and cannot be
combined with other coupons. Limit one coupon per visit.
Expires 03/31/2017

Can't Get to our Store?

Our homebound and out-of-town patrons have found shopping at our online store convenient and helpful. We carry a variety of medals, crucifixes, and rosaries there for your convenience. You can shop anytime and choose to have your items shipped either to your home address or to anywhere you need them sent. We thank you for supporting OLC and appreciate any and all patronage as the proceeds of all sales go toward supporting our unique apostolate. Click here to visit now:
Our Lady's Center Marian Shrine

3301 S. Rogers Ave

Ellicott City, MD 21043

(410) 461-5066

Store Hours

Monday - Thursday: 10:00 am - 4:00 pm*
Friday: 10:00 am - 7:30 pm*
First Saturday: 10:00 am -10:30 am; 12:30 pm - 2:00 pm
*Please note that the store is always closed during the noon Mass
Chapel Hours:

Holy Sacrifice
of the Mass

Monday-Friday: 12:00pm
Friday night: 7:30 pm
1st Saturdays: 10:30 am

Rosary

Monday-Friday: 11:30 am



Confessions


Following all Masses



Adoration


Friday: 12:30 - 7:30 pm

Friday Night Devotions



Holy Mass: 7:30 pm
Followed by: Confessions, Rosary, Divine Mercy Chaplet, Adoration of the Blessed Sacrament and Benediction
| | |
| --- | --- |
| Our Lady's Center Marian Shrine is a Catholic lay apostolate within the Archdiocese of Baltimore located outside of Baltimore, Maryland in Ellicott City. We offer the Holy Sacrifice of the Mass and confessions upstairs in our chapel each weekday and on first Saturdays. Downstairs in our beautiful store, we carry a large selection of Catholic books and religious articles to meet every need. We have many events and activities throughout each month. | |