Good Afternoon Great Gardeners,
The tooth fairy is going to be visiting our house tonight. My daughter had to have another MRI today and the anesthesia doctors removed two of her loose teeth. The MRI showed that all is progressing as planned. The vein in her brain is building up a wall and slowly but surely collapsing. The doctor was happy and we will not have to go back for another MRI until next year.
The weather this week has been crazy. Although, it makes for great planting weather. If you haven't planted your garden yet or if you have and are needing some more plants we still have tons of them in stock. We just received new shipments of shrubs, perennials and foliage all in this week. Stop on in and check them out.
As always, if you have any questions, comments or suggestions, hit reply. I would love to hear from you. Have a great-gardening day.
Sincerely,
Holly
Attracting Bees To Your Garden
Every garden needs pollinators and bees are among the best. Without them there would be very few flowers and even fewer fruits and vegetables. In fact, pollinators are responsible for 1 out of every 3 bites of food you take. While the honey bee gets most of the credit for providing pollination, there are actually about 500 bee species in Ohio.

Bees rely on flowers for food to feed their young when they visit your garden they are looking for two things.

Nectar - nectar is loaded with sugars and it's a bee's main source of energy.

Pollen - pollen provides the balanced diet of proteins and fats.

Ideally your garden should provide bee-friendly flowers that are rich in pollen and nectar which bees can easily access from spring until late summer.

Whether your garden be a balcony, allotment, window box, hanging basket, pots and tubs or a swathe of green open space we can all provide bees with a banquet of pollen and nectar throughout the year.

* Chose several colors of flowers:
Bees have good color vision to help them find flowers and the nectar and pollen they offer. Colors that bees are most attracted to are blue, purple, violet, white and yellow.

* Plant flowers in clumps:
Flowers clustered into clumps of one species will attract more than individual plants scattered throughout the garden.

* Include flowers of different shapes:
Not all bees are attracted to the same flowers. Providing a range of flower shapes and sizes allows more bees to benefit.

* Have a diversity of plants that flower throughout the season:
Most bee species are generalists, feeding on a range of plants through their life cycle. By having several plant species flowering at once, and a sequence of plants flowering through spring, summer, and fall, you can support a wide range of bee species that fly at different times of the season.

* Plant where bees will visit:
Bees favor sunny spots over shade and need some shelter from strong winds.

* Don't use pesticides:
Most pesticides are not selective and they will kill off the bees along with other beneficial insects. If you must use a pesticide use it in the early morning hours or late in the evening when bees are less active. Make sure to follow the label instructions.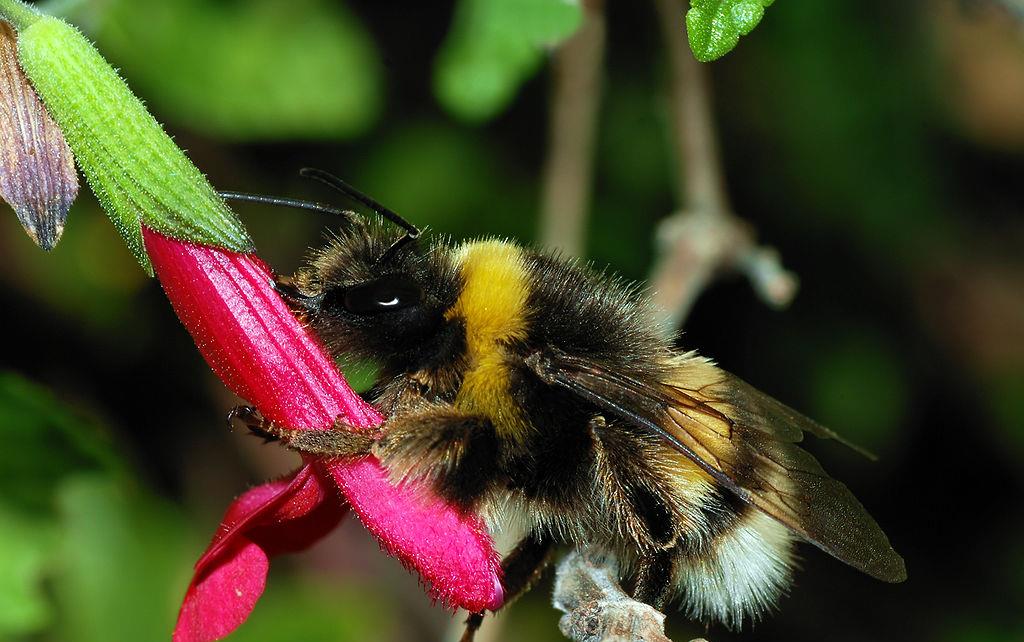 By Alvesgaspar (Own work) [GFDL (http://www.gnu.org/copyleft/fdl.html)
Bumble Bees:
Bumblebees are considered to be beneficial insects because they pollinate crops and plants. Unlike honeybees, bumble bees can sting more than once because their stingers are smooth and do not get caught in the skin when they fly away. Bumble bees pollinate in cool, cloudy weather when most bees are at home. They usually build colonies under ground, commonly in old rodent burrows.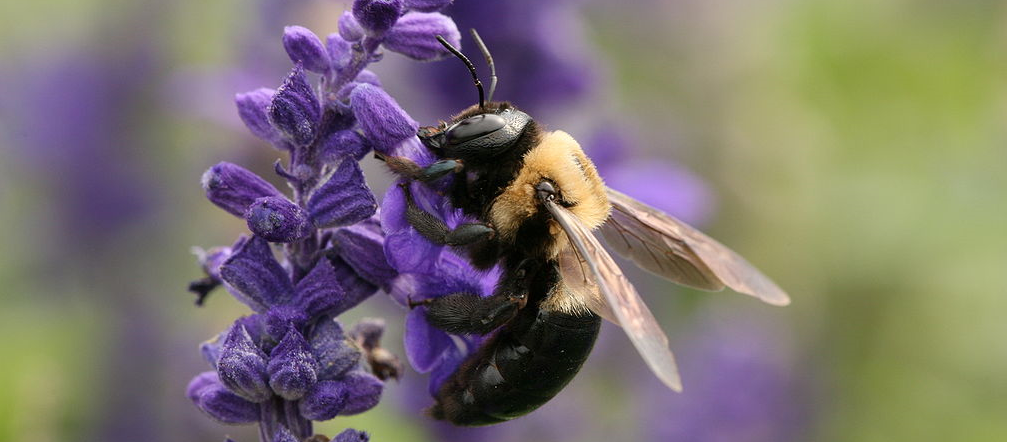 By Daniel Schwen - Own work
Carpenter Bees:
Carpenter bees are solitary bees. They build nests just for themselves and only feed their own young. They get their name from their ability to drill through wood. Carpenter bee stingers are not barbed, so they are able to sting over and over again. They pollinate are beneficial because they pollinate plants that are ignored by Honeybees.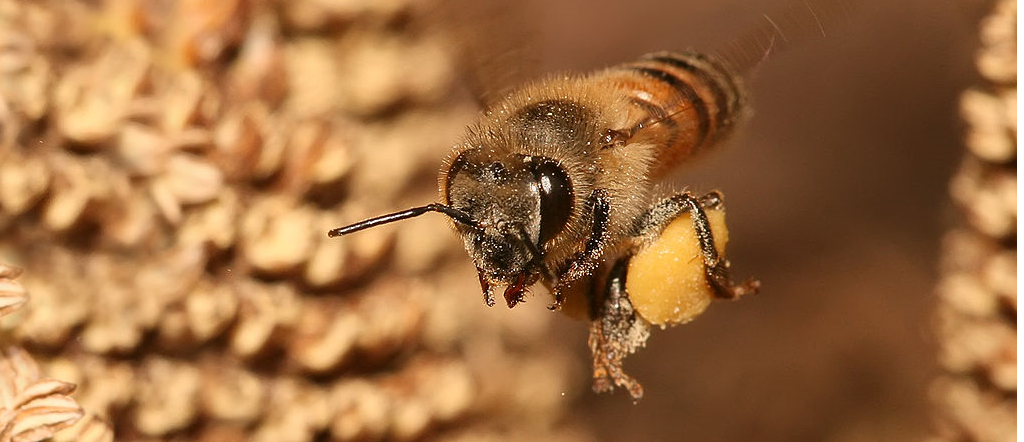 By Muhammad Mahdi Karim - Own work,
Honeybees:
The honeybee is the only social insect whose colony can survive many years. That is because they huddle together and eat honey to keep themselves alive during the winter months. Honeybees do sting, but they only sting once. They typically build their nests in tree crevices, but will occasionally build nests in attics or chimneys. Honeybees pollinate more than 100 crops in the U.S.
Perennials:

Achillea (Yarrow)
Agastache
Alcea (Hollyhock)
Asclepias (Butterfly Weed)
Baptisia (False Indigo)
Delphinium
Echinacea (Coneflower)
Eupatorium (Joe Pye Weed)
Hosta
Kniphofia (Red Hot Poker)
Lavender
Lupines
Monarda (Bee Balm)
Nepeta (Catmint)
Salvia
Phlox
Penstemon
Sedum
Solidago (Goldenrod)
Veronica

Annuals:

Alyssum
Basil
Borage
Cleome
Cosmos
Dill
Erisymum (Wallflower)
Lemon Balm
Mints
Salvia
Snapdragons
Sunflower
Thyme
Zinnias
Shrubs:

Aronia (Chokeberry
Barberry
Blackberry
Buttonbush
Dogwood
Elderberry
Honeysuckle
Hydrangea
Potentilla
Rhododendron
Salix (Pussy Willow
June 10th: 10 am
Everything's Coming
Up roses
Walk with Katrina, our local rose expert, through our rose area and learn how to prune and care for your roses. Learn what products to use so your roses look their very best.
Click Here To Register
June 10th: 2 pm
I Didn't Know I Could Do That With Roses
Learn what you can make with roses: Potpourri, Massage Oils, Rose Lip Balm, Rose Lotion Bars. Did you know that you can even eat roses? Come discover other uses for roses.
Click Here To Register
June 21st: 10 am
How Do I Care For My Hydrangea?
What varieties are available? When do I prune or should I prune at all? How do I keep them Blue or Pink? What type of fertilizer do I use? Get the answers to these and many other hydrangea questions.
Click Here To Register
June 21st: Noon - 2 pm
Free Lunch
Enjoy a free lunch of hot dog, chips and a cookie. Yummy!
June 21st: 1 pm
Summer In The Garden
After a lovely trip to New York Botanical Garden, master Gardener Sheila Geiling will be here to present a program about "Summer in the Garden", relating plants in the botanical gardens to those available here at Wilson's.
Click Here To Register
June 21st: 3 pm - 4 pm
Garden Bingo
Have you ever played Garden Bingo? Many of our guests have played this version of bingo for many years here at Wilson's Garden Center. Bring the family and join us for this fun tradition! Win great prizes!
Cost: 25¢ per card or 5 for $1
Farmer's Market
Thursday's
June 22nd
thru
September 14th


3 pm - 6 pm
We are in search of vendors wanting to participate. If you or someone you know is interested please contact Ruth at the store office (740)763-2873
Flowering Hanging Baskets
Buy 1
Get 2nd 1/2 Price
(1/2 Price Basket of equal or lesser value)
Does Not Include Foliage Hanging Baskets
Sale Ends June 11th!
1 tbsp. ground black pepper
1 tbsp. salt
3 tbsp. chopped rosemary
8 cloves garlic, diced
1/3 cup olive oil

In small bowl combine all ingredients except oil, and mix well. Slowly add oil to form thick paste. Rub into desired meats before cooking.

If you have a recipe you'd like to share send it to
office@great-gardeners.com
Apiculture is the science and art of raising honey bees.

Bees have been around for more than 30 million years

Honey bees are not native to the Americas.

There are three kinds of bees in a hive: Queen, Worker and Drone.

Queen: the mother of all honeybees in the hive and may live for up to five years.

Workers: All workers are female, they are infertile so as not to pose a threat to the queen's position. They have a long list of responsibilities one of which is to collect pollen and nectar.

Drones: are the males in the colony. Their main function is to mate with a virgin queen from a different colony. Drones do not work in the hive and they do not have a stinger.