Thy Word Newsletter -
July 2017
Summer Reading
Book Raffle
Enter all through
the month of July!

First Saturday
Mass & Devotions
July 1,
10:30 am

July Apparition Centennial
Thursday, July 13th
10-4

Children's Story Time
& Craft
Wed., July 19 & 26
10:30 am

4th of July Holiday Closing Schedule:
CLOSED Monday & Tuesday, July 3rd & 4th
for the Independence Day holiday. Please attend Mass at your local parish, and keep our beloved country in your prayers!
We will be OPEN Saturday, July 1st for First Saturday Mass and Devotions.

2017 Summer Reading
Book Raffle
The whole month of July!
We're stocked up with new arrivals and time-tested classics for your summer reading. Plus every $5 you spend on new books will give you another entry to win a Basket of Books. The more you buy, the more entries you get. We'll even round your book sales to the nearest dollar to calculate the number of entries you will receive. So come fill your tote with great summer reads and possibly win even more. Drawing will be held after noon Mass on Tuesday, August 1st.
First Saturday Mass & Devotions with Ministry Presentation
Saturday, July 1st, 10:30 am
Along with our regularly scheduled First Saturday Mass and devotions, we are also now hosting a short presentation by a ministry each month. This month, we welcome Mary Ellen Cote who will discuss volunteering opportunities at Gilchrist Hospice Care, a non-profit here in Howard County which seeks to provide the best care through the end of life. Please join us to hear more about this gentle, loving ministry.
July 13th Fatima
Apparition Centennial
Thursday, July 13th,
11:30 am - 3:30 pm
Our Fatima Centennial celebration continues with a commemoration of the 100th Anniversary of the third apparition. As usual, we will have the Rosary at 11:30 and Mass at Noon. Special intercessory prayers and devotions will follow, including a Patriotic Rosary and songs, and confessions. All present will be invited to participate in a Consecration to the Immaculate Heart of Mary. Finally, a Divine Mercy Chaplet in song will be prayed in the chapel. Remember to fulfill the necessary requirements to receive a plenary indulgence!
Children's Story Time

Two Wednesdays:
July 19th & 26th,
10:30 - 11:30 am Join us in the conference room for a fun and faith-filled time together including a storybook reading and activity. We will provide a snack and juice for the kids. RSVP to help us anticipate how many snacks to have on hand! And, since you'll be here anyway, why not stay for Mass? Our book selections will be "Brigid & the Butter" about St. Brigid of Ireland on July 19th and "The Sheep That No One Could Find" about the Good Shepherd on July 26th.
>>> STAY TUNED <<<
Flame of Love Cenacle Dates & Times TBA Details are still being ironed out for the Flame of Love Cenacle which will be meeting at Our Lady's Center, and we will be announcing them soon! If you are interested in learning more about this movement, information is HERE. If you think you might like to be a part of the cenacle, please contact the coordinator, Ada Vergne. You may email her or call the OLC at 410-461-5066.
| | |
| --- | --- |
| >>> SAVE THE DATE <<< 2000 Hail Marys Saturday, August 12th Our Legion of Mary "Our Lady Undoer of Knots" Praesidium is once again hosting a 2000 Hail Marys Day of Devotions in OLC's chapel on Saturday, August 12th, in honor of the Feast of the Assumption. It will begin with 8:30 am Mass and continue with the Exposition of the Blessed Sacrament and devotions throughout the day. The devotions begin with praying a complete Rosary, then each of 20 petitions is read and followed by 100 Hail Marys. Come for part or all of the day. Refreshments available. Email us for more info. | |
Fresh Flowers for Our Lady...Out of the BLUE!
Our Lady appears to have sent an angel to whisper in the ear of Michelle Battinelli. Her daughter had just been married over the weekend, and Michelle was wondering where she might donate armloads of gorgeous leftover fresh cut flowers. When she arrived at Our Lady's Center bearing the copious and beautiful blooms, we were overwhelmed. Not only were these lovely blossoms, quite unbeknownst to Michelle, the exact colors and varieties of the silk blossoms in our chapel, but they arrived the day before the 100th Anniversary of Our Lady's June Apparition at Fatima! In the photo montage below, the flowers before Our Lady of Fatima are our silk ones. The identical flowers in the bouquets before the altar rail are all fresh. Obviously, the Blessed Mother not only wanted fresh flowers to adorn the chapel for her special day, but, being a woman of good taste, she preferred them to match. We continue to be joyfully amazed at the sweet little ways our dear Mother Mary makes her loving presence known here at OLC. Thank you again, Michelle!
An Eagle Scout Project to Help Us Shed the Past
What a difference a year makes. The first photo below shows the flattened remains of our old shed which the Ellicott City flood of last summer utterly destroyed. Fortunately for us, Joshua Lindberg of Boy Scout Troop 75 in Columbia, who was in need of an Eagle Scout Project, decided to help us out. Joshua researched the site, considered various shed options and worked with board members to decide on a suitable structure. He then designed, cut, screwed and nailed the shed together from scratch. He assembled the basic shed structure in his own back yard, disassembled the pieces, and then had them transported to OLC where they were reassembled. The shed was then completed on site, right up to the shingles and the siding which matches perfectly the color of the Center's exterior. We couldn't be more pleased with the finished result. Thank you Joshua and all who helped in this endeavor. We at OLC are very grateful for your hard work and dedication! Joshua, by the way, is the grandson of our dedicated head server, Bob Palace and his beloved late wife, Alice. Joshua also has a twin brother working on his own Eagle Scout project. What a family!
July Story Time #1: Fatima and Rosary Making
The theme of the first Story Time of the year was Our Lady of Fatima, featuring the book, "Mary & the Little Shepherds of Fatima." Miss Ginny kept the children interested and active in discussion with her engaging manner of reading. Following the story, the children made little rosaries, snacked on "Faith" cookies and apple juice, and socialized until shortly before Mass time.
Story Time #2: Roxy the Ritzy Camel
Our second storytime of the month was a hit as well, with a small but lively group of children learning about a rather vain camel and her inability to get through a very important gate because of all the excess baggage she was carrying. The book was entitled, "Roxy the Ritzy Camel" and is the latest offering by popular children's author, Anthony DeStefano. Our little visitors enjoyed coloring plain camels and decorating fancy ones, as well as snacking on their animal crackers (even finding a camel or two amongst them). Be sure to mark your calendars now for the next Story Time, which will be held on two Wednesdays in July, the 19th & 26th, at 10:30 am.
Do Angels Wear Hard Hats?
We just have to relay this recent "coincidence," another amazing example of God's Providence at work in unexpected places! Manager Christine had a flat tire while driving her daughter to guitar lessons and managed to get through an intersection and to pull over in front of some road workers on break. After hearing of her situation, a crew of congenial and able-bodied men came right over and changed that tire for her, and it was no simple task. The lug nuts were not budging, so they went to their truck and got a long pole which they slipped over the wrench, gaining enough leverage to release the lug nuts with ease. The tire still would not come off, so they retrieved a sledge hammer and gave it a good tap. In no time, they had our damsel in distress back on the road. Incredibly, their company, P. Flanigan and Sons, is the very one that showed up at OLC after the Ellicott City flood, exactly one year ago this July, and brought their huge equipment and truckloads of paving materials to repair our parking lot free of charge. Their generosity and diligent service enabled us to reopen in just three days! Do angels wear hard hats? We know for a fact that they do! Read about the devastation we faced HERE and the recovery efforts HERE.

July Dates at a Glance


Saturday, July 1st:
First Saturday Mass & Devotions

Monday & Tuesday, July 3rd & 4th:
Closed in Observance of Independence Day

Thursday, July 13th:
July Apparition at Fatima Centennial Anniversary Celebration

Wednesday, July 19th:
Story Time 10:30 am featuring the book, "Brigid & the Butter"

Wednesday, July 26th:
Story Time 10:30 am featuring the book, "The Sheep No One Could Find."


Saturday, August 5th:
​First Saturday Mass & Devotions

Saturday, August 12th:
2000 Hail Mary's Day of Devotions

Sunday, August 13th:
OLC will be OPEN for August Centennial Anniversary of the Apparition at Fatima (observed)


July Special Feasts


1 - St. Junipero Serra

3 - St. Thomas the Apostle

6 - St. Maria Goretti

11 - St. Benedict

14 - St. Kateri Tekakwitha

15 - St. Bonaventure

16 - Our Lady of Mount Carmel

22 - St. Mary Magdalene

23 - St. Bridget

24 - St. Sharbel

25 - St. James

26 - Sts. Anne & Joachim

29 - St. Martha

31 - St. Ignatius Loyola
(patron saint of the Archdiocese
of Baltimore)



IN THE BOOKSTORE:
July Buys. Summer good. Summer even better!
Come see what we have to help you celebrate all the special days in July.

| | |
| --- | --- |
| Beautiful New "Queen of Heaven: Mary's Battles for Souls" hard cover book. | Excellent read! Destinations in every state (but OLC remains a hidden gem!) |
| | |
| --- | --- |
| Russian Tapestry Rosary Pouches are back in stock, including a NEW Fatima pouch! | Brown scapulars for OL of Mt. Carmel, and Sts. Benedict and Sharbel's feast days! |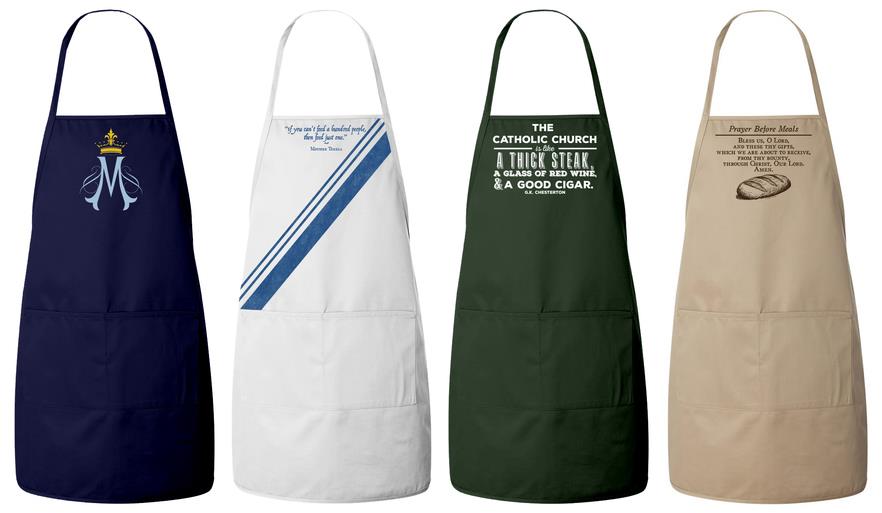 Awesome Catholic aprons for the chef, short-order cook or grill master in your life!

JULY NO-CLIP COUPON
20% OFF
One New Book
JUST MENTION THIS OFFER


Must mention coupon at time of purchase. Valid on one regularly priced item only.
Not valid on previously purchased items and cannot be combined with other coupons.
Limit one offer per visit.
Expires 07/31/2017

Can't Get to our Store?

Our homebound and out-of-town patrons have found shopping at our online store convenient and helpful. We carry a variety of medals, crucifixes, and rosaries there for your convenience. You can shop anytime and choose to have your items shipped either to your home address or to anywhere you need them sent. We thank you for supporting OLC and appreciate any and all patronage as the proceeds of all sales go toward supporting our unique apostolate. Click here to visit now:
WHY shop at Our Lady's Center?
(instead of an online retailer)
Get your Goods and your Grace all in one Place!
Here, you don't just check an errand off your to do list. At OLC, you visit a joyful, beautiful sanctuary of immense peace where you can go to Mass, receive Confession during the week, even attend Adoration.
Pick our Brains before you Pick your Books:
You get to peruse our books before you purchase, ask our staff questions about the materials, receive recommendations, and even help us become more informed by sharing your own knowledge and insights.
Make New and Lasting Friends:
Meet awesome priests and wonderful Catholics from various area parishes and truly feel a part of a vibrant community of the faithful.
You Will Be Treated with Dignity:
Here, you are never just another customer or order number. You are a beloved brother or sister in Christ. Let us joyfully serve you, and don't be surprised if we remember your name the next time you come in.
Receive Spiritual Satisfaction
Knowing you are helping to support a small but important ministry as we strive to serve Our Lord through the intercession of his Blessed Mother.
Enjoy Our Eternal Gratitude and Appreciation:
We are deeply grateful for your business and spiritual support. May God continue to bless us through your patronage!
Store Hours
Monday - Thursday: 10:00 am - 4:00 pm*
Friday: 10:00 am - 7:30 pm*
First Saturday: 10:00 am -10:30 am; 12:30 pm - 2:00 pm
*Please note that the store is always closed during the noon Mass
Chapel Hours:

Holy Sacrifice
of the Mass

Monday-Friday: 12:00pm
Friday night: 7:30 pm
1st Saturdays: 10:30 am

Rosary


Monday-Friday: 11:30 am



Confessions


Following all Masses



Adoration


Friday: 12:30 - 7:30 pm


Friday Night Devotions



Holy Mass: 7:30 pm
Followed by: Confessions, Rosary, Divine Mercy Chaplet, Adoration of the Blessed Sacrament and Benediction
| | |
| --- | --- |
| Our Lady's Center Marian Shrine is a Catholic lay apostolate within the Archdiocese of Baltimore located outside of Baltimore, Maryland in Ellicott City. We offer the Holy Sacrifice of the Mass and confessions upstairs in our chapel each weekday and on first Saturdays. Downstairs in our beautiful store, we carry a large selection of Catholic books and religious articles to meet every need. We have many events and activities throughout each month. | |