Thy Word Newsletter -
September 2017
First Saturday Mass & Devotions Ministry Presentation: Meals on Wheels Saturday, September 2, 10:30 am - 12:30 pm

Along with First Saturday Mass and devotions, OLC hosts a brief presentation by a local ministry each month. Next up is Carrie Leeann Dell, Client Liaison of the SW Region of Meals on Wheels of Central MD which, through various programs and support services, increases the quality of life and prevents the premature institutionalization of many home-bound clients. Come hear how you might help this gentle ministry.
Children's Story Time & Craft

Two Wednesdays, September 6th & 20th
10:30 - 11:30 am

Join us in the conference room for a fun and faith-filled time together including a storybook reading and activity. We will provide a snack and water.

RSVP to help us anticipate how many snacks and crafts to have on hand! And, since you'll be here anyway, why not stay for Mass? Our reading selections this month: September 6th, "Francis Woke Up Early;" September 20th, "I Forgive You."
A Birthday Party for Mother Mary Friday, September 8th, 1:00 pm

The Legion of Mary "Our Lady Undoer of Knots" Praesidium and OLC are hosting a celebration in honor of the Nativity of the Blessed Virgin Mary. Join us as we celebrate the beautiful gift of our sweet Mama Mary with prayer and song. The Legion will provide lunch fair and refreshments, and the birthday cake will be provided by OLC.
Patriot Day Rosary For Our Nation


Monday, September 11th, after Noon Mass
We shall never forget the horrors of that day 16 years ago. But nor will we live in fear or hatred. We are people of light and hope, and we will honor the memory of all the innocent lives that were lost by praying a special Rosary for Our Nation, for peace and protection following 12:00 noon Mass and the regular prayers after Mass. For more information from the USCCB on commemorating this day, click HERE. Blessed is the Nation Who's God is the Lord.

September Fatima
Apparition Centennial Day Wednesday, September 13th This month's Fatima Apparition Centennial commemorates the 100th Anniversary of the fifth apparition of Our Lady to the shepherd children. The 13th of each month this year from May through October provides an opportunity to fulfill the necessary requirements to receive a plenary indulgence. Mass will be celebrated at 12:00 Noon, followed by a Holy Hour of devotions including Fatima prayers, the Rosary, and a Consecration to the Immaculate Heart of Mary, and confessions.
Venerate the True Cross

on the Feast of the Exultation of the Holy Cross




Thursday, September 14th, 12:00 Mass




Join us for another special opportunity to venerate a sliver of the actual cross upon which Our Lord died for our salvation! Our Lady's Center is the humble steward of this relic, and we will be making it available for veneration for a brief time following noon Mass on the Feast of the Exultation of the Holy Cross, when we celebrate St. Helena's discovery of the cross of our Lord Jesus Christ, for he is our life and our resurrection.
Fall Defend Life Speaker Terry Beatley




Friday, September 15th, 1:00 pm




The Fall Defend Life Speaker Series kicks off with a talk from author, activist and homeschooling mother, Terry Beatley. Terry's talk is entitled, "What if We've Been Wrong?: My Promise to America's Abortion King." Before he died, infamous abortionist Bernard Nathanson shared with Terry the whole story of his sadly successful strategy which he devised back in 1967 to weaken understanding of the Catholic Church's teaching on abortion. He himself committed or participated in 70,000 abortions before experiencing conversion and entering the Catholic Church. Please join us afterward for cake and lively discussion in the conference room.

SAVE THESE OCTOBER DATES...

October 6th-8th at Mount St. Mary's University in Emittsburg, MD
Our Lady's Center is excited to once again be invited to exhibit at the 7th Annual Maryland Catholic Women's Conference taking place on the weekend of October 7th-9th at Mount St. Mary's University in Emittsburg. This year's theme is "Fire Within." One who is in communion with her Beloved (Christ) is a beacon to all. Her "Fire Within" is from the Holy Spirit. We are called to ignite that fire of faith through prayer and living the Gospels. This conference will feature Dynamic Speakers, Peaceful Adoration, Mass with Archbishop Lori, Confession, Holy Rosary, Catholic Exhibitors and more! More info HERE. Register now, and we'll see you there with lots of our most exciting merchandise!
Our Lady's Center is dedicated to Our Lady of Fatima, and we are planning a most special day to commemorate the 100th Anniversary of the Miracle of the Sun, the sign given by Our Lady of Fatima so that all might believe and heed her plea to pray the rosary daily for peace. Come help us honor our Blessed Mother who loves us so dearly. More details coming soon!
Annual Rosary Rally Crusade
Saturday, October 14, 10:30 am


We will once again be hosting a Rosary Rally as part of the annual America Needs Fatima Public Square Rosary Crusade. These rallies are always held on the Saturday closest to the date of the last apparition of Our Lady of Fatima and the Miracle of the Sun. There will be thousands of rosary rallies in cities all across America on October 14th. In 2016, there were more than 16,000 groups of faithful Catholics simultaneously praying for our country and the world. Mass at 10:30 am, Exposition of the Blessed Sacrament, and then the Rosary Rally.
Over 100 Rosaries Headed to Flood Victims in Texas!
Over the last several years, we have accumulated dozens and dozens of rosaries donated by our wonderful patrons in hopes that someone else could use them: rosaries that had belonged to loved ones who have passed on to their eternal reward, broken rosaries which we repaired, and even brand new rosaries lovingly made by local elderly nursing home patients who ask only for prayers in return. We're been waiting for the Lord's instructions on where they need to go. So, when we heard that large quantities of rosaries were needed by priests who are working tirelessly to console and minister to people affected by Hurricane Harvey, we knew instantly that these rosaries needed to be shipped to them, along with an assurance of our ardent prayers.111 of your rosaries will soon be in the hands of the flood victims! Please be sure to pass along this information to anyone else who may wish to donate large quantities of rosaries. Mail them to Rice Catholic Student Center, 1703 Bolsover St., Houston, TX 77005, Attn: Rosaries for Harvey Relief.
Our Lady Send a Gift to the Flame of Love Cenacles!
We love to share "Godincidences" with you, as they seem to happen quite often here at OLC. Just recently, a young mother purchased an Immaculate Heart of Mary statue and had it blessed, along with her home. She then found a statue elsewhere and wished to return the first one. We generally cannot accept returns on blessed items as, by Canon law, we cannot resell them. What could be done? Suddenly, the idea came to us to refund the customer her money and donate the lovely statue to the Flame of Love Cenacles which had just been launched here. We believe Our Lady wanted to give tangible confirmation of her presence among us and, as the movement is centered on bringing about the Triumph of the Immaculate Heart of Mary by spreading the Flame of Love in our hearts, this is a most appropriate statue!
Each cenacle prayer group meets once a week for about one hour: Tues. at 10 am, Thurs. at 10 am, OR Thurs. at 3 pm. Contact Ada Vergne for more info. All are welcome!
A Thank You Party for Fr. Canisius Tah
We are so grateful to Fr. Canisius Tah, who has regularly celebrated Wednesday and Thursday afternoon Masses here at OLC for the last three years while he's been assigned to the nearby Church of the Resurrection parish. We wanted to give our patrons an opportunity to see Father and wish him well in his new assignment at Sacred Heart in Glyndon, so we were all delighted that he would be able to come on a Thursday and concelebrate with his mentor, good friend and Thursday Mass replacement, Fr. Maurice Akwa. Fr. Canisius enjoyed the cake and all the well-wishing from OLC patrons. He also wishes to make clear that he fully intends to return to celebrating regular Latin Mass here beginning hopefully in October, once things have settled down for him.

September Special Dates


Saturday, September 2nd:
First Saturday Mass & Devotions, 10:30 am

Monday, September 4th:
CLOSED for Labor Day

Wednesday, September 6th:
​Children's Storytime and Craft
10:30 am

Friday, September 8th:
Blessed Mother's Birthday Party
1:00 pm

Monday, September 11th:
Patriotic Rosary, 12:45 pm

Wednesday, September 13th:
Centennial Anniversary of the September Fatima Apparition

Thursday, September 14th:
Veneration of the True Cross, 12 Noon Mass

Friday, September 15th:
Defend Life Speaker Talk, 1:00

Wednesday, September 20th:
​Children's Storytime and Craft, 10:30 am



September Special Feasts


3 - St. Gregory the Great

4 - St. Teresa of Calcutta

5 - Dedication of St. Mary Major

8 - Nativity of the Blessed Virgin Mary

9 - St. Peter Claver

12 - Most Holy Name of Jesus

13 - St. John Chrysostom

14 - Exultation of the Holy Cross

15 - Our Lady of Sorrows

18 - St. Joseph of Cupertino

19 - Our Lady of La Salette

21 - St. Matthew

22 - St. Padre Pio

27 - St. Vincent de Paul

28 - Sts. Michael, Gabriel & Raphael





Friday-Sunday, October 6-8:
OLC Exhibits at the Maryland Catholic Women's Conference in Emittsburg

Saturday, October 7:
First Saturday Mass & Devotions, 10:30 am

Friday, October 13th:
Centennial Anniversary of the Miracle of the Sun Day of Devotions

Saturday, October 14th:
Annual Rosary Rally, 10:30 am

Wednesday, October 18th
​Children's Storytime and Craft, 10:30 pm

Friday, October 20th:
Defend Life Speaker, 1:00 pm

Wednesday, October 25th
​Children's Storytime and Craft, 10:30 pm



Summer Reading
Basket Raffle Winner
Congratulations to Gary Lyles, who is our 2017 Summer Reading Basket Raffle winner! Gary won a nice selection of books and devotionals to read and share.

. Keep an eye out for our Basket of Gratitude Raffle which will begin in October with the drawing just before Thanksgiving.
IN THE BOOKSTORE:
Come see what we have to help you celebrate all the special days in September!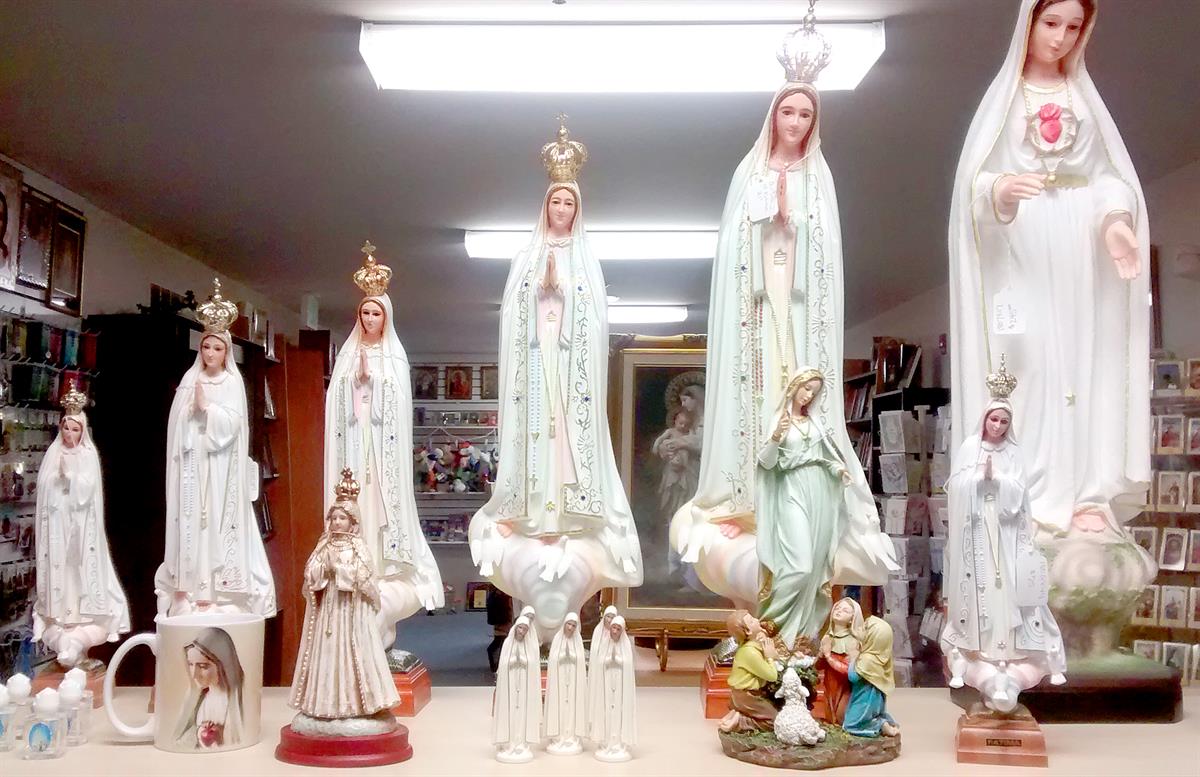 Beautiful Our Lady of Fatima Pilgrim Virgin Statues from Portugal
| | |
| --- | --- |
| 7/15 is dedicated to Our Lady of Sorrows. Pick up this Black Glass Seven Sorrows Chaplet. | St. Teresa of Calcutta's feast day is 9/4. Celebrate her 1st Anniversary as a saint! |

SEPTEMBER NO-CLIP COUPON
20% OFF
One Rosary!
JUST MENTION THIS OFFER


Must mention coupon at time of purchase. Valid on one regularly priced item only. Not valid on previously purchased items and cannot be combined with other coupons.
Limit one offer per visit.
Expires 09/30/2017

Can't Get to our Store?

Our homebound and out-of-town patrons have found shopping at our online store convenient and helpful. We carry a variety of medals, crucifixes, and rosaries there for your convenience. You can shop anytime and choose to have your items shipped either to your home address or to anywhere you need them sent. We thank you for supporting OLC and appreciate any and all patronage as the proceeds of all sales go toward supporting our unique apostolate. Click here to visit now:
Store Hours
Monday - Thursday: 10:00 am - 4:00 pm*
Friday: 10:00 am - 7:30 pm*
First Saturday: 10:00 am -10:30 am; 12:30 pm - 2:00 pm
*Please note that the store is always closed during the noon Mass
Chapel Hours:

Holy Sacrifice
of the Mass

Monday-Friday: 12:00pm
Friday night: 7:30 pm
1st Saturdays: 10:30 am

Rosary


Monday-Friday: 11:30 am



Confessions


Following all Masses



Adoration


Friday: 12:30 - 7:30 pm


Friday Night Devotions



Holy Mass: 7:30 pm
Followed by: Confessions, Rosary, Divine Mercy Chaplet, Adoration of the Blessed Sacrament and Benediction
| | |
| --- | --- |
| Our Lady's Center Marian Shrine is a Catholic lay apostolate within the Archdiocese of Baltimore located outside of Baltimore, Maryland in Ellicott City. We offer the Holy Sacrifice of the Mass and confessions upstairs in our chapel each weekday and on first Saturdays. Downstairs in our beautiful store, we carry a large selection of Catholic books and religious articles to meet every need. We have many events and activities throughout each month. | |