Good Afternoon Great Gardeners,

Look closely, the leaves are starting to change. The cooler temperatures are bringing in an early fall. With September upon us, there are a couple of things you can cease doing in your garden.

The first is to stop fertilizing trees, shrubs, roses, fruits and perennials, with high Nitrogen fertilizer. You do not want to encourage new growth that might not harden off before a frost. Continue to use starter fertilizer, such as Master Start, when planting new plants, to encourage good rooting.

The second is to stop pruning. Opinions differ on whether you should cut back your perennials in the fall or in the spring. We recommend leaving the foliage on during the winter to protect the crown of the plant. One exception is if the plant is diseased. In that case, you will want to clean up the foliage in the fall and pitch it. Stop deadheading roses and let them form rose hips. Cut roses back once the ground has frozen (except shrub roses). This usually takes place after Thanksgiving. Although the last few years the ground has not frozen until mid-December.

Fall is a great time to revitalize the garden. Pull out raggedy annuals and add garden mums, pansies and flowering kale to create a festive atmosphere.

As always, if you have any questions, comments or suggestions, hit reply. I would love to hear from you. Have a great-gardening day.

Sincerely,
Holly


P.S. We will be closed Labor Day to spend time with our families.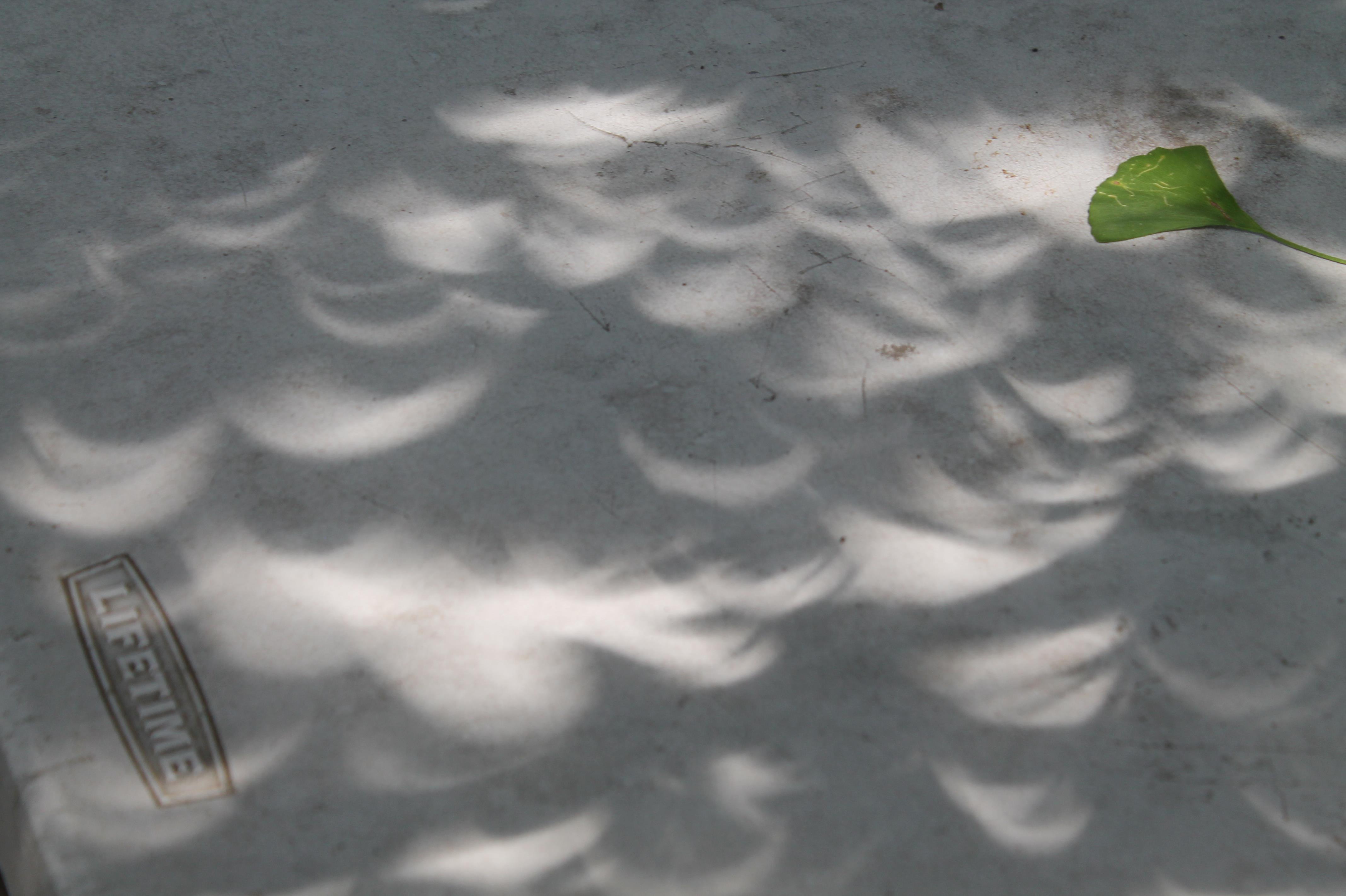 Shadows from Solar Eclipse 2017
'Whipcord' Arborvitae

Thuja plicata 'Whipcord'

The unusual foliage on this low, mop-head arborvitae consists of long, thick, glossy tendrils that resemble fireworks bursting. Green foliage bronzes in winter.

Height:

3-5 Feet

Width:

3-4 Feet
'Fernspray Gold'
Hinoki Cypress
Chamaecyparis obtusa 'Fernspray Gold'
Classy, arching sprays of golden, fern-like foliage.
Height:
8-12 Feet
Width:
6-8 Feet
'Curly Tops' Sawara Cypress

Chamaecyparis pisifera 'Curly Tops'

Distinctive curly tips and silvery blue foliage add both texture and color to the landscape. The uniquely twisted needles show off a gleaming silver side.

Height:

8-10 Feet

Width:

6-8 Feet
'Ice Breaker' Korean Fir

Abies koreana 'Icebreaker'

Two-toned needles recurve up and around their stems to expose a bright white, waxy underside.

Height:

1-2 Feet

Width:

2-3 Feet
'Mariesii' Dwarf
Hinoki Cypress

Chamaecyparis obtusa 'Mariesii'

Super fine, lacy foliage, gernerously accented with creamy speckles, create a soft, frosted look that sets this cultivar apart

Height:

3-4 Feet

Width:

2-3 Feet .
Grass seed can be planted any time during the growing season, but the best time to plant in Central Ohio is in mid-late August thru September or Mid-March thru Mid-April.

Before Seeding:
Soil Test - To save time and energy, take samples of soil from different parts of your yard, to your local extension office. For a small fee they will test your soil to see if there are any nutrient deficiencies. The soil test will also tell you what the pH is of your soil. Grass seed grows best with loamy soil and a pH of 6.5 - 7.0.
Amend Your Soil - Using the results from your soil test, amend your soil to create a loam texture. All amendments should be worked about 6-8 inches into the ground. Unless you are using fresh manure or some other amendment which needs time to decompose, you can begin seeding as soon as the amendments are mixed into the soil.
Level Areas - All hills should be leveled and low spots filled in before seeding.
Determine How Much Seed You Need - The amount of seed needed varies with the variety being used. Generally, when seeding a new lawn, you will need 3-4 pounds per 1,000 square feet or 2 pounds for seeding over established lawns. When determining how much seed you need, it is important to know the area being worked.
After your soil has been amended, the seed picked and the amount needed determined, it is time to plant.

Repairing Bare Spots:
Establish the cause of the bare or sparse area. Is there traffic, shade, underlying debris, or other factors creating the problem? If so; correct these conditions before seeding.

Loosen soil to a depth of 2 inches.

Spread seed. After spreading, lightly press seed into the soil.

Apply starter fertilizer.

Mulch with grass clippings or straw.

Water lightly and frequently using a fine spray. Do not allow the seed bed to dry.

Water and mow on a regular schedule when the seedlings reach 3 inches in height.
Reseeding An Existing Lawn:
Mow lawn as short as possible without scalping.

Hand or mechanically rake the lawn to remove thatch and debris. The more soil exposed without stripping away the turf the better. Seed must reach and contact the soil for success.

Spread seed. After spreading, lightly rake the turf to allow more seed to fall into the grooves.

Apply starter fertilizer

.

Water lightly and frequently using a fine spray. Avoid letting the seed bed dry out.

Water and mow on a regular schedule when the seedlings reach 3 inches in height.
Establishing A New Lawn:
Work the soil to a depth of 4 to 6 inches. Rake to level.

Spread your seed. After spreading, use the back of a rake to lightly cover about 50% of the seed with soil.

Apply starter fertilizer.

Mulch with clean straw or peat. When using straw about 1 bale per 1,000 square feet.

Lightly roll the seed bed to press the seed and mulch to the soil.

Water lightly and frequently (3 to 4 times per day) using a fine spray. Keep the seed bed moist - do not allow it to dry out.

The lawn may be cut when it reaches 3 inches. Gradually reduce watering to a normal schedule.

Apply a complete fertilizer 6 weeks after seedling emergence. Herbicides may be applied after 3 cuttings.
Blob House Planters
Created by Gesine Kratzner. These cute whimsical planters will add a touch of fun to any deck, patio or garden.
Garden Mums
8 Inch
$8.99
5 or more
$6.99
each
(Does Not Include Tricolor or Igloo Mums)

Check Out Our Varieties
Online
Here
2 cups dried lemon verbena
1 cup dried chamomile
1 cup diced orange mint
1 cup dried orange peel (see note)
3 tbsp. whole cloves, crushed
1 6-inch cinnamon stick, crushed

Blend all ingredients together and store in a tightly covered tin. When ready to make tea, shake the tin well then spoon 1 tsp. of the tea into a pot for each cup of water. Pour boiling water over the tea and let steep 5 to 10 minutes.
Note: To dry orange peel, scrape the inside of the shells clean after squeezing the oranges for juice. Leave only the orange part of the peel (the zest). Cut in strips and set on a rack to dry. When brittle, break in small pieces and store in a covered jar.
If you have a recipe you'd like to share send it to
office@great-gardeners.com
Wilson's Community Farmer's Market
Thursday's
Now Through
September 14th
3 pm - 6 pm
Ladies' Nite Out
Thursday, September 21st
Time: 6 pm - 9 pm
Cost: $30 per person


Food * Fashion Show * Door Prizes * Vendors * Raffle Drawings * Goody Bags & More! Proceeds benefit Hospice of Central Ohio.
10 am (Sat, 9/23):
Painting With Ryan ($25)
2 pm (Sat, 9/23):
Fall Is The Time To Plant Your Bulbs
4 pm - 5:30 pm (Sat, 9/23):
Barefoot McCoy
11 am (Sun, 9/24):
Winterizing Your Houseplants
2 pm (9/24):
Leaf Casting Demonstration