January is dedicated to
the Holy Name of Jesus.
The name Jesus was given at God's command (Luke 1:31). It is all-powerful because of the Person Who bears it. We honor it because of the command of Christ that we should pray in His Name, because it reminds us of all the blessings we receive through our Holy Redeemer, and because through this devotion we also make amends for improper use of the Holy Name. More
HERE.
In the Name of Jesus let every knee bow, of those that are in heaven, on earth, and under the earth and let every tongue confess that the Lord Jesus Christ is in the glory of God the Father.
January 2018 • News & Events
Our Lady's Center wishes you a very
Happy and Blessed New Year!
We're so grateful for our patrons, and we
hope to see even more of you in 2018!

Inclement Weather in the Forecast?
Always call or check our website before heading out. If no one answers during normal hours (excluding Mass times), we are likely closed.
First Saturday Mass & Devotions Saturday, January 6th, 10:30 am - 12:30 pm
Our Lady at Fatima requested we observe five consecutive First Saturdays with Mass and Devotions for the conversion of sinners, specifically receiving Confession, attending Holy Mass, praying the rosary and meditating at least 15 minutes on a mystery of the rosary, offering all to the Immaculate Heart of Mary. Read more about Our Lady's request as well as how to fulfill it HERE. We at OLC are devoted to ensuring the availability of First Saturday Mass & Devotion, that all may have the opportunity to honor Our Lady's request.
Eucharistic Adoration at OLC
during the March for Life
Friday, January 19th, 12:30 pm - 7:30 pm


The Annual March for Life in Washington DC takes place on January 19th. Hundreds of thousands will march, people of all walks of life who share the deep conviction that the sanctity of all human life must be defended for a just culture to exist. Many area parishes will have busses ready to transport those who can attend. If you cannot physically attend, please join us in spirit by coming to the chapel that day anytime between the 12:00 Noon and 7:30 pm Masses to pray before the Blessed Sacrament for the cause of Life.
Children's Storytime & Craft




Wednesday, January 10th & 24th, 10:30 am


This month's Children's Storytime will feature two beautiful books: "The Tale of The Three Trees" and "Small Acts of Kindness." A craft and snack will be provided. Give us an RSVP if possible so we are sure to have enough for all of our littlest patrons (but if plans open up at the last minute, please feel free to drop in. We always have extra just in case).
Annual St. Nicholas Visit Brings Dozens of Smiles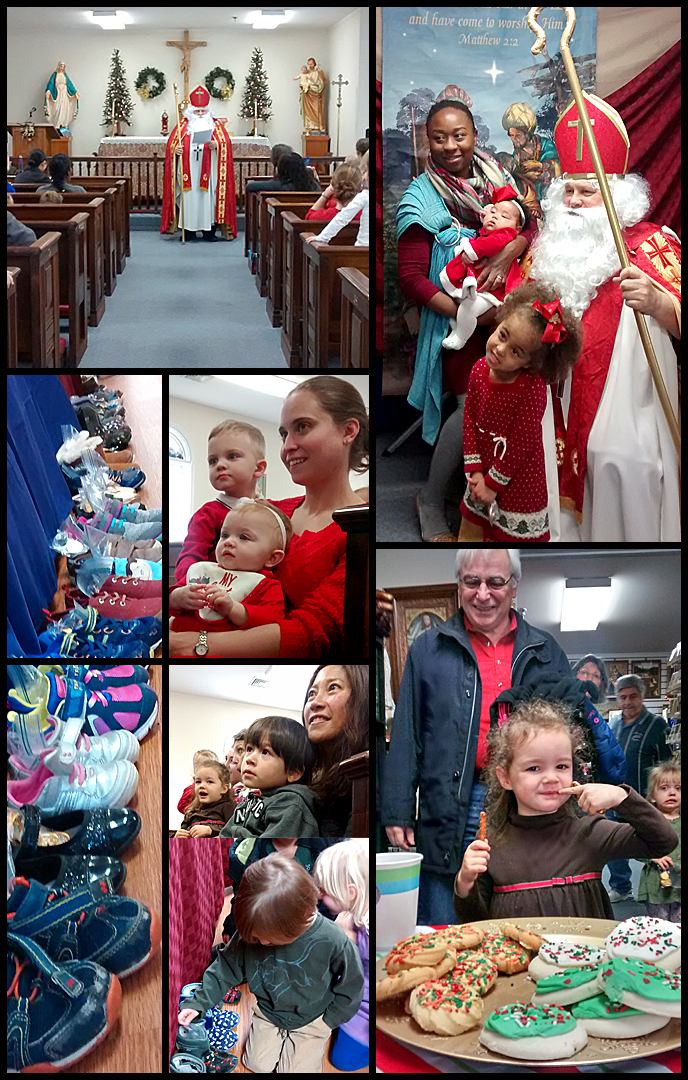 Our Lady's Center celebrated the Feast of St. Nicholas with another lively visit by the great Bishop of Myra. St Nick was once again convincingly portrayed by our own President of the Board, Jack Kissane. Around 30 children sang Christmas carols, learned all about St. Nick's life and mission of charity, had their pictures taken with him, and were excited to discover gold coins and other treats in their shoes which they had left under the Christmas tree. We are so joyful to provide this happily-anticipated tradition here at OLC, and we plan to continue it for years to come.
Christmas Basket Raffle Winners Get the Call!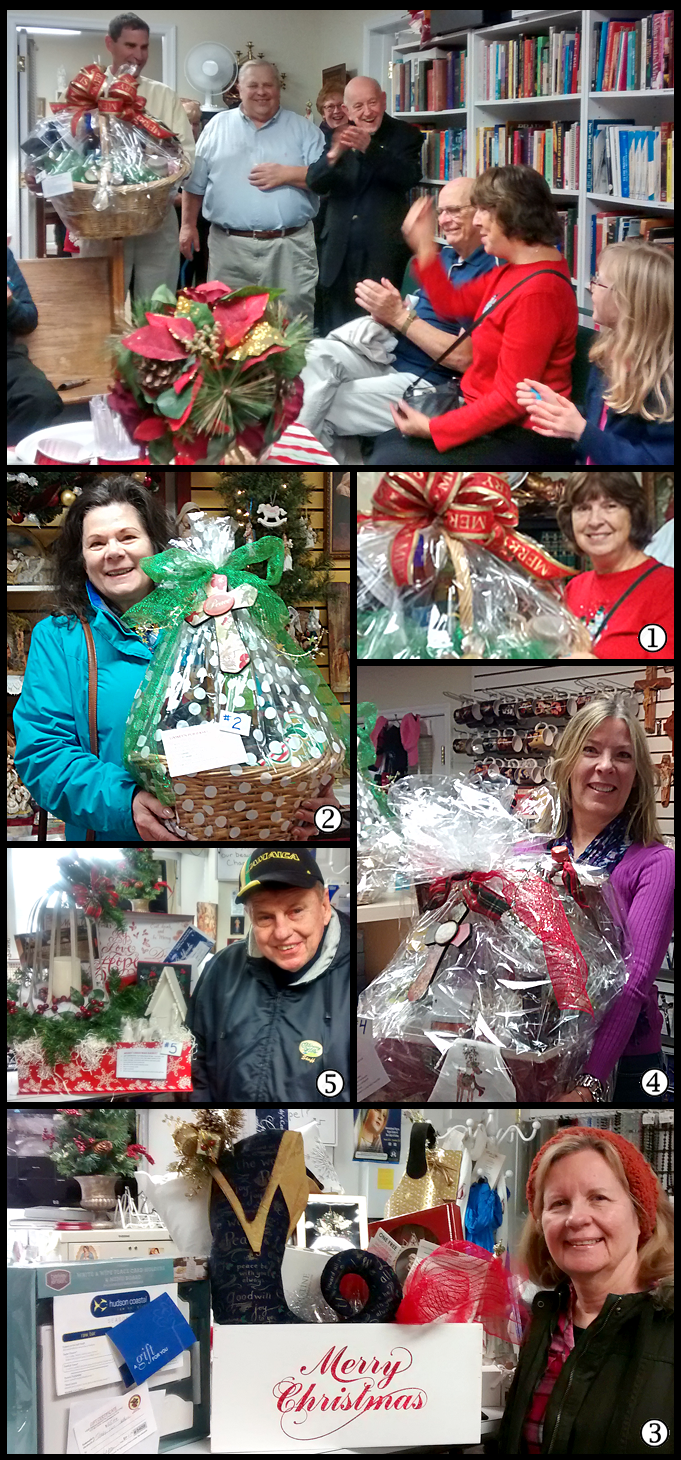 Our Lady's Center raffled off five wonderful baskets full of prizes procured by the Board of Directors from area businesses. Monsignor Joseph Lizor, who is one of our Board members, drew the winning tickets at our Patron party. Jeanette Carton the only raffle winner to actually be present at the drawing, won the large #1 "His and Hers" Basket. Rosemary Lathroum won the #2 Looney's Pub Basket; Suzanne Barbato won the #3 Hostess Basket; Sharon Ziegler won the #4 Secret Treasures Basket; Joe Burkert won the #5 Merry Christmas Basket. Congratulations to all our winners! We at OLC thank all who entered the raffles and all who contributed to them as we raised over $1200 for the upkeep of the Center. We look forward to doing it all again next year. If you or someone you know would like to donate items for our next raffle, let us know. We love to support local businesses while giving our patrons wonderful opportunities to win fantastic prizes!
Our 2017 Patron Christmas Party
Was Full of Good Cheer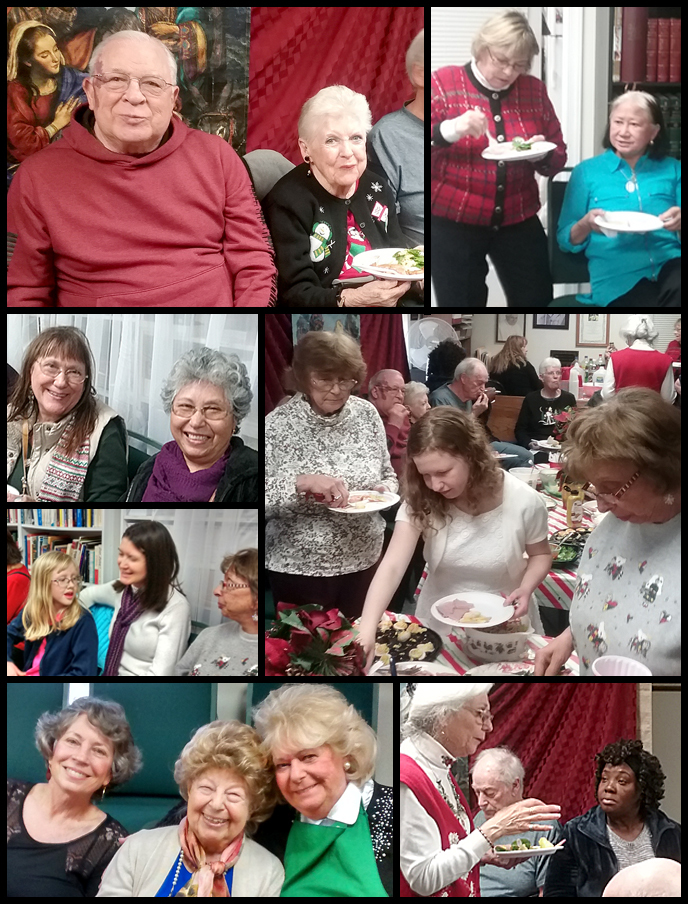 OLC warmly welcomed our friends, patrons, and benefactors to a Christmas celebration in their honor in the week before Christmas. There were many delectable dishes and goodies furnished by those who attended, along with Christmas ham and all the fixings. The conference room became a bit cozy for a good portion of the day (but we are all basically family anyway!) New acquaintances and friendships were formed, and many who came lingered into the afternoon to talk with each other and to witness the Christmas raffle drawings which took place that afternoon. The joy of the season was evident, but even more so, the joy that permeates Our Lady's Center throughout the year was on full and glorious display. We are so blessed by all of you!

January Special Feasts


1/01: Solemnity of Mary, Mother of God

1/02: Sts. Basil & Gregory.

1/03: Most Holy Name of Jesus

1/04: St. Elizabeth Ann Seton

1/05: St. John Neumann

1/06: St. Andre Bessette

1/07: The Epiphany of the Lord;
Feast of the Holy Family

1/08: Baptism of the Lord

1/15: Our Lady of Prompt Succor

1/18: Feast of the Chair of St. Peter

1/21: St. Agnes

1/24: St. Francis de Sales

1/25: Conversion of St. Paul

1/26: Sts. Timothy & Titus

1/28: St. Thomas Aquinas

1/29: St. Francis de Sales

1/31: St. John Bosco



January Events:


1/06 - First Saturday Mass &
Devotions
10:30 am - 12:30 pm

1/10 - Children's Storytime
& Craft
10:30 am - 11:30 am

1/19 - Eucharistic Adoration
during the March for Life
12:30 pm - 7:30 pm

1/24 - Children's Storytime
& Craft
10:30 am - 11:30 am


Flame of Love Prayer Cenacles
(choose one day/time per week)
Tues. 10:00 am, Thurs. 10:00 am,
OR Thurs. 3:00 pm

Legion of Mary:
Our Lady, Undoer of Knots
Praesidium
Fridays 5:30





IN THE BOOKSTORE*
*We are a non-profit. All sales go towards supporting the Shrine!


After-Christmas Sale!
25% OFF
All Remaining Christmas & Advent Items in Stock!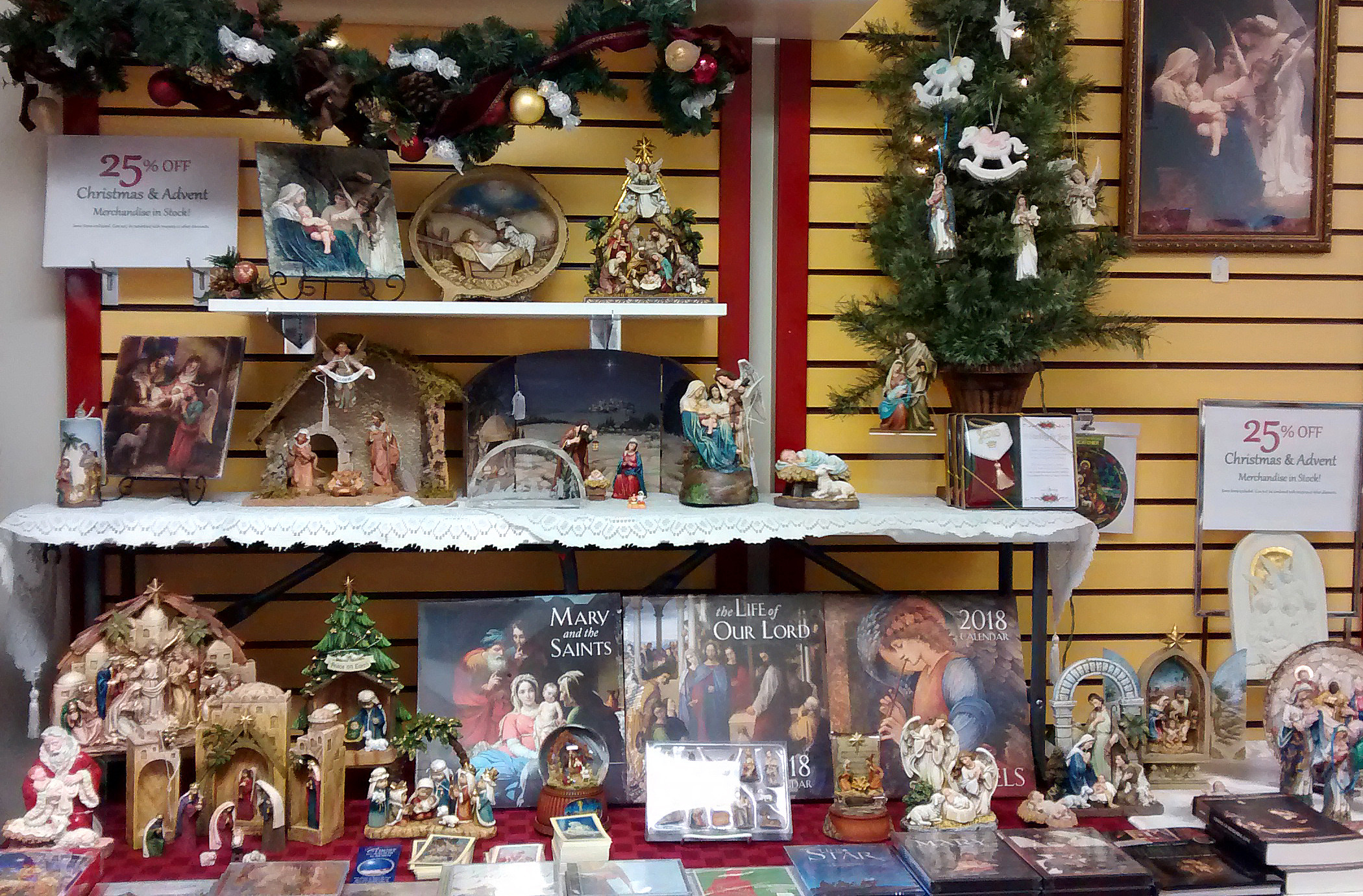 We still have some beautiful Advent and Christmas statues, plaques, nativities and
ornaments as well as 2018 calendars that need a home.

| | |
| --- | --- |
| NEW! devotional written by a priest who used to celebrate Mass here at OLC! | NEW! Catholic Journaling Bible with wide lined margins for note-taking. |

JANUARY NO-CLIP COUPON
Just mention you saw this offer in the
January OLC Newsletter!
15% OFF
One DVD or CD in Stock


Must mention coupon at time of purchase. Valid on one regularly priced item only.
Not valid on previously purchased items and cannot be combined with other coupons.
Limit one No-Clip discount per visit, please.
Expires 01/31/2018
Can't Get to our Store?

Our homebound and out-of-town patrons have found shopping at our online store convenient and helpful. We carry a variety of medals, crucifixes, and rosaries there for your convenience. You can shop anytime and choose to have your items shipped either to your home address or to anywhere you need them sent. We thank you for supporting OLC and appreciate any and all patronage as the proceeds of all sales go toward supporting our unique apostolate. Click here to visit now: