February 2018 • News & Events
First Friday, Candlemas &
the Flame of Love Feast Day
Friday, February 2nd, 10:00 am on


What a very special First Friday this is! It also happens to be Candlemas, the feast of the Presentation in the Temple. For those devoted to spreading devotion to the Flame of Love of the Immaculate Heart of Mary, it is also the feast day of the movement. The cenacles (prayer groups) at OLC are hosting a day of prayer, devotions and more beginning at 10 am. Contact

Ada Vergne

for more info and schedule.
First Saturday & Blessing of Throats
Saturday, February 3rd after 10:30 am Mass


Join us for First Saturday Mass and have your throat blessed with candles. This tradition dates back to the 4th century after St. Blaise, a bishop and martyr saved a boy choking on a fishbone. While we invoke St. Blaise for his protection against any physical ailment of the throat, let us also ask his protection against any spiritual ailment—, profanity, cursing, unkind remarks, or gossip. St. James warns us, "If a man who does not control his tongue imagines that he is devout, he is self-deceived; his worship is pointless." This warning is particularly appropriate in a society whose interactions have become increasingly uncivil. St. Blaise, protect us!
Novena to the Holy Face of Jesus


Mon., Feb. 5th - Tues., Feb.13th after Noon Masses
Please join us as we pray the Novena to the Holy Face for the nine days leading up to and concluding on Shrove Tuesday, the Feast Day of the Holy Face of Jesus. We will pray before the blessed image of the Holy Face which was installed in our chapel in July of 2016. This image is the very same one to which St. Therese was dedicated and is a reproduction of the image known as "Vera Effigies" of the veil of Veronica. As we are closed on that weekend, please continue to pray the Novena on your own those days.

WMET Radio to Broad LIVE at OLC!




Thursday, Feb. 8th, 1-3 pm


We are SO excited to announce that WMET 1160 AM of the Guadalupe Radio Network, an EWTN affiliate, will again be broadcasting on site at OLC. In between regularly scheduled programming, various board members and staff will be interviewed about the Center. Stop in during the hours of the live broadcast to enter to win a brand new Camaro being raffled off by WMET...and pick up some Valentine's Day gifts and Trappistine Chocolates! You can listen to the live stream of WMET 1160 AM on the internet HERE!
Ash Wednesday Ashes
February 14th at 12:00 Noon Mass
Lent begins February 14th! Come to Our Lady's Center for 12:00 Noon Mass to receive your ashes. The ashes come from last year's blessed Palm Sunday palms, one of the many sacred traditions that convey the inexpressible richness of our beautiful Catholic faith. Also, as Lent begins, consider committing to pray one hour a week in front of an abortion facility. 40 Days for Life is a peaceful campaign of prayer and fasting for the end to abortion. Since 2007, over 11,000 lives have been saved. Be a part of it HERE.
Children's Storytime & Craft




Wednesday, February 14th & 28th, 10:30 am


Bring the little ones to hear Mrs. Ginny read some of the entertaining and instructive Catholic children's books which we carry in the store. This month's Children's Storytime will feature two beautiful books: "Celebrating Lent" and "Joyful Prayers." A fun craft and snack will be provided. RSVP if possible so we are sure to have enough for all of our littlest patrons (but if your plans open up at the last minute, please feel free to drop in. We always have extra just in case). Also, be sure to get on our Storytime email list for reminders.
Stations of the Cross During Lent


Fridays from 2/16 - 3/23 after both the
12:00 Noon & 7:30 pm Masses


Plan to stay after Mass on Fridays during Lent to pray the Stations of the Cross in the Chapel. The Stations of the Cross are a 14-step devotion commemorating Christ's passion and death. It is a mini pilgrimage, as we move from station to station, recalling and meditating on Christ's last day. Booklets are provided. There are also many Lenten resources for sale in the bookstore.
Speaker Wesley J. Smith, ESQ.


Author, Lawyer, Pro-Life Policy Advocate
Friday, February 16th, 1:00 pm
Please join us as the Spring Defend Life Lecture Tour kicks off with a talk by Wesley J. Smith entitled. "Defeating Physician Assisted Suicide in Maryland." Once again, this issue is rearing its head in our state legislature. Do not be misled by good intentions. Assisted suicide, like abortion, is the deliberate taking of human life, and the Catholic Church recognizes all such state-sanctioned practices as inherently evil. Wesley Smith's talk will be in the Conference room. Please stay for cake and lively conversation.
First Holy Communion Parish Tour

We're ordering now for First Holy Communion Season, our busiest time of year! Come see our growing selection of gifts at the Center. But if you can't come to us, don't worry. We very likely will be coming to you! Many area parishes host us on weekends throughout the Spring season, and we bring with us a beautiful assortment of First Holy Communion merchandise, including medals, rosaries, missals, children's bibles, gift sets, greeting cards and gift bags. Check with your parish office for dates and times or to place a request that we come.
Blanketeers Wanted!




Blanket Making Group to Meet at OLC

Join Board Secretary Carolyn Niebauer and others to make colorful, knotted fleece blankets for Project Linus, Project Linus is a non-profit organization which provides snuggly handmade blankets to children in need. These blankets are simple to make following a pattern which is provided and involve no sewing. If you can cut and make knots, you can make a blanket! A planning and information meeting will be held on Wednesday, February 7th at 1 pm. in the Conference room. A second meeting is scheduled for Tuesday, Feb. 13th at 1 pm. Project Linus's website states that, "over 6,789,789 blankets have been distributed." You may remember Joyce Hoelzer, the Coordinator of Project Linus, Ho. Co. Chapter. spoke about this gentle ministry at OLC last summer.
Sometimes, Angels Wear Hard Hats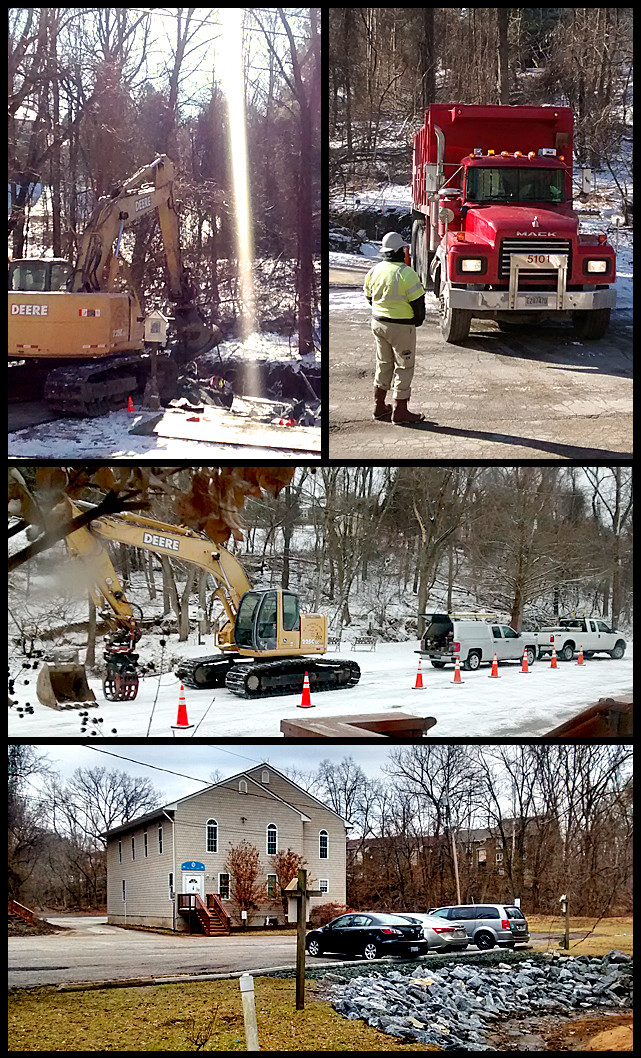 We are so grateful to the Howard County Dept. of Public Works for executing a much needed stream bank stabilization out front. We even think the completed work adds to the idyllic scene. The stream bank had eroded heavily of late and was threatening to encroach upon our parking lot. Artfully maneuvering their heavy equipment between the Stations of the Cross, workers laid riprap (a stone medium) to prevent any further erosion. They also installed concrete parking bumpers between the stream bank and the edge of the black top to protect our patrons as they park. We are relieved that our needs were met so well!

We are very aware that our long and winding lane also needs much attention, and plans are in the works for its improvement. Thank you for your patience and understanding in this regard!


February Events:


2/02, First Friday:
Flame of Love Feast Day 10:00 am on.

2/03, Saturday:
First Saturday Mass & Devotions with
Blessing of the Throats
10:30 am - 12:30 pm

2/05, Monday:
Novena to the Holy Face of Jesus at OLC begins, after Noon Mass. Novena ends on Shrove Tuesday.

2/14, Ash Wednesday:
10:30 am - Children's Storytime & Craft
12:00 pm - Ashes distributed at Noon Mass

2/16, Friday:
Stations of the Cross after Noon Mass
1:00 pm - Speaker Wesley J. Smith, ESQ.

2/21, Wednesday:
10:30 am - Children's Storytime & Craft

2/23, Friday:
Stations of the Cross after Noon Mass


Flame of Love Prayer Cenacles
Choose one day/time per week: Tues. 10:00 am, Thurs. 10:00 am, OR Thurs. 3:00 pm

Legion of Mary, Our Lady, Undoer of Knots Praesidium, Fridays 5:30



February Feasts Days


2/02: Presentation of Our Lord
2/03: St. Blaise
2/05: St. Agatha
2/08: St. Josephine Bakhita
2/10: St. Scholastica
2/11: Our Lady of Lourdes
2/13: Holy Face of Jesus
2/14: Ash Wednesday
2/20: Sts. Jacinta & Francisco Marto
2/22: Chair of St. Peter
2/23: St. Polycarp

Ideas for Lent:




(with input from Our Sunday Visitor)

Begin each morning with the prayer: "Lord, I offer you this day, and all that I think, and do, and say."




Attend Daily Mass as often as possible (12 Noon M-F at OLC!)




Pray the Sorrowful Mysteries of the Rosary (11:30 am Tu & F at OLC)




Make the Stations of the Cross (Fridays at OLC after both Masses during Lent)




Read Scripture 10 minutes every day and meditate on it.




Pray the Seven Penitential Psalms (6, 31, 50, 101, 129 & 142).




Spend some time in quiet prayer before the Blessed Sacrament (Fridays at OLC between Masses)




Abstain from meat for an extra day or two each week.




Listen to spiritual music or a spiritual speaker (CD's available in the Bookstore)




Keep a Lenten journal with your spiritual insights, special intentions, people you want to pray for, hurts and disappointments that you want to offer up, and progress reports on your Lenten resolutions (Lenten journals and resources available in the Bookstore)




Sign up to take home the Traveling Chalice and Bust of Our Lord (Ecce Homo) for a two-week period. See Bookstore for details.

IN THE BOOKSTORE*
*We are a non-profit. All sales go towards supporting the Shrine!

A Stations of the Cross DVD and illustrated fan book for children
from the popular Brother Francis series!
| | |
| --- | --- |
| A brand new, beautiful Lenten Journal for Liturgical Years A, B & C. | This beloved bestselling book will intensify your love for Jesus with its vivid imagery. |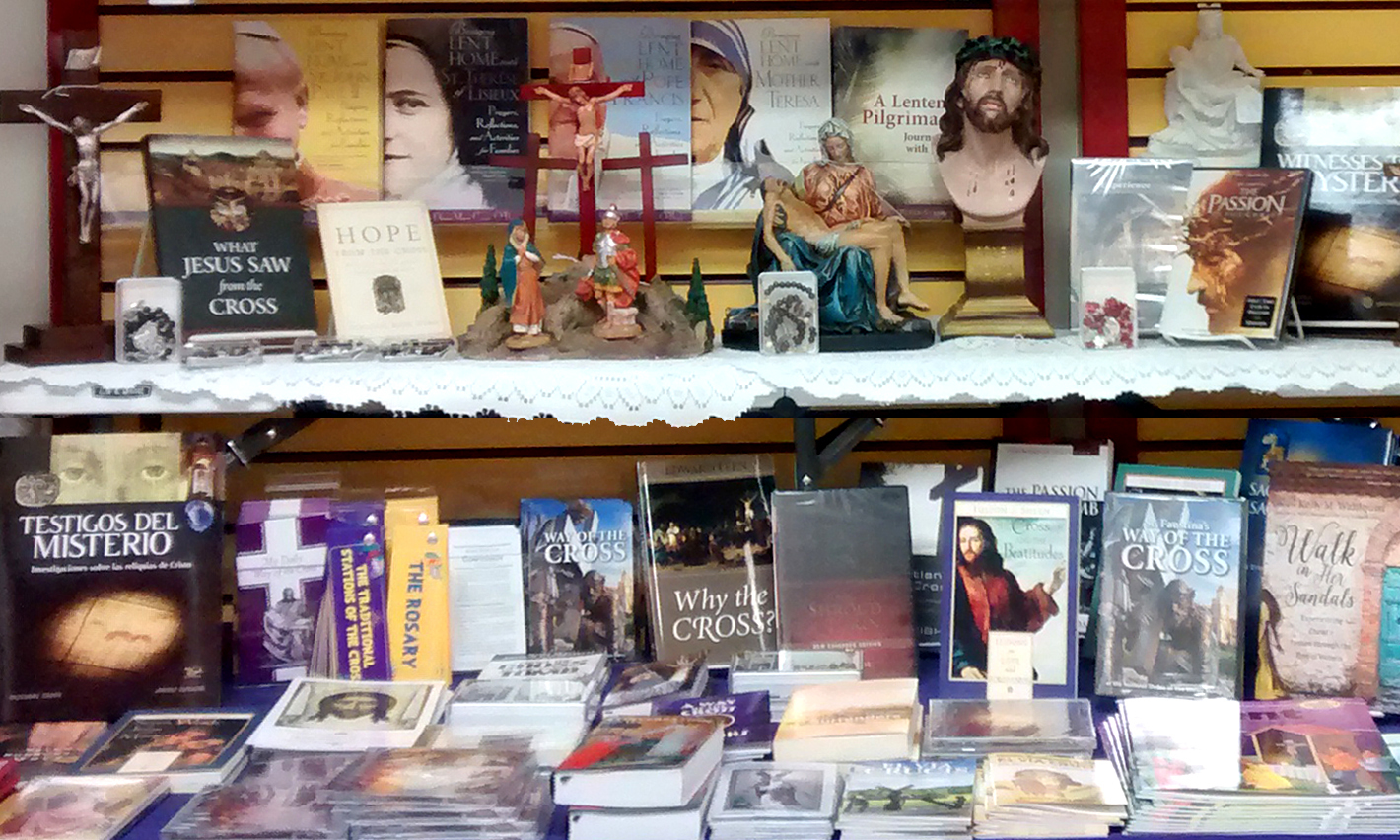 Many more Books, DVD'a, Rosaries, Chaplets, Crucifixes, Ecco Homo Statues and Devotionals in stock. for Lent.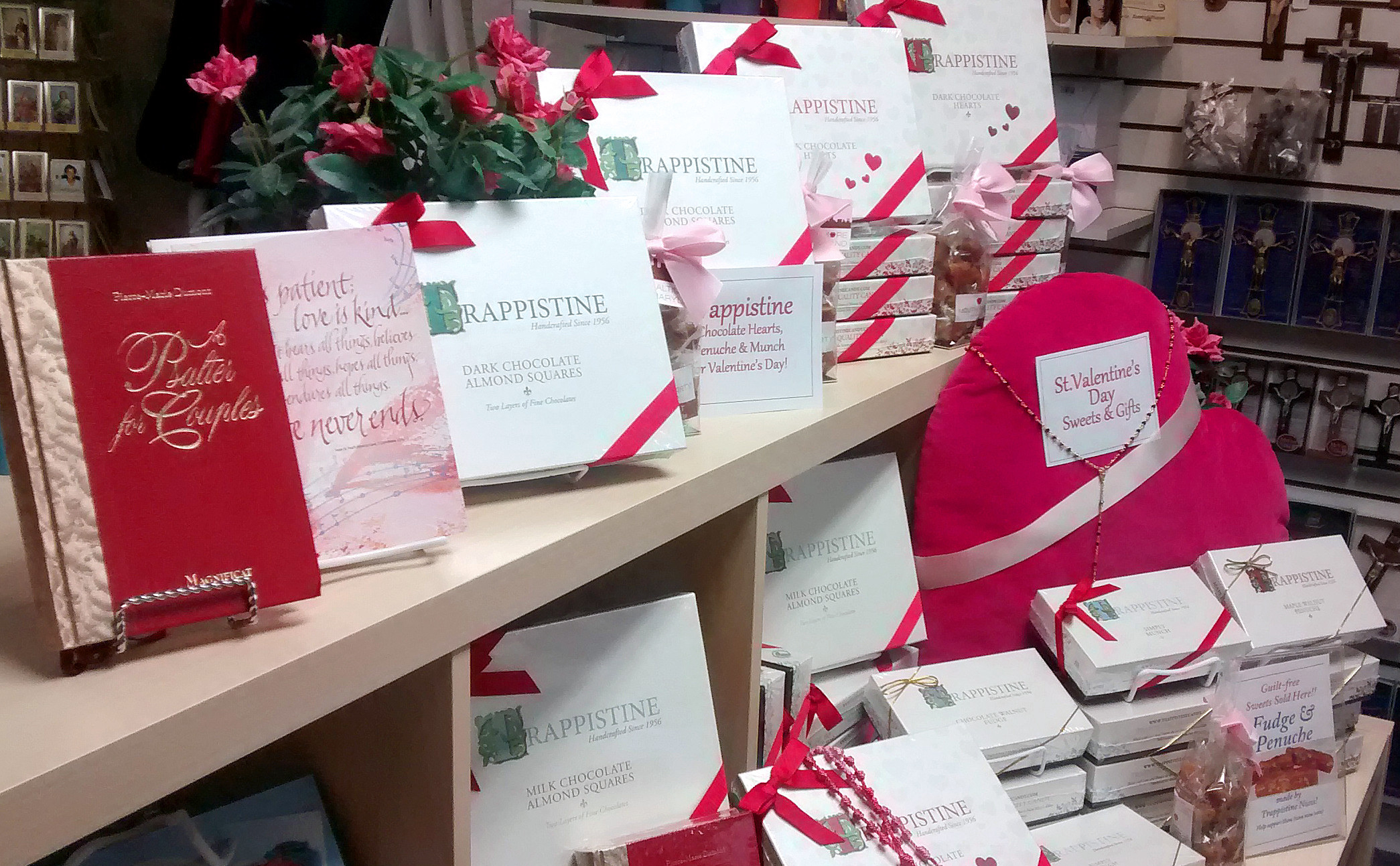 Don't forget to celebrate St. Valentine's Day a little early! Stop in and pick up your St. Valentine's Day Trappistine Chocolates, Penuche, Fudge and Munch and Mouth Party Caramels for those you love!

FEBRUARY NO-CLIP COUPON
Just mention you saw this offer in the
February OLC Newsletter!
15% OFF
One Candy Item


Must mention coupon at time of purchase. Limit offer good for ONE item only per visit, please. Valid on one regularly priced item only. Not valid on previously purchased items and cannot be combined with other coupons.
Expires 02/28/2018

Can't Get to our Store?

Our homebound and out-of-town patrons have found shopping at our online store convenient and helpful. We carry a variety of medals, crucifixes, and rosaries there for your convenience. You can shop anytime and choose to have your items shipped either to your home address or to anywhere you need them sent. We thank you for supporting OLC and appreciate any and all patronage as the proceeds of all sales go toward supporting our unique apostolate. Click here to visit now:
Store Hours
Monday - Thursday: 10:00 am - 4:00 pm*
Friday: 10:00 am - 7:30 pm*
First Saturday: 10:00 am -10:30 am; 12:30 pm - 2:00 pm
*Please note that the store is always closed during the noon Mass
Chapel Hours:

Holy Sacrifice
of the Mass

Monday-Friday: 12:00pm
Friday night: 7:30 pm
1st Saturdays: 10:30 am

Rosary


Monday-Friday: 11:30 am



Confessions


Following all Masses



Adoration


Friday: 12:30 - 7:30 pm


Friday Night Devotions



Holy Mass: 7:30 pm
Followed by: Confessions, Rosary, Divine Mercy Chaplet, Adoration of the Blessed Sacrament and Benediction
| | |
| --- | --- |
| Our Lady's Center Marian Shrine is a Catholic lay apostolate within the Archdiocese of Baltimore located outside of Baltimore, Maryland in Ellicott City. We offer the Holy Sacrifice of the Mass and confessions upstairs in our chapel each weekday and on first Saturdays. Downstairs in our beautiful store, we carry a large selection of Catholic books and religious articles to meet every need. We have many events and activities throughout each month. | |