March 2018 • News & Events
HOLY WEEK CLOSING SCHEDULE
We will be
CLOSED 3/29-4/1, Holy Thursday through Easter Sunday,
​so we may all observe these holy days at our own parishes.
We will reopen Monday, April 2nd.
Stations of the Cross During Lent


Fridays through March 23rd after both
the 12:00 Noon & 7:30 pm Masses


Plan to stay after Mass on Fridays during Lent to pray the Stations of the Cross in the Chapel. The Stations of the Cross are a 14-step devotion commemorating Christ's passion and death. It is a mini pilgrimage, as we move from station to station, recalling and meditating on Christ's last day. Booklets are provided. There are also many Lenten resources for sale in the bookstore.
Project Linus Blanket
Making Workshops
Tuesdays, March 6th & 20th, 1:00 pm


Come learn to make colorful, knotted fleece blankets for Project Linus, a non-profit organization which provides snuggly handmade blankets to children in need. These blankets are simple to make following a pattern which is provided and involve no sewing. If you can cut and make knots, you can make a blanket! Material and supplies are provided. See below for some photos from our first several meetings.
Children's Storytime & Craft




Wednesday, March 7th & 21st, 10:30 am


Bring the little ones to hear Mrs. Ginny read some of the good Catholic children's books which we carry in the store. This month, we will feature two beautiful books: "Barnyard Bliss" and "Easter Bunny's Amazing Day." A fun craft and snack will be provided. RSVP if possible so we are sure to have enough for all of our littlest patrons (but if your plans open up at the last minute, please feel free to drop in. We always have extra just in case). Also, be sure to get on our Storytime email list for reminders.
Speaker Zachary King Returns


A former Satanist who experienced a miraculous conversion through the Blessed Mother
Friday, March 16th, 1:00 pm


The Defend Life Lecture Tour continues with a compelling talk by Zachary King entitled. "My Journey from Satanic High Wizard and Abortionist to World-Wide Catholic Evangelist." Mr. King has spoken at Our Lady's Center before as well as on EWTN, and his miraculous message of redemption gives proof that Divine Mercy has no limits. Please stay for refreshments and lively conversation.
First Holy Communion Parish Tour

First Holy Communion Season is our busiest time of year! Many area parishes host us on weekends throughout the Spring season, and we bring with us a beautiful assortment of First Holy Communion merchandise, including medals, rosaries, missals, children's bibles, gift sets, greeting cards and gift bags. This month, we will be visiting the following parishes: St. Paul's in Ellicott City; Christ the King, Glen Burnie; St. Louis, Clarksville.
Annual Catholic Men's Conference returns to St. Philip Neri!


OLC will once again be exhibitors at the biggest annual gathering of Catholic men in the state of Maryland. For the very first time, the conference has a Marian theme: Hail Holy Queen - Knighted by Mary. We will be bringing our best Marian items including books, statues, devotionals, rosaries and more. Marian priest Fr. Donald Calloway and former professional baseball first baseman Mark Teixeira are the featured speakers. Learn more HERE.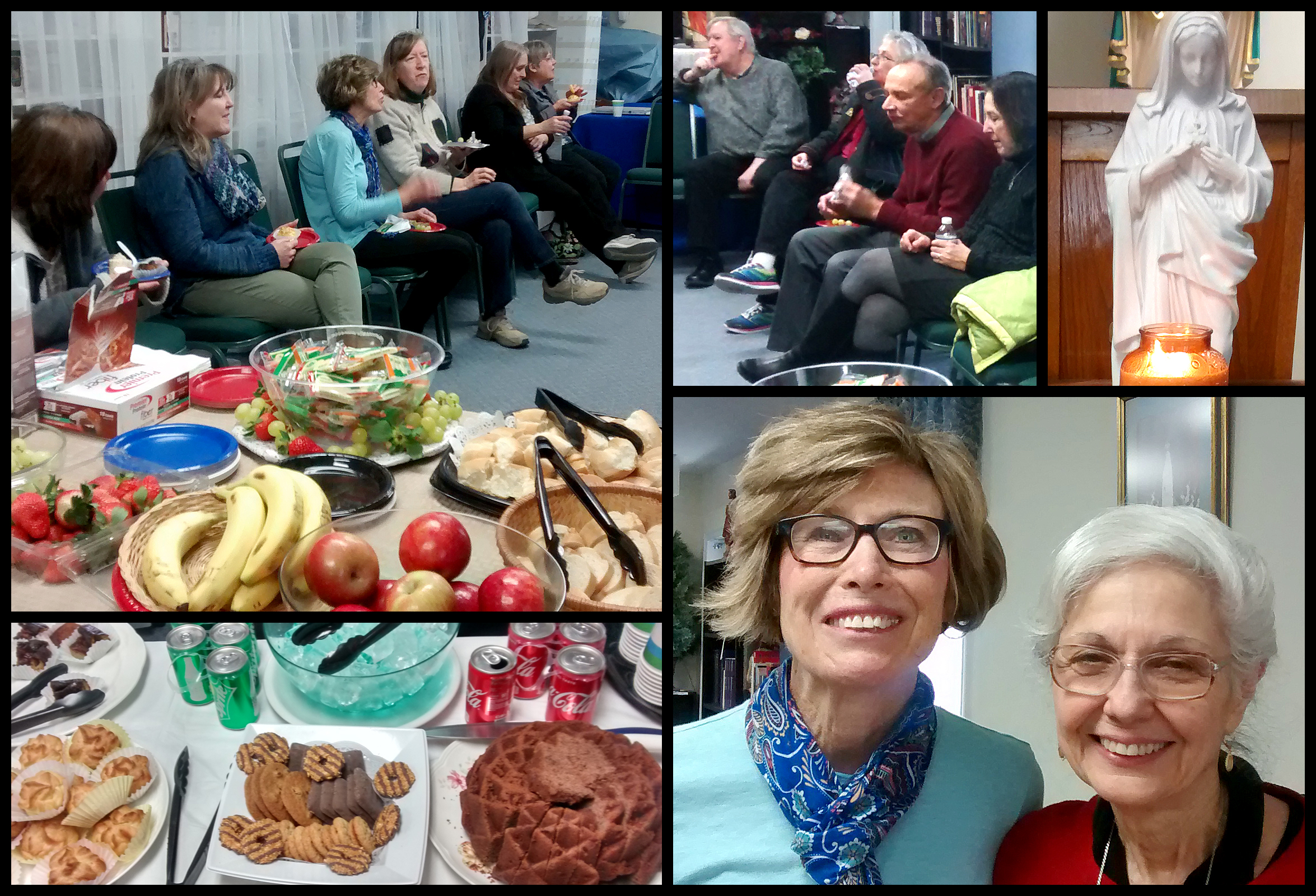 Flame of Love Feast Day at OLC
The Flame of Love cenacles have become well established here at Our Lady's Center, and the Blessed Mother is leading more prayer warriors here all the time. Board Member Ada Vergne and Joan Kane were pleased to be able to host a day of prayer on Shrove Tuesday, the Feast Day of the Flame of Love movement. They lovingly provided refreshments for those who came. Please come to any one of the three cenacle times to see what it is all about Tuesdays 10 am, Thursdays 10 am, or Thursdays 3 pm. Prayers and devotions last about an hour. More HERE.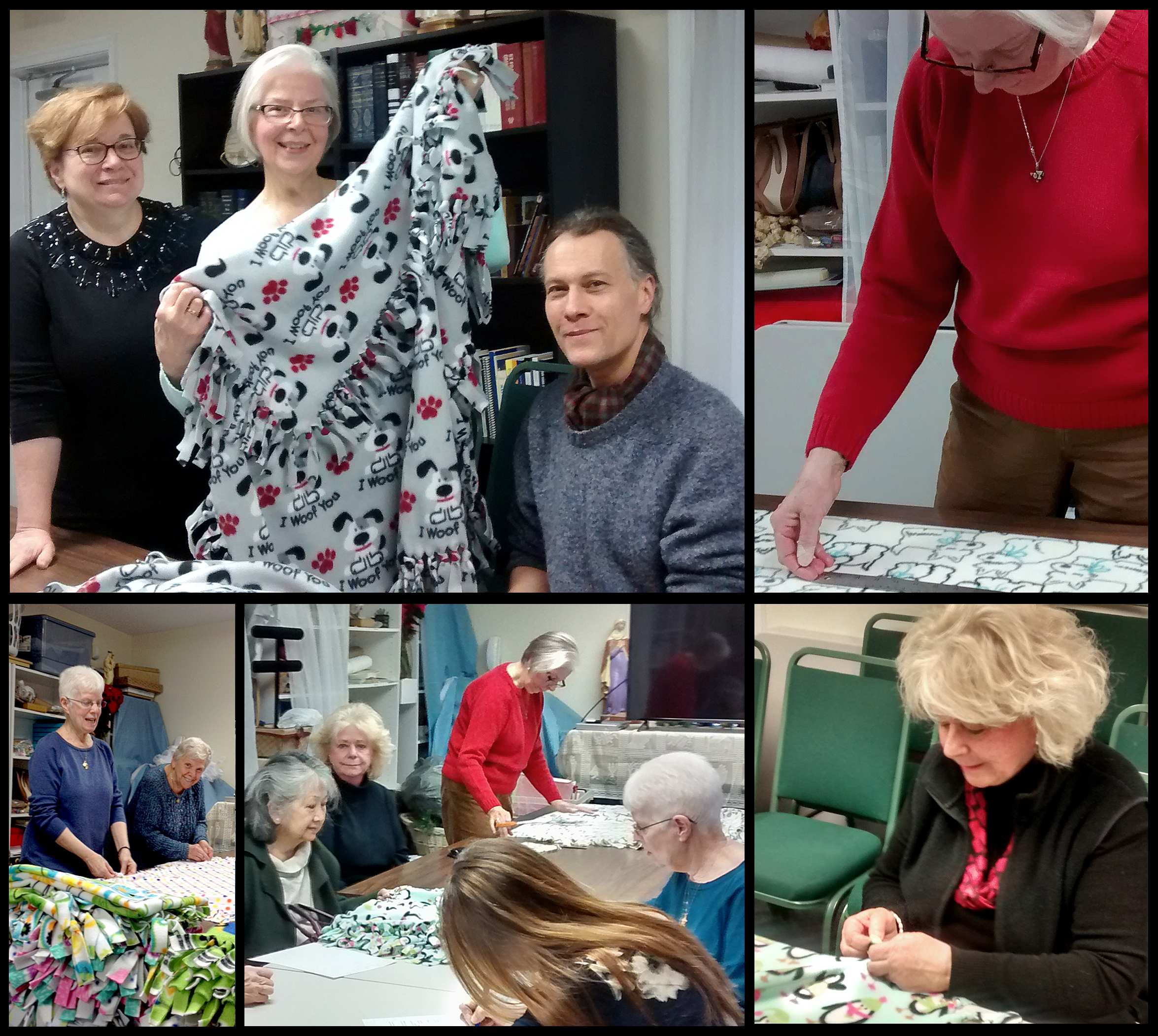 Linus Project Blanket Making is Underway!
​
A small but dedicated group of blanketers has already been busy making a pile of blankets which will eventually be delivered to children in need. Already some have been delivered and a thank you note was received from the staff of CNMC (Children's National Medical Center) - Laurel Lakes which read, "Dear Blanketeer, The love and appreciation our patients have for the blankets are expressed without words. Thank you for your love, compassion, and continued support to our patients." Please join us on the second and fourth Tuesdays of every month for blanket making workshops.

March Events:


3/02, Friday:
Stations of the Cross after Noon Mass

3/03, Saturday:
First Saturday Mass & Devotions

03/07, Wednesday:
10:30 am - Children's Storytime & Craft

3/9, Friday:
Stations of the Cross after Noon Mass

3/16, Friday:
Stations of the Cross after Noon Mass
1:00 pm - Pro-Life Speaker Zachary King

3/21, Wednesday:
10:30 am - Children's Storytime & Craft

3/23, Friday:
Stations of the Cross after Noon Mass

3/29-4/1 OLC CLOSED



Ongoing at OLC:


Flame of Love Prayer Cenacles
Choose one day/time per week: Tues. 10:00 am, Thurs. 10:00 am, OR Thurs. 3:00 pm

Legion of Mary, Our Lady, Undoer of Knots Praesidium, Fridays 5:30

Linus Project Blanket Making Workshops, at 1:00 on the second and fourth Tuesday of each month


March Feasts Days


3/03: St. Katharine Drexel
3/06: Sts. Felicity & Perpetua
3/12: St. Gregory the Great
3/17: St. Patrick
3/19: St. Joseph
3/21: St. Benedict
3/24: St. Gabriel the Archangel
3/29: Holy Thursday
3/30: Good Friday
3/31: Holy Saturday

IN THE BOOKSTORE*
*We are a non-profit. All sales go towards supporting the Shrine!

FIRST HOLY COMMUNION GIFTS!
Know someone about to receive their First Holy Communion? Come browse our extensive selection of gifts. We have Confirmation and Wedding gifts too!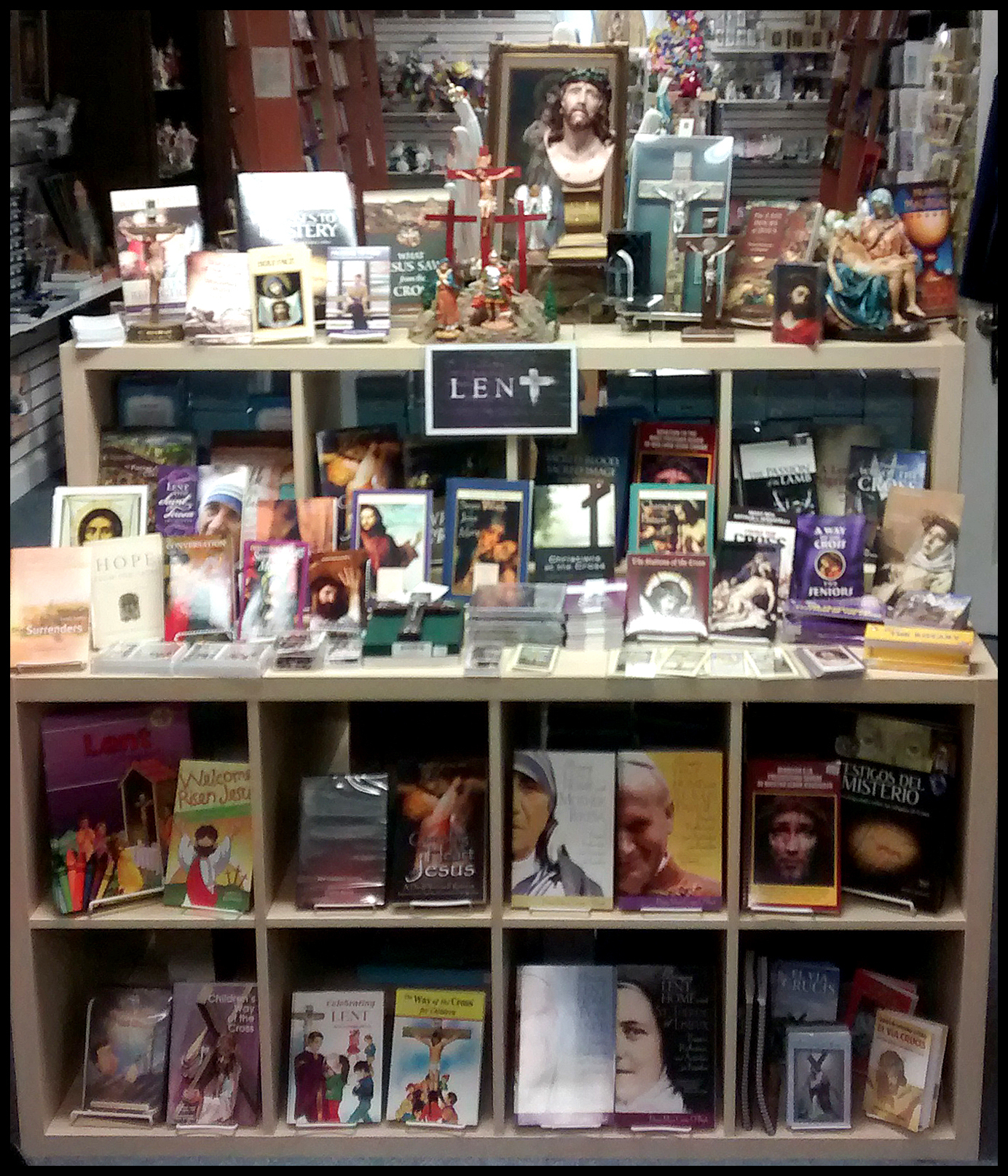 Many Books, DVD's, Rosaries, Chaplets, Crucifixes, Ecco Homo Statues and Devotionals still available for Lent.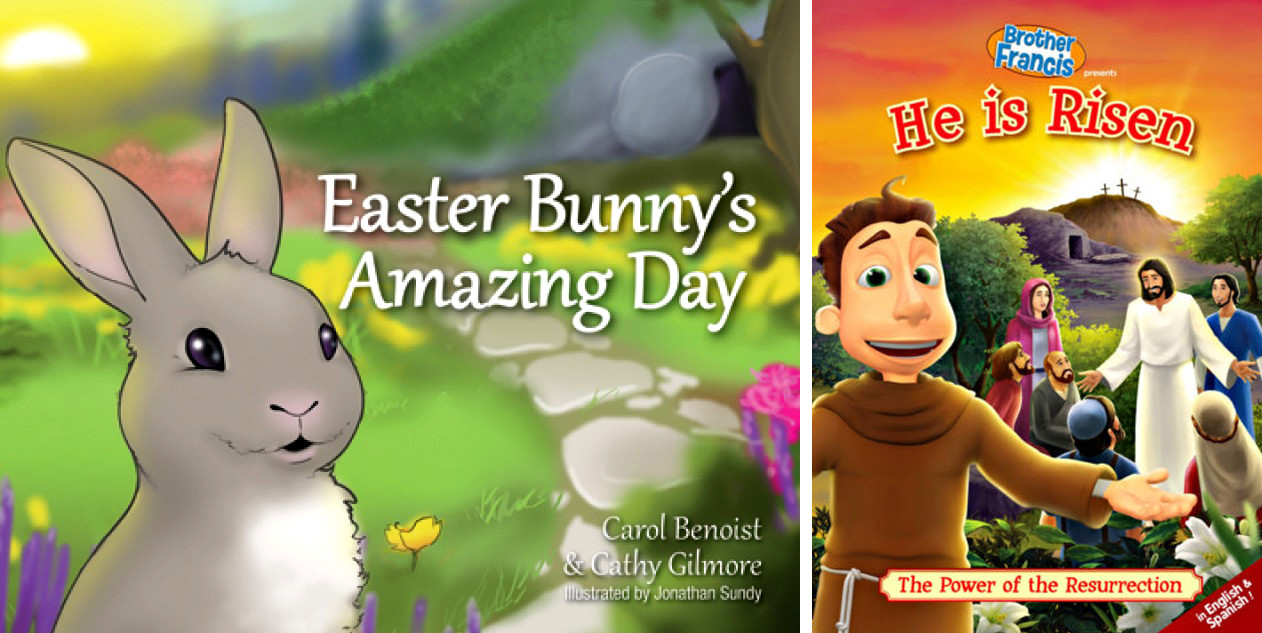 Come find some treasures to fill Easter baskets that actually inspire the children in their faith. In "Easter Bunny's Amazing Day," children learn about Jesus' friendship and comfort through the eyes of a timid bunny rabbit who experiences firsthand the love and joy Jesus brings. In the Brother Francis DVD, "He is Risen," children experience the power of the resurrection.
ST. PATRICK & ST. JOSEPH ITEMS!
| | |
| --- | --- |
| St. Patrick's Day is March 17th. Honor his memory in a much more appropriate way than the secular world, by praying for his intercession! St. Patrick statues, rosaries, giftware, and greeting cards are in stock. | The solemn feast of St. Joseph is March 19th. We have books, statues and more available. And, as solemnities are always observed as days of rejoicing and feasting, grab some Trappistine Chocolates while you're here, and enjoy! |

MARCH NO-CLIP COUPON
Just mention you saw this offer in the
March OLC Newsletter!
15% OFF
One St. Joseph or St. Patrick
Item in Stock


Must mention coupon at time of purchase. Limit offer good for ONE item only per visit, please. Valid on one regularly priced item only. Not valid on previously purchased items and cannot be combined with other coupons.
Expires 03/31/2018

Can't Get to our Store?

Our homebound and out-of-town patrons have found shopping at our online store convenient and helpful. We carry a variety of medals, crucifixes, and rosaries there for your convenience. You can shop anytime and choose to have your items shipped either to your home address or to anywhere you need them sent. We thank you for supporting OLC and appreciate any and all patronage as the proceeds of all sales go toward supporting our unique apostolate. Click here to visit now: