The month of April is dedicated to the
Blessed Sacrament of the Holy Eucharist,
Jesus present to us body, blood, soul and divinity.
More here.
O salutaris Hostia, Quae caeli pandis ostium: Bella premunt hostilia, Da robur, fer auxilium. Uni trinoque Domino Sit sempiterna gloria, Qui vitam sine termino Nobis donet in patria. Amen.
April 2018 • News & Events
Flame of Love Cenacle Time Change
Our Thursday afternoon Flame of Love Cenacle
will now be meeting at 2:00 pm

.


The Divine Mercy Chaplet will be prayed directly afterward during the 3:00 hour. The other two available times, Tuesdays and Thursdays at 10:00 am, remain unchanged.


You're Invited to the Flame of Love Maryland Regional Retreat on May 12th 10-5 at the National Seton Shrine in Emmitsburg, MD. For more information on the Flame of Love Movement or to RSVP by 4/15 for the retreat, contact

Ada Vergne.
SAVE THE FIRST SATURDAY DATES!




The Bible & the Blessed Virgin Mary DVD Study Series on First Saturdays at OLC!


First Saturdays at 12:30 pm beginning May 5th.
Following in the footsteps of the very well received Queen of Heaven Study Series, the Legion of Mary, Our Lady Undoer of Knots Praesidium, which meets here at OLC, will be hosting this new DVD study series beginning in May. Reserve your space by 4/16 by contacting Ruby Mize. Texting her is preferred but you may also call her (301-602-9651). You may also email her HERE. The registration, which is the cost of the participant workbook ($15.96), can be brought to first meeting. Make checks payable to Ruby Mize.
Children's Storytime & Craft




Wednesday, April 4th & 18th, 10:30 am


Bring the little ones to hear Mrs. Ginny read some of the good Catholic children's books which we carry in the store. This month, we will feature two beautiful books: "Easter Bunny's Amazing Day" (since we had to cancel the last Storytime due to weather) and "St. Joseph Hide & Slide Bible Stories." A fun craft and snack will be provided. RSVP if possible so we are sure to have enough for all of our littlest patrons (but if your plans open up at the last minute, please feel free to drop in. We always have extra just in case). Also, be sure to get on our Storytime email list for reminders.
Act of Consecration of the Families to the Divine Mercy & Chaplet of Divine Mercy
Friday, April 6th during Noon & 7:30 pm Masses
OLC will begin celebrating the weekend of Divine Mercy Sunday by leading all present in the Act of Consecration of the Families to the Divine Mercy. Let us avail ourselves and our families of the graces of Divine Mercy and celebrate the infinite mercy of God. And, while you are here, take advantage of the availability of the Sacrament of Confession. Extraordinary graces are available for those who fittingly prepare for and observe the Feast of Mercy. More HERE.
The Blessing of Blankets


Tuesday, April 10th at 12:00 Noon Mass


Fluffy blankets made by OLC Blankeeters will be on display in the Chapel on April 10th and blessed during Mass before being donated. Please consider making a monetary donation in the special basket for the purchase of more fabric. And stay for our Blanket Making Workshop. Workshops are held at 1:00 pm on the second and fourth Tuesdays of the month. Come learn to make colorful, knotted fleece blankets for Project Linus, a non-profit organization which provides snuggly handmade blankets to children in need. If you can cut and make knots, you can make a blanket! Material and supplies are provided.
Speaker Reggie Littlejohn


Friday, April 20th, 1:00 pm
The Spring Defend Life Lecture Tour concludes with a compelling talk by Reggie Littlejohn: "Fighting Forced Abortion and Sexual Slavery in China." Ms. Littlejohn is the founder of "Women's Rights Without Frontiers" and will explain how any visibly pregnant woman in China who is not in possession of a birth permit can be legally arrested by Family Planning Police and forcibly aborted. She has testified before Congress and Parliament, and she spent three weeks in the company of the great pro-life saint, Mother Teresa of Calcutta. The talk will be held in the Conference room. Please stay for cake and lively conversation.
OLC's Annual Spring Clean Up Day
Saturday, April 21st, 9 am through afternoon.
It's that time of year again! Spring cleaning is upon us, and it's time to give Our Lady's Center a good scrub, trim, and polish. We need lots of hands, so come join us for a day full of fun, laughter, cleaning, and food! If you're the outdoorsy type, we'll have tree-trimming, weeding, planting, mulching, and more. Indoors, we'll have polishing and window-washing. Come spend time with your OLC community, giving back to Our Lady for all that she does for us, and then enjoy a real feast! Bring something to share for our big potluck. Bring something to share, and we'll provide the burgers, hotdogs, & buns! You can sign up in the bookstore and let us know what you're bringing!...or email us
HERE
!
Adoration Every Friday at OLC




During April, the month dedicated to Jesus in the Blessed Sacrament, why not make a point of spending some time in Eucharistic Adoration at a shrine dedicated to Mary who is the Mother of the Eucharist? Our Lady's Center has the Blessed Sacrament exposed all day every Friday between the 12:00 Noon and 7:30 pm Masses. A reverent silence is maintained in our lovely upstairs chapel so that you can leave the noise and discord of the world behind and allow listen for the still, small voice of your beloved Savior to speak to your soul.
SAVE THE DATE: Monday, May 7th!
Following Mass, all are invited to process outside with Msgr. Lizor to our lovely grotto to crown the statue of Our Lady. We shall sing beautiful hymns to her and lay flowers before her. Any children who have recently celebrated their First Holy Communion are encouraged to come in their dresses and suits to help lead the procession. Let us honor our lovely mother with this beautiful tradition! Confessions will follow, and we will be serving a cake in the conference room!
First Holy Communion Season
First Holy Communion Season is our busiest time of year! Many area parishes host us on weekends throughout the Spring season, and we bring with us a beautiful assortment of First Holy Communion merchandise, including medals, rosaries, missals, children's bibles, gift sets, greeting cards and gift bags. This month, we will be visiting the following parishes: St. Philip Neri in Linthicum & St. Augustine's in Elkridge.
A Full Conference room for Zachary King's Talk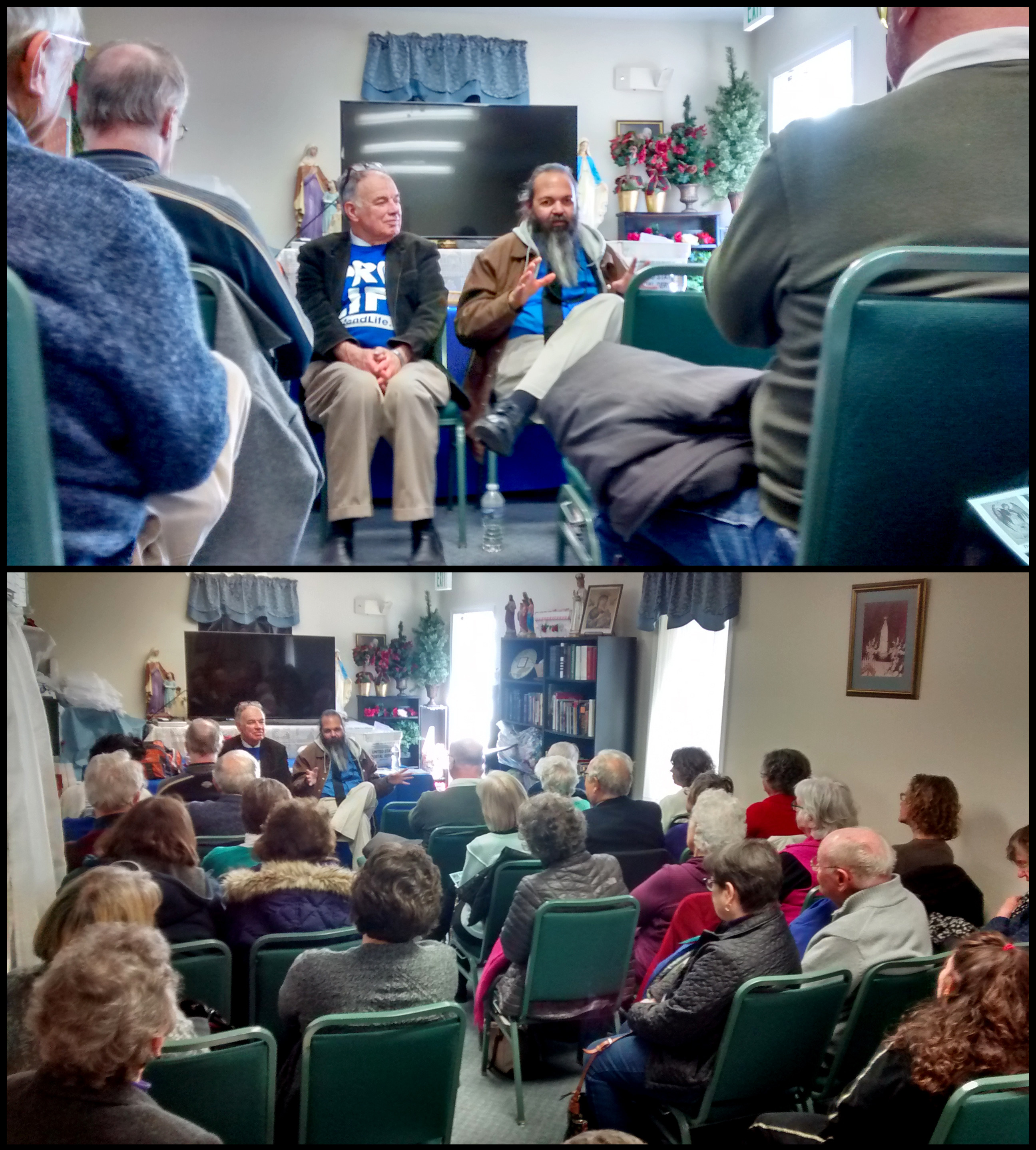 ​Zachary King, former satanist high wizard turned crusader for the Blessed Mother, spoke again at OLC as part of the Defend Life Lecture Tour. King's testimony on his conversion through the intercession of the Blessed Mother and his insights into spiritual warfare and the evil tactics of the abortion industry are riveting. His story is a most compelling witness to the fact that no one, absolutely no one, is beyond the reach of Divine Mercy.
Look WHOO Came to Storytime
In Memorium:
Russell Reiss, Jr., M.D.


Board Secretary Carolyn Niebauer's beloved brother and enthusiastic OLC patron Dr. Russell Reiss of Glenside, PA passed away on March 12th. Russell was well known for his kindness and generosity, and he enjoyed giving gifts of Our Lady's Center's Trappistine Candy and Hail Mary Pashminas to friends and associates and supporting OLC. May the Lord comfort Carolyn and all his family as they mourn his loss, and may his and the souls of all the faithful departed, through the mercy of God, rest in peace. Amen.

April Events:


04/04, Wednesday:
10:30 am - Children's Storytime

04/06, Friday:
Divine Mercy Chaplet before the Blessed Sacrament following Noon Mass & at 3:00 pm.

04/07, Saturday:
First Saturday Mass & Devotions

04/10, Tuesday:
12:00 Mass - Blessing of Blankets
1:00 pm - Blanket Making Workshop

04/18, Wednesday:
10:30 am - Children's Storytime

04/20, Friday:
1:00 pm - Pro-Life Speaker Reggie Littlejohn

04/21, Saturday:
9:00 am - Spring Cleanup

04/24, Tuesday:
1:00 - Blanket Making Workshop


Ongoing at OLC:


Flame of Love Prayer Cenacles
Choose one day/time per week: Tues. 10:00 am, Thurs. 10:00 am, OR Thurs. 2:00 pm (Note new time!)

Legion of Mary, Our Lady, Undoer of Knots Praesidium, Fridays 5:30

Linus Project Blanket Making Workshops, at 1:00 on the second and fourth Tuesday of each month


April Feasts Days


04/04 St. Isadore of Seville
04/05 St. Vincent Ferrer
04/07 St. John Baptist de la Salle
04/08 Divine Mercy Sunday
04/09 The Annunciation
04/11 St. Stanislaus, St. Leo the Great
04/16 St. Bernadette
04/25 St. Mark
04/28 St. Louis Marie de Montfort;
St. Gianna Molla
04/29 St. Catherine of Siena

IN THE BOOKSTORE*
*We are a non-profit. All sales go towards supporting the Shrine!

Our beautiful Infinities and Pashminas are back in stock, and we have an expanded selection in beautiful colors.
A valuable resource for grandparents, showing how you can incorporate faith, hope, love, and fun into your relationship with your grandchildren, even if they are being raised unchurched.

Colorful illustrations and catchy rhymes allow children to see the beauty of Christian holiness through the lives of our more recent saints.

These nineteen holy men, women and children will become your child's friends in heaven!

APRIL NO-CLIP COUPON
Just mention you saw this offer in the
April OLC Newsletter!
15% OFF
One Scarf in Stock


Must mention coupon at time of purchase. Limit offer good for ONE item only per visit, please. Valid on one regularly priced item only. Not valid on previously purchased items and cannot be combined with other coupons.
Expires 04/30/2018

Can't Get to our Store?

Our homebound and out-of-town patrons have found shopping at our online store convenient and helpful. We carry a variety of medals, crucifixes, and rosaries there for your convenience. You can shop anytime and choose to have your items shipped either to your home address or to anywhere you need them sent. We thank you for supporting OLC and appreciate any and all patronage as the proceeds of all sales go toward supporting our unique apostolate. Click here to visit now:
Store Hours
Monday - Thursday: 10:00 am - 4:00 pm*
Friday: 10:00 am - 7:30 pm*
First Saturday: 10:00 am -10:30 am; 12:30 pm - 2:00 pm
*Please note that the store is always closed during the noon Mass
Chapel Hours:

Holy Sacrifice
of the Mass

Monday-Friday: 12:00pm
Friday night: 7:30 pm
1st Saturdays: 10:30 am

Rosary


Monday-Friday: 11:30 am



Confessions


Following all Masses



Adoration


Friday: 12:30 - 7:30 pm


Friday Night Devotions



Holy Mass: 7:30 pm
Followed by: Confessions, Rosary, Divine Mercy Chaplet, Adoration of the Blessed Sacrament and Benediction
| | |
| --- | --- |
| Our Lady's Center Marian Shrine is a Catholic lay apostolate within the Archdiocese of Baltimore located outside of Baltimore, Maryland in Ellicott City. We offer the Holy Sacrifice of the Mass and confessions upstairs in our chapel each weekday and on first Saturdays. Downstairs in our beautiful store, we carry a large selection of Catholic books and religious articles to meet every need. We have many events and activities throughout each month. | |