Hello Great Gardener,
"Every garden is unique with a multitude of choices in soils, plants and themes. Finding your garden theme is as easy as seeing what brings a smile to your face."
- Doug Larson
As always, if you have any questions, comments or suggestions, hit reply. I would love to hear from you. Have a great-gardening day.


Sincerely,


Holly
Family Hand Print Container
A fun activity for the whole family to do.

What You Need:
10 Inch Clay Pot
Acrylic Paint
Paint Brushes
Potting Soil
Plants
Paper Towels
Water
Family
Clear Sealer
Sharpie Marker
What To Do:
Paint a base coat on the planter and let dry.
If needed paint on a second coat of paint.
Take and paint one hand at a time and place onto pot. Push down on hand to transfer paint.
Add other paint details. Wait to add year or names until after sealed.
Let dry.
Take outside and spray with sealer.
Use sharpie marker to add year or names after sealer dries.
Identifying The Four Poisons
Poison Ivy, Poison Oak, and Poison Sumac are plants that can cause rash if individuals come in contact with the oily resin found in them.
Poison Ivy:

"Leaves of three leave it be."


Poison ivy is a vining plant or shrub that grows in open fields, wooded areas, along roadsides and riverbanks. The leaves can be notched or smoothed edged and are reddish in spring, green in summer, and yellow/orange in fall.

Picture By D. Gordon E. Robertson
Another identifying feature is it has one large leaf at the end of the stem and two smaller leaves shooting off the sides.
| | |
| --- | --- |
| Picture By Frank Schulenburg | The leaves on Poison Oak look a lot like oak leaves and grow in clusters of three. It is often seen as a shrub form but can grow as a vine as well. |
| | |
| --- | --- |
| Poison sumac is a shrub or small tree, growing up to nearly 30 feet high. It grows in wet clay soils, usually in swamps and peat bogs. The stems are red and the leaves are smooth edged. | |
In spring small yellow-green flowers turn to white berries. Considered more poisonous than Poison Oak and Poison Ivy.
Photo By William & Wilma Follette @ USDA-NRCS PLANTS Database / USDA NRCS. 1992.

Poison Hemlock


Poison Hemlock is one of the deadliest plants in North America. It contains highly toxic piperidine alkaloid compounds which can cause respiratory failure and even death.
Unlike Poison Ivy, Oak and Sumac which cause skin rashes or blistering Poison Hemlock does not.
Regardless, this plant should not be handled because sap on the plant can get on your skin and accidentally rubbed into eyes, nose or mouth.
Poison-hemlock has white flowers that grow in small erect clusters. It can become 2 to 3 meters tall and has a hollow stem usually marked with small purple spots. It is a biennial in the parsnip or wild carrot family and can be easily mistaken for wild parsnips.

Found often in poorly drained soils, particularly near streams, ditches, and other surfaces of water. It also is seen along roadsides, edges of cultivated fields, and waste areas.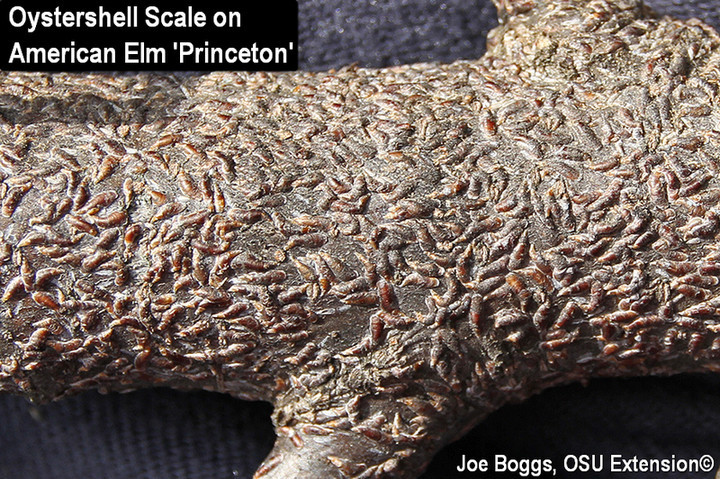 Picture From The Buckeye Yard & Garden Line
Information Taken From The Buckeye Yard & Garden Line
The oystershell scale is one of the most common armored scale insects that cause injury to shade trees and shrubs.

Found on the bark and branches the scales resemble miniature clams or oysters owing to their elongate and slightly convex shape; thus their common name. Their small size, dark gray to brown color, and slight banding can cause them to blend-in with bark making low populations challenging to detect.

As with all armored scales, the oystershell scale feeds by inserting their piercing-sucking mouthparts into plant stems to withdraw nutrients from non-vascular stem cells.

The scale has a wide host range and may be found on over 130 host plants including trees as well as shrubs. Although this scale has only one generation per year in Ohio, undetected infestations can rapidly build within 1 to 2 years to levels that cause significant plant injury including branch dieback and even plant death.

Oystershell scale spends the winter as eggs protected under the hard coverings of dead females.

These hatch in late May through early June into first instar nymphs called crawlers. This life stage wanders over the bark for a short time and then settles down to feed. At this stage, they are vulnerable to a number of control options.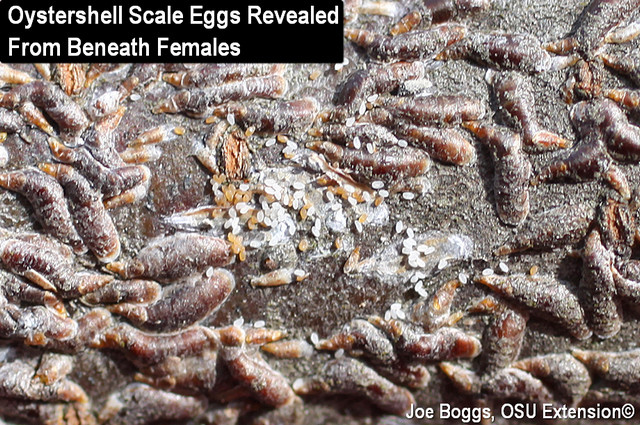 From The Buckeye Yard & Garden Line
Control Options:

Physical Removal:
Eggs can be destroyed prior to hatching by using a dish scrubbing pad to lightly scour heavily infested stems on small trees and shrubs. Removing and destroying heavily infested stems is also a recommended "first step" in an oystershell scale management program. However, both of these methods become less effective once eggs hatch and the mobile crawlers disperse.

Soaps and Oils:
Dormant oil applications will fail to reach eggs beneath the dead females. However, horticultural (= summer) oils, as well as insecticidal soaps, are effective against the exposed crawlers. Keep in mind that multiple applications of these contact insecticides are required because eggs may continue hatching over an extended period of time; use sticky tape to monitor!

Topically Applied Insecticides:
Most topically applied insecticides sprayed onto infested stems will kill the crawlers. Multiple applications may be required if eggs continue hatching past the time frame noted in the product's label directions for residual activity. Remember that these insecticides may also kill pollinators and other beneficial insects, so caution should be exercised to avoid exposure to non-target insects.
Meet Our Staff - Rockett Morgan
I have worked at Wilson's six seasons. I work in the Nexus, maintaining the foliage area and planting fun, creative containers at the creation station.

I have been gardening since I was a kid. My parents used to have my siblings and me compete to see who could weed their garden section best. Wasn't that clever? I cannot name a favorite flower - I love them all! I am, however, becoming more enamored with the interior foliage plants.
Lanceleaf Tickseed
(Coreopsis lanceolata)

A native wildflower having dissected green foliage and daisy-like flowers of bright yellow atop long stems. Early season flowers are loved by bees and butterflies. Songbirds eat the seeds as they ripen.
Grows:
24 Inches Tall x 18 Inches Wide

Great in borders, containers and prairieland gardens. Perennial In Ohio.
In stock!
Flowering Hanging Baskets
Buy 1
Get 1 for 1/2 Off
(1/2 One Of Equal Or Lesser Value)
Does Not Include Foliage
Sale Ends:
May 27, 2018
Vinca
'Mega Bloom Pink Halo'
Pink Halo produces huge soft pink blossoms with a wide white eye. These flowers present a striking look in the garden, even from a distance. Plants maintain a nice, dense habit with flowers staying on top of the foliage for full flower power color.

2017 AAS WINNER!
Garden Bingo
Sunday, June 3rd
Time: 1:00 - 2:00 pm
Cost: 25¢ per card 5 for $1
Proceeds Benefit Marne Food Pantry
Little Sprouts:
Paint A Garden Gnome
Sunday, June 10th
Time: 1 pm - 3 pm
Cost: $12 + tax per child
Click Here To Register
Hula Hoop Contest
(Kids & Adults)
Sunday, June 10th
Time: Noon
Family Butterfly Release
Saturday, July 21st
Time: 1:00 pm
Cost: $10.00 per person
Click Here To Register
Must Register & Pay By June 15th In Order To Participate.