October is dedicated to the Holy Rosary. We are in the middle of a raging and intensifying battle of spiritual warfare, and evil is all around us. St. Teresa of Calcutta would never be without her rosary, her weapon of choice. Let us all follow her example and pray ardently to gain the protection and strength that comes through this holy devotion. Pray the rosary everyday!
Missed her visit last year? Come to her Encore Appearance!
The World-famous International Pilgrim Virgin Statue is Coming Back to OLC!
Monday, October 22nd
The miraculous Pilgrim Virgin Statue of Our Lady of Fatima, which visited us last year during the Centennial Tour for Peace on the 100th Anniversary of the Fatima Apparitions, is returning to us during the month of the Holy Rosary! Visits are so rare that we did not expect another for a very long time, but the Blessed Mother knows we need her now. Let us approach her confidently knowing no one who has implored her help or sought her intercession has been left unaided.
The beautiful image of Our Lady of Fatima was designed by famous sculptor José Thedim in 1947. Sister Lucia herself instructed him, and later remarked that she had never seen any image which so resembled the actual apparition of Our Lady. Learn more about the statue and the Blue Army HERE.
SCHEDULE OF THE DAY'S EVENTS:
(A finalized schedule will be emailed closer to the date. Times are approximate)
9:30 am Chapel opens for visitors to get situated before statue arrival.
10:00 am WELCOME with hymn and prayers
11:00 am Rosary—Joyful Mysteries**
12:00 pm HOLY MASS***
1:00 pm Exposition of the Blessed Sacrament; Confessions begin
(Adoration continues until 5:30 pm; Confessions heard until
5:30 depending on priest availability.
12:45 pm Guardian Patrick Sabat Speaks; Confessions begin
1:00 pm Scapular Investiture
1:30 pm Selected Prayers**
2:30 pm Rosary—Luminous Mysteries**
3:00 pm Divine Mercy Chaplet**
4:00 pm Rosary—Sorrowful Mysteries**
4:30 pm Litany to Our Lady of Fatima**
5:00 pm Rosary—Glorious Mysteries**
5:30 pm Mass*** followed by Exposition of the Blessed Sacrament for Adoration
6:10 pm Guardian, Patrick Sabat, Speaks
6:30 pm Scapular Investiture
7:00 pm
CLOSING:
Our Lady's Statue departs (NO procession)
Benediction & Devotional Prayers
* Times are approximate ** Led by Flame of Love of the Immaculate Heart of Mary OLC Cenacles
*** Collection during Mass for the World Apostolate of Fatima Blue Army


"One day, through the Rosary and the Scapular,
Our Lady will save the world." ~Saint Dominic
Annual America Needs Fatima Rosary Rally at OLC
Saturday, 10/13 (The Anniversary of the Miracle of the Sun) • 10:30 am


Location: Our Lady's Center Marian Shrine
We will once again be participating in the annual America Needs Fatima Public Square Rosary Crusade. These rallies are always held on the Saturday closest to the date of the last apparition of Our Lady of Fatima and the Miracle of the Sun. This year, it falls on the anniversary date itself! There will be thousands of rosary rallies in cities all across America, there were more than 21,000 groups of faithful Catholics simultaneously praying for our country and the world! Mass will be followed by Exposition of the Blessed Sacrament, the Rosary, and Benediction. Please come pray for peace and the conversion of hearts.
As the conclusion nears of the 54 Day Novena for Our Nation, please consider attending these regional events. Do not let up in this spiritual battle!
National Rosary Rally in DC
Sunday, 10/7, 12:00 - 3:00pm, Union Square, Washington DC.



The Rosary Coast to Coast


Sunday 10/7, the Feast of Our Lady of the Rosary, 4 pm EST. Location: everywhere in the country at once! Just as the faithful have done in Poland, Ireland and the British Isles, Americans across the country are invited to gather along the US coasts and borders, in front of state capitols, in other public areas, or as families while viewing the live stream of the National Rosary Rally. The time is now to call upon God, through the powerful intercession of Our Lady of the Rosary, to heal our country and return to holiness.

Archdiocese of Baltimore Rosary Congress
Sunday 10/7 - Saturday 10/13, various locations. In honor of the Fatima Centennial, the Archdiocese of Baltimore is presenting its first-ever Rosary Congress as a way of encouraging people to pray for peace, grow in faith and develop a deeper relationship with Christ. Perpetual Adoration of the Blessed Sacrament will be available at seven churches throughout the archdiocese. Special Masses, spiritual talks, opportunities for confession and other events will also be offered, and several Catholic schools will be hosting special events. For more information, click HERE
"If our age in its pride laughs at and rejects Our Lady's Rosary, a countless legion of the most saintly men of every age and of every condition have not only held it most dear and have most piously recited it but have also used it at all times as a most powerful weapon to overcome the devil, to preserve the purity of their lives, to acquire virtue more zealously, in a word, to promote peace among men." -Pope Pius XI
Fall Defend Life Speaker Series -




Bud MacFarlane:




"Have Many Children"

Friday, October 19th, 1:00 pm

Bud is an authority on Marian Apparitions and a grandfather of 35! His talk is entitled "Have Many Children so that your descendents will live all over the earth and bring it under their control - Gen. 1:28." Pope Paul VI proclaimed Humanae Vitae 50 years ago prophetically restating the church's traditional teaching against contraception. Sadly it was almost totally ignored in the Western World. Topics also covered include: The Blessings of Large Families • How The Pill acts as an abortifacient • How The Pill damages a woman's health • NaPro Technology makes it easy for many women to conceive, even late in life and costs nothing! Read more on Bud HERE.
Flame of Love Cenacles


3 times: Tues. at 10 am, Thurs. at 10 am or Thurs. at 2 pm


About 30 prayer warriors per week on average are attending the Flame of Love Cenacles and experiencing the power of praying in groups, and more are discovering this devotion every week. Come pray for the Holy Spirit to come into our hearts by means of the Flame of Love of the Immaculate Heart of Mary, a new Pentecost! You are welcome to come to any one of the cenacles to learn more.

Blanket Making Workshops
Tuesday, Oct. 9th & 23rd, 1-3 pm


Linus Project Blanket Making Workshops are held at 1:00 pm on the second and fourth Tuesdays of the month in our Conference room. Come learn to make colorful, knotted fleece blankets for Project Linus, a non-profit organization which provides snuggly handmade blankets to children in need. If you can cut and make knots, you can make a blanket! Material and supplies are provided. Already over 200 blankets have been donated and thank you letters are rolling in!

Children's Storytime & Craft




Wed, Oct. 17th & Thurs, November 1st ALL SAINTS DAY, 10:30 am -

See farther down newsletter for details)




Bring the little ones to hear Mrs. Ginny read some of the good Catholic children's books which we carry in the store. A fun craft and snack will be provided. RSVP if possible so we are sure to have enough for all of our littlest patrons (but if your plans open up at the last minute, please feel free to drop in. We always have extra just in case). Also, be sure to get on our Storytime email list for reminders.
SAVE THE NOVEMBER DATE...
All Saints Day Children's Storytime & Parade up to Mass


THURSDAY, Nov. 1st, 10:30am - Noon Mass


Calling all our tiny saints! Little Marys and Josephs, Clares and Francises, Thereses and Patricks and Roses and Nicholases. Come to hear a story about saints, do a craft, have a snack, and parade up to the chapel for Mass. The first few pews will be reserved for you and your families. Parents, there is time to get a costume together, but it is not mandatory. Also, any child who would like to tell us about their special saint is encouraged to do so!
1000

Hail Marys Day of Fasting & Prayer on Election Day


Tuesday, November 6th
Once again, our country is facing an extremely important election. It is vital that those who affirm the sanctity of human life turn out and vote. Do your civic duty, then come to Our Lady's Center to spend some time in prayer and fasting before the Blessed Sacrament, imploring our Lord's protection upon the integrity of the electoral process and upon all those who seek to serve in truth and with integrity.
God has been very good to us. OLC is 44 years old, and it's been three years since we ran a capital campaign to raise funds for our upkeep. We are so very grateful for all the support we have received from our patrons, through various private donations and through the patronage of our non-profit bookstore and gift shop. Many of you will be receiving a letter in the mail, but many of you have not provided mailing addresses yet, so this is our only way of reaching you. Please prayerfully consider if you might have some funds to share to help keep our beautiful, unique shrine going strong. Clicking the

RED HEART

will bring you directly to the secure Our Lady's Center's Paypal page where you can conveniently make a donation online toward our capital campaign. To ensure you receive a thank you letter (for tax purposes) please include your mailing address. Be assured of our prayers and our heartfelt gratitude! And remember, every First Saturday Mass at OLC is offered for the prayers and intentions of our patrons and benefactors, and that means you!
What a Powerful Movie to Share
with Family and Friends!
"Power in My Hands," is an excellent documentary by the Rosary Evangelization Apostolate, and it comes at a time when the Church, as well as society in general, is in desperate need of healing. Those who came out to the two showings we had here gave the movie excellent reviews. We're getting them in the store shortly. Call us to reserve your copy.
Ann McElhinney's Talk on "Gosnell" was Riveting
Those who came were shocked to hear Ann tell of the monumental effort it took to bring the "Gosnell" movie, which she wrote and produced, to screen. The effort to suppress the truth behind the trial and conviction of this serial killer abortionist is ongoing and severe. The book Gosnell is available through Regnery Press, and the movie is set to open in select theaters on Thursday, October 11th
October Special Dates


Saturday, October 6th:

First Saturday Mass & Devotions, 10:30 am

Tuesday, October 9th:

Linus Blanket Making Workshop 1:00 pm

Friday, October 13th (Miracle of the Sun)

America Needs Fatima Rosary Rally
10:30 am Mass

Wednesday, October 17th:

​Children's Storytime and Craft, 10:30 am

Friday, October 19th:

Defend Life Speaker Talk, 1:00 pm

Tuesday, October 23rd:

Linus Blanket Making Workshop 1:00 pm

Thursday, November 1st:

All Saints Day Story Time & Parade, 10:30 am


1 - St. Therese of Lisieux

2 - Holy Guardian Angels

4 - St. Francis of Asissi

5 - St. Faustina Kowalska
Bl. Francis Xavier Seelos

7 - Our Lady of the Rosary

11 - Pope St. John XXIII

15 - St. Teresa of Avila

16 - St. Margaret Mary Alacoque

18 - St. Luke

22 - Pope St. John Paul II

28 - Sts. Simon & Jude

Ongoing at OLC
Flame of Love Prayer Cenacles

:

Choose one day/time per week: Tues. 10:00 am, Thurs. 10:00 am, OR Thurs. 2:00 pm




Legion of Mary, Our Lady, Undoer of Knots Praesidium: Fridays 5:30

IN THE BOOKSTORE*
*We are a non-profit. All sales go towards supporting the Shrine!

New Releases for Children!
New from Marian Press! A welcoming
introduction to the many ways God transmits
his love and mercy to us.

New from Ignatius! An imaginative telling
of the life of the Blessed Mother with
beautiful illustrations.
Books on the Fatima Apparitions and the Statue
Trappistine Candy Back in Stock!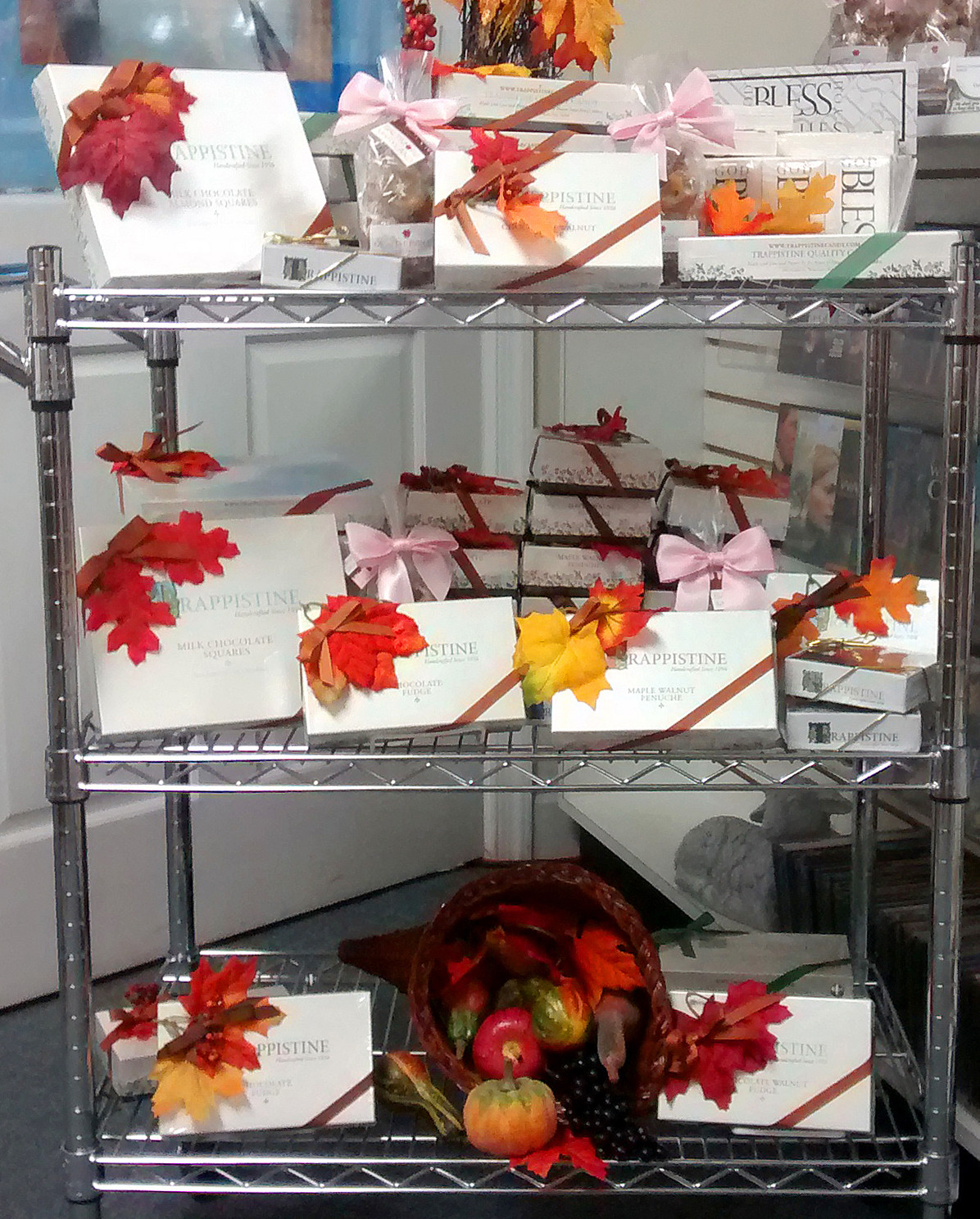 Many of you wanted to know when we had Trappistine Candy again. Well, it's here! Come get your delicious chocolates, fudge, penuche and munch, all crafted by Trappistine nuns who pray as they make them.
OCTOBER NO-CLIP COUPON:
15% OFF
Any Fatima Item in Stock
in honor of the Fatima Statue's Visit!
No coupon necessary. Just mention you saw the no-clip coupon in the newsletter. Cannot be combined with other coupons or discounts. In stock items only.
Expires 10/31/2018