November is dedicated to the
Holy Souls in Purgatory
. It opens with the Feast of All Saints, then continues with the Feast of All Souls. Through our intensified prayers for the Holy Souls throughout November, we find perhaps the greatest expression of the connection between the Church Triumphant, the Church Suffering and the Church Militant
.
More
HERE and HERE.
Eternal rest grant unto them, O Lord. And let the perpetual light shine upon them.
And may the souls of all the faithful departed, through the mercy of God, rest in peace. Amen.

NOVEMBER SPECIAL EVENTS...

All Saints Day Children's Storytime & Parade up to Mass




THURSDAY

, Nov. 1st, 10:30am - Noon Mass


Our Lady's Center is inviting all little St. Thereses, Francises, Cecilias, and Nicholases to come hear Mrs. Ginny read a saint story which will be followed by a fun craft and snack. Any child who would like to tell about their saint will have an opportunity to do so. The priest will then bless the children and lead them upstairs to the chapel where they will parade around to the song, "When the Saints Come Marching In" prior to 12:00 Noon Mass. Each child will get to bring home a holy card of their favorite saint as a gift from us!




Note: All Saints Day is a Holy Day of Obligation.
1000 Hail Marys Day of Fasting & Prayer on Election Day


Tuesday, Nov. 6th, 10:00 am -11:00 pm
Once again, our country is facing an extremely important election. It is vital that those who affirm the sanctity of human life turn out and vote. Do your civic duty, then come to Our Lady's Center to spend some time in prayer and fasting before the Blessed Sacrament, imploring our Lord's protection upon the integrity of the electoral process and upon all those who seek to serve in truth and with integrity. The Blessed Sacrament will be exposed after the 12:00 noon Mass until 11:00 pm EST, when the polls on the West Coast are closing. Sponsored by the Legion of Mary, Our Lady, Undoer of Knots Praesidium.
Veteran's Day Military Mass
Monday, Nov. 12th, 12:00 noon Mass
Our Lady's Center invites all those who have served in the United States Armed Forces and those who have family members who have served to a special Military Mass celebrated by our own Msgr. Joseph Lizor, a retired Army Chaplain. Join us as we honor our beloved veterans. If you served, be prepared to provide your name, rank and military occupation specialty. We are so thankful to all who have served their country with honor!
Defend Life Speaker Series: West Virginia State Senator

Patricia Rucker


"With God All Things Are Possible!"
Friday, Nov. 16th, 1:00 pm
Born in Venezuela, Ms. Rucker immigrated to the US at the age of six. She now lives in Harpers Ferry with her husband and five children whom they homeschool. A strong advocate for Life, she won her election in a highly left-leaning district by campaigning door to door. She fought to get the State Constitutional Amendment on the ballot which, if passed, would enable the state legislature to pass bills that would greatly restrict abortions in WV, a first of its kind. Ms Rucker will be speaking on God's providence in her life, the driving force behind all of her accomplishments. Join us in the conference room for this inspiring talk, and stay for refreshments and lively conversation.
OLC Thanksgiving Schedule:
Our Lady's Center will be CLOSED
Thursday & Friday, November 22nd & 23rd
First Saturdays Mass & Devotions


Saturday, Nov. 3rd
Beginning with Mass at 10:30 am


Our Lady of Fatima requested that on five consecutive First Saturdays, the faithful receive confession, Holy Communion, pray the rosary and meditate on a mystery of the rosary. We at Our Lady's Center have always encouraged this devotion by making it available for others. If you haven't yet made this a part of your monthly schedule, please consider doing so.

Children's Storytime & Craft


Thurs, Nov. 1st ALL SAINTS DAY, 10:30 am (see above)
& Wed, Nov. 14th


Bring the little ones to hear Mrs. Ginny read some of the good Catholic children's books which we carry in the store. A fun craft and snack will be provided. RSVP if possible so we are sure to have enough for all of our littlest patrons (but if your plans open up at the last minute, please feel free to drop in. We always have extra just in case). Also, be sure to get on our Storytime email list for reminders.

Flame of Love Cenacles


3 times: Tues. at 10 am, Thurs. at 10 am or Thurs. at 2 pm


About 30 prayer warriors per week on average are attending the Flame of Love Cenacles and experiencing the power of praying in groups, and more are discovering this devotion every week. Come pray for the Holy Spirit to come into our hearts by means of the Flame of Love of the Immaculate Heart of Mary, a new Pentecost! You are welcome to come to any one of the cenacles to learn more.

Blanket Making Workshops
Tuesday, Nov. 13th & 27th, 1-3 pm


Linus Project Blanket Making Workshops are held at 1:00 pm on the second and fourth Tuesdays of the month in our Conference room. Come learn to make colorful, knotted fleece blankets for Project Linus, a non-profit organization which provides snuggly handmade blankets to children in need. If you can cut and make knots, you can make a blanket! Material and supplies are provided. Already over 250 blankets have been donated and thank you letters are rolling in!
SAVE THE DECEMBER DATES...
St. Nicholas is Coming!
Thursday, December 6th, 10:30 am
Bring the kids and share the news! St. Nicholas, Bishop of Myra, will once again be visiting Our Lady's Center on his feast day to tell the children all about his love for the Lord and the joy of giving. Children can pose with St. Nick for a photo, color Christmas pictures, enjoy some Christmas cookies, and leave their shoes under the Christmas tree for a surprise. Last year was another huge success as dozens of children visited on the Feast of St. Nicholas. Mark your calendar now!
YOU'RE INVITED
to our Annual Patron Pot-Luck Christmas Party & Basket Raffle!
Wednesday, December 19th, 1:00 pm
All our beloved patrons and supporters are invited, so mark your calendar now, and think about a dish you'd like to share. Drawings will take place for

FIVE FANTASTIC RAFFLE BASKETS

loaded with many wonderful items, gift certificates, and gift cards worth hundreds of dollars which are being generously donated by area businesses and friends of OLC. This is our way of saying THANK YOU to our fantastic patrons! Just wait until you see these show-stopping, gorgeous baskets!
A Blessed Day for the Pilgrim
Virgin Statue's Encore Visit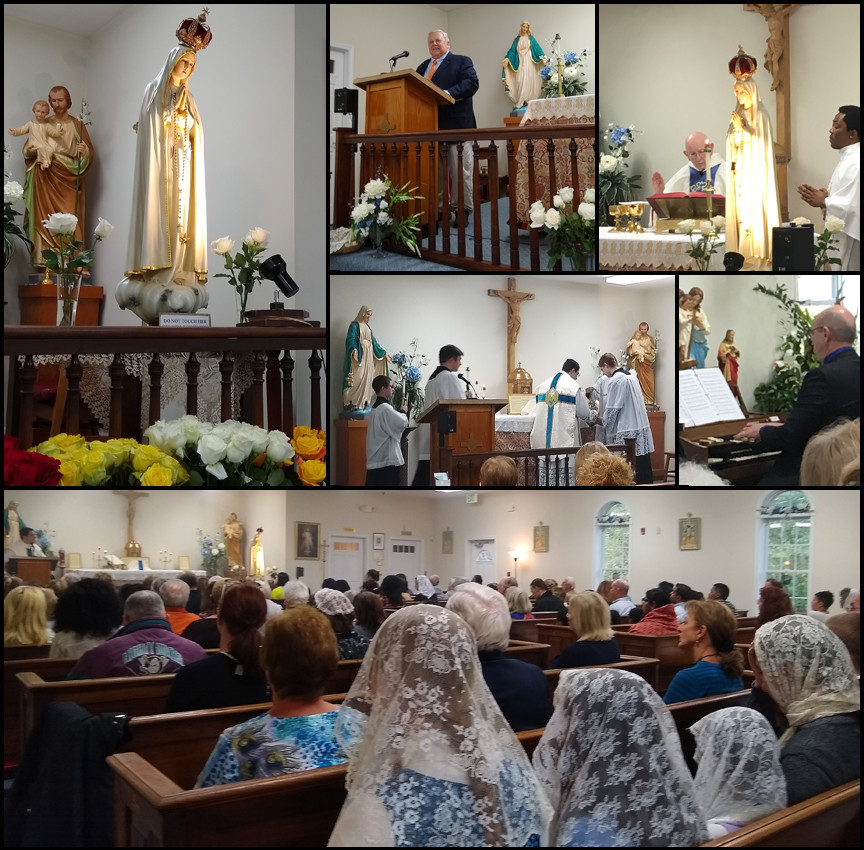 What a blessed day it was! We were so excited to have the International Pilgrim Virgin Statue of Our Lady of Fatima return to our little shrine, and we had a full day of activities and devotions in her honor, including a noon Mass complete with an organist and a very special High Latin Mass with Schola. The chapel was filled with music, light, flowers, incense, prayer, and a deep sense of the sacred. We are so very thankful to all the priests and servers, Legion of Mary members, Knights of Columbus, myriad volunteers, and everyone who pitched in to make this day so very beautiful and holy. There are simply too many of you to name. You know who you are, and be assured that all you did and gave in honor of the Blessed Virgin Mary most certainly has pleased her and her Beloved Son. What a blessing for us and for all the visitors who came to pray for Our Lady's intercession, to witness and experience this sacred day! The graces will continue to flow forth. Oh, how she loves each and everyone of us!
Storming Heaven at the 2018 Annual America Needs Fatima Rosary Rally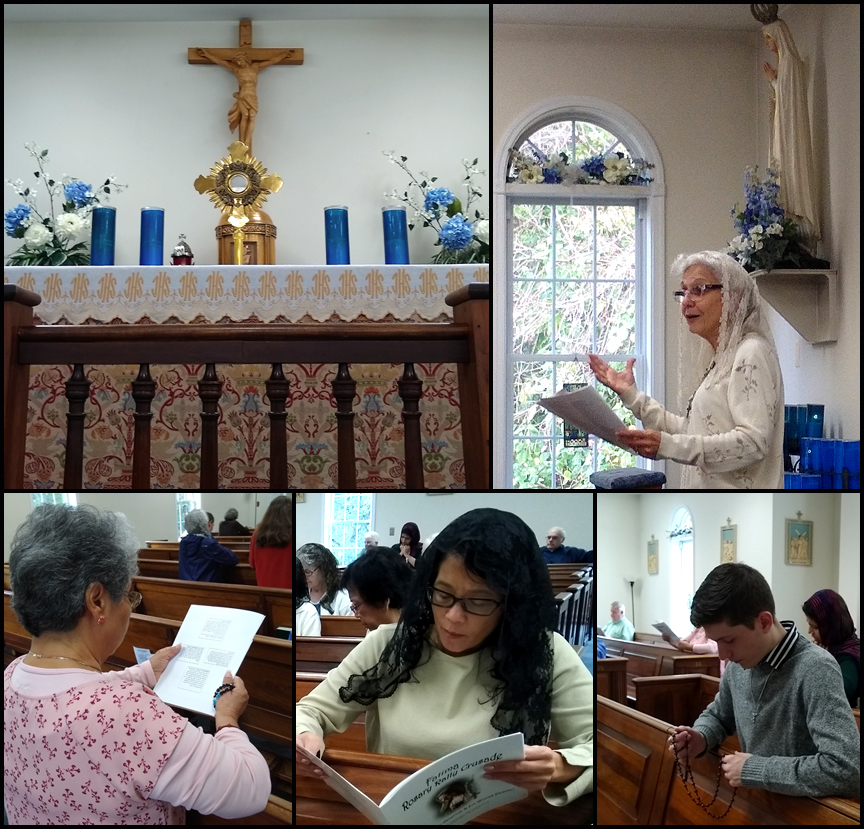 Just a little over a week before Our Lady's statue paid us her encore visit, we were the site of one of thousands of Annual Rosary Rallies held near the anniversary of the Miracle of the Sun. It felt, for us, like a special preparation for her arrival. It was nice to see some new faces this time too!
God has been very good to us. OLC is 44 years old, and it's been three years since we ran a capital campaign to raise funds for our upkeep. We are so very grateful for all the support we have received from our patrons, through various private donations and through the patronage of our non-profit bookstore and gift shop. Many of you are receiving your letter in the mail, but many of you have not provided mailing addresses yet, so this is our only way of reaching you. Please prayerfully consider if you might have some funds to share to help keep our beautiful, unique shrine going strong. Clicking the

RED HEART

will bring you directly to the secure Our Lady's Center's Paypal page where you can conveniently make a donation online toward our capital campaign. To ensure you receive a thank you letter (for tax purposes) please include your mailing address. Be assured of our prayers and our heartfelt gratitude! And remember, every First Saturday Mass at OLC is offered for the prayers and intentions of our patrons and benefactors, and that means you!
Thank You to Our Awesome Envelope Stuffers!
Manager Christine put out a plea after several Masses for help stuffing envelopes for our Grateful Hearts Campaign, and a small army came to our rescue, stuffing over two thousand envelopes in record time. We can't thank you all enough for your prompt diligent and cheerful help. We have prayed special prayers for graces to be poured forth upon each of you. We are SO blessed!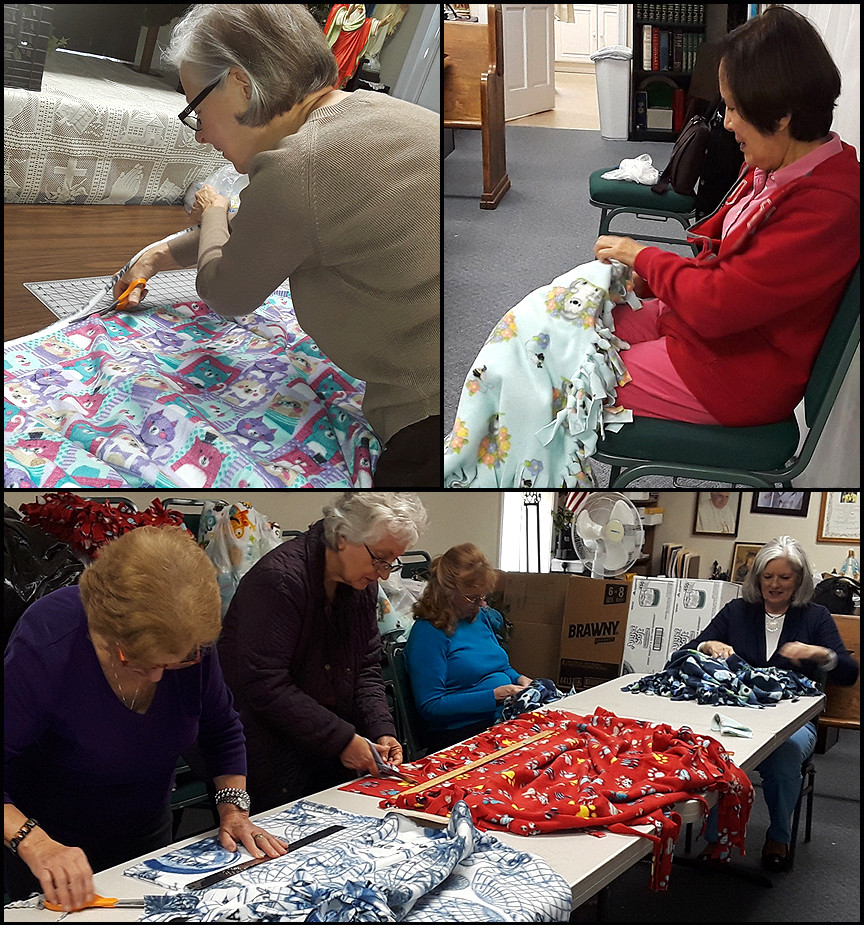 Filling Little Hearts with Warmth and Hope
More donated fleece material means more blankets to bring suffering children peace and hope. We are hearing back from hospitals, child abuse shelters, even from parents themselves, in messages of deep gratitude for what these blankets mean. Come join us. If you can make a knot, you can make a blanket! More about the Linus Project HERE.
New Flooring For Our Candle Stands
What a definite improvement! We are in the process of acquiring a smaller votive rack for beneath the Our Lady of Fatima Statue as our old one, which has been removed, was too large. Please be patient as we make our adjustments.
Resurrection Craft Fair & Bake Sale
Sunday, Nov. 18, 8:00 am - 1:30 pm
Church of the Resurrection, Paulskirk Rd., Ellicott City
We are excited to once again be invited to exhibit at the Resurrection Craft Fair and Bake Sale hosted by the Catholic Daughters of America Court 1882. We will be displaying our lovely and festive Advent and Christmas items as well as a wide variety of our store merchandise. We will also be bringing our wonderful selection of Trappistine Fudge, Penuche and Chocolates as well as Mouth Party Sea Salt Caramels and Mystic Monk Coffees. See you there!

November Special Dates


Thursday, November 1:
All Saints Day Children's Storytime & Parade 10:30 am - 12:00 pm; Mass 12:00 Noon (Holy Day of Obligation)

Saturday, November 3: First Saturday Mass & Devotions, 10:30 am

Tuesday, November 6th:

1000 Hail Marys Day of Fasting & Prayer for Election Day 10 am - 11 pm

Monday, November 12th

Veteran's Day Mass 12:00 Noon

Tuesday, November 13th:

Linus Blanket Making Workshop 1:00 pm

Wednesday, November 14th:

​Children's Storytime and Craft, 10:30 am

Friday, November 16th

Defend Life Speaker Talk, 1:00 pm

Thurs-Fri, November 22nd & 23rd

OLC Closed for Thanksgiving

Tuesday, November 27th:

Linus Blanket Making Workshop 1:00 pm


1 - All Saints Day
(Holy day of obligation)
2 - All Souls Day
3 - St. Martin de Porres
4 - St. Charles Borromeo
9 - Dedication of
St. John Lateran Basilica
10 - Pope St. Leo the Great
11 - St. Martin of Tours
13 - St. Frances Xavier Cabrini
15 - St. Albert the Great
16 - St. Margaret of Scotland
17 - St. Elizabeth of Hungary
18 - Dedication of the Basilicas
Sts. Peter & Paul
21 - Presentation of the
Blessed Virgin Mary
22 - St. Cecilia
25 - Feast of Christ the King
27 - The Miraculous Medal
30 - St. Andrew the Apostle


Ongoing at OLC
Flame of Love Prayer Cenacles: Choose one day/time per week: Tues. 10:00 am, Thurs. 10:00 am, OR Thurs. 2:00 pm

Legion of Mary, Our Lady, Undoer of Knots Praesidium: Fridays 5:30

IN THE BOOKSTORE*
*We are a non-profit. All sales go towards supporting the Shrine!

Pray for the Holy Souls in Purgatory!

Especially pray for the Holy Souls in the month of November. We have excellent resources to help keep your devotions focused. Pray for them, and they will pray for you!
An Attitude of Gratitude
Great Thanksgiving hostess gift ideas...
| | | |
| --- | --- | --- |
| Freshly ground Mystic Monk coffees in so many flavors | Madonna of the Kitchen Statue by St. Joseph Studios | 2019 Calendars filled with beautiful fine art images |
Advent Begins in One Month!
Don't be caught without your candles!
Traditional wax taper sets in 10" & 12", votive sets, and even LED sets (perfect with homes with small children and pets).
We are Stocked Up For Christmas!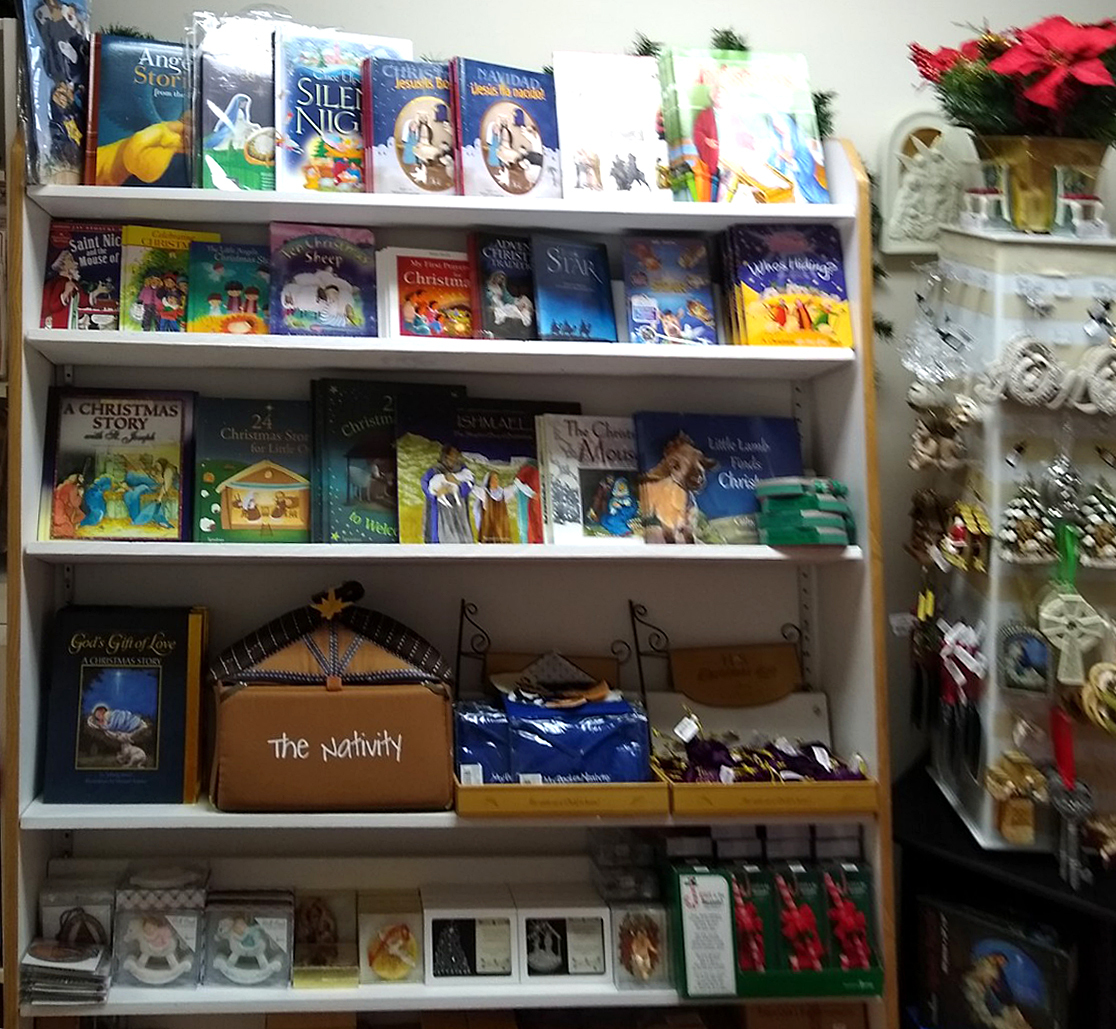 Our best selection of Christmas gifts, ornaments, and decorative items is on display now. Come see our lovely nativities!
NOVEMBER NO-CLIP COUPON:
15% OFF
One Advent or Nativity Item in Stock
No coupon necessary. Just mention you saw the no-clip coupon in the newsletter. Cannot be combined with other coupons or discounts. In stock items only. One time use per person, please!
Expires 11/30/2018