The Holy Family is the model of what family life should exemplify. The family is the school of virtue for both parents and children. It is where we learn to love God and others, to pray and to practice the gift of charity. "The family, more than any other human reality, is the place in which the person is loved for himself and in which he learns to live the sincere gift of self" (Pope JPII). Let us pray for our families and especially for all who are suffering from the brokenness of estrangement.
Wintery Weather in the Forecast?
Call 410-461-5066 and press "5"
for up-to-the-minute weather related announcements,
or check our website before heading out.
Come celebrate the Feast of the Presentation of Our Lord
& Candlemas (the Purification of Mary)
Saturday, February 2nd: 10:30 am Mass
Holy Mass will be followed by the blessing of candles, exposition of the Blessed Sacrament and our First Saturday Holy Hour during which Confessions are heard, and then closing with Benediction. The Bookstore will open 9:30-10:30 am and 12-2:00 pm.
The Feast of Candlemas, exactly 40 days after Christmas, commemorates Mary's obedience to the Mosaic law by submitting herself to the Temple for the ritual purification, as commanded in Leviticus. It is customary to bring candles from home to be blessed on this day. They can then be used for devotional purposes such as the family altar, for Advent, as well as in the sacrament of the anointing of the sick, during storms and in times of trouble.

Bring your own candles or purchase them beforehand, between 9:30 and 10:30 am from the bookstore ($4 ea. for 7-8 day pillar votives).
Please note that ONLY candles provided by OLC are allowed to be burned in the candle stands in our chapel. Any others are fire hazards and will be immediately extinguished and removed.
For those practicing the devotion of the Flame of Love of the Immaculate Heart of Mary, Saturday is also the feast day of the movement. Flame of Love cenacles (prayer groups) meet at OLC several times a week. More information below.
Blessing of the Throats

Monday, February 4th, 12:00 Noon Mass

Join us for Mass and have your throat blessed with candles. This tradition dates back to the 4th century after St. Blaise, a bishop and martyr saved a boy choking on a fishbone. While we invoke St. Blaise for his protection against any physical ailment of the throat, let us also ask his protection against any spiritual ailment—, profanity, cursing, unkind remarks, or gossip. St. James warns us, "If a man who does not control his tongue imagines that he is devout, he is self-deceived; his worship is pointless." This warning is particularly appropriate in a society whose interactions have become increasingly uncivil. St. Blaise, pray for us!

​Note: St. Blaise' feast day, 2/3 falls on Sunday, so we will celebrate it on Monday.
Defend Life Lecture Tour:




Nancy Valko, RN, ALNC


Defeating Physician Assisted Suicide in MD
Friday, February 15th, 1:00 pm
Having lost her o

wn daughter to assisted suicide,

Ms.Valko has become perhaps the most effective opponent of the practice in all of America. She

is the Spokesperson for the National Association of Pro-Life Nurses and has worked for 45 years in critical care, home health, oncology, dialysis & other areas. A

n international speaker, Ms. Valko has conducted workshops on medical ethics issues and has been published in numerous publications. Read more about her HERE. Her talk will be followed by refreshments and lively discussion.
President's Day Holy Hour


Monday, February 18th following 12:00 Noon Mass


Come spend an hour with us in solemn Adoration before the Blessed Sacrament as we honor our former presidents who defended and upheld our freedoms and also to pray for the office of the presidency and the protection of its current and future occupants. We will never take for granted the freedoms we enjoy, particularly our freedom of religion. Nor will we cease to pray for those entrusted with authority over us, that they humbly be guided by Truth and blessed with wisdom, knowledge and understanding.
Novena to the Holy Face
Mon., Feb. 25-Tues., March 5 after Noon Masses
Please join us as we pray the Novena to the Holy Face of Jesus for the nine days leading up to and concluding on Shrove Tuesday, the Feast of the Holy Face, to make reparation for the blasphemies made against our Lord by atheists and the profaning of Sundays by Catholics. We will pray before the blessed image of the Holy Face which was installed in our chapel in 2016, the very same image to which St. Therese was dedicated, and a reproduction of the image known as "Vera Effigies" of the veil of Veronica.


Note: As we will be closed on Sunday 3/3, plan to pray the Novena on your own that day.
Flame of Love Cenacles
Tuesdays at 10 am, Thursdays at 10 am or Thursdays at 2 pm (choose one)
About 30 prayer warriors per week on average are attending the Flame of Love Cenacles and experiencing the power of praying in groups, and more are discovering this devotion every week. Come pray for the Holy Spirit to come into our hearts by means of the Flame of Love of the Immaculate Heart of Mary, a new Pentecost! You are welcome to come to any one of the cenacles to learn more.
Children's Storytime & Craft
Wednesday, February 6th & 20th, 10:30 AM
Bring the children to hear Mrs. Ginny read entertaining and wonderfully virtuous Catholic children's books, do a fun craft, and enjoy a snack. RSVP so we know how many snacks and crafts to have on hand, but last minute drop-ins are always welcome!
Blanket Making Workshops
Tuesday, February 11th & 25th, 1-3pm
Linus Project Blanket Making Workshops are held at 1:00 pm on the second and fourth Tuesdays of the month in our Conference room. Come learn to make colorful, knotted fleece blankets for Project Linus, a non-profit organization which provides snuggly handmade blankets to children in need. If you can cut and make knots, you can make a blanket! Material and supplies are provided. Already over 200 blankets have been donated and thank you letters are rolling in!
Ash Wednesday

March 6th, 12:00 Noon Mass.
Ashes will be distributed. Stations of the Cross Fridays during Lent
from 3/8-4/12 after both the
12:00 Noon & 7:30 pm Masses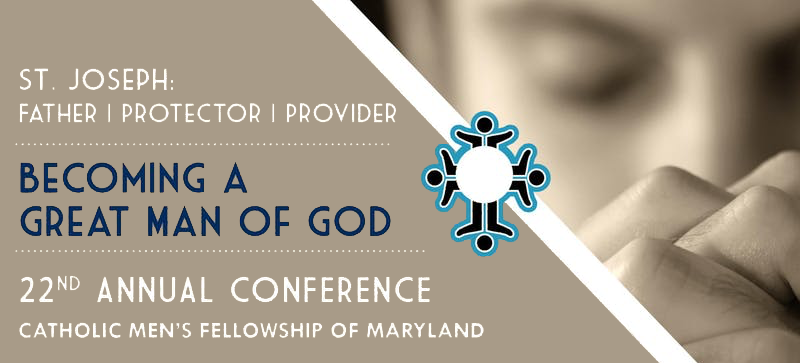 Catholic Men's Fellowship of Maryland Annual Conference
Saturday, March 23rd, 7am- 3:30 pm
St. Joseph's Catholic Church in Fullerton.
We will once again be bringing many of our huge selection of Catholic books, sacramentals and giftware to the Conference, and we hope to see you there! Register
HERE
.
Maroneys of MOMM Return to OLC
Our dear friends, Joan and Dave Maroney of Mother of Mercy Messengers, an Apostolate of Divine Mercy, returned to give another very well-received presentation in the chapel. Read more about them HERE.
We've Got You Covered!

Our Lady's Center is so excited to announce that our front door is now graced with a lovely new awning, and it is Blessed Mother blue! No longer will raindrops pour down upon the heads of our patrons and staff as they try to open and close their umbrellas. And now our entrance looks so much more welcoming! It feels like one is walking under Our Lady's mantle and into the sanctuary of her maternal care. This is just another of the many improvements we have in store, thanks to the generosity of you, our beloved patrons.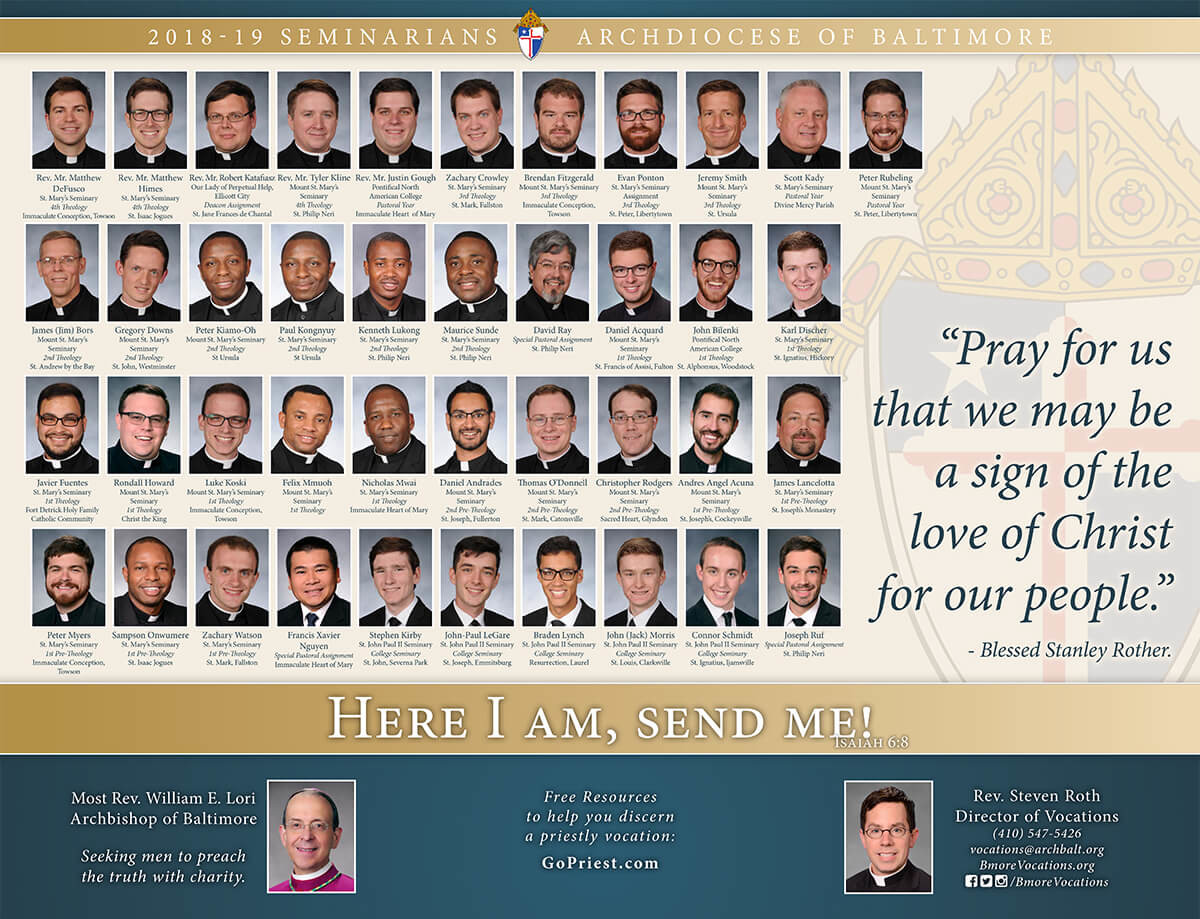 Pray for Our Seminarians!
See anyone familiar? Many of these seminarians from the Archdiocese of Baltimore have been regulars at Mass at OLC and may have even sat next to you in our pews. One of them is even the great nephew of our founder. Let us ALWAYS remember to pray for them, for their spiritual protection and strength, and for the Lord to raise up many more holy and dedicated men to the priesthood to renew our beloved Church.

2/02, First Saturday:
10:30 am Mass, Blessing of Candles

2/04, Monday: Blessing of the Throats
12:00 Noon Mass

2/6, Wednesday: Children's Storytime & Craft, 10:30 am

2/12, Tuesday: Blanket Making Workshop, 1:00 pm

2/15, Friday: Nancy Valko talk on Assisted Suicide, 1:00 pm

2/20, Wednesday: Children's Storytime & Craft, 10:30 am

2/25, Monday: Novena to the Holy Face of Jesus at OLC begins, after Noon Mass. Novena ends on Shrove Tuesday.

2/26, Tuesday: Blanket Making Workshop, 1:00 pm

February Special Feasts


2/02: Presentation of Our Lord

2/03: St. Blaise

2/05: St. Agatha

2/08: St. Josephine Bakhita

2/10: St. Scholastica

2/11: Our Lady of Lourdes

2/18: St. Bernadette

2/20: Sts. Jacinta & Francisco Marto

2/22: Chair of St. Peter

2/23: St. Polycarp

IN THE BOOKSTORE*
*We are a non-profit. All sales go towards supporting the Shrine!


HUGE BOOK CLEARANCE SALE
GOING ON NOW!

Hundreds of books on sale. Most are discounted
45% OFF
regular prices!
More books are being added daily
as ​we make room for new inventory.
Come pick up some bargain readsand spend
the rest of the winter in a cozy chair by the fire
feeding your heart, mind and soul with Catholic books.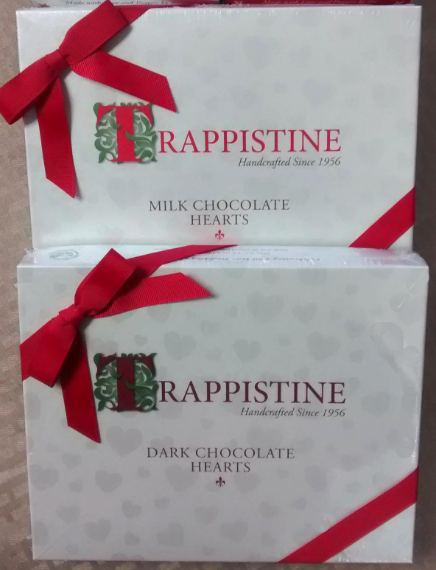 Valentine's Day Chocolates
and Candies for your Sweetheart!
We've just received a huge shipment of Trappistine candy, including Milk and Dark Chocolate Hearts just in time for Valentine's Day. Come pick up a box or two before they disappear!
FEBRUARY NO-CLIP COUPON:
15% OFF
One BOX of Trappistine Candy!
No coupon necessary. Just mention you saw the no-clip coupon in the newsletter. Cannot be combined with other coupons or discounts. In stock items only. One time use per person, please!
Expires 02/28/2019
Store Hours
Monday - Thursday: 10:00 am - 4:00 pm*
Friday: 10:00 am - 7:30 pm*
First Saturday: 10:00 am -10:30 am; 12:30 pm - 2:00 pm
*Please note that the store is always closed during the noon Mass
Chapel Hours:

Holy Sacrifice
of the Mass

Monday-Friday: 12:00pm
Friday night: 7:30 pm
1st Saturdays: 10:30 am

Rosary


Monday-Friday: 11:30 am



Confessions


Following all Masses



Adoration


Friday: 12:30 - 7:30 pm

Friday Night Devotions



Holy Mass: 7:30 pm
Followed by: Confessions, Rosary, Divine Mercy Chaplet, Adoration of the Blessed Sacrament and Benediction
| | |
| --- | --- |
| Our Lady's Center Marian Shrine is a Catholic lay apostolate within the Archdiocese of Baltimore located outside of Baltimore, Maryland in Ellicott City. We offer the Holy Sacrifice of the Mass and confessions upstairs in our chapel each weekday and on first Saturdays. Downstairs in our beautiful store, we carry a large selection of Catholic books and religious articles to meet every need. We have many events and activities throughout each month. | |