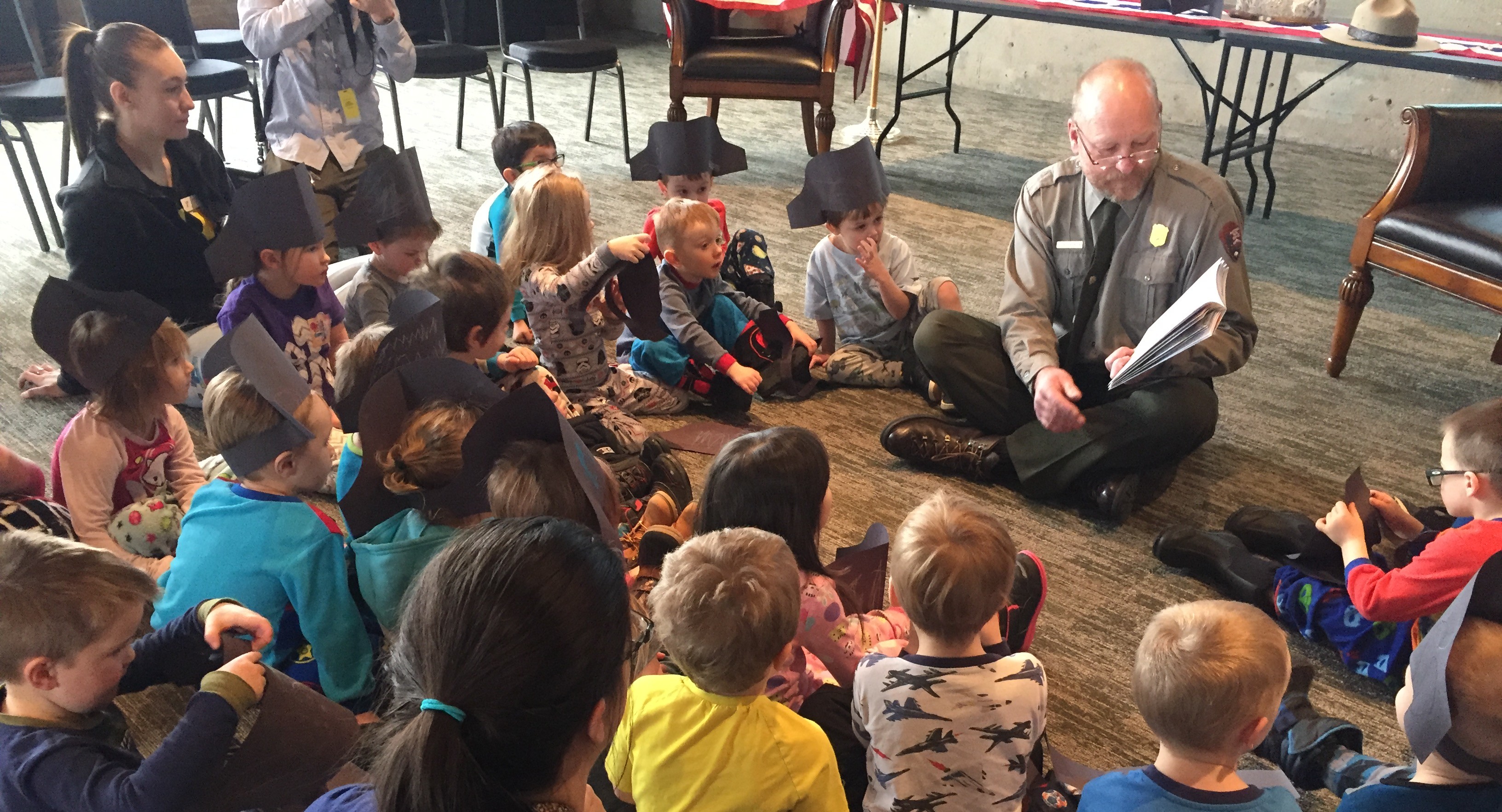 Visitors from the Rapid City YMCA made their own "General Washington hats" and helped us celebrate President George Washington's Birthday today!
| | |
| --- | --- |
| | President George Washington celebrated his birthday at the Society office today! Kiddos from the Rapid City YMCA dropped by today during a Rushmore Reading given by Mount Rushmore Rangers Blaine Kortemeyer and Maureen McGee-Ballinger. They read books on our first president, joined in some presidential activities and got to meet George Washington before singing Happy Birthday! |
Presidents Week Junior Ranger Program Goal
We are more than 80% of our goal of $720 to underwrite 1,000 students in the Junior Ranger program. In honor of George Washington's 287th birthday, will you help us exceed our goal?
Mount Rushmore in The News
With Presidents Day on the forefront of our minds this month, Mount Rushmore got some additional publicity.

Our very own CEO Diana Saathoff was interviewed by Associations Now to explain how important nonprofit partners are in the support of public lands. Check out the online article here.

Mount Rushmore made the Today Show list as places to visit for Presidents Weekend.
Director of Philanthropy Stephanie Pariza is one of the newest additions to our team. Coming from Texas, she is braving her first South Dakota winter with sheer determination, along with husband, Marc, four dogs and a cat!

Before joining the Society, she served as the development director for Discovery Green Conservancy, a 12-acre park located in downtown Houston designed as an engaging and active place with programming for all ages.

"The chance to join my personal passion for our National Parks with my professional experience as a non-profit professional is a wonderful opportunity," explains Stephanie. "I look forward to working with the Mount Rushmore Society staff and board, the Black Hills community, and the supporters nationwide to ensure that the Mount Rushmore National Memorial continues to awe and inspire for generations to come."

Marnie Herrmann joined the Society board three years ago but has been an active member of our Mount Rushmore Bookstores Committee for more than six years.

She is currently the Senior EVP at Security First Bank and has been with the company for almost 20 years. Marnie recently received the 2019 American Advertising Federation Black Hills Silver Medal for her contributions to advertising.

"It is an honor to serve on the Society board and to play a supporting role in the work the Society does to preserve and promote the Shrine of Democracy, especially the work we do to provide educational opportunities for visitors of all ages," says Marnie. "Also, I feel a personal connection to the Memorial, as my great-grandfather was one of the mountain carvers, and our family has lived in the valley below the Memorial for more than 100 years."


Board Member Marnie Herrmann

June 8, 2019 | 10 am-2 pm

You and your outdoor-related organization can be a vendor at our fourth annual Find Your Park Festival in Main Street Square.




With our new downtown location in Rapid City, we now have a 1,000 square-foot Event Area available for rent, based on availability. Please download our Event Registration Form to find out more.
Online Special


Through the Mount Rushmore Bookstores, we publish books and products on Mount Rushmore.

Author Jean L.S. Patrick tells a rythmic story of which Presidents are on Mount Rushmore and why. The rich illustrations of Renee Graef help the historical story come alive for children. The book received an Honorable Mention in the 2006 Independent Publisher Awards in Children's Books (7 & over). Honorable Mention in the 2006 Independent Publisher Awards in Children's Books (7 & over). Nominated for the 2009 South Dakota Prairie Pasque Award. 32 pages. Hardcover. Purchase yours now!
Your Membership Works Here




The next time you fly out of Rapid City Regional Airport, stop by the Mount Rushmore Memories Airport Store. Your 15% off Society Membership card works here too!
Forward This Email
Know someone who might be interested? Forward this email.
Mount Rushmore Society


830 Main Street
Rapid City, SD 57701
(605) 341-8883


info@mtrushmore.org
www.mountrushmore.org