Remodeling Project Begins at Mount Rushmore
Our Outstanding enhancements and upgrades are coming to Mount Rushmore National Memorial that will positively impact visitors for years to come.
Construction is slated to begin summer 2019 and last approximately 18 months.

Please note the Memorial will remain OPEN to visitors during construction. The map above gives an idea of where services and programs will be provided during the construction. (This is subject to change.)



While construction is underway, the National Park Service wants to encourage visitors to explore everything there is to see and do at Mount Rushmore, especially the TOP 10 THINGS TO DO at the Memorial in 2019.

The tourism industry is excited about the upgrades coming to our nation's Shrine of Democracy. Please keep this TOP 10 List handy in the event your guests have any questions about the construction. We want to ensure our current and future visitors are given accurate information. We will work closely with our friends at Mount Rushmore to provide timely updates to you in the months ahead.

Please see the park service website for more information on the project's progress.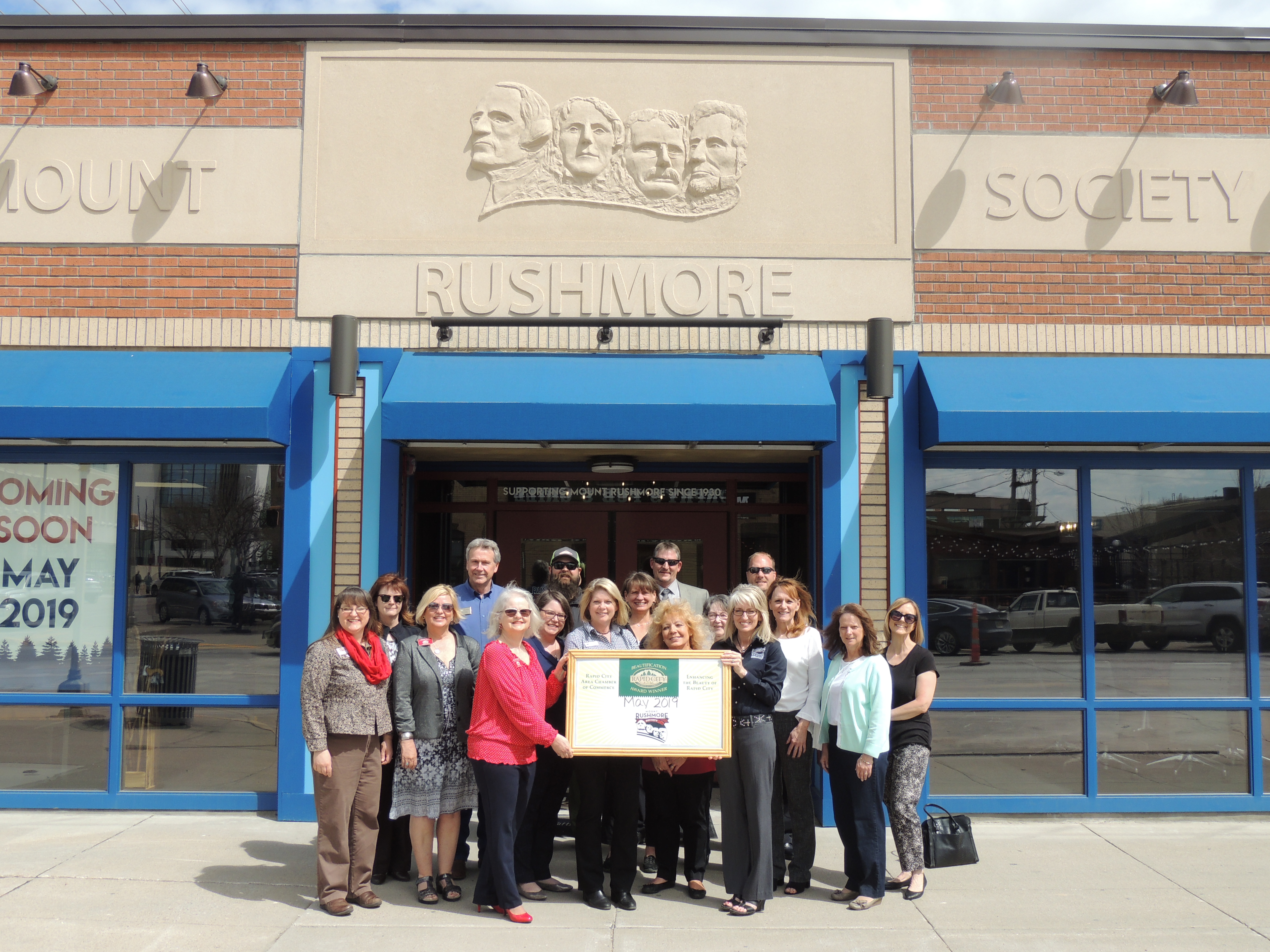 We were honored to receive the Rapid City Chamber's Beautification Award for May 2019, in recognition of the Society's efforts to improve the building at 830 Main Street.
Mount Rushmore Memories on Main
Opens May 1
| | |
| --- | --- |
| | We are so excited that the brand new Mount Rushmore Memories Gift Store on Main is opening May 1. You will find our books on Mount Rushmore, plus Black Hills treasures. Your 15% membership discount applies here, so stop on down! |
Another Shout Out to Our Friend of the Faces
| | |
| --- | --- |
| At the 2019 Spring Celebration, Superintendent Cheryl Schreier accepts her Partnership Friend of the Faces Award. | CEO Diana Saathoff presents Will McElroy (l) and Corey Hegge (r) with the Corporate Friend of the Faces Award for Ainsworth-Benning Construction. |
Director of Finance Lynn Bauter

Email L

ynn

Director of Finance Lynn Bauter has been with the Society for more than 10 years.

As the director of finance, she oversees the financial operations of the Society and its retail divisions. The fact that she supports the Shrine of Democracy is not lost on Lynn.

"Mount Rushmore is such an iconic park, that after all of these years it still brings out the goosebumps!" explains Bauter. "The fact that my office has been at the Memorial for all of these years is nothing short of amazing. It is truly a symbol of American pride and democracy."



Board Spotlight: Roxann Basham
Roxann Basham has been on the Society board for the last eight years and worked for Black Hills Energy for 35 years before retiring this month.

"The Society is my charitable organization of choice, because I believe its mission to be dedicated to the preservation, promotion and enhancement of Mount Rushmore National Memorial is so important to our nation and the region in which I live," explains Basham. "I have so many wonderful memories of visiting the Memorial as a child. It still provides me with an 'awe-inspiring moment' every time I visit. It has been my privilege to serve as a board member of the Society and to work with the National Park Service in furthering the mission."

Board Member Roxann Basham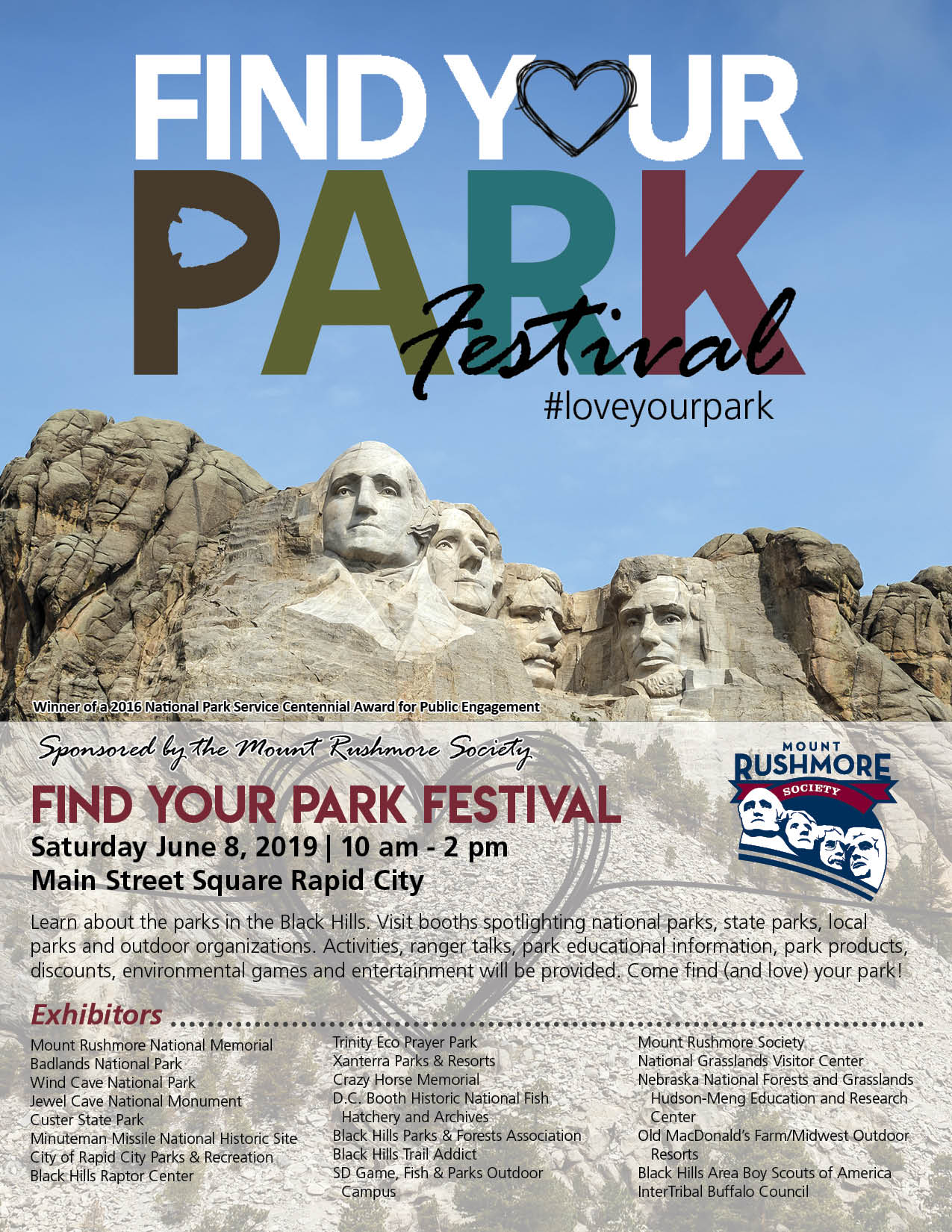 June 8, 2019 | 10 am-2 pm
Save the Date for this fun, educational festival in Main Street Square.
Online Special


Through the Mount Rushmore Bookstores, we publish books and products on Mount Rushmore.

When Prairie Dog and his friends search for the Four Famous Faces, they become confused. They think they're looking for animal faces!

With wordplay, poetry, and rich illustrations, the award-winning team of Jean L.S. Patrick and Renee Graef leads readers through the famous parks, memorials, and monuments of the Badlands and Black Hills region.

Bonus! Six pages of facts about the animals, geology, and history of each location.

Your Membership Works Here




The next time you fly out of Rapid City Regional Airport, stop by the Mount Rushmore Memories Airport Store. Your 15% off Society Membership card works here too!