Offer for all regular priced items only. Limited to one item per customer.
Remember your 15% membership discount works here as well.
Expires 06/30/2019
Mount Rushmore Memories \ 830 Main Street Rapid City
Remodeling Project Begins at Mount Rushmore
| | |
| --- | --- |
| Xanterra Parks & Resorts has implemented a new pay system at Mount Rushmore. Visitors take a ticket when entering the park and pay at pay stations when exiting the park or at pay stations located throughout the park. | When construction begins, this map shows where visitors can view the Memorial and receive park information. |
Our Outstanding enhancements and upgrades are coming to Mount Rushmore National Memorial that will positively impact visitors for years to come.
Construction is slated to begin summer 2019 and last approximately 18 months.

Please note the Memorial will remain OPEN to visitors during construction. The map above gives an idea of where services and programs will be provided during the construction. (This is subject to change.)



While construction is underway, the National Park Service wants to encourage visitors to explore everything there is to see and do at Mount Rushmore, especially the TOP 10 THINGS TO DO at the Memorial in 2019.

Beginning May 31, the Mount Rushmore Bookstore in the Lincoln Visitor Center will close, but our store in the Sculptor's Studio will open on June 1. As always, you can purchase Mount Rushmore books and products at our store in the Information Center and through our online store.

Please see the park service website for more information on the project's progress.
Society Hosts Rapid City Chamber Mixer
| | |
| --- | --- |
| | Thanks to everyone who attended the Rapid City Chamber Mixer held at our building on May 14, including the Black Hills Badlands Tourism Association team, pictured here. |
Debbie Ketel Speas, COO, has been with the Society for more than 16 years, overseeing publishing, communications, event management and building operations.

"What I find inspiring about Mount Rushmore are the people who came together in the 1920s and 1930s to make a vision of carving Mount Rushmore a reality during the Depression," explains Speas. "One of my favorite quotes by Gutzon Borglum is: 'Don't say 'I can't' on this work. The 'I can'ts' are unknown in the world's work and unremembered in history.'"
Board Spotlight: Aaron Galloway
Aaron Galloway has been on the Society board for the last five years and is now serving as vice president. Professionally, he is a shareholder with Lynn, Jackson, Shultz & Lebrun, P.C. in the firm's Rapid City office.

"Wherever my travels take me, as soon as someone finds out that I am from South Dakota, inevitably the Memorial comes up in conversation," says Galloway. "It's a great sense of pride, and one that is bolstered by the fact that I get to be personally involved in the preservation, promotion and enhancement of the Memorial through our great organization. To me, Mount Rushmore not only celebrates our nation's history, it is history unto itself."

Board Member Aaron Galloway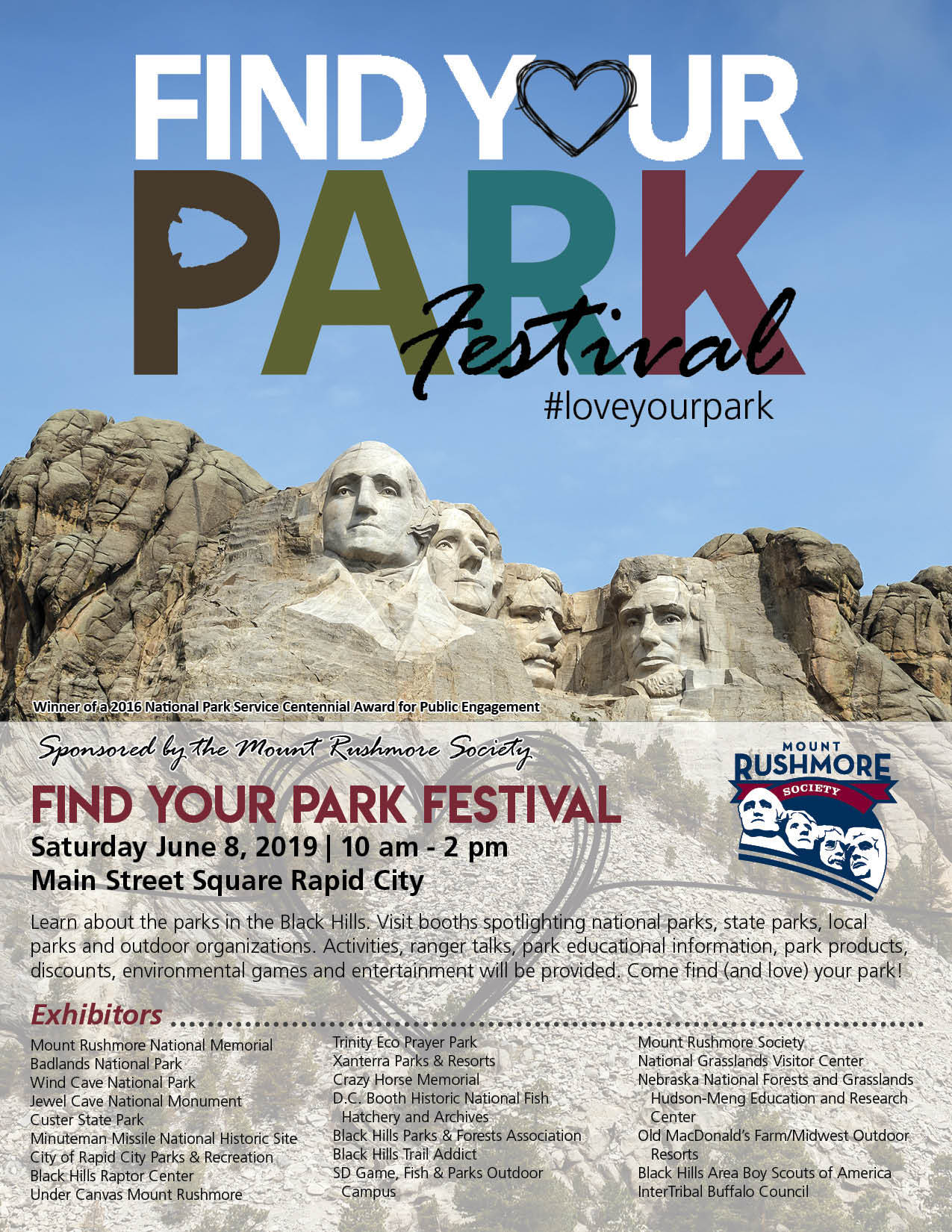 June 8, 2019 | 10 am-2 pm
Save the Date for this fun, educational festival in Main Street Square.
| | |
| --- | --- |
| | South Dakota is one of 12 states that has one area code for the entire state. On June 5, South Dakota is celebrating 605 day. |
Online Special


Through the Mount Rushmore Bookstores, we publish books and products on Mount Rushmore.

When Prairie Dog and his friends search for the Four Famous Faces, they become confused. They think they're looking for animal faces!

With wordplay, poetry, and rich illustrations, the award-winning team of Jean L.S. Patrick and Renee Graef leads readers through the famous parks, memorials, and monuments of the Badlands and Black Hills region.

Bonus! Six pages of facts about the animals, geology, and history of each location.

Your Membership Works Here




The next time you fly out of Rapid City Regional Airport, stop by the Mount Rushmore Memories Airport Store. Your 15% off Society Membership card works here too!