July 2019 Newsletter
We dedicate this month to the Most Precious Blood of Jesus
INDEPENDENCE DAY HOLIDAY SCHEDULE:
We will be

CLOSED

on Thursday, July 4th.
Please attend Mass at your local parish, and keep our beloved nation and our elected leaders in your prayers. God bless America!
We will be

OPEN

normal hours on Friday & Saturday, July 5th & 6th
for First Friday & First Saturday
Pray a Patriotic Rosary


Wednesday, July 3rd, following Noon Mass
Come pray a Rosary for the United States of America, each state and all the people in it, the Governors, state, county and municipal offices, the US Senate, House of Representatives, Supreme Court and the Office of the Presidency, our military, our Bishops, Priests and Religious, and for the conversion of our country. Many prayers are needed!
Scapular Investitures on the Feast of Our Lady of Mount Carmel
Tuesday, July 16th, following Noon Mass*

Have you been formally invested with the Brown Scapular? This is the perfect day to be enrolled in the Scapular and to begin wearing it devoutly. This garment may be a over 760 years old, but it is always in style...and truly a one-size-fits-all! Read more about the Brown Scapular sacramental, Our Lady's promises, and more HERE.

If you don't already possess a brown scapular, come into the Bookstore and pick one up before Mass. We have

a nice variety of Brown Scapulars available for purchase, ranging from $1 up to $9.

*For those who can't make the Noon Mass on July 16th, we will also have a

Scapular Investiture after 7:30 pm Mass on Friday evening, 7/19.
Blessing of Marriages on the Feast Day of Saints Louis & Zelie Martin




Friday, July 12th following the 12:00 Noon & 7:30 pm Masses


All married couples are invited to come and receive a special blessing on the feast day of the holy parents of St. Therese of Lisieux. It is hard to deny that the sanctity of the Sacrament of Holy Matrimony is under brutal attack in our culture. Many of us are suffering the results ourselves or witnessing it in our families. In light of Sr. Lucia's revelation from Our Lady of Fatima herself that the final battle between Christ and Satan would be waged in marriages and families, let us come together on the feast day of this recently canonized wedded couple. Let us pray for their intercession and to receive a blessing upon our own marriages so that sacramental graces will flow through us to our family members and bring reconciliation and Christ's peace. Read more about the Martins HERE.

Novena Begins Wednesday, July 3rd!
Prepare for the Blessing by praying the Novena

to Saints Louis and Zelie Martin. Each day of the novena contains a different theme and includes Scripture, a reflection and a prayer.
Who is Saint Sharbel?




Wednesday, July 24th after 12:00 Noon Mass




Have you ever wondered about this lesser known saint? Come hear all about St. Sharbel (or Charbel) Makhlouf of Lebanon after Mass on his feast day!


St. Sharbel was born in 1828 and ordained a priest of the Lebanese Maronite Order. He lived the last 23 years of his life in a hermitage, spending his time in prayer, contemplation, worship, and diligent manual labor in the fields. He suffered a stroke on Christmas Eve of 1898, and his body continued to bleed and perspire for 65 years after his death! He was canonized on October 9, 1977. More than 26,000 healing miracles have been attributed to his intercession! About 4.5 million visitors a year come to the saint's tomb to pray and seek his intercession. Mount St. Mary's Shrine in Emmittsburg MD also recently added a shrine to this amazing saint. More on St. Sharbel HERE and HERE.

REGULAR MONTHLY ACTIVITIES

First Saturday Mass & Devotions
JULY DATE: 7/6, 10:30 am Mass
followed by Exposition of the Blessed Sacrament and a First Saturday Holy Hour, during which Confessions are heard, and closing with Benediction. The Bookstore is open 10-10:30 am and 12-2:00 pm.
Blanket Making Workshops
The second & fourth Tuesdays of each month at 1:00 pm
JULY DATES: 7/9 & 7/23
Come meet a wonderful group of enthusiastic "
Blanketeers" and
learn how to make colorful, no-sew knotted fleece blankets for Project Linus, a non-profit organization which provides snuggly handmade blankets to children in need. If you can make a knot, you can make a blanket! Material and supplies are provided. If you feel called to, please make a
monetary
donation to help us buy more fleece!
Children's Storytime & Craft
Two Wednesdays a month at 10:30 am in the Conference Room


JULY DATES: 7/10 & 7/24
Bring the children to hear Mrs. Ginny read entertaining and wonderfully virtuous Catholic children's books, do a fun craft, and enjoy a snack. RSVP so we know how many snacks and crafts to have on hand, but last minute drop-ins are always welcome!
Holy Hour of Reparation
to the Sacred Heart before the Blessed Sacrament
Second Fridays after 12:00 Noon Mass
JULY DATE: 7/12
In light of the affronts against God and his creation which are being perpetrated and increasingly promoted in our world, we are making this powerful devotion a regular activity at OLC. Come join in these vocal prayers of thanksgiving and reparation to the Blessed Trinity and especially our Savior, prayers through our dear Blessed Mother, and all the saints for unity in the Church, for sinners of all types, for a just and lasting peace in the world and more! Booklets are provided and are also for sale in the bookstore.
Flame of Love Prayer Cenacle

s
Every Tuesday 10 am, Thursday 10 am & Thursday 2 pm (Choose One)
About 30 prayer warriors per week on average are attending the Flame of Love Cenacles and experiencing the power of praying in groups, and more are discovering this devotion every week. Come pray for the Holy Spirit to come into our hearts by means of the Flame of Love of the Immaculate Heart of Mary, a new Pentecost! You are welcome to come to any one of the cenacles to learn more.
First Fridays Mass & Devotions:

12:00 Noon & 7:30 pm


Holy Rosary

daily Monday-Friday at 11:30 am


Our Lady of Perpetual Help Novena:

Thursdays after 12:00 Noon Mass.


Adoration:

Fridays between the 12:00 Noon & 7:30 pm Masses


Legion of Mary, Our Lady, Undoer of Knots Praesidium:

Fridays 5:30 pm
Storytime with Miss Alyssa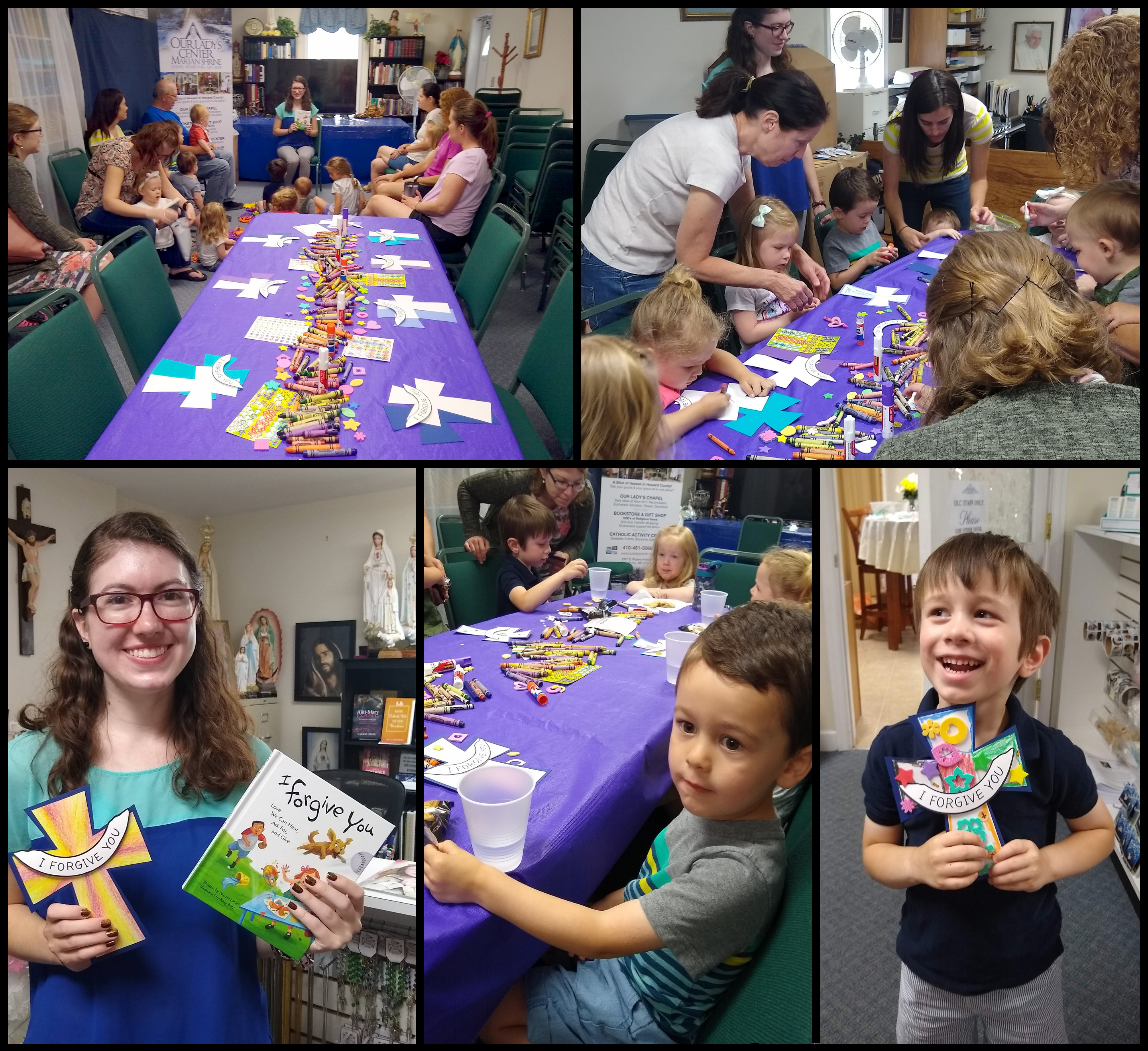 When Mrs. Ginny needed to be away, Storytime was able to go on because we found a very convenient sub. If she happens to look a little familiar, perhaps it is because Miss Alyssa is Manager Christine's daughter! Alyssa, who volunteered in the St. Louis Parish Religious Education department for years (along with Mrs. Ginny) is currently majoring in Early Childhood Development and loves working with young children, so it was a no-brainer to ask her to come fill in. Alyssa enjoyed very much teaching the children about forgiveness and planning the craft for them. We at OLC love providing a safe and happy place for your children to learn about the goodness, truth, and beauty of Our Lord, His love for us, and most perfect plan for all His creation. If you would like to be added to the Storytime email reminder list, let us know HERE!
Our "New" Front Door
We are once again grateful to dedicated patron Bob Obst and his masterful skills, this time for renovating our front door which had a large area of rust at the bottom from years of winter salt applications. Bob not only repaired that but gave the door a fresh coat of paint inside and out and even installed a handsome brass kick plate. Our front entrance looks so much better, almost like new! Thank you, Bob!
Annual 2000 Hail Marys
Day of Devotions at OLC
Saturday, August 10th


Come pray this powerful devotion with the Legion of Mary, Our Lady Undoer of Knots Praesidium, in OLC's chapel in honor of the Feast of the Assumption. The day will begin with 8:30 am Mass and continue with the Exposition of the Blessed Sacrament and devotions throughout the day. The devotions begin with praying a complete Rosary, then each of 20 petitions is read and followed by 100 Hail Marys. Come for part or all of the day. Refreshments available.
7/04, Thursday: OLC CLOSED for Independence Day
7/05, Friday: First Friday, OLC open regular hours
7/06, First Saturday: Mass at 10:30 am followed by devotions. Bookstore open 10 am-10:30 am & 12:00-2:00
7/09, Tuesday: Blanket Making Workshop, 1:00 pm.
7/10, Wednesday: Children's Storytime & Craft, 10:30 am.
7/12, Friday: Blessing of Marriages on the Feast Day of Sts. Louis & Zelie Martin followed by the 2nd Friday Holy Hour of Reparation, all after 12:00 Noon Mass.
7/16, Tuesday: Feast of Our Lady of Mount Carmel, Scapular Investiture at 12:00 noon Mass
7/19, Friday: Scapular Investiture at 7:30 pm Mass
7/23, Tuesday: Blanket Making Workshop, 1:00 pm.
7/24, Wednesday: Children's Storytime & Craft, 10:30 am.
St. Charbel Presentation, after 12:00 Noon Mass
1 - St. Junipero Serra
3 - St. Thomas the Apostle
6 - St. Maria Goretti
11 - St. Benedict
12 - Sts. Louis & Zelie Martin
14 - St. Kateri Tekakwitha
15 - St. Bonaventure
16 - Our Lady of Mount Carmel

22 - St. Mary Magdalen
23 - St. Bridget of Sweden
24 - St. Sharbel
25 - St. James the Greater
26 - Sts. Joachim & Anne
29 - St. Martha
31 - St. Ignatius Loyola
(patron of the Archdiocese of Balt.)

IN THE BOOKSTORE*
*We are a non-profit. All sales go towards supporting the Shrine!

NEW! Holyland Stone Prayer Stones

Just Arrived: Beautiful prayer stones quarried from the hills of Jerusalem and etched here in the USA with inspirational quotes from the Bible and beloved saints. Holding the Jerusalem Stone in the palm of your hand provides comfort, encouragement and a feeling of peace. These very stones have endured throughout the centuries and are symbolic, yet tangible reminders of God's presence and His everlasting love for us. They come with a certificate of authenticity and a gift bag. Just $14.99 ea. They make thoughtful gifts.
Letter to a Suffering Church

Bishop Robert Barron calls the scandals wreaking havoc on the Catholic Church a "diabolical masterpiece" that has compromised the work of the Church and left countless lives in ruin. Many Catholics are understandably asking, "Why should I stay?" This stirring manifesto explains why this is not the time to leave but to stay and fight. Viewing the current crisis in light of Scripture and Church history, he shows that we have faced horrible scandals before and that holy men and women who recommitted themselves to fighting evil brought her through and will again. For Catholics questioning their faith, searching desperately for encouragement and hope, this book will offer reasons to stay and fight for the Body of Christ. Complimentary copies are available for you and your loved ones while supplies last. Donations gratefully accepted​ towards purchasing more.

Precious Blood Devotion

The entire month of July is traditionally dedicated to the Precious Blood, and Catholics are encouraged to meditate on the profound sacrifice of Jesus and the pouring out of his blood for humanity. This is one of several booklets concerning Devotion to the Precious Blood of Our Lord Jesus Christ. This one was purportedly given by Our Lord and to a nearly illiterate Nigerian teenage boy in Nigeria, from 1995 – 2003. Our Lord indicated to him that this devotion will be as an ark that will protect and bring the Church safely through the bitter trials of the coming chastisement and into the promised Era of Peace. Whichever devotion is chosen, the ultimate goal is to offer the most Precious Blood of Jesus to the Father in atonement for our sins, that we may obtain all graces and blessings for ourselves and others.
Summer Reading Special!
It's time to catch up on your reading list! All through the month of July, Buy 5 or more Books and get 15% Off ALL of them!
Some restrictions. See details below.
JULY NO-CLIP COUPON:
Summer Reading Special:
Buy 5 or More Books and Get
15% OFF
ALL of Them!
No coupon necessary. Valid on regularly priced, new, in-stock books only. All books must be purchased at same time for discount. Not valid on previously purchased books and discounted books. Some exclusions apply. Not valid on booklets, select liturgical publications. Cannot be combined with other coupons or discounts.
Expires 07/31/2019
Store Hours
Monday - Thursday: 10:00 am - 4:00 pm*
Friday: 10:00 am - 7:30 pm*
First Saturday: 10:00 am -10:30 am; 12:30 pm - 2:00 pm
*Please note that the store is always closed during the noon Mass
Chapel Hours:

Holy Sacrifice
of the Mass

Monday-Friday: 12:00pm
Friday night: 7:30 pm
1st Saturdays: 10:30 am

Rosary


Monday-Friday: 11:30 am



Confessions


Following all Masses



Adoration


Friday: 12:30 - 7:30 pm

Friday Night Devotions



Holy Mass: 7:30 pm
Followed by: Confessions, Rosary, Divine Mercy Chaplet, Adoration of the Blessed Sacrament and Benediction
| | |
| --- | --- |
| Our Lady's Center Marian Shrine is a Catholic lay apostolate within the Archdiocese of Baltimore located outside of Baltimore, Maryland in Ellicott City. We offer the Holy Sacrifice of the Mass and confessions upstairs in our chapel each weekday and on first Saturdays. Downstairs in our beautiful store, we carry a large selection of Catholic books and religious articles to meet every need. We have many events and activities throughout each month. | |