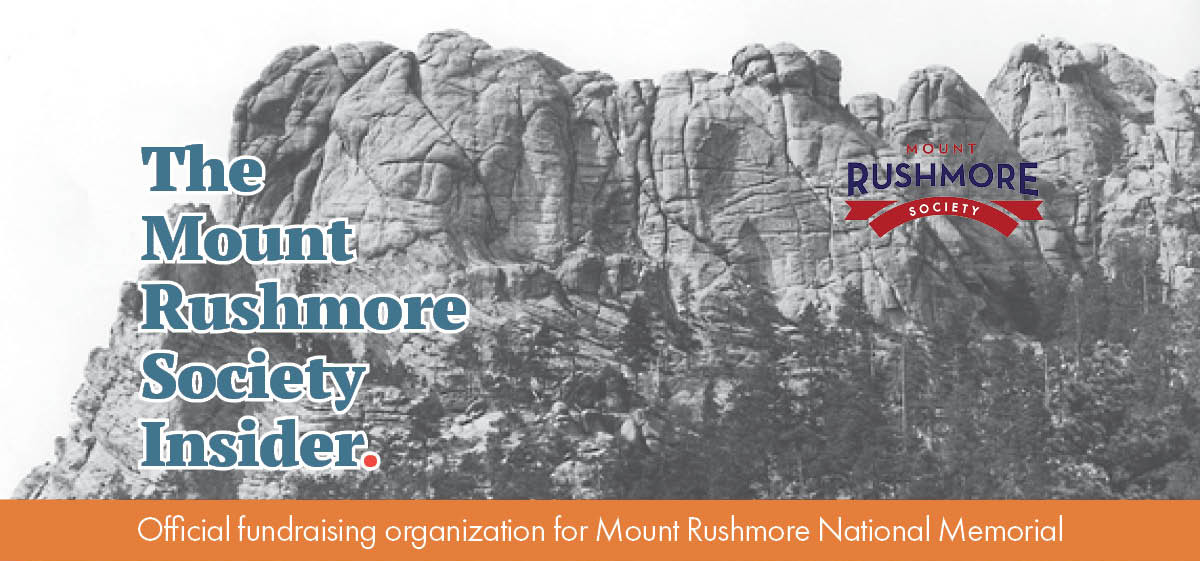 Carving on Mount Rushmore stopped on October 31, 1941, after 14 years. Happy Birthday!
A Weekend with John & Abigail Adams
| | |
| --- | --- |
| | Food for Thought: Lunch with Abigail Adams |
As in years past, our annual fundraiser at Mount Rushmore featured a presidential re-enactor (Joe Doyle as President John Adams) who also made various public presentations in the area.

But new this year, we invited the First Lady (portrayed by Kim Hanley) to join President John Adams. Abigail was invited to be a part of the weekend, in honor of the upcoming 100th anniversary of the passing of the 19th Amendment, because it was SHE who told her husband to "remember the ladies" during the formation of the laws of our country.

Friday featured a visit by John Adams to West Hills Village and a Food For Thought: Lunch with Abigail Adams at the Society office. The weekend culminated in the annual dinner at Mount Rushmore National Memorial. The proceeds from this dinner go directly to supporting the Monumental Movie Campaign – the campaign to replace the two movies at Mount Rushmore.

We are grateful to our many supporters and sponsors who made this successful weekend possible. You can still support this important effort by visiting here.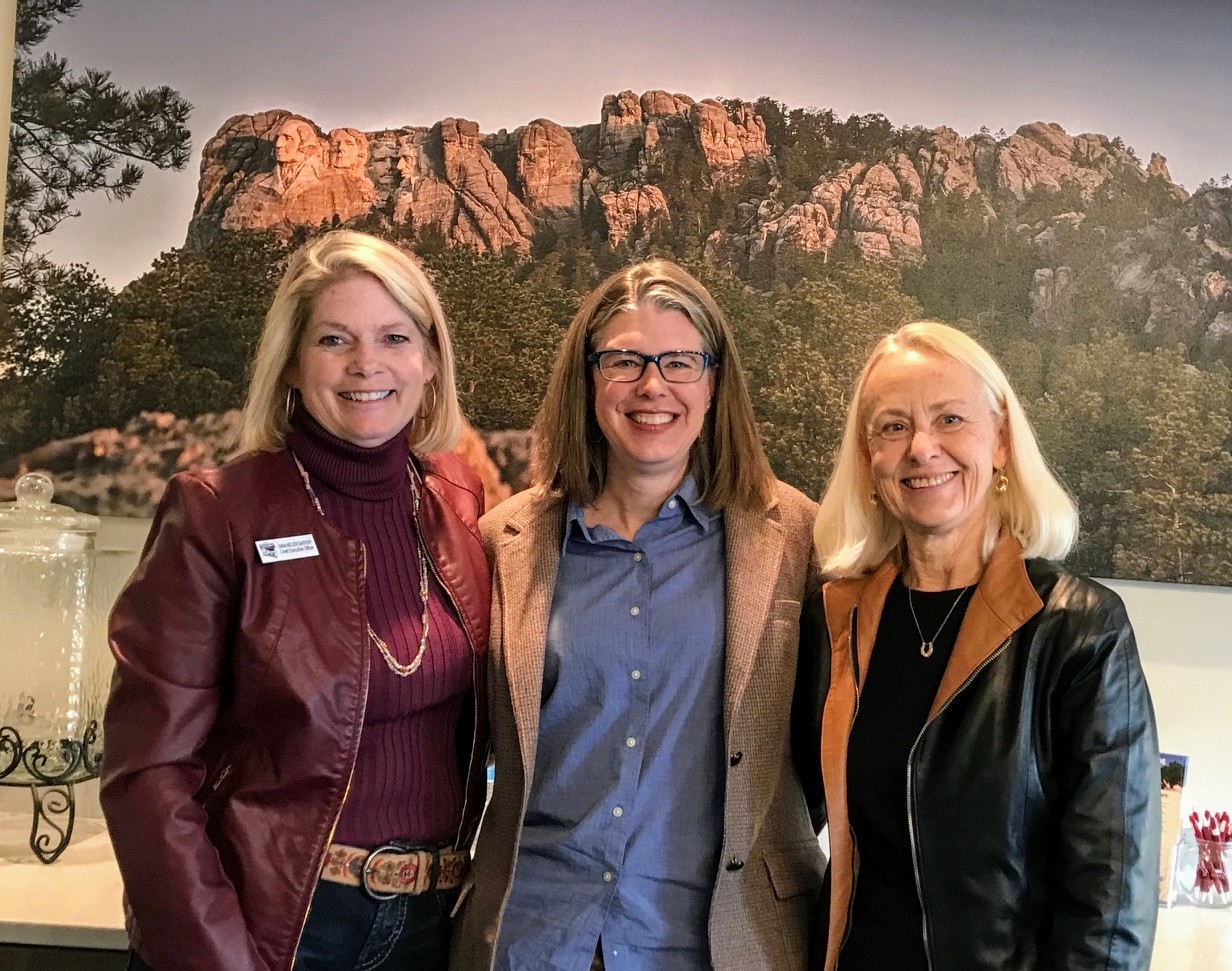 CEO Diana Saathoff, Acting Superintendent Denice Swanke and President Kay Jorgensen pose during a recent gathering at the Society offices.
Denice Swanke served as Mount Rushmore's acting interim superintendent this summer. Although she has now been re-assigned back to Denali National Park, we thank Denice for her leadership and guidance during the start of construction at the park. We are now awaiting our next interim superintendent to be named, as construction winds down on the first phase. Plans are for the Avenue of Flags to re-open sometime toward the end of the year, and the Lincoln Borglum Museum & Visitor Center to re-open soon after!

To enhance visitor services this winter, the National Park Service will provide programs in the Carvers Cafe three times a day: 9 am, 11 am and 2 pm. The park movie, which historically has been shown in the Visitor Center, will be shown on a continous loop in the Carvers Cafe as well.
Staff Spotlight: Sandra Weaver, CPA
We are thrilled to announce that Sandra Weaver, CPA, has joined the Society as our new director of finance.

"I am excited to begin my journey with the Mount Rushmore Society, because I can be a part of supporting Mount Rushmore National Memorial and furthering the mission of the organization," explains Weaver.
Sandra is not new to the National Park Service experience. Growing up in Interior, SD, she worked summers for Badlands National Park as an entrance fee collector and interpretive ranger.

She graduated from Augustana University and lived in Sioux Falls and Elk Point before settling in the Black Hills. Sandra most recently worked at Ketel Thorstenson in Rapid City as senior manager in the Audit Department. She and her husband, Cole, have three children: Adelyn (11), Emmaleigh (7) and Landon (3).

Welcome to the team!
Book your Holiday Party with Us!
Don't forget that the Society's Event Area at 830 Main Street is the PERFECT place for holiday gatherings. We can accommodate groups of around 100 for catered events.

Email Debbie Speas for pricing and availability. We'd love to have you visit us!
Offer for all regular priced items only. Limited to one item per customer.
Remember your 15% membership discount works here as well.
Expires 12/31/2019
Mount Rushmore Memories \ 830 Main Street Rapid City
Your Membership Works Here


The next time you fly out of Rapid City Regional Airport, stop by the Mount Rushmore Memories Airport Store. Your 15% off Society Membership card works here too!