November 2019 Newsletter
We dedicate this month to the Holy Souls in Purgatory.
Thanksgiving Closing Schedule:
​We will be closed on Thursday-Sunday, November 28th & December 1st
​We will reopen on Monday, December 2nd
All Saints Day Children's Storytime & Parade up to Mass
Friday, Nov. 1st, 11:00 am - Noon Mass


Calling all our tiny saints! Little Marys and Josephs, Clares and Francises, Thereses and Patricks and Roses and Nicholases. Come dressed as any of our wonderful Catholic Saints to hear a story, do a craft, have a snack, and parade up to the chapel for Mass. Parents, a costume for your child is not mandatory. Also, any child who would like to tell us about their special saint is encouraged to do so!

ALL SAINTS DAY
is a Holy Day of Obligation
and it is THIS Friday, November 1st.
Two Masses will be offered
at OLC: 12:00 Noon & 7:30 pm

All

Souls

Day Memorial Mass




& First Saturday Devotions


Saturday, Nov. 2nd, 10:30 am-12 pm
Come write the names of your deceased loved ones in the Book of the Names of the Dead in the chapel.


On this very special First Saturday, we shall remember and pray for our loved ones who have passed on. On this day of remembrance,

Catholics pray, attend Mass, visit cemeteries, and give alms in memory of those who are being purified in Purgatory, in hopes of hastening their entrance into Heaven.
Holy Hour of Reparation
to the Sacred Heart
before the Blessed Sacrament

Friday, Nov. 8th following 12:00 Noon Mass

In light of the affronts against God and his creation which are being perpetrated and increasingly promoted in our world, we are making this powerful devotion a regular activity at OLC, always on the Second Friday of the month. Come join in these vocal prayers of thanksgiving and reparation to the Blessed Trinity and especially our Savior, prayers through our dear Blessed Mother, and all the saints for unity in the Church, for sinners of all types, for a just and lasting peace in the world and more! NEW! HORA SANTA DE REPARACION at 5pm Booklets provided & for sale in English and Spanish
Veteran's Day Military Mass
Monday, Nov. 11th, 12:00 noon Mass
Our Lady's Center invites all those who have served in the United States Armed Forces and those who have family members who have served to a special Military Mass celebrated by our own Msgr. Joseph Lizor, a retired Army Chaplain. Join us as we honor our beloved veterans. If you served, be prepared to provide your name, rank and military occupation specialty. We are so thankful to all who have served their country with honor!
Blanket Making Workshops




Always the second & fourth Tuesdays of each month




This month: Nov. 12th & 26th, 1:00 pm




Come meet a wonderful group of enthusiastic Blanketeers and learn how to make colorful, no-sew knotted fleece blankets for Project Linus, a non-profit organization which provides snuggly handmade blankets to children in hospitals and abuse shelters. If you can make a knot, you can make a blanket! Material and supplies are provided.



Over 500 blankets made and distributed so far!
Talk by Joe & Ann Sheidler:
"Racketeer for Life: Fighting the Culture of Death from the Sidewalk to the Supreme Court"
Friday, Nov. 15th, 1:00 pm
The Defend Life Speaker Tour concludes with a talk by the Scheidlers. They are the founders of the Pro-Life Action League, America's oldest pro-life activist organization. Joe Scheidler is a recognized expert on the abortion culture, sidewalk counseling, the spiritual dimension of pro-life activism, fetal experimentation, working with the media, the responsibility of the church to fight abortion, battling the courts and the need for a return to morality. Learn more HERE. Come hear this dynamic talk and stay for refreshments and lively conversation.
Children's Storytime & Craft

Wednesday, Nov. 20th, 10:30 am

Bring the children to hear Mrs. Ginny read one of our many entertaining, faith-filled, virtuous Catholic children's books, do a fun craft, and enjoy a snack. RSVP so we know how many snacks and crafts to have on hand, but drop-ins are always welcome!

And remember the special

ALL SAINTS DAY STORYTIME & PARADE!




Friday

Nov.

1st, 11:00 AM (details above!)

REGULAR MONTHLY ACTIVITIES...

First Fridays Mass & Devotions:

12:00 Noon & 7:30 pm



Holy Rosary

daily Monday-Friday at 11:30 am



Our Lady of Perpetual Help Novena:

Thursdays after 12:00 Noon Mass



Adoration:

Fridays between the 12:00 Noon & 7:30 pm Masses



Flame of Love Prayer Cenacles:

Choose one day/time per week: Tues. 10:00 am, Thurs. 10:00 am, OR Thurs. 2:00 pm



Legion of Mary, Our Lady, Undoer of Knots Praesidium:

Fridays 5:30 pm
Mark your calendar now & spread the news!



St. Nicholas, Bishop of Myra
is Coming to OLC!


Friday, December 6th, 10:30 am in the Chapel


Spread the news! St. Nicholas, Bishop of Myra, will once again be visiting Our Lady's Center on his feast day to tell the children all about his life, his love for the Lord and the joy of giving. Afterwards, children can come to the Conference room to pose with St. Nick for a photo, do Christmas crafts, and enjoy some Christmas cookies.
Remember to leave the children's shoes under the Christmas tree in the hallway when you first arrive!
YOU'RE INVITED TO OUR
Annual OLC Patron Pot-Luck
Christmas Party & Basket Raffle!
Thursday, December 19th, 1:00 pm
All our beloved patrons and supporters are invited, so mark your calendar now, and think about a dish you'd like to share. Drawings will take place for FIVE FANTASTIC RAFFLE BASKETS loaded with many wonderful items, gift certificates, and gift cards worth hundreds of dollars which are being generously donated by area businesses and friends of OLC. This is our way of saying THANK YOU to our fantastic patrons! Just wait until you see these show-stopping, gorgeous baskets!
DOES YOUR BUSINESS HAVE GOODS OR
SERVICES TO DONATE FOR OUR CHRISTMAS
RAFFLE BASKETS? Let us know!
ATTENTION ALL PATRONS TO THE NORTH!
OLC Religious Article Sale
at Sacred Heart, Glyndon
Sat, Nov. 9th, after 4:00 Mass
& Sun, Nov. 10th, 7 am-12 pm Masses
​

The Knights of Columbus of Sacred Heart have graciously invited us to bring our Advent, Christmas, Baptism and Confirmation items and giftware to accommodate our patrons up north whose Catholic shopping options have become even more limited. Credit cards, checks and cash accepted.

The Knights will also be selling Christmas cards.

Visit the parish website HERE for location information and Mass times, and come see us in room #104 in the main Church side entrance.
OLC Exhibiting at the Craft Fair & Bake Sale
Church of the Resurrection, Ellicott City
Sat, 11/23, after the 5:30 Mass (preview)
Sun, 11/24, 8:00 am - 1:30 pm
We are excited to once again be invited to exhibit at the Resurrection Craft Fair and Bake Sale hosted by the Catholic Daughters of America Court 1882. We will be displaying our lovely and festive Advent and Christmas items as well as a wide variety of our store merchandise. We will also be bringing our wonderful selection of Trappistine Fudge, Penuche and Chocolates as well as Mouth Party Sea Salt Caramels and Mystic Monk Coffees. Location and Mass times HERE. See you there!
OLC Christmas & Religious Article Sale
at St. Philip Neri in Linthicum
Sunday December 1st after all Masses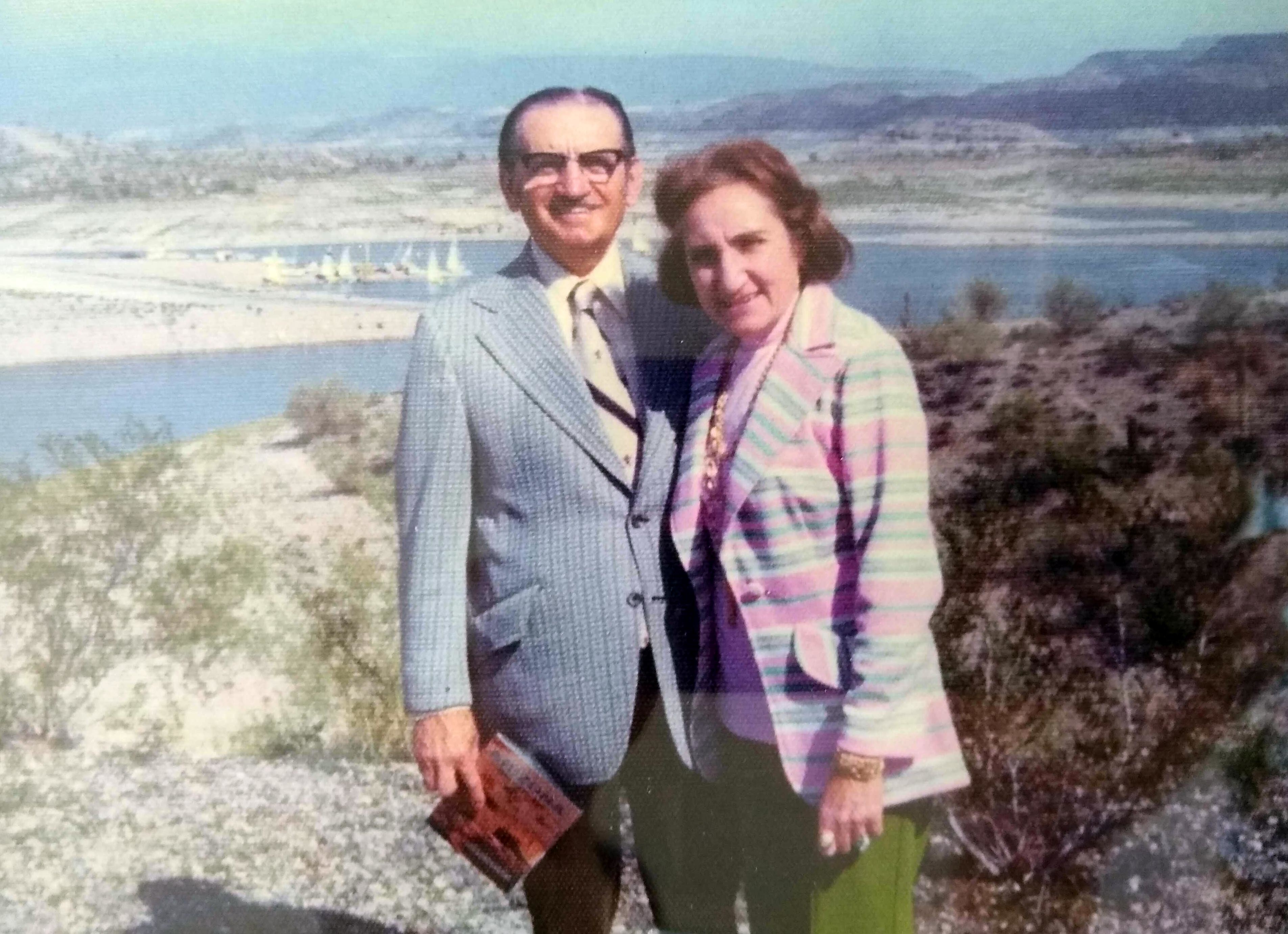 Founders of Our Lady's Center, Frank & Josephine Lancelotta, in Italy.
Our 45th Anniversary Founders Day Celebration
We were overjoyed to be able to host a long-overdue recognition of our founders, Frank and Josephine Lancelotta Sr. and all they did to launch and grow Our Lady's Center, 45 years ago! The enormous Lancelotta family was invited, and we had around 40 family members attend the special Mass which was held on Sunday, October 13th, the Anniversary of the Miracle of the Sun at Fatima. As Our Lady of Fatima is our patroness, and the Pilgrim Virgin statue has made several appearances here, it was the perfect day to host the celebration.

In attendance were Victor Lancelotta, our founder's brother, his son, Robert Sr. with his wife Donna, and our founder's daughter, Theresa Pirone with her son, Nick and family. Also in attendance were numerous nieces, nephews, cousins and in-laws. Great-nephew, James, a current seminarian within the Archdiocese, served the Mass, which was concelebrated by Msgr. Joseph Lizor, the spiritual advisor of OLC Board of Directors and Msgr. Jon Dietzenbach, within who has been very supportive of the Center. The Mass was cantered by Suzanne Fair, and Megan Gaus was the first to play the beautiful new keyboard, which was anonymously donated just in time for the wonderful event!

The Lancelotta family enjoyed a slide presentation of family photos prepared by our newest Board member, Claudia Zohorsky. Manager Christine was deeply honored to present a talk on the historically and spiritually rich foundations of this unique and beautiful shrine, foundations that reach all the way back to Italy and the site of a Marian apparition. President of the Board, Jack Kissane, and Secretary Carolyn Niebauer, also spoke, recognizing the bountiful historical and current efforts of our patrons, benefactors, priests and volunteers, as well as the bounty of devotions and activities that go on here. The contents of the talks will be made available soon to all who wish to learn more about us. Many thanks also go out Board member Diane Andrews for her part in making the
beautiful Autumn day so memorable and to
all those who helped us prepare and carry out this celebration. How we wish we could have had all of our wonderful supporters come. Know that we are so very grateful to each and every one of you who have helped and enabled Our Lady's Center to thrive over these last 45 years! You are always in our prayers, and First Saturday Masses are always offered for your intentions.
A Gift of a Brand New Electric Piano Keyboard? That's Music to Our Ears!


This beautiful brand new piece arrived just in time for our Founders Day Celebration, courtesy of an anonymous donor! We are so thankful for their generosity and are look forward to filling the chapel with sacred music throughout the Christmas season and the coming years. We will be employing the talents of our very own trained pianist, OLC employee, Mary B. Sharp (such a musical name!)
November Events at a Glance:

Friday, November 1st:
All Saints Day (Holy Day of Obligation)
Mass 12:00 Noon & 7:30 pm
All Saints Day Children's Storytime & Parade 11am 12pm

Saturday, November 2nd:
All Souls Day Memorial Mass & First Saturday Devotions, 10:30 am

Sat & Sun, November 9th & 10th:
Offsite Sales at Sacred Heart, Glyndon

Monday, November 11th
Veteran's Day Mass 12:00 Noon

Tuesday, November 12th:
Linus Blanket Making Workshop 1:00 pm

Friday, November 15th
Defend Life Speaker Talk by Joe & Ann Sheidler, 1:00 pm

Tuesday, November 19th:
Linus Blanket Making Workshop 1:00 pm

Wednesday, November 20th:
​Children's Storytime and Craft, 10:30 am

Sunday, November 24:
Off-site Sales at Church of the Resurrection

Thurs-Fri, November 28th & 29th
OLC Closed for Thanksgiving

​Sunday, December 1st:
Off-site Show at St. Philip Neri

November Special Feasts



1 - All Saints Day

2 - All Souls Day

4 - St. Charles Borromeo

9 - Dedication of St. John Lateran Basilica

10 - Pope St. Leo the Great

11 - St. Martin of Tours

13 - St. Frances Xavier Cabrini

15 - St. Albert the Great

16 - St. Margaret of Scotland

17 - St. Elizabeth of Hungary

18 - Dedication of the Basilicas
Sts. Peter & Paul

21 - Presentation of the Blessed Virgin Mary

22 - St. Cecilia

26 - Feast of Christ the King

27 - Our Lady of the Miraculous Medal

30 - St. Andrew the Apostle


IN THE BOOKSTORE & GIFT SHOP*
*We are a non-profit. All sales go towards supporting the Shrine!

THANKSGIVING - Showing Gratitude!
Our Fall display is a bountiful harvest of ideas for gifts and entertaining with an attitude of gratitude! And don't forget you're beautiful Catholic wall calendar!
THE HOLY SOULS - Pray for Them!
Especially during the month of November, we should be careful to always remember to pray for the holy souls in Purgatory, particularly those who have no one to pray for them. As they endure the purifying fires and are made to shine like the sun, we can aid them with our prayers and our sacrifices. Come browse our selection of devotionals.
ADVENT - Watching & Waiting
Don't be caught off guard. Advent begins December 1st! Come get your Advent candles, Wreaths, Calendars and Devotionals now. We carry tapers in 10" and 12", votives, and battery operated LED's.
CHRISTMAS - The Joy of Giving
We have literally decked the hall with Christmas items. Come see our beautiful selection of Christmas ornaments, statues, and giftware. Also, pick up your beautiful Christmas Cards here, and carry on the tradition.
| | |
| --- | --- |
| NEW! The Giving Manger! A family Christmas tradition focused on giving and the true meaning of Christmas. Share Kindness! Learn more HERE | Fisher-Price® Little People Nativity Sets are back in stock and always a hit. The chubby little characters are durable and will last for many Christmas seasons. |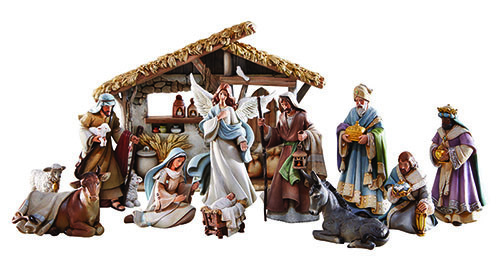 We have a lovely selection of nativity sets now on display, like this gorgeous 12-piece which includes Mary, Joseph, Baby Jesus (Mary can hold him!), crib, angel, shepherd, the three wise men, sheep, donkey, cow, and creche. We can also order your Fontanini® pieces!

NOVEMBER NO-CLIP COUPON:
15% OFF
ONE ADVENT ITEM

No coupon necessary. Valid on regularly priced, in-stock items only. Not valid on previously purchased or discounted items. Cannot be combined with other coupons or discounts. Some restrictions apply.
Expires 12/01/2019
Store Hours
Monday - Thursday: 10:00 am - 4:00 pm*
Friday: 10:00 am - 7:30 pm*
First Saturday: 10:00 am -10:30 am; 12:30 pm - 2:00 pm
*Please note that the store is always closed during the noon Mass
Chapel Hours:

Holy Sacrifice
of the Mass

Monday-Friday: 12:00pm
Friday night: 7:30 pm
1st Saturdays: 10:30 am

Rosary


Monday-Friday: 11:30 am



Confessions


Following all Masses



Adoration


Friday: 12:30 - 7:30 pm

Friday Night Devotions



Holy Mass: 7:30 pm
Followed by: Confessions, Rosary, Divine Mercy Chaplet, Adoration of the Blessed Sacrament and Benediction
| | |
| --- | --- |
| Our Lady's Center Marian Shrine is a Catholic lay apostolate within the Archdiocese of Baltimore located outside of Baltimore, Maryland in Ellicott City. We offer the Holy Sacrifice of the Mass and confessions upstairs in our chapel each weekday and on first Saturdays. Downstairs in our beautiful store, we carry a large selection of Catholic books and religious articles to meet every need. We have many events and activities throughout each month. | |