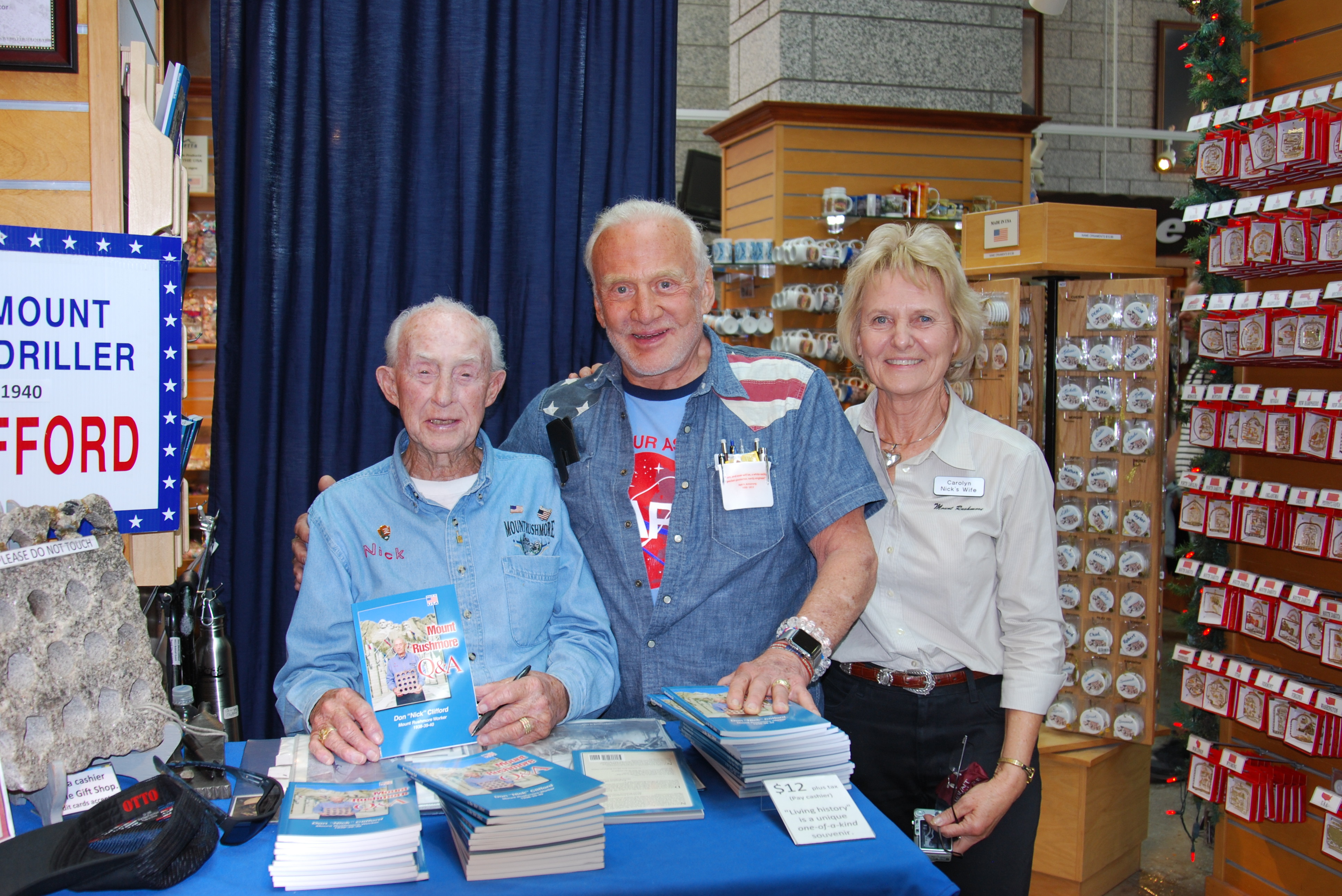 Nick Clifford (l) and Carolyn Clifford pose with Astronaut Buzz Aldrin, one of the many celebrities and visitors Nick met with over the years at Mount Rushmore National Memorial.
Nick Clifford, the last living Mount Rushmore worker, passed away November 23 at the age of 98. At 17, he was the youngest man ever hired to work at Mount Rushmore. In later years, he spent many summers at Mount Rushmore, giving visitors a firsthand account of building a Memorial that is known around the world and promoting his book, Mount Rushmore Q&A. Nick was a pioneer, and we will miss him. Rest In Peace. Our hearts go out to his wife, Carolyn, and his family.
| | |
| --- | --- |
| Thanks to supporters like you, seasonal rangers gave 22 talks per day in the Sculptor's Studio during the height of the summer season. | With your support, the Mount Rushmore Society funded National Park Service seasonal rangers, who gave more than 1,060 interpretive programs this year in and around the park. The programs reached more than 205,000 people. This was all made possible by donors like YOU, so thank you for all you do! |
Thank you, First Interstate Bank!
| | |
| --- | --- |
| The First Interstate Bank Foundation donated $10,000 to the Mount Rushmore Society this month. The Society was one of 13 nonprofits who received donations to help service and develop our community. | |
Last Call for the Bus . . .
Upcoming Food for Thought . . .
In today's environment, it can be a struggle to know exactly the right recipe for how to make the most significant impact on the causes you care about. That is why we are happy to tell you that the Mount Rushmore Society will host a very special learning lunch on December 18th called Food for Thought: How to Make a Good Gift Better. This program will be led by Pat Goetzinger, partner at Gunderson Palmer Nelson Ashmore law firm, and will focus on creative ways to make the most meaningful impact with your giving. We hope that you will make plans to join us.

The program is FREE, but RSVPs are requested online

or by calling the office at 605-341-8883. If you are not in the Rapid City area, we will share this presentation via Facebook Live, so mark your calendars.
Make Your Year-End Gift Count
This is Our Legacy.
This is Mount Rushmore.
We are working together with the National Park Service to ensure that the legacy of Mount Rushmore is preserved for future generations. From sculpture preservation to providing seasonal rangers who give interpretive programs at the Memorial and so much more, the Mount Rushmore Society is committed to ensuring that those who visit are forever changed--whether by the sculpture's beauty, the awe-inspiring story of its creation or the important ideals that it represents.

To help support this mission, click the button below or give us a call at 605-341-8883 to talk about how you can make an IRA Rollover or stock gift.
Book your Holiday Party with Us!
Don't forget that the Society's Event Area at 830 Main Street is the PERFECT place for holiday gatherings. We can accommodate groups of around 100 for catered events.

Email Debbie Speas for pricing and availability. We'd love to have you visit us!
Mount Rushmore Memories on Main Street
Thanksgiving Weekend Hours:
Black Friday | 9 am - 3 pm
Small Business Saturday | 9 am - 4 pm
Your Membership Works Here


The next time you fly out of Rapid City Regional Airport, stop by the Mount Rushmore Memories Airport Store. Your 15% off Society Membership card works here too!