"O come, O come, Emmanuel and ransom captive Israel that mourns in lonely exile here until the Son of God appears. Rejoice! Rejoice! Emmanuel shall come to thee, O Israel."
December is dedicated to Advent. While the secular world rushes ahead in festivities and activities often entirely devoid of their primary purpose, we are called to wait, pray, and prepare ourselves to welcome the Christ Child into our hearts. More HERE.
HOLIDAY SCHEDULE:
​We will be CLOSED on Wednesday-Sunday, December 25th-29th.
​We will also be CLOSED on New Years Day, January 1, 2020.
All other days we will be open regular hours (even Christmas Eve!)
Bring the Children to Meet St. Nick!
St. Nicholas, Bishop of Myra, will once again be visiting Our Lady's Center on his feast day to tell the children all about his life, his love for the Lord and the joy of giving. Afterwards, children can come to the Conference room to pose with St. Nick for a photo, do Christmas crafts, and enjoy some Christmas cookies.
Remember to leave the children's shoes under the Christmas tree in the hallway when you first arrive!
Don't Miss this Special Night!
Monday, December 9th, 7:00 pm
Evening Mass on the Solemnity of the Immaculate Conception*
followed by a talk and book-signing by
Kevin Wells
author of "The Priests We Need to Save the Church"
We are so excited to be welcoming author, speaker and EWTN guest, Kevin Wells! Kevin is the nephew of Msgr. Thomas Wells, who was slain nearly a decade ago in Germantown. Kevin will be discussing his new book and signing copies of it afterwards. Learn more about Kevin and his mission at his website HERE.
*This year, the Feast of the Immaculate Conception falls on a Sunday, so it is celebrated on the following day, the 9th. The usual obligation for holy days has been abrogated as a result, so we are not required to attend Mass. However, along with our regularly scheduled 12:00 noon Mass, we are planning on having a Mass offered that evening before the talk to honor the Blessed Virgin Mary on her feast day. It seems most appropriate to do so. Let us all pray that the Blessed Mother intercedes for us in raising up many holy men to the priesthood to counter the darkness of these times with the light of Christ.
ANNUAL OLC CHRISTMAS PARTY!!!
Thursday, December 19th, 1-3pm
All of our beloved patrons and supporters, are invited to come celebrate with us after Mass on Thursday, 12/19. It's a POT LUCK, so let us know what dish you'd like to share (so we don't have 20 hams!)
OUR RAFFLE BASKETS ARE LEGENDARY!
Drawings will take place at 3 pm during our Christmas party for these six raffle baskets. They are absolutely LOADED with many wonderful items, gift certificates, and gift cards worth hundreds of dollars each and with a combined total of over $4000! The contents have been generously donated by area businesses and friends of OLC. This is our way of saying THANK YOU to our fantastic patrons! Tickets are on sale now and will be sold right up until the drawings. $2 per ticket or 12 for $20! You can enter one or all six raffles.


BELOW ARE THE SIX BASKETS AND THEIR CONTENTS:
A Special Saturday Christmas Shopping Day
beginning with Mass at 10:30 am!
Saturday,
December 21st
The Gift Shop will be open for Last Minute Christmas Shopping FROM 11 AM until 4 pm! (Store is always closed during Mass)
STOP IN FOR FLASH SALES & DRAWINGS
Instant winners all day. Prizes include signed books, store merchandise, and store discounts.

We are aware that some of you may find it challenging to visit us during our normal hours of operation, so we have decided to open on the last Saturday before Christmas. We always try to have Mass celebrated on the days we operate, keeping Christ at the center of all our efforts and as the source of all our strength. We are, therefore, delighted to announce that we have secured a celebrant in this especially hectic time of year. After Mass, come downstairs to browse our wonderful selection of gifts at your favorite non-profit Catholic bookstore and gift shop!

REGULAR MONTHLY ACTIVITIES...

First Fridays Mass & Devotions:

12:00 Noon & 7:30 pm



Holy Rosary

daily Monday-Friday at 11:30 am



Our Lady of Perpetual Help Novena:

Thursdays after 12:00 Noon Mass



Adoration:

Fridays between the 12:00 Noon & 7:30 pm Masses



Blanket Making:

2nd & 4th Tuesdays of the month at 1 pm in the Conference room


Tuesday, December 10th, 1:00 pm.





Children's Storytime & Craft
Wednesday, December 11th, 10:30 am.





2nd Fridays Holy Hour of Reparation:

2nd Fridays of the Month
1 pm English, 5 pm Spanish


Friday, December 13th





Flame of Love Prayer Cenacles:

Choose one day/time per week: Tues. 10:00 am, Thurs. 10:00 am, OR Thurs. 2:00 pm


Note: No FOL on Thursday, December 26.





Legion of Mary, Our Lady, Undoer of Knots Praesidium:

Fridays 5:30 pm


Note: No meeting Friday, December 27th
The Saints Came Marching In!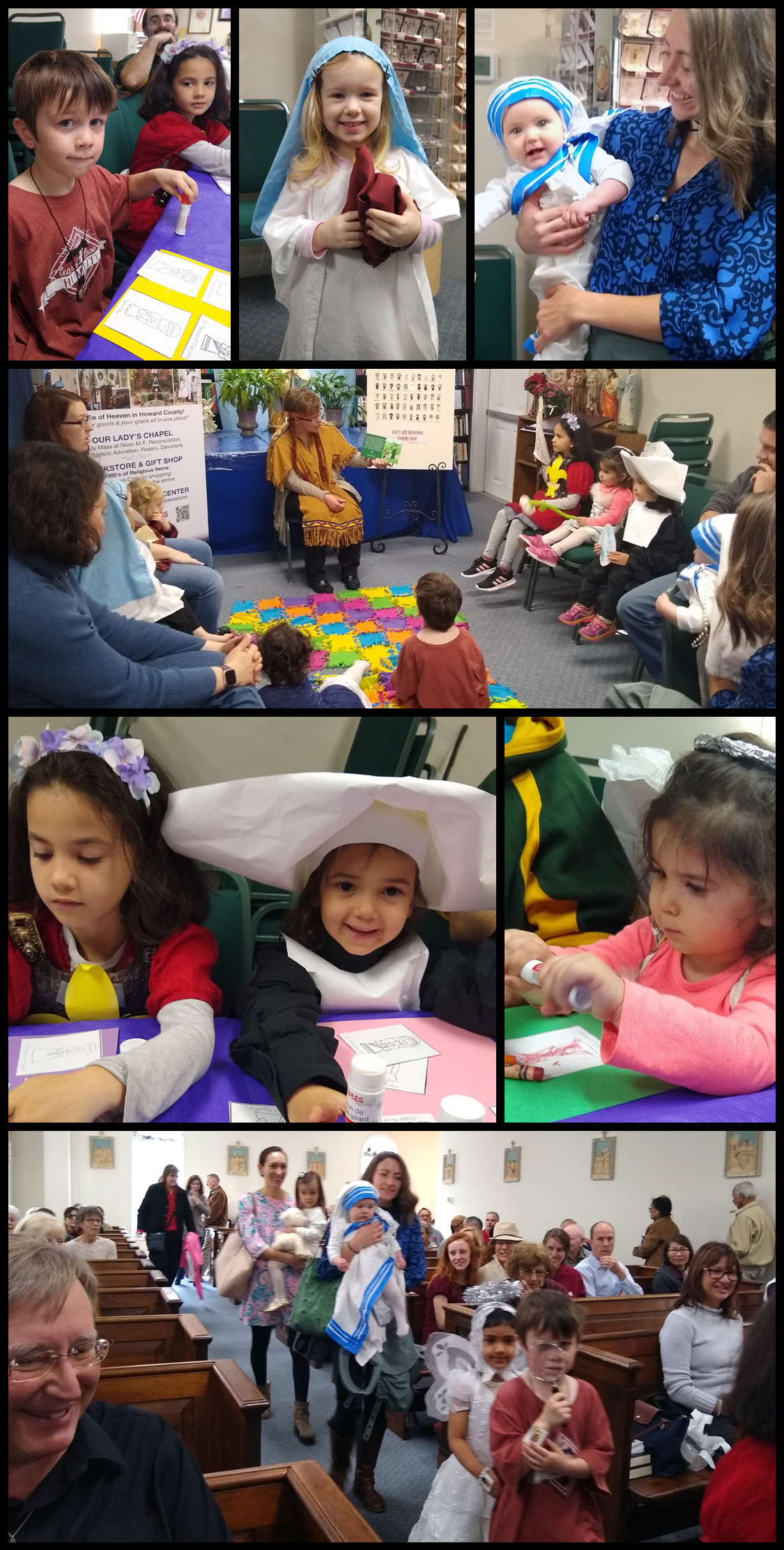 What a wonderfully special storytime with our little saints in the making! We loved seeing all the communion of saints so adorably displayed. After a story and craft, St. Kateri (aka Mrs. Ginny) led all the little ones in a parade around the chapel before Mass, to the delight of all the patrons who were present. Thank you to all the parents for bringing your precious little ones and putting together such creative costumes and encouraging your children to love and honor the saints. This is the future of our beloved Church, and we are filled with hope!
Our Blanketeers are Multiplying
Fr. Maurice Akwa stopped in after celebrating Mass and
hearing confessions and was quite impressed with the productivity and enthusiasm of our blanket-making group. 16 blankets were finished in no time, and Fr. even gave former employee Gail Segedy a special birthday blessing. You are invited to drop by on the next blanket-making date, December 10th at 1 pm. No skill necessary. And monetary donations are always gratefully accepted to defray the cost of the fleece material. All the blankets get blessed and distributed to area children in crisis. It's one little way OLC patrons show their love.
Ecce Homo Traveling Bust of Our Lord and Chalice


Sign up in the Bookstore to take home the Ecce Homo bust of Our Lord and blessed chalice for a two week interval. Set them up in a place of honor in your home and, during that period, pray for vocations to the priesthood and religious life as well as your own personal intentions. Instructions and optional prayers and devotional materials are included, as well as a diary filled with the entries of those who have hosted the bust and chalice in their homes previously. Miracles have happened as a result of this devotion. For more information, contact Ada Vergne HERE
December Events at a Glance:

Friday, December 6th:
St. Nicholas Visits OLC 10:30 am

Saturday, December 7th:
First Saturday Mass, 10:30 am followed by Devotions

Monday, December 9th:
Special Mass for the Solemnity of the Immaculate Conception followed by a talk by Kevin Wells, 7 pm.

Tuesday, December 10th
Linus Blanket Making Workshop 1:00 pm

Wednesday, December 11th:
Children' Storytime & Craft, 10:03 am

Friday, December 13th
2nd Fridays Holy Hour of Reparation after 12:00 Noon Mass, Spanish Holy Hour at 5 pm.

Saturday, December 21st
Special Shopping Day with Mass at 10:30 am

Wednesday, December 25th-Sunday December 29th
OLC CLOSED for Christmas

Wednesday, January 1st
OLC CLOSED for New Years Day


December Special Feasts



1 - 1st Sunday of Advent

3 - St. Francis Xavier

6 - St. Nicholas of Myra

8 - 2nd Sunday of Advent

9 - Solemnity of the Immaculate Conception, St. Juan Diego

12 - Our Lady of Guadalupe

13 - St. Lucy

14 - St. John of the Cross

15 - 3rd Sunday of Advent

22 - 4th Sunday of Advent

25 - Nativity of the Lord

26 - St. Stephen

27 - St. John

28 - The Holy Innocents

29 - St. Thomas Becket

31 - St. Sylvester


IN THE BOOKSTORE & GIFT SHOP*
*We are a non-profit. All sales go towards supporting the Shrine!

CHRISTMAS DECOR
Remember the holidays are holy days! Come see our many beautiful nativities, figurines, ornaments and Christmas books still in stock. We really have decked the hallway!
CHRISTMAS GIFTS!
We have a huge selection of religious articles that make perfect and thoughtful gifts for everyone on your list!

DECEMBER NO-CLIP COUPON:
15% OFF
ONE CHRISTMAS ITEM

No coupon necessary. Valid on regularly priced, in-stock items only. Not valid on previously purchased or discounted items. Cannot be combined with other coupons or discounts. Some restrictions apply.
Expires 12/31/2019
Store Hours
Monday - Thursday: 10:00 am - 4:00 pm*
Friday: 10:00 am - 7:30 pm*
First Saturday: 10:00 am -10:30 am; 12:30 pm - 2:00 pm
*Please note that the store is always closed during the noon Mass
Chapel Hours:

Holy Sacrifice
of the Mass

Monday-Friday: 12:00pm
Friday night: 7:30 pm
1st Saturdays: 10:30 am

Rosary


Monday-Friday: 11:30 am



Confessions


Following all Masses



Adoration


Friday: 12:30 - 7:30 pm

Friday Night Devotions



Holy Mass: 7:30 pm
Followed by: Confessions, Rosary, Divine Mercy Chaplet, Adoration of the Blessed Sacrament and Benediction
| | |
| --- | --- |
| Our Lady's Center Marian Shrine is a Catholic lay apostolate within the Archdiocese of Baltimore located outside of Baltimore, Maryland in Ellicott City. We offer the Holy Sacrifice of the Mass and confessions upstairs in our chapel each weekday and on first Saturdays. Downstairs in our beautiful store, we carry a large selection of Catholic books and religious articles to meet every need. We have many events and activities throughout each month. | |