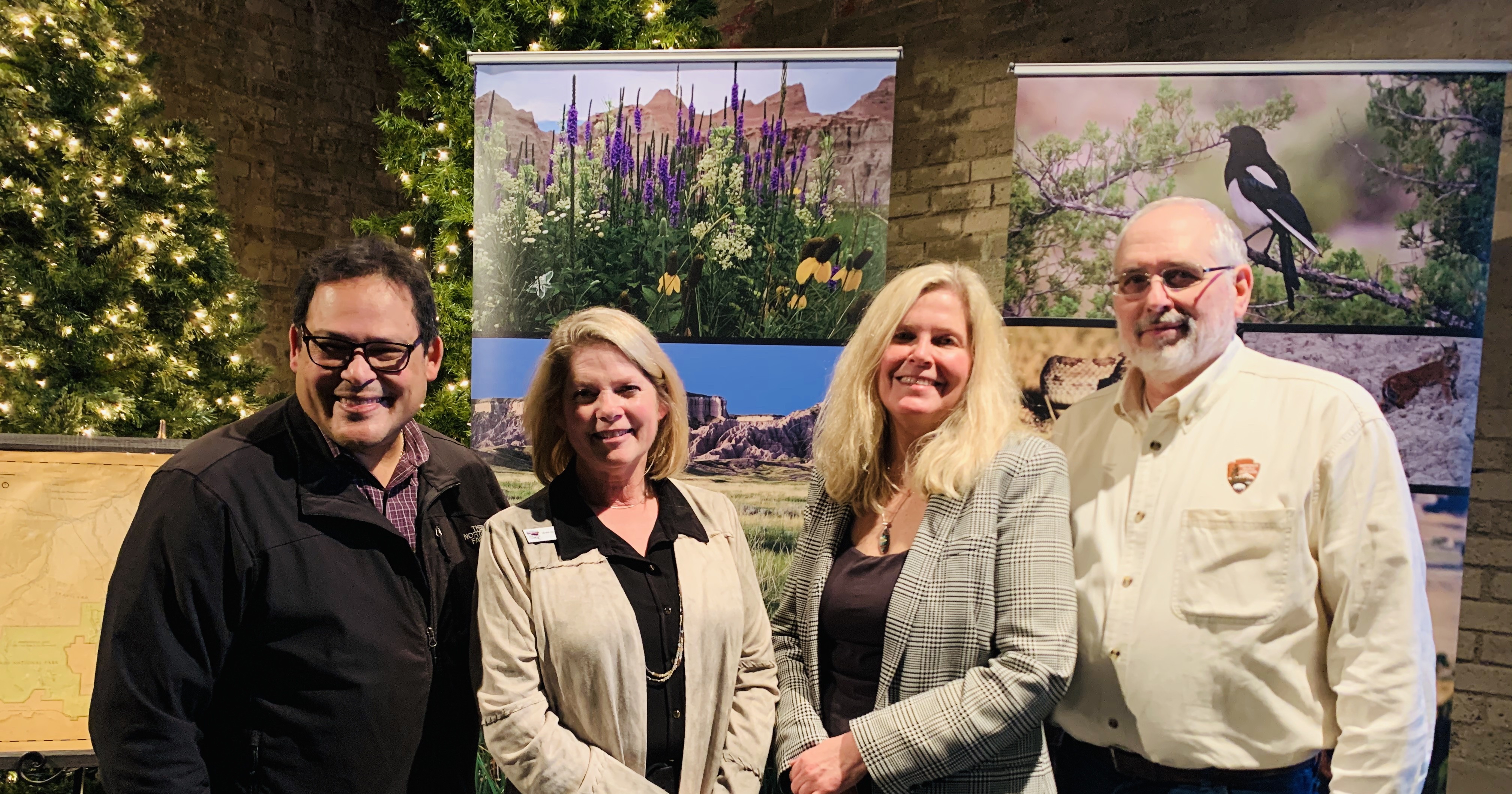 Deputy Regional Director Patty Trap (pictured second from right) is now serving as the acting superintendent of Mount Rushmore National Memorial. Trap and other National Park Service and U.S. Department of Interior leaders met with the Society and other partners around the region this week. Pictured above include (l-r): Acting National Park Service Director David Vela, CEO Diana Saathoff, Trap and NPS Regional Director Bert Frost.
Park News: Welcome Patricia Trap
The National Park Service Regional Director Bert Frost has announced that Patricia Trap will be serving as acting superintendent at Mount Rushmore National Memorial. She assumed her temporary position on January 6, 2020.

Trap is deputy regional director, overseeing 61 parks throughout the region for the past eight years, and she will continue as acting superintendent until the position is permanently filled. This change comes after Denice Swanke returned to Denali National Park in Alaska. Swanke served as acting superintendent for four months following the retirement of long-time Superintendent Cheryl Schreier.
Give a High Five ($5 that is)
for the Birthday Boy
Follow us on Facebook as we get ready to celebrate President Abraham Lincoln's 211th birthday on February 12!

We will be revealing five fun facts about him as we prepare for a little birthday party later in February.
Staff Spotlight: Matea Hunsaker
Mount Rushmore Memories Airport Store Supervisor Matea Hunsaker has been with the Society team since 2016.

A South Dakota native, she grew up in Hill City and now lives closer to the Rapid City Regional Airport with her husband, Cache.

"I love working at the airport, because no two days are the same," says Matea. "We have the best customers, and I enjoy connecting with visitors as well as locals who stop in every time they fly out!"

Join us for Elevate Rapid City's B2B Tradeshow and Mixer on February 18. We will have a booth again this year. Stop by to Spin the Wheel for some Mount Rushmore swag! Find out more.
We celebrate President's Day in February because of two famous birthdays: Abraham Lincoln was born on February 12, 1809, and George Washington was born on February 22, 1732. But did you know that there are actually four presidential birthdays in February? President William Henry Harrison was born on February 9, and President Ronald Reagan was born on February 6. Happy Birthday to all!
Would you Like to be a Vendor?
The 4th Annual Find Your Park Festival will be held Saturday, June 13, 2020 in Main Street Square from 10 am - 2 pm.

If you like to be a vendor for this event, please contact Debbie Speas for more information.
Book your 2020 Party with Us!
It's not too early to look into dates for 2020. Whether you are holding a seminar, board retreat, party or fundraiser, we can support your event. Email Debbie Speas for pricing and availability. We'd love to have you visit us!
Your Membership Discount


Mount Rushmore Society members receive 15% off purchases at Mount Rushmore Bookstores at the park, online, Mount Rushmore Memories Airport Store and Mount Rushmore Memories on Main Street. Click below to become a member or to renew for 2020.