The Church dedicates February to the HOLY FAMILY
It is our model of virtue for the Catholic home and the ideal of what family life should exemplify. The family is the school of virtue for both parents and children. It is where we learn to love God and others, to pray and to practice the gift of charity. "The family, more than any other human reality, is the place in which the person is loved for himself and in which he learns to live the sincere gift of self" (Pope St. JPII). Is it any wonder that the family is under attack? Let us pray for all families and especially for those suffering from the brokenness of estrangement.
SNOW in the Forecast?
Call 410-461-5066 and press "5"
for up-to-the-minute weather related announcements or check Facebook before heading out.
Note, we DO NOT follow the county school closings. We employ a professional snow removal and salting service and do try to be open if at all possible.
Blessing of the Throats at Mass
Monday, February 3rd, 12:00 Noon Mass
Join us for Mass and have your throat blessed with candles. This tradition dates back to the 4th century after St. Blaise, a bishop and martyr saved a boy choking on a fishbone. We invoke St. Blaise for his protection against any physical ailment of the throat. Let us also pray for protection against any spiritual ailment— which may find vent through our throats: profanity, cursing, unkind remarks, or gossip. St. James warns us, "If a man who does not control his tongue imagines that he is devout, he is self-deceived; his worship is pointless." This warning is particularly appropriate in a society whose interactions have become increasingly uncivil. St. Blaise, pray for us!
Novena to the Holy Face


Sun, Feb. 16 - Tues. Feb. 25th (We will pray at OLC after all 12:00 Noon Weekday Masses only. As we are closed on the weekends, please plan to pray the Novena on your own those days.)
Please join us as we pray the Novena to the Holy Face of Jesus for the nine days leading up to and concluding on Shrove Tuesday, the Feast of the Holy Face, to make reparation for the blasphemies made against our Lord by atheists and the profaning of Sundays by Catholics. We will pray before the blessed image of the Holy Face which was installed in our chapel in 2016, the very same image to which St. Therese was dedicated, and a reproduction of the image known as "Vera Effigies" of the veil of Veronica.
Consecration to St. Joseph

Preparation begins

February 16th!

Two cases of books arriving this week!
Join spiritually with Catholics all over the world in this first time ever preparation and mass consecration which will take place on St. Joseph's Feast Day, March 19th! Fr. Don Calloway's new book, "Consecration to St. Joseph" flew off the shelves, but we have more books arriving this week, so we will all be ready to begin the preparation. Call us to reserve yours now. Why Consecration to St. Joseph? "Over the past 150 years, the Church has come to understand St. Joseph's greatness like never before. By Baptism, we're all consecrated to our Lord and many of us have consecrated ourselves to Jesus through Mary. But the Holy Spirit has made it clear that now is the time of St. Joseph. When the house is in disorder, you need a father to bring order. With all the craziness going on in the Church right now and in our culture, it's a perfect time to focus more attention on the earthly father of Jesus." - Fr. Calloway.
President's Day Holy Hour
Monday, February 17th following 12:00 Noon Mass
Come spend an hour with us in solemn Adoration before the Blessed Sacrament as we honor our former presidents who defended and upheld our freedoms and also to pray for the office of the presidency and the protection of its current and future occupants. We will never take for granted the freedoms we enjoy, particularly our freedom of religion. Nor will we cease to pray for those entrusted with authority over us, that they humbly be guided by Truth and blessed with wisdom, knowledge and understanding.
The 2020 Defend Life Speaker Series Presents:
Defeating Assisted Suicide in Maryland:
Creating an effective social barrier against euthanasia & assisted suicide
Friday, February 21st
following 12:00 Noon Mass
Alex Schadenberg

, a leading force in the fight against the legalization of Assisted suicide and euthanasia, has spoken all over the world, including Canada, Australia, Scotland, New Zealand, Hungary, Switzerland, Belgium & Italy. He has also published numerous articles and documents shining the light on how vulnerable people are being exposed to euthanasia and suicide. He maintains the world's most widely-read blog on issues related to euthanasia & assisted suicide, EPCBlog.org, as well as having co-produced "The Euthanasia Deception" documentary (2016) & the film "Fatal Flaws: Legalizing Assisted Death (2018)." Please join us for this very important talk and stay for refreshments and lively discussion.
Ash Wednesday Ashes


February 26th, 12:00 Noon Mass
If you can not make it to Mass at your parish, come to OLC and receive your ashes at noon Mass, and stay for Confession to kick off your Lenten journey cleansed of spiritual impurities.



Stations of the Cross




Fridays during Lent after the 12:00 Noon and 7:30 pm Masses. Also, enjoy our outdoor Stations of the Cross on the banks of the stream out front on your own anytime.

REGULAR MONTHLY ACTIVITIES...

​Flame of Love Cenacles
Tuesdays at 10 am, Thursdays at 10 am or Thursdays at 2 pm (choose one)
About 30 prayer warriors per week on average are attending the Flame of Love Cenacles and experiencing the power of praying in groups, and more are discovering this devotion every week. Come pray for the Holy Spirit to come into our hearts by means of the Flame of Love of the Immaculate Heart of Mary, a new Pentecost! You are welcome to come to any one of the cenacles to learn more.
Blanket Making Workshops
Tuesday, February 11th & 25th, 1-3pm
Linus Project Blanket Making Workshops are held at 1:00 pm on the second and fourth Tuesdays of the month in our Conference room. Come learn to make colorful, knotted fleece blankets for Project Linus, a non-profit organization which provides snuggly handmade blankets to children in need. If you can cut and make knots, you can make a blanket! Material and supplies are provided. Already over 200 blankets have been donated and thank you letters are rolling in!
Children's Storytime & Craft
Wednesday, February 12th & 26th, 10:30 AM
Bring the children to hear Mrs. Ginny read entertaining and wonderfully virtuous Catholic children's books, do a fun craft, and enjoy a snack. RSVP so we know how many snacks and crafts to have on hand, but last minute drop-ins are always welcome!
First Fridays Mass & Devotions: 12:00 Noon & 7:30 pm



First Saturdays Mass & Devotions:

10:30 am



Holy Rosary

daily Monday-Friday at 11:30 am



Our Lady of Perpetual Help Novena:

Thursdays after 12:00 Noon Mass



Adoration:

Fridays between the 12:00 Noon & 7:30 pm Masses

2nd Fridays Holy Hour of Reparation (Feb 14th) 2nd Fridays of the Month
1 pm English, 5 pm Spanish



Legion of Mary, Our Lady, Undoer of Knots Praesidium:

Fridays 5:30 pm
Pray for Vocations with the Ecce Homo Traveling Bust of Our Lord & Blessed Chalice
Sign up in the Bookstore to take home the Ecce Homo bust of Our Lord and blessed chalice for a two week interval. Set them up in a place of honor in your home and, during that period, pray for vocations to the priesthood and religious life as well as your own personal intentions. Instructions and optional prayers and devotional materials are included, as well as a diary filled with the entries of those who have hosted the bust and chalice in their homes previously. Many miracles and wonders have happened as a result of this devotion. For more information, contact Ada Vergne HERE


Weeks during Lent still available!
Special March Storytime featuring local author Pamela Love & book signing!
Wednesday, March 18th, 10:30 am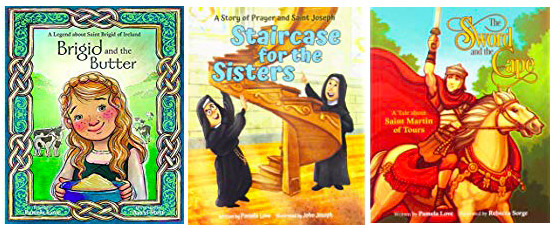 We are so excited to have local author Pamela Love visiting us in March to read one of her delightful creations, "Brigid and the Butter, a legend of Saint Brigid of Ireland." We also carry "Staircase for the Sisters," a story of prayer and St. Joseph, and "The Sword and the Cape," a tale about St. Martin of Tours. With St. Patrick's Day celebrated the day before and St. Joseph's Feast Day celebrated the day after, March 18th is the perfect day to highlight Pamela's books! We will have a supply of them on hand for purchase, and Pamela will sign your copy! We will also have a fun activity and snacks. Please RSVP so we can anticipate how many crafts and snacks to have on hand and if you would like us to reserve a book or two or three for you, let us know!
We are looking forward to again being vendors at the Catholic Men's Fellowship of Maryland Annual Conference. This year's theme is
A One Day Lenten Retreat: The Holy Family • Your Holy Family
Saturday, March 21st, 7am- 3:30 pm
St. Phillip Neri Church in Linthicum
Don't miss it! We'll be bringing much of our huge selection of Catholic books, sacramentals and giftware to the Conference, and we hope to see you there! Register HERE!
February Events at a Glance:


Saturday, February 1st:
First Saturday Mass, 10:30 am followed by Devotions

Monday, February 3rd:
Blessing of the Throats, 12:00 Noon Mass

Tuesday, February 11th:
Linus Blanket Making Workshop 1:00 pm

Wednesday, February 12th:
Children' Storytime & Craft, 10:30 am

Friday, February 14h
2nd Fridays Holy Hour of Reparation after 12:00 Noon Mass, Spanish Holy Hour at 5 pm.

Monday, February 17th:
President's Day Holy Hour after 12:00 Noon Mass

Tuesday, February 25th:
Linus Blanket Making Workshop 1:00 pm

Wednesday, February 26th:
Children' Storytime & Craft, 10:30 am

February Special Feasts

2/02: Presentation of Our Lord

2/03: St. Blaise

2/05: St. Agatha

2/08: St. Josephine Bakhita

2/10: St. Scholastica

2/11: Our Lady of Lourdes

2/18: St. Bernadette

2/20: Sts. Jacinta & Francisco Marto

2/22: Chair of St. Peter

2/23: St. Polycarp

2//25: Holy Face of Jesus (Shrove Tuesday)

2/26: Ash Wednesday

OLC BOOKSTORE & GIFT SHOP
*We are a non-profit. All sales go towards supporting the Shrine!

The Candy Cart is Back, Loaded with St. Valentine's Day Gifts for Sweethearts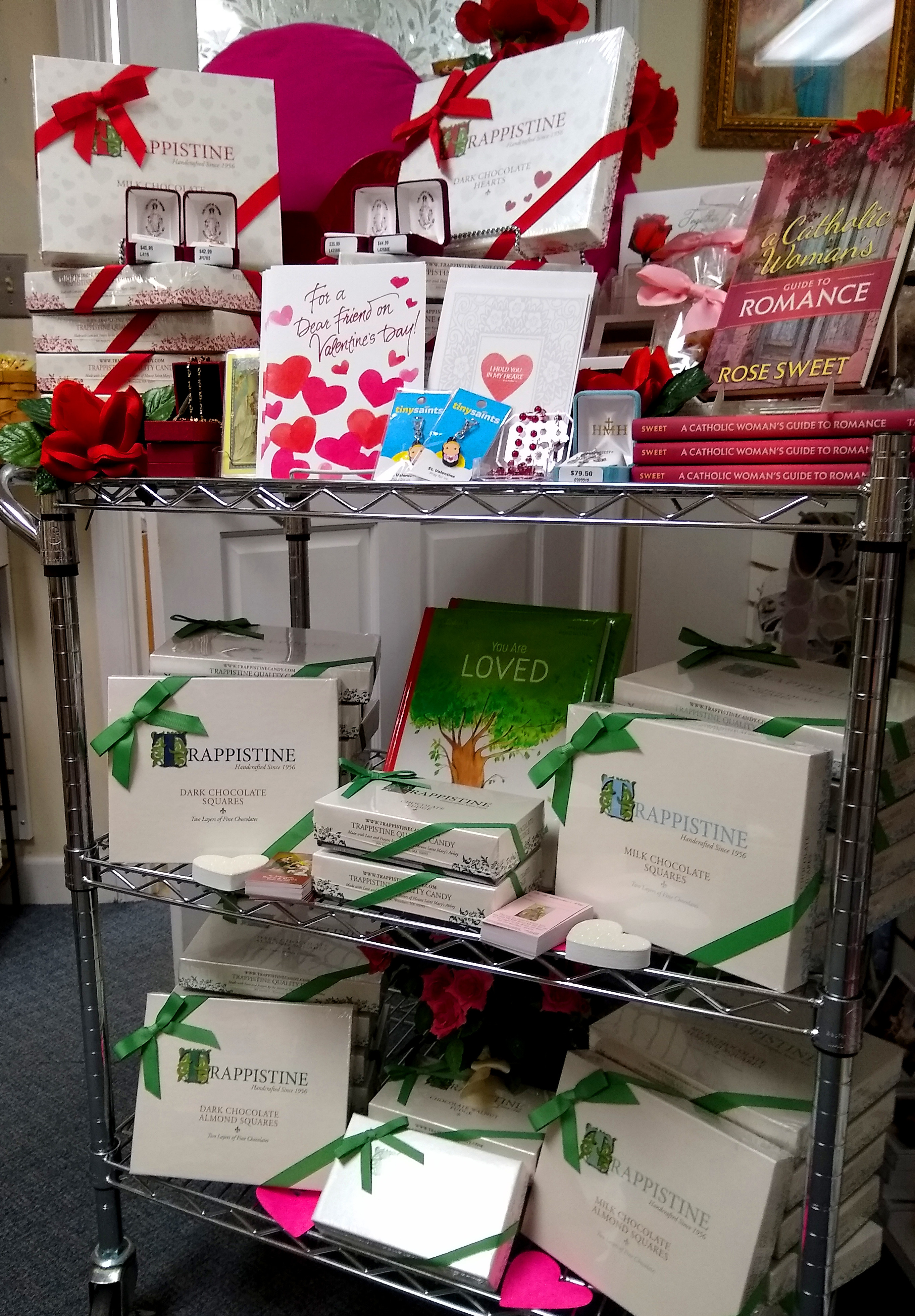 We've just received another huge shipment of Trappistine Candy including Milk and Dark Chocolate Hearts and Fudge, all freshly made and prayed over by the Trappistine Nuns of Mount St. Mary's Abbey in Massachusetts. Come pick up a box or two before they disappear, along with a card and perhaps a little gift that conveys your love in light of Christ's abundant, unconditional and everlasting love. Watch a video showing the nuns at work creating their wonderful candy and discussing their vocation HERE!
Prepare for a Holy Lent & Easter
NEW!

Walk with the world's singular model of faith and purity each day of your Lenten spiritual pilgrimage to Easter. Explore Mary's messages one by one, dedicating each week of Lent to an overarching theme from her apparitions and drawing from each a vibrant new spiritual lesson for your life.

Fr. Joseph Langford's popular devotional with guided meditations on Scripture through the teachings and spirituality of his close friend Mother Teresa. This Lent, spend a few minutes every day with St. Teresa of Calcutta thirsting for Our Lord as she did and growing in intimacy with him.
NEW! Fr. Michael Gaitley's newest release is a total consecration to the Father through Jesus based on the Gospel of John is shipping this week!

NEW!

A beautiful guide to the customs and devotions of Lent and the season of Christ's Resurrection. It includes the tradition of St. Joseph's table!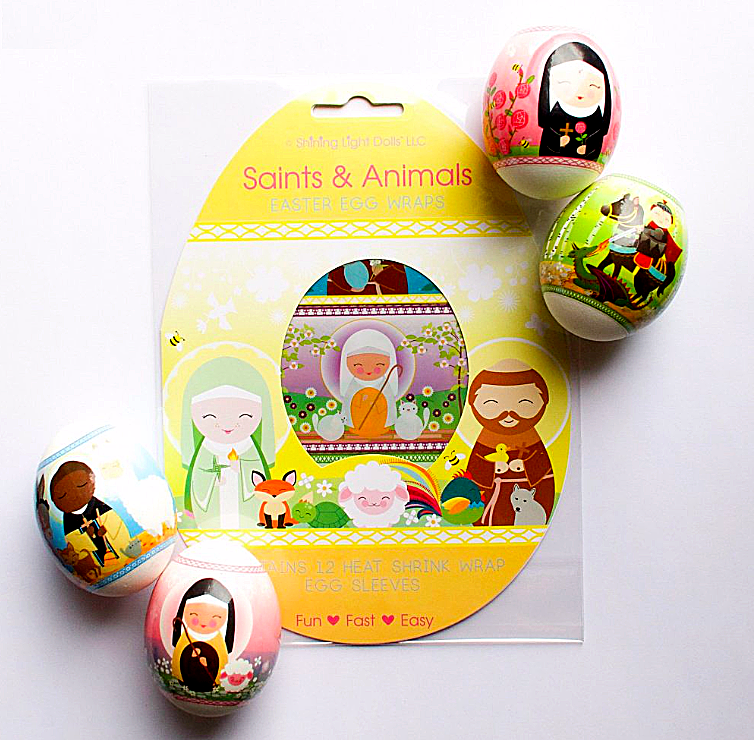 NEW! Saint & Animal Easter Egg Wraps from Shining Light Dolls. So Adorable!!
Our last shipment ever of beautiful Sine Cera crushed onyx statues from S. Korea has arrived. Come in now for best selection. Also, we have a wide variety of St. Joseph and Holy Family items on display.

FEBRUARY NO-CLIP COUPON:
15% OFF
one Lent or Easter Book

No coupon necessary. Valid on regularly priced, in-stock books only. Not valid on previously purchased or discounted items. Cannot be combined with other coupons or discounts. Some restrictions apply.
Expires 02/29/2020
HUGE BOOK CLEARANCE SALE
GOING ON NOW!
Hundreds of books on sale discounted up to
45% OFF
regular prices!
More books are being added daily as ​we make room for new inventory. Come pick up some bargain reads and spend the rest of the winter in a cozy chair by the fire
feeding your heart, mind and soul with Catholic books.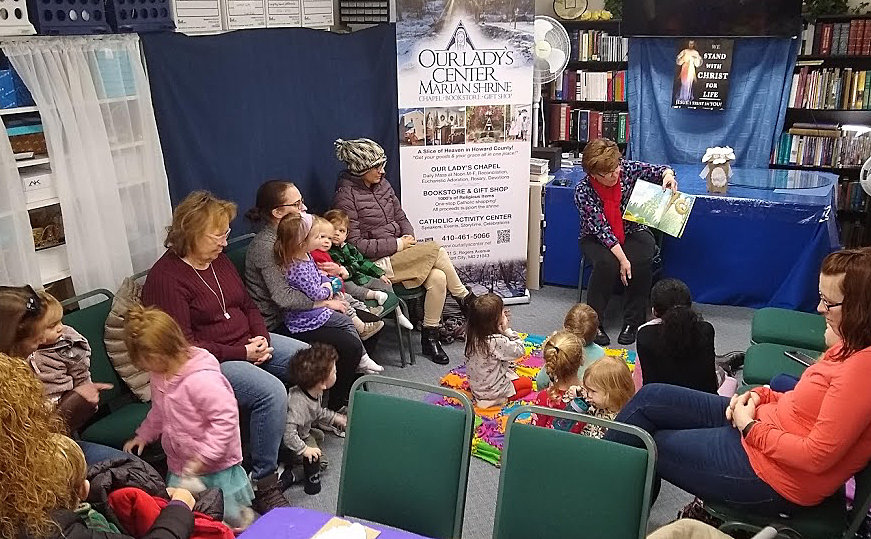 Storytime with Mrs. Ginny is always a joyful, faith-filled adventure!
Store Hours
Monday - Thursday: 10:00 am - 4:00 pm*
Friday: 10:00 am - 7:30 pm*
First Saturday: 10:00 am -10:30 am; 12:30 pm - 2:00 pm
*Please note that the store is always closed during the noon Mass
Chapel Hours:

Holy Sacrifice
of the Mass

Monday-Friday: 12:00pm
Friday night: 7:30 pm
1st Saturdays: 10:30 am

Rosary


Monday-Friday: 11:30 am



Confessions


Following all Masses



Adoration


Friday: 12:30 - 7:30 pm

Friday Night Devotions



Holy Mass: 7:30 pm
Followed by: Confessions, Rosary, Divine Mercy Chaplet, Adoration of the Blessed Sacrament and Benediction
| | |
| --- | --- |
| Our Lady's Center Marian Shrine is a Catholic lay apostolate within the Archdiocese of Baltimore located outside of Baltimore, Maryland in Ellicott City. We offer the Holy Sacrifice of the Mass and confessions upstairs in our chapel each weekday and on first Saturdays. Downstairs in our beautiful store, we carry a large selection of Catholic books and religious articles to meet every need. We have many events and activities throughout each month. | |