3301 S. Rogers Avenue, Ellicott City, Maryland 21043
Turn between the blue mailbox and guardrail and follow our lane to lovely oasis of peace!
BEST TO CONTACT BY CELL OR EMAIL
(C) 240-581-8013 •
email@ourladyscenter.net
410-461-5066 (messages only)

•
www.ourladyscenter.net
COVID-19 UPDATE:

While our doors may be temporarily closed to visitors, we remain AVAILABLE for you!

Let us know if you need anything. Just call or text your personal shopper at

240-581-8013

.

Pay over the phone, and we'll discuss delivery options. Your support is much appreciated!


**FREE MAY MAGNIFICAT with every $5 purchase while supplies last!
HOW EXCITING IS THIS!
It's the MONTH of Mary in the YEAR of St. Joseph!
May begins with a Day of Consecration to Both of our Spiritual Parents on a First Friday dedicated to the Sacred Heart (May 1st) & finishes with a trifecta of Pentecost, the Visitation AND the Queenship of Mary (ALL on Sunday, May 31st!) In between, there is Our Lady of Fatima's Feast Day and the Ascension of Our Lord. Things are hard right now, but we are people of hope, and so we wait with joyful anticipation for the Father's Holy Will to be accomplished. He turns all things to good for those who love him, who are called according to his purpose.
Reconsecration of the US & Canada to
Mary as Mother of the Church
Friday, May 1st, 3 pm on EWTN
"This will give the Church the occasion to pray for Our Lady's continued protection of the vulnerable, healing of the unwell, and wisdom for those who work to cure this terrible virus."
- Archbishop Gomez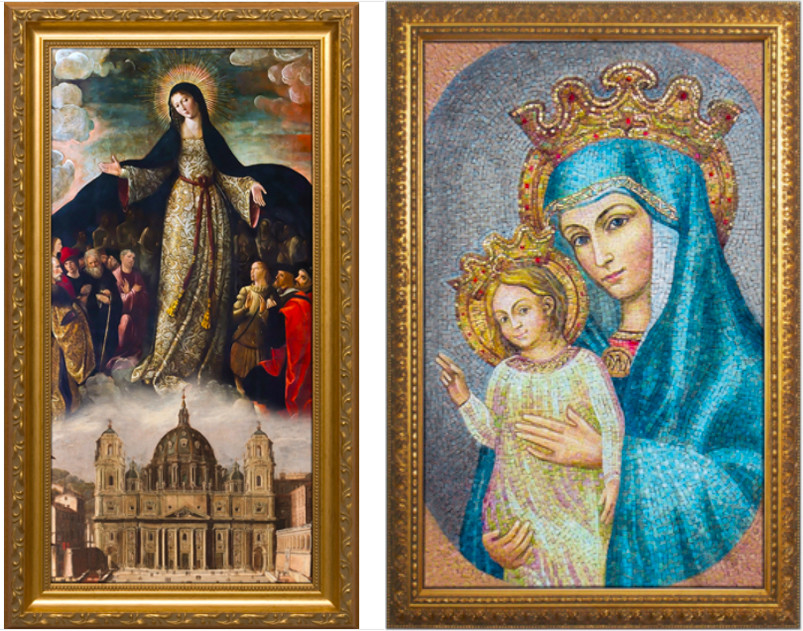 Two framed prints of Mary Mother of the Church available in our shop!
In response to the enormous effects and incomprehensible ramifications of this pandemic on our civilization and our Church, Catholic bishops are joining together to consecrate the US and Canada to Mary in her title of Mother of the Church in order to seek her powerful intercession. Mary was given to the Church by Jesus on the cross when he told John the Apostle to behold his mother and Mary under the title of Woman to behold her son. In 2018, the memorial was officially added to the Universal Church's calendar to be always celebrated the day after Pentecost. The timing was most providential, as the Church was reeling from scandal. Little did we suspect at the time, however, just how much more we would need her loving protection as we suffer physically, emotionally and spiritually without the consolation of the Sacraments. The Consecration will take place at 3 pm Eastern time and can be viewed on EWTN and will be preceded by a holy hour.
Find out more from the USCCB HERE and about how to view the EWTN broadcast
HERE
or live stream it
HERE
.
Consecration to St. Joseph, Our Spiritual Father and Patron of the Universal Church
Friday, May 1st, individually
EMAIL
us if you would like a framable .pdf consecration certificate to print and sign!
Catholics all over the world have been joining together to prepare for consecration to St. Joseph this year, the 150th Anniversary of our Spiritual Father being named Patron of the Universal Church. Fr. Don Calloway's book, "Consecration to St. Joseph" has been the guide for the preparation. The first of many waves of consecrations took place on St. Joseph's feast day, March 19th. The second wave is happening this Friday, May 1st on another of his feast days, St. Joseph the Worker. With so many unemployed, underemployed, or overworked due to the effects of this pandemic, this is a most providential time to turn to our Spiritual Father in his role as protector and provider.
If you have not yet begun your preparation, we still have Fr. Calloway's book in stock. More consecration dates will occur throughout the year.
Why Consecration to St. Joseph? He is the patron of Fathers, the Patron of Families, and the Patron of the Universal Church, all of which have been suffering great persecution and division in recent times. AND he's the terror of demons, the source of so much of our suffering. Now is the time for our Spiritual Father to take our hands and guide us in becoming more holy.
Two framed prints of St. Joseph available in our shop!
If you did not begin this time, please know that your preparation for consecration can begin anytime throughout the year, with the general practice of aiming to complete the 33 day preparation on a Marian feast day and then consecrating oneself individually. Books can be purchased in the bookstore.
A Procession of Angels for Our May Crowning?


IF, for what would probably be the first time in our 46 year history, we are not able to host a May Procession and Crowning of the statue of the Blessed Mother, we have an alternate plan which will ensure that Mary is honored in a unique and special way this year. But we would need your help!

Pray the Rosary every day this month, and imagine every Hail Mary you pray as another rose you gather for Mary's crown. Then ask your Guardian Angel

to come in your place, carrying all your prayer roses. What a procession it will be! And when the angels weave all the beautiful roses together, what a lovely crown they will make, invisible perhaps to human eyes, but glorious in Heaven!
Memorial Day - Never Forget




Monday, May 25th




We would never allow this day to pass without pausing to give thanks for those who so selflessly laid down their lives for us. Because of them, we have enjoyed freedoms that much of the world could only dream about. We will always be grateful and ever

honor these brave soldiers who have gone before us, whether they passed long ago or recently. Perhaps, by the end of May, we may be able to come together to honor them, if only outside at the grotto.
The Flame of Love Prayer Cenacles are Video Conferencing, and You're Invited!

Our wonderful Flame of Love prayer group cenacle is now able to meet virtually! If you would like to learn more and receive instructions, contact Board Member Ada Vergne for more information. These cenacles (prayer groups) pray for the Flame of Love of the Immaculate Heart of Mary, which is Christ Himself, to be enkindled in our hearts and bring about a new Pentecost. Learn more about this powerful and growing devotion HERE.
May Special Feasts
1 - St. Joseph the Worker
2 - St. Athanasius
3 - Sts. Philip & James the Lesser
7 - St. Stanislaus of Krakow
8 - Apparition of St. Michael
9 - St. Damien of Molokai
13 - Our Lady of Fatima
14 - St Matthias
15 - St. Isadore the Farmer
21 - Ascension of Our Lord
22 - St. Rita of Cascia
24 - Our Lady, Help of Christians
26 - St. Philip Neri
31 - Pentecost, The Visitation & Queenship of the Blessed Virgin Mary

Need a May Magnificat?
Or do you know anyone who can't access the resources online? We have plenty here still in stock and FREE with any $5 purchase! Contact us to reserve your copy.
OLC BOOKSTORE & GIFT SHOP
*We are a non-profit. All sales go towards supporting the Shrine!
(And we need your support more than Amazon does)
______________________
Taking Phone & Email Orders
MANY ITEMS NOW ON SALE!
Can't go shopping? Never fear! You have a personal shopper. Call 240-581-8013 for suggestions. She'll text you photos and help you decide on the perfect gift. Pay over the phone, and she'll get it delivered.
Mother's Day is Sunday, May 10th!
Here's a selection of items we carry that Mom will love:
Stone Coasters, Chocolates, Lourdes Water Lotions & Soaps, Coaster Mugs, Mystic Monk Coffees, Holy Land Stones, Sterling Silver Medals & more!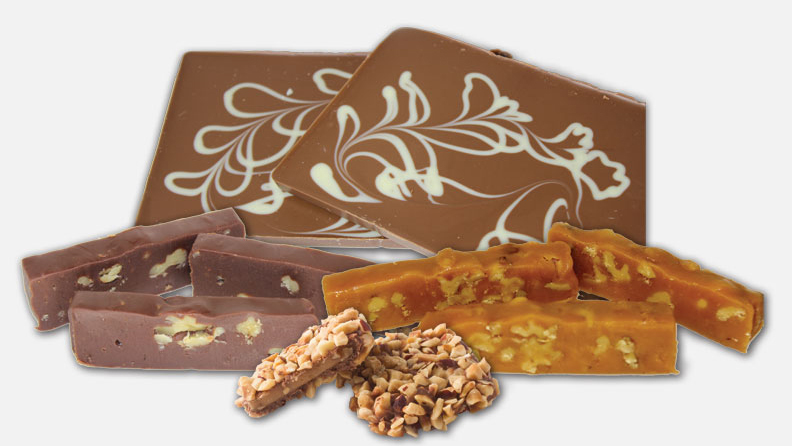 Trappistine Chocolates & Candy
Trappistine Candy is always a hit! We have all the favorites in stock, as well as a limited supply of Assortment Boxes containing a scrumptious selection of Butter Nut Munch, hand-decorated Chocolate Bars, Chocolate Walnut Fudge and Maple Walnut Penuche, all beautifully boxed.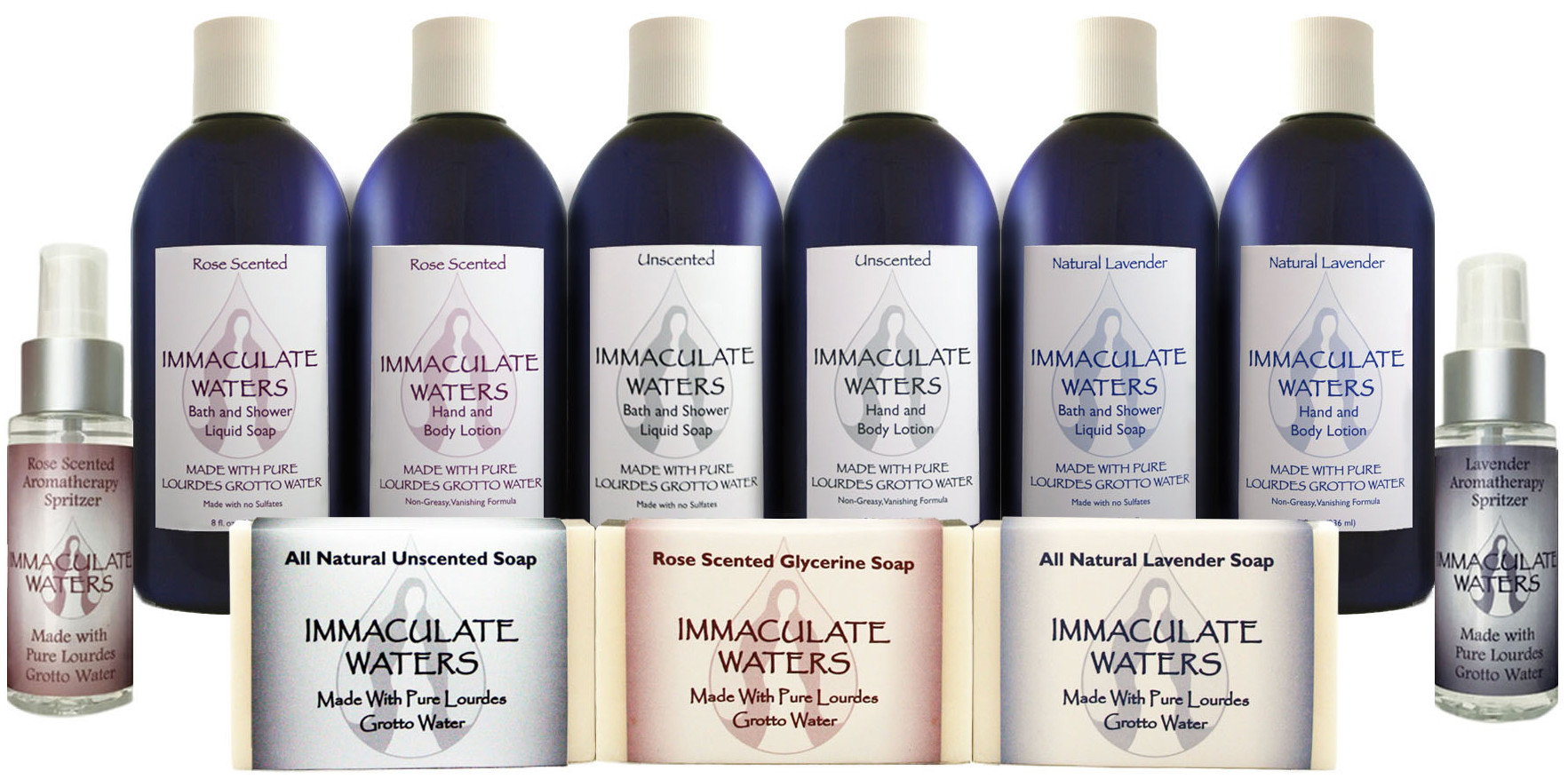 Rose & Lavender Scented Soaps & Lotions
Made with Lourdes Water
Immaculate Waters is a small family business that created these products as a way for those without access to the Grotto of Lourdes to follow the words of Our Lady to St. Bernadette: "Go to the spring, drink of it and wash yourself there." A loving and soothing gift for mothers.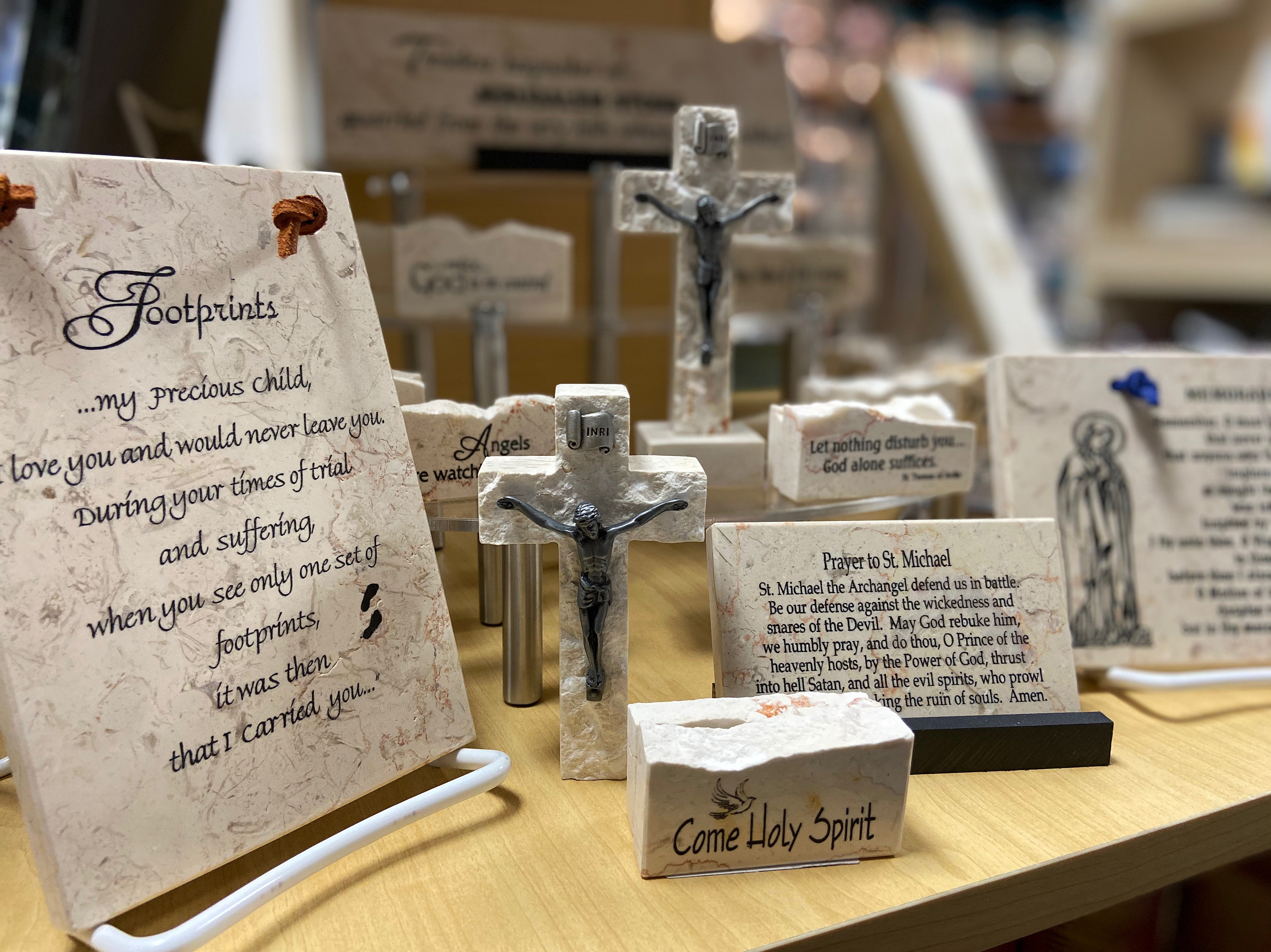 Holy Land Stone, quarried from the hills of Jerusalem where Jesus walked, and manufactured in the USA, complete with Certificate of Authenticity and velvet gift bag.
A huge selection of Sterling Silver Miraculous Medals, Crucifixes, and Saint medals!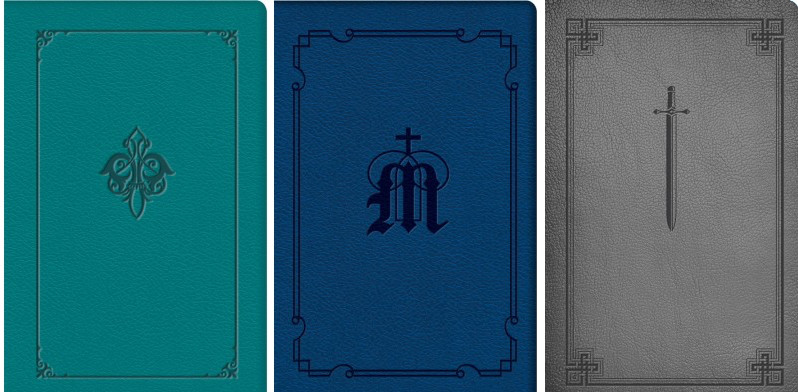 Premium UltraSoft Gift Edition Manuals
Along with flowers and candy, give the mothers in your life one of these attractively bound, fantastically practical manuals published by Tan: The Manual for Women (NEW), the Manual for Marian Devotion & the Manual for Spiritual Warfare. Yes, mothers are called to be generals in spiritual warfare and the great battle for souls. Our brave, fearless Blessed Mother shows us the way. These beautiful Premium UltraSoft gift editions feature ribbon markers and silver edges.
4 Ways to Continue to Support Our Lady's Center
Through the last 46 years, countless patrons have paid it forward to help this little family apostolate grow and thrive, ensuring that countless lives and hearts would be touched by the gentle hand of Mary through our efforts. If you are so moved, please consider helping us continue this beautiful legacy which is needed perhaps now more than ever. Help us continue our mission to bring people to Christ through Mary. We are registered 501 (c)3 non-profit. Thank you, and God bless you!
Set up a Monthly Electronic Donation. Any amount will help! Contact us for details.

Purchase a Gift Certificate to use in the future. We'll mail it to you or to a loved one anytime.

Make a donation through PAYPAL anytime.
Amazon Smile: Choose Our Lady's Center as your charitable organization HERE ​when shopping for anything we don't carry. Amazon smile is the same as Amazon, same products, prices, service, but with the additional benefit that a percentage of what you buy goes to OLC. Every little bit helps!
NOTE THE HOURS AND EVENTS BELOW ARE OUR NORMAL SCHEDULE AND HAVE BEEN TEMPORARILY SUSPENDED DUE TO COVID-19.
Store Hours
Monday - Thursday: 10:00 am - 4:00 pm*
Friday: 10:00 am - 7:30 pm*
First Saturday: 10:00 am -10:30 am; 12:30 pm - 2:00 pm
*Please note that the store is always closed during the noon Mass
Chapel Hours:

Holy Sacrifice
of the Mass

Monday-Friday: 12:00pm
Friday night: 7:30 pm
1st Saturdays: 10:30 am

Rosary


Monday-Friday: 11:30 am



Confessions


Following all Masses



Adoration


Friday: 12:30 - 7:30 pm

Friday Night Devotions



Holy Mass: 7:30 pm
Followed by: Confessions, Rosary, Divine Mercy Chaplet, Adoration of the Blessed Sacrament and Benediction
| | |
| --- | --- |
| Our Lady's Center Marian Shrine is a Catholic lay apostolate within the Archdiocese of Baltimore located outside of Baltimore, Maryland in Ellicott City. We offer the Holy Sacrifice of the Mass and confessions upstairs in our chapel each weekday and on first Saturdays. Downstairs in our beautiful store, we carry a large selection of Catholic books and religious articles to meet every need. We have many events and activities throughout each month. | |