Daily Masses at 12:00 Noon, Monday-Friday
We are now completing two months of outdoor Masses since reopening, and only once did we move inside due to threat of rain. We have been having excellent turn-out. For the time being, we will continue
outdoor Masses
, as our numbers have been far above what is allowed in the Chapel under current social distancing directives.
However, if conditions outside are far less than ideal, we may make a last-minute decision to move inside, depending on number of attendees.
Seating is on a first come basis in that case, and we ask everyone's understanding as we continue to navigate these unusual times.
Confessions are held at the picnic tables following Mass, weather permitting
Eucharistic Adoration in the chapel on Fridays following Mass until as long as the priest can stay.
Call ahead or text us at 240-581-8013 if storms are threatening. Please bring a folding chair if you would like to sit, a hat or umbrella, and a face mask. Park in the front parking lot or the right side of back parking lot (back in). There are parking assistants to guide you and instruct you from there. Please observe all directions for everyone's safety. Also, if the day has a high heat index or poor air quality and you are at risk, consider it probably best to stay home and do a spiritual communion. Know that we will keep you in prayer.
Thank you to all who are helping to support our Center by shopping our Bookstore and Gift Shop and through direct donations. Our hearts are overflowing with gratitude!
Annual 2000 Hail Marys Day of Devotion on the Feast of the Assumption
Saturday, August 15th, 7:30 am - 5:30 pm
Come pray this powerful devotion h
osted by the Legion of Mary, Our Lady Undoer of Knots Praesidium,
in OLC's chapel on the Feast of the Assumption! Although not a holy day of obligation this year as it falls on a Saturday, this is a beautiful way to honor the Blessed Virgin on her feast day. The day will begin with 7:30 am Mass and continue with the Exposition of the Blessed Sacrament and devotions throughout the day, ending tentatively around 5:30 pm with Benediction. The devotions begin with praying a complete Rosary, then each of 20 petitions is read and followed by 100 Hail Marys. Seating is limited. If you wish to lead a petition, contact us for a Sign-up Genius link.

REGULAR MONTHLY ACTIVITIES

Flame of Love Prayer Cenacle

s are Video Conferencing
Our wonderful Flame of Love prayer group cenacle has been meeting virtually. If you would like to learn more and receive instructions, contact Board Member Ada Vergne for more information. These cenacles (prayer groups) pray for the Flame of Love of the Immaculate Heart of Mary, which is Christ Himself, to be enkindled in our hearts and bring about a new Pentecost. Learn more about this powerful and growing devotion HERE.
Another Little Miracle of the Scapulars
Some of you may recall how, five years ago, a large bag of new scapulars was left on our front steps and how, later that day, a woman came in looking for a lot of inexpensive scapulars to donate to poor children in Tanzania. We knew the scapulars were meant for her and gave them to her at once. We dubbed that incident in the newsletter as the Miracle of the Scapulars. Read more below
Well, we had a new Miracle of the Scapulars a couple weeks ago. A gentleman dropped off several boxes of scapular making materials which had belonged to his mother, including wool, thread, cord, images of Mt Carmel and brochures. We had planned to have a scapular investiture on the feast of Our Lady of Mount Carmel after Mass the very next week and had figured we would just buy and donate scapulars to anyone who needed one. You can only imagine how amazed we were when we dug into the boxes a couple days before the investiture to find 54 new, individually bagged handmade scapulars with brochures all perfectly ready to be handed out, as well as a stack of investiture prayers. As it turns out, we had exactly enough for every Mass attendee who wanted one! This is how the Lord provides here at OLC, through the promptings of the Holy Spirit upon good souls to give what others need. We are ever filled with awe and wonder at the goodness of the Lord! God bless those gentle hands that made so many scapulars. Perhaps one of our patrons may wish to pick up on her beautiful ministry. If so, let us know! We have a nice head start on the supplies.
The original as published in the October 2015 Newsletter
When is a Donation an In-Vestment?
One of our very dedicated patrons and volunteers, who wishes to remain anonymous, has completely covered the cost of five brand-new embroidered priest vestments from Poland. Along with a complete set of liturgical colors, we received also a beautiful new Marian vestment. We are so very grateful, and our priests feel very appreciated.
A Wonderful First Saturday Patriotic Rosary
Is patriotism virtuous? Rightly ordered patriotism most certainly is. More HERE.
Many patrons joined together to offer prayers united with First Saturday devotions in deep
gratitude for all our blessings and freedoms and with heartfelt petition for the protection of all those who lead, serve, defend and reside in our nation. Here are photos of our two most patriotic attendees. Please continue to pray for our beloved nation. You can download Archbishop Vigano's prayer for the United States, which we are praying after every daily Mass, HERE.
1 - St. Alphonsus Liguori
4 - St John Vianney
5 - Dedication, Basilica of St. Mary Major
6 - Transfiguration of Our Lord
8 - St. Dominic
9 - St. Teresa Benedicta of the Cross
10 - St. Lawrence
11 - St. Clare of Assisi
12 - St. Jane Frances de Chantal
14 - St. Maximilian Kolbe
15 - Assumption of the Blessed Virgin Mary

16 - St. Stephen
20 - St. Bernard of Clairvaux
21 - St. Pius X
22 - Queenship of the Blessed Virgin Mary
23 - St. Rose of Lima
24 - St. Bartholomew
25 - St. Louis IX, King of France
27 - St. Monica
28 - St. Augustine
29 - Passion of St. John the Baptist

IN THE BOOKSTORE*
*We are a non-profit. All sales go towards supporting the Shrine!

Liscano Statues, Plaques and Holy Water Fonts are back in stock!
These lovely pieces are handmade and painted in Colombia, South America by the widows of the drug wars. Help them support their families. These affordable pieces fly off our shelves whenever we get them in, so hurry in for best selection. We only received one of most of them.
New from Catholic Sprouts!
| | | |
| --- | --- | --- |
| A beautiful study of the saints and the virtues they exemplify. Young people will love it. | Oh how cute is this? Cross stitch all your favorite saints! 170 different holy characters! | A four board book set in a slip cover with vibrant images for all of the mysteries and simple text for new readers. A beautiful way to train up your children in the praying of the rosary. |
They're Here! 2021 16-Month Saints Spiral-Bound Planners
These planners begin in September (which is next month!) and are hugely useful. Always a top seller...and never need charging. We are also expecting the 2021 Wall
Calendars, three styles loaded with beautiful works of sacred art to gaze upon throughout the coming year.
| | |
| --- | --- |
| America on Trial: A Defense of the Founding. Rational order and Reason Incarnate (Logos, the Christ). One can't defend what one does not understand. | The Liberty Threat: The attack on religious freedom in America today is something we cannot ignore. |
| | |
| --- | --- |
| Defending Boyhood: Enter into the world of boyhood. It just might change the lives of the boys you love. | The Manual for Marriage is the latest addition to the popular Tan Books series of leatherette-bound manuals. |
Christine Watkins' Books Keep Selling Out
More are arriving. Purchase or pre-purchase yours now.
We are all aware how unsettling are these times. But there is great hope, and this may be a sign. The Warning by Christine Watkins is a highly acclaimed book offering the most thorough understanding to date of "the Warning," or "the Illumination of Conscience"—a critical moment in human history when every person alive will see their soul in the light of divine truth—including fascinating stories of those who have already experienced it for themselves.

Mrs. Christine Watkins, MTS, LCSW, is an inspirational Catholic speaker, author, and radio and tv host. Formerly an anti-Christian atheist, she began a life of service to the Catholic Church after a miraculous healing from Jesus through Mary, which saved her from death.

This is a Marian consecration that people don't want to see end. Healing miracles, reunited families, and Catholic conversions are resulting from this self-guided retreat. It offers an outpouring of grace upon your life and loved ones and comes to us in most tumultuous times. Today it is important that we consecrate ourselves to the Mother of God--entrusting our lives to her protection, guidance, and care, and inviting her to conform us to the likeness of her Son. There is so much need and brokenness in the world, in the Church, in our families, and in our hearts. By preparing for consecration through the power of the Rosary, a little fasting, and a two-minute reading of a beautiful daily meditation on a virtue or gift of the Holy Spirit, we can expect heaven's help.
Summer Reading Special
EXTENDED!
AUGUST NO-CLIP COUPON:
Summer Reading Special:
Buy 5 or More Books and Get
15% OFF
ALL of Them!
No coupon necessary. Valid on regularly priced, new, in-stock books only. All books must be purchased at same time for discount. Not valid on previously purchased books and discounted books. Some exclusions apply. Not valid on booklets, select liturgical publications. Cannot be combined with other coupons or discounts.
Expires 08/31/2020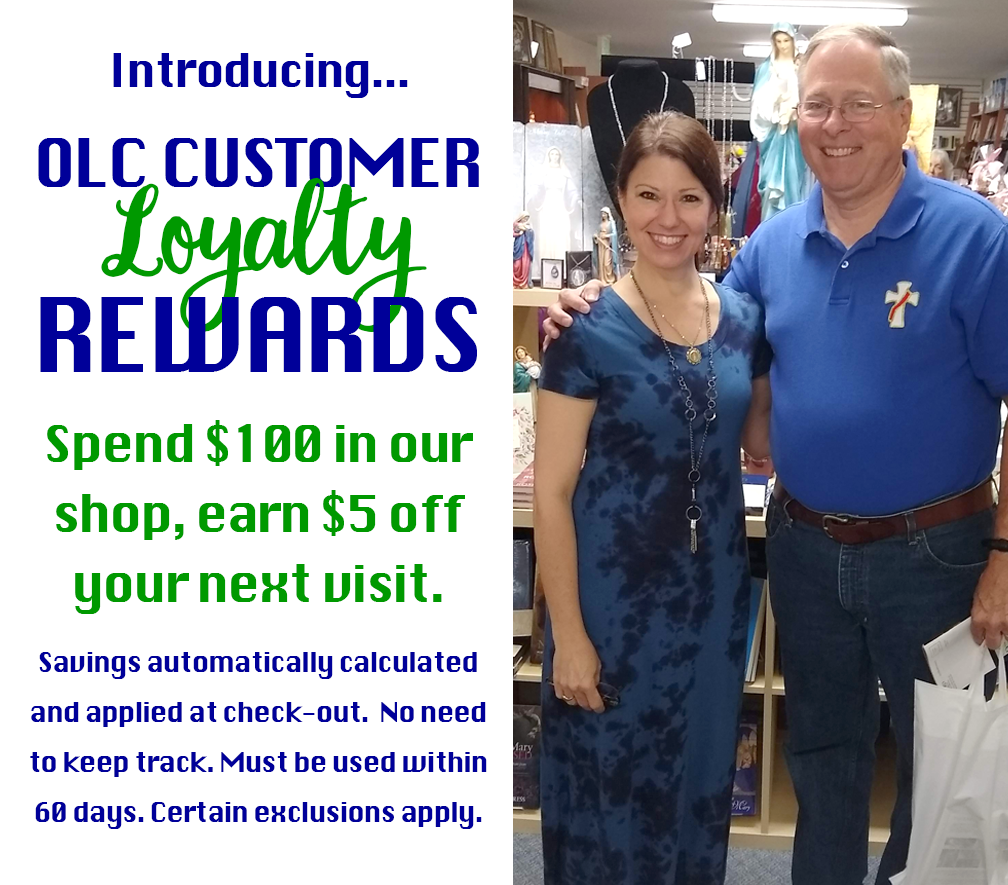 Dear Patrons, we are so appreciative of your support, especially during these trying times. Our Rewards Program, which we recently launched, is just a little way we can thank you for all you do for us and to encourage you to keep coming back. We can't tell you how much we miss seeing some of you and look forward to seeing you very soon. This photo was taken pre-Covid, by the way, so you can see how happy I am to greet a familiar face. Dcn. Stephen Roscher, and all ordained priests and deacons and consecrated religious receive a special discount at OLC, as well, another reason to smile - Mgr. Christine