SUMMERS OVER!
Now that the kids are back in school and its time for you to learn a hobby. We have openings in all our classes. We can also create a class or a project for your private group. While in Phase 2 we can have up to 8 people in the studio at a time. We are cleaning daily and you must wear a mask. Please Follow the links on the classes below to register and to get more information.
See you soon!
Eric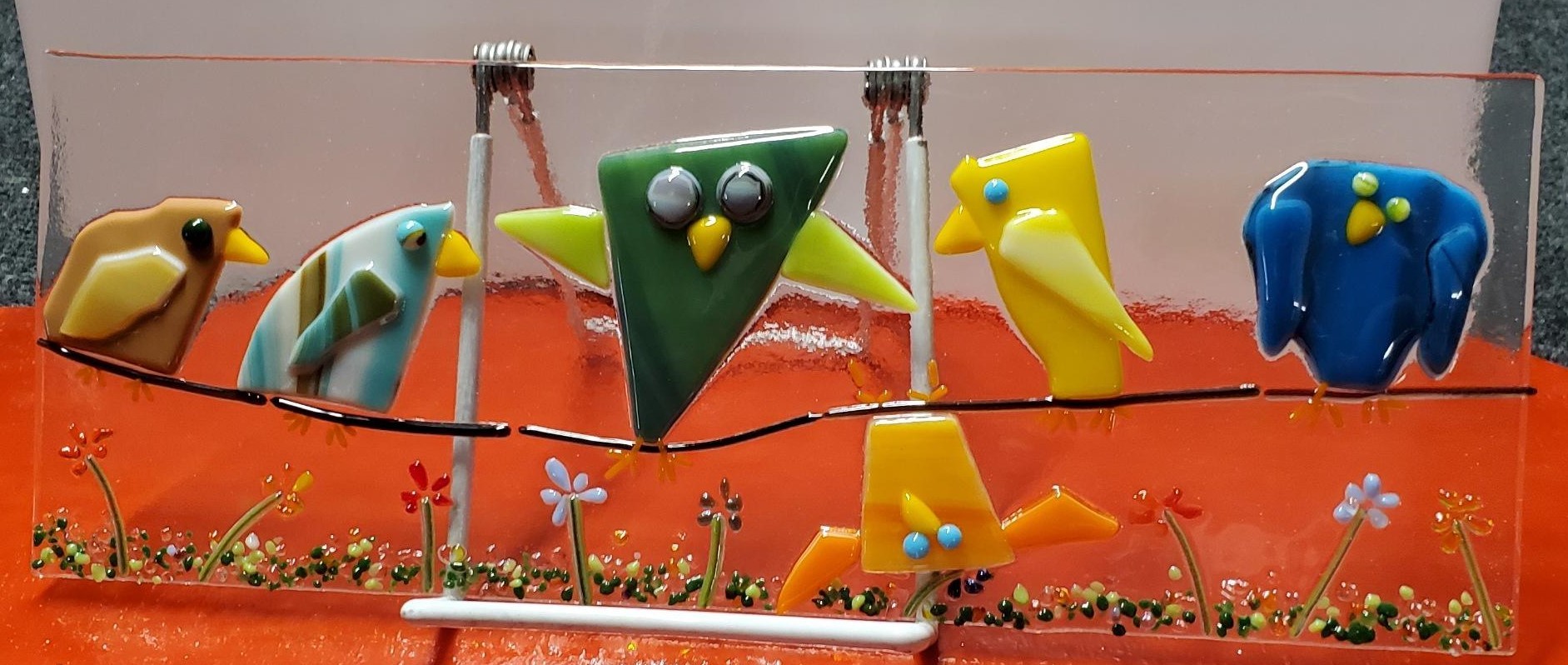 Looking for a fun Project?
Any time we are open you can come make this

Birds on a Wire

panel. Maybe a group of 4 or more for a private glass session? We also have it Scheduled as a Class Tuesday,

September 18th, 6:30-8:30pm. This class will sell out fast. We can accommodate up to 6 students.
Introduction

to Mosaics

3 sessions
$90.00
September 19th
October 3rd
October 17th
10am - 12:30
Take up this versatile, easy-to-learn ancient art of painting with glass, ceramics, metals and pottery pieces to create a design that is uniquely your own.
Class Fee includes scrap glass and your project bases and grout .

Introduction to Glass Fusing

Three Weeks to Learn & Create


$135 Plus Glass for Each Project (About $50.00)
Two Firings Per Session are Included

Three Saturdays:


September 19th
October 3rd
October 17th


from 1:30 - 4:00 pm
Basic Glass Cutting

101

Saturday, September 12th

10am -12pm

And the Following Saturdays from 10am-12pm

9/12, 9/26 & 10/10

This is a mandatory class for Stained Glass, optional for Introduction to Fusing students.

Basic Stained Glass 101 Weekly class on Thursday evenings. Bi-weekly classes on Saturday Afternoons.
Follow the link above for all the class information.


Intermediate and Advanced class available on request
Walk in Fusing Center
Open when we are!
We are limited to 8 people in the store at one time.
MASK REQUIRED!

Get a Gift Card Here
All Included Class Certificates as well as $25, $50 and $100 are available. No PayPal Fee on these certificates.
Contact the shop and we can make you a custom Gift Certificate.
Store Hours
Please call for Curbside Pick-ups
Studio Hours
Tuesday thru Friday 10am-4pm
Saturday 10am-1pm
318-742-6555

Ed's Emporium Art Glass Studio has been in the art glass business in the Bossier City / Shreveport, Louisiana area for over 39 years. We have the largest art glass and lead came selection in the Ark-La-Tex and carry a full line of tools and glass to compliment the wide variety of classes that we offer. We are a System 96 dealer.

WE TEACH GLASS!