410-461-5066 • 240-581-8013​ (C)

3301 S. Rogers Avenue, Ellicott City, MD 21043

Turn between the blue mailbox and guardrail
and follow our lane to lovely oasis of peace! www.ourladyscenter.net • email@ourladyscenter.net
"To Jesus through Mary"
OLC open Mon-Thurs 10am-4pm & Friday 10am-6pm. Bookstore closed for noon Masses.
Closed on weekends except First Saturdays 10-2, Mass at 10:30.


WE WILL BE ALSO BE OPEN SATURDAY 10/31! See details below.

October is dedicated to the Holy Rosary, our spiritual weapon.
"One day, through the Rosary and the Scapular, Our Lady will save the world."
~St. Dominic.
Come pray the Rosary 11:30 am Monday-Friday, prior to 12:00 noon Mass.
OLC Weekday Mass Info:
Monday-Friday, 12:00 Noon outside
(As weather permits. Text 240-581-8013 for latest weather announcement)
When outside: Bring a chair and a hat or umbrella for the sun. If Mass is moved inside, we cannot reserve seating. Please come early if you can. Indoor Masses will be streamed into the conference room for overflow. Bring a mask. If you feel unwell, consider yourself at risk, or if you are anxious about being around others at this time, please consider attending Mass online or at a larger church. We are taking reasonable precautions and safety measures.
Roadwork Announcement




Good news! A long anticipated and much needed stream management project, which will address the significant bank erosion along our lane and front parking area, will be commencing shortly. Surveyors will be laying stakes and setting up temporary fencing along our front parking area for their equipment this week. This work will affect our lane and parking area for some months and will at times affect the flow of traffic. We will attempt to remain open and operational throughout the duration. Please be patient and allow a few extra minutes of time when coming to Mass. And please continue to support us through this challenging time.
Holy Hour of Reparation to the Sacred Heart
before the Blessed Sacrament


RESUMING ON SECOND FRIDAYS OF THE MONTH


Friday, October 9th
following 12:00 Noon Mass. Booklets provided


In light of the affronts against God and his creation which are being perpetrated and increasingly promoted in our world, we are again making this powerful devotion a regular activity. Come join in these vocal prayers of thanksgiving and reparation to the Blessed Trinity and especially our Savior, prayers through our dear Blessed Mother, and all the saints for unity in the Church, for sinners of all types, for a just and lasting peace in the world and more!
America Needs Fatima Rosary Rally
at Ellicott City Police Station
Saturday, October 10th, 12:00 noon


Rogers Ave and Courthouse Dr.




(Mass at 11:00 am at Our Lady's Center)




Please note that OLC will not be hosting a rally on this day. Instead, please join the annual America Needs Fatima Public Square Rosary Crusade which will be held outside of the Ellicott City Police Station right down Rogers Avenue. There is plenty of parking. This location is the perfect choice, considering the level of demonic violence directed at our brave law enforcement officers who daily put themselves in harm's way to defend us.





America Needs Fatima Rosary Rallies are always held on the Saturday closest to the date of the last apparition of Our Lady of Fatima and the Miracle of the Sun. There will be thousands of rosary rallies in cities all across America,. Last year, there were more than 21,000 groups of faithful Catholics simultaneously praying for our country and the world! Please pray for peace and the conversion of hearts.
Defend Life Speaker Series:

Talk by Kevin Wells:


"The Priests We Need to Save the Church" Friday, October 16th, 1:00 pm This will be Kevin's third time visiting us, and we couldn't be more pleased to welcome him back. He is the author of "The Priests We Need to Save the Church." Our regular priests who have read his book have given it glowing reviews. They say it convicted them in their weaknesses, deepened their faith, and reaffirmed their commitment and determination to be holy. Kevin's uncle, Msgr. Thomas Wells, was brutally murdered in Germantown MD 20 years ago.

RSVP's are requested. The talk will take place outside following noon Mass, followed by question and answer and, as always, a lively discussion. Refreshments will be available. If rain threatens or temperatures are too chilly, the talk will be moved to the chapel. As Exposition is usually taking place during this time in the chapel, plans may need to be adjusted accordingly, and we ask everyone's understanding as we make necessary adjustments.
Novena to the Holy Face of Jesus
Thursday, Oct. 22nd through Friday, Oct. 30th after all 12:00 noon daily Masses*
Please join us as we pray the Novena to the Holy Face as our nation prepares to go to the polls in a very contentious election. We will be praying for our Lord Jesus Christ to cover us in his precious blood, to protect us from all manner of evil and threat of turmoil. We will pray before the blessed image of the Holy Face which was installed in our chapel in 2016. This image is the very same one to which St. Therese was dedicated and is a reproduction of the image known as "Vera Effigies" of the veil of Veronica.
*As we are closed on the weekend of October 24 & 25, please continue to pray the Novena on your own those days.
Rosary Rally for a Peaceful Election Saturday, October 31st, 9 am

Please join us for a special Saturday beginning with Holy Mass at 9 am, followed by Exposition of the Blessed Sacrament, the Rosary Rally, and ending with Benediction. We will b

e of­fering reparation for the sins and offenses com­mitted against the Immaculate Heart of Mary and to fervently pray for the protection of those running for office, a peaceful election, and the conversion of the United States.

The Bookstore & Gift Shop will be open 10-2 for your shopping convenience. If you stick around, you may spot a few little saints. We will have the Celebration of Saints (see below) on the same day!
Our Lady's Celebration of Saints
Saturday, October 31st, 11 am - 12 noon
Calling all our tiniest saints in the making! Little Marys and Josephs, Clares and Francises, Thereses and Patricks and Roses and Nicholases. Come to hear Mrs. Ginny read stories about saints, do a craft, get a treat, and join in a parade of saints! Since All Saints Day falls on a Sunday, we figured we would host the event on the day before, all Hallow's Eve.

Parents, there is time to get a costume together, but it is not mandatory. Also, any child who would like to tell us about their special saint is encouraged to do so! We will hold the festivities outside, weather permitting, so dress appropriately. Our back up plan will have us moving indoors and observing appropriate safety measures.

Bookstore will be open 10am - 2pm.
Every child will get a FREE Holy Card.
TINY SAINT SPECIAL: BUY FOUR, GET ANOTHER ONE FREE!
Flame of Love Cenacle

s

Tuesdays at 10 am, Thursdays at 10 am & 3 pm. These prayer groups meet in the Chapel to pray for the Flame of Love of the Immaculate Heart of Mary, which is Christ Himself, to be enkindled in our hearts and bring about a new Pentecost. There is no denying that this is what our broken and hurting world needs. Learn more about this powerful and growing devotion HERE. Contact Board Member Ada Vergne for the materials and to sign up. Live streaming available for those who cannot attend in person.
Please Join the 40 Days for Life Campaign to End Abortion
40 Days for Life is the largest internationally coordinated pro-life mobilization in history, helping local communities end the injustice of abortion and saving over 16,000 babies from the cruel fate. The Fall campaign runs September 23th - November 3rd. Please consider signing up for a time slot at a location near you. Learn more about it HERE.
SAVE THE DATE:
1000 Hail Marys Day of Fasting & Prayer on Election Day 2020
Tuesday, November 3rd


Once again, our country is facing an extremely important election. It is vital that those who affirm the sanctity of human life turn out and vote. Fulfill your civic duty, then come to OLC to spend some time in prayer and fasting before the Blessed Sacrament, imploring our Lord's protection upon the integrity of the electoral process and upon all those who seek to serve in truth and with integrity. The Blessed Sacrament will be exposed from after Noon Mass until the polls close in California, 10 pm EST.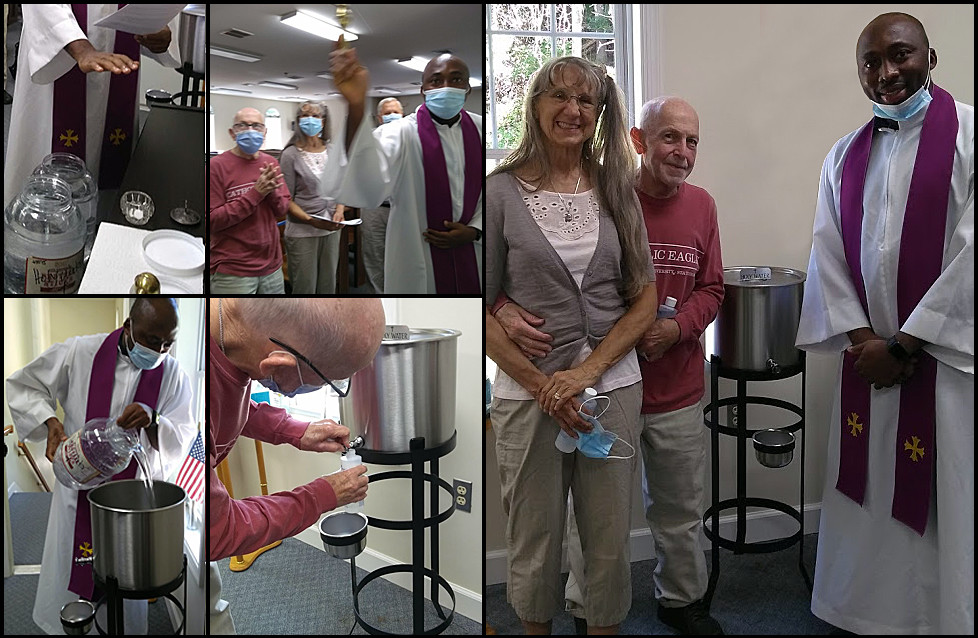 A New Holy Water Tank for the Chapel!
Many thanks to patrons Tom & Marsha Keiffer for donating the funds for a new holy water tank and stand to replace the old one, which had begun to corrode and leak. Fr. Ambrose blessed and exorcised the salt and water and then sprinkled those attending with the fresh holy water before filling the tank. Tom and Marsha were then the first to fill holy water bottles. Although they did not wish for attention, we are very grateful for their gift and begged to recognize them for it. Holy Water, as we all know, has become harder to acquire. We always keep a ready supply here at OLC. It is one of those things no Catholic home should ever be without. Holy water is a means of spiritual wealth. A sacramental that remits venial sin. The Church strongly urges its use, especially when dangers threaten. The devil hates holy water because of its power over him. He cannot long abide in a place or near a person that is often sprinkled with this blessed water.
"
"From long experience I have learned that there is nothing like holy water to put devils to flight and prevent them from coming back again. They also flee from the cross, but return; so holy water must have great value." St.Theresa of Avila

"By this holy water and by Your Precious Blood, wash away all my sins, O Lord.
A Little TLC for Our Lady's Grotto

Many thanks to all who have been donating so generously to our outdoor A-frame grotto restoration effort! Much progress has been made already, and the results are beautiful! The grotto, which houses a much loved statue of our Blessed Mother, has stood here for decades, predating our existing building, which was built after the original center burned down in 2001. New cedar shingles have replaced the old ones on the grotto's roof which had weathered so many years. With the blue background and the white stones which were added last fall, the effect is lovely. Come visit and spend some quiet time sitting with Mary in the peace of a golden autumn afternoon. The bench that is there says "Welcome," and you are!
A Newly Ordained Priest

Fr. Maurice surprised us by bringing along a newly ordained priest, Fr. Denning, also from Cameroon. He is serving in the Archdiocese of Buffalo, NY. and was in town on a visit. Fr. Denning, who was only ordained two weeks before, remembers visiting OLC a number of years ago and said he never dreamed he would be returning to celebrate Mass here. We were blessed to have him for two Masses and overflow confessions. He even blessed another batch of Holy Water for us. We made excellent use of his time with us. Please join us in wishing him well and praying for him.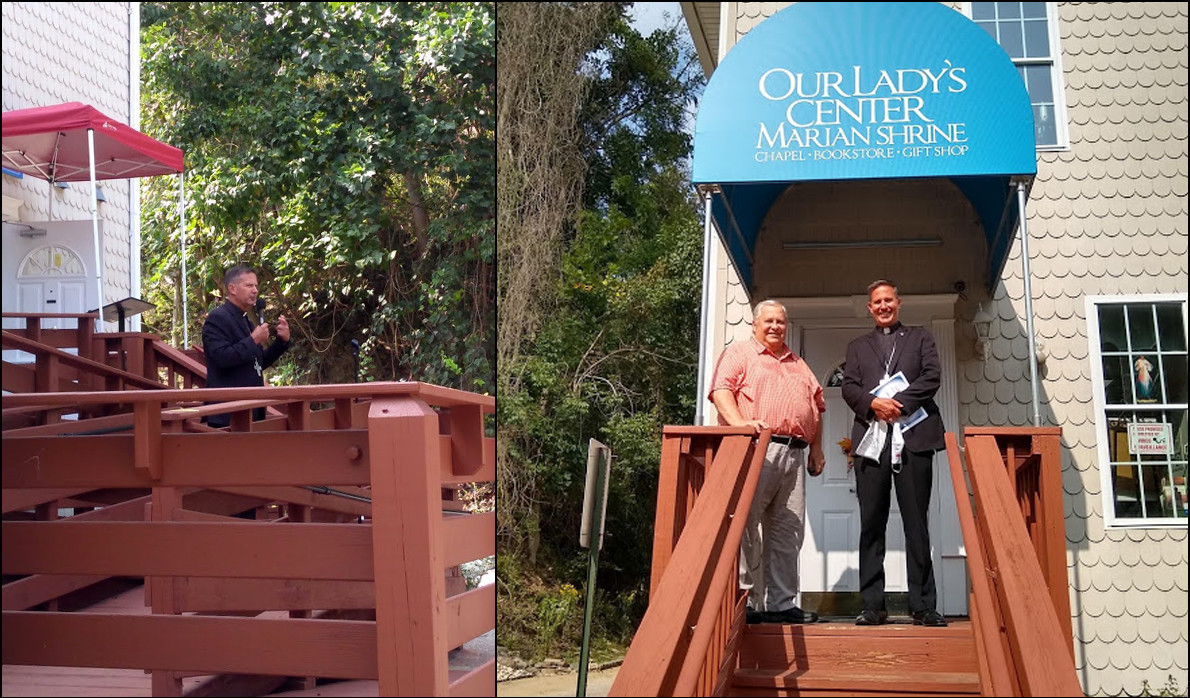 Bishop Joseph Coffey of the Archdiocese of the Military was very well received when he came to talk about his journey in the Pro-Life movement. It was a gorgeous early fall day, and the talk was held outside with over fifty in attendance. Bishop Coffey also found a unique and beautiful Miraculous Medal in our gift shop. He is shown above with President of the Board Jack Kissane, a Marine officer in retirement (Major).
Over 60 Prayer warriors have formed "Prayer Wheels"
to pray for the protection of our local law enforcement members & their families
We're trying to cover all 1400 State Troopers and 500 Howard County officers of 23 Barracks in prayer. Can you commit to praying anonymously one day a week for the protection of law enforcement officers and their families? This is not a political but spiritual battle. Praying is a necessary action that must be taken to effectively combat the unseen enemy of Christ who demands violence, chaos, and bloodshed. Those who are commissioned to protect the innocent and maintain order, those who act justly and are wrongly being targeted, need our prayers. Their family members, who are living under heightened fear for theirs and their loved ones' safety, need our prayers as well.

A Prayer Wheel is a group of seven people, each of whom is assigned ONE weekday to pray privately one Rosary and one Prayer to St. Michael the Archangel (the patron saint of police officers). At the end of each week, every day will have been covered in prayer. It is not a difficult commitment as each person has just one weekday on which to remember to pray. The number of prayer wheel groups is unlimited, and we hope the response is huge. There are no meetings, and there is no identifying of those who are praying or those for whom the prayers are being offered. For more information, contact Board Member Diane Andrews.
1 - St. Therese
2 - Holy Guardian Angels
4 - St. Francis of Assisi
5 - St. Faustina Kowalska,
Bl. Xavier Seelos
7 - Our Lady of the Rosary
11 - St. John XXIII

15 - St. Theresa of Jesus
16 - St. Margaret Mary Alacoque
18 - St. Luke
22 - St. John Paul II
23 - St. John Capistrano
28 - Sts. Simon & Jude

IN THE BOOKSTORE*
*We are a non-profit. All sales go towards supporting the Shrine!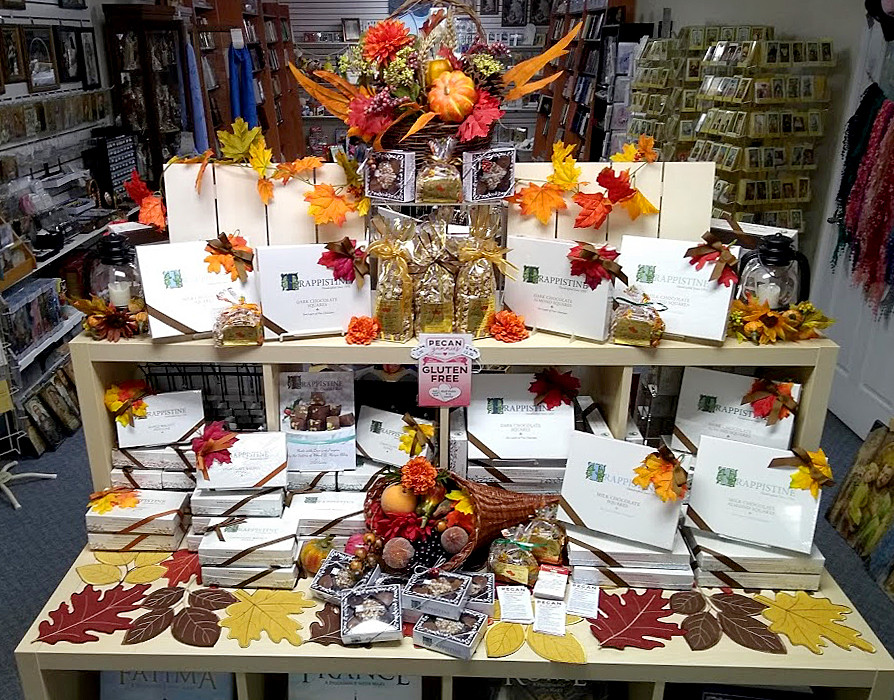 Cooler temperatures mean Trappistine Chocolates have arrived!
Get yours now before they disappear again. Milk Chocolate and Dark Chocolate Squares, with and without Almonds as well as Maple Walnut Penuche, Chocolate Fudge and Chocolate Walnut Fudge. We also now carry Pecan Yummies, and they are gluten free! All of these make wonderful hostess gifts as well as serving to lift the spirits of those we love during these challenging times.
2021 Theology of the Home Planners have Arrived!
A must for anyone who wants to bring more beauty, intentionality, and structure to home life, daily life, and life out in the world.
UPDATE: THEOLOGY OF THE HOME II HAS JUST ARRIVED!
| | |
| --- | --- |
| The Patriotic Rosary from Ghirelli is now in stock. Pick up yours now and pray for our nation. Every Hail Mary bead is one of the 50 states. | With all the confusion and identity politics out there, this handy guide helps Catholics inform our conscience before casting our votes. |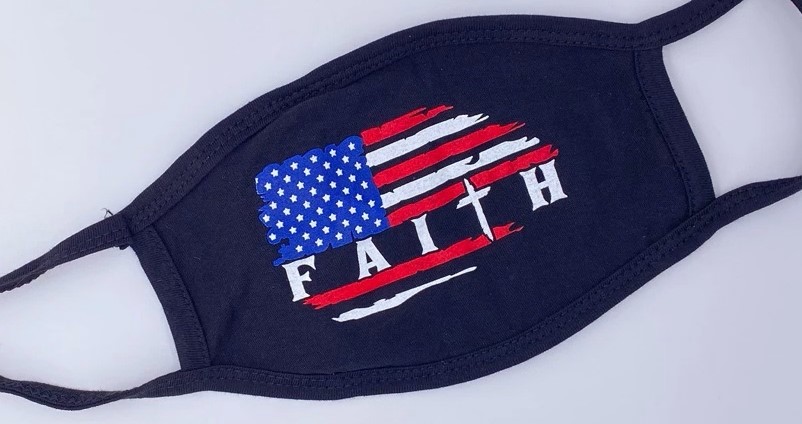 New Patriotic Masks!
Catholics love country like their mother and countrymen like siblings. The most loving thing Catholics can do for America is what Pope St. JPII did for his: bring Christ to it, and bring it to Christ.
NEW Books & Booklets Arriving Daily
2020 has shown us that life-changing emergencies can hit at any time. During times of personal, family or national emergency it may not be possible to have recourse to the sacraments or the assistance of clergy when we desperately need them. Fortunately, as this book explains, God in His providence has provided us traditional devotions for just such times.

In times of great turmoil, many look to the writings of Catholic mystics, such as that of

Anna Maria Taigi

, who spoke of three days of darkness. We can rest assured, as Our Lady of Fatima promised, that in the end her Immaculate Heart will triumph. Until then, it is not a bad idea to have blessed candles on hand. We carry 51% Beeswax 3 Day candles which you can purchase and have blessed by a priest.
We are considering preparing THREE DAYS OF DARKNESS EMERGENCY KITS (Blessed 51% Beeswax 3-Day Candle, Holy Water, Exorcised Salt, Blessed Oil, St. Benedict Medal, Miraculous Medal, Scapular, Prayers). They would be available for a donation to cover their cost. Please let us know if you would be interested).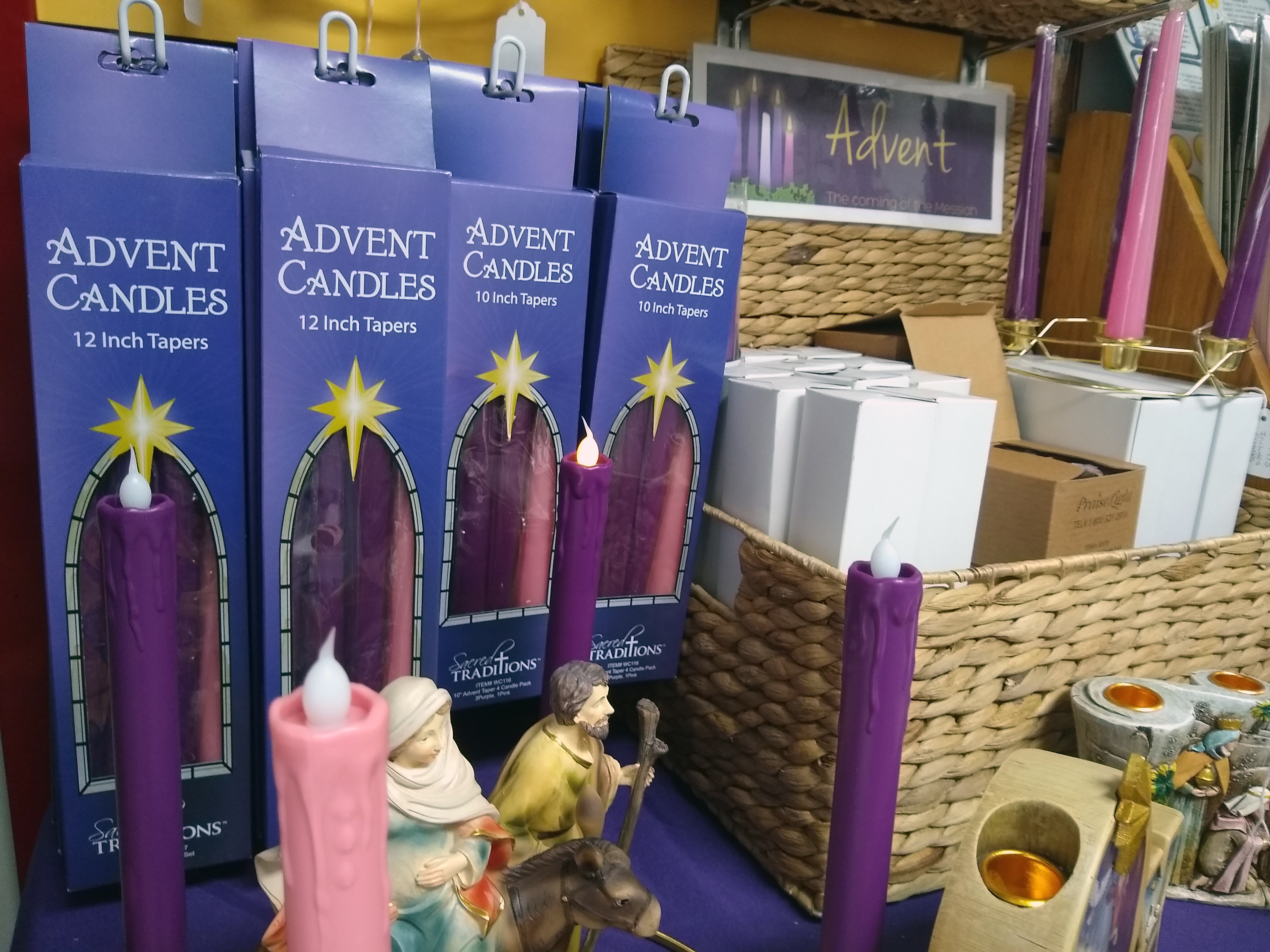 It's not too soon to think about Advent!
The coming of Christ should always be at the forefront of our thoughts, no matter the season. This photo is from a couple years ago as we are in the middle of arranging our display. Just keep us in mind for all your Advent and Christmas needs. We can order anything you need, as well.
2021 16-Month Saints Spiral-Bound Planners & Wall Calendars
The Spiral Planners begin this month September and are hugely useful. Always a top seller...and never need charging. The 2021 Wall Calendars come in three styles and are loaded with beautiful works of sacred art to gaze upon throughout the coming year.

OCTOBER NO-CLIP COUPON:

ONE IN STOCK ROSARY
15% OFF

No coupon necessary. Valid on in-stock items only. Previously purchased and discounted items excluded. Cannot be combined with other coupons or discounts.
Expires 09/30/2020
Ways to Help Support OLC:


Through the last 46 years, countless patrons have paid it forward to help this little family apostolate grow and thrive, ensuring that countless lives and hearts would be touched by the gentle hand of Mary through our efforts. If you are so moved, please consider helping us continue this beautiful legacy which is needed perhaps now more than ever. Help us continue our mission to bring people to Christ through Mary. We are registered 501 (c)3 non-profit. Thank you, and God bless you!

Set up a Monthly Electronic Donation. Any amount will help! Contact us for details.


Purchase a Gift Certificate to use in the future. We'll mail it to you or to a loved one anytime.



Make a donation through PAYPAL anytime.
Store Hours
Monday - Thursday: 10:00 am - 4:00 pm*
Friday: 10:00 am - 7:30 pm*
First Saturday: 10:00 am -10:30 am; 12:30 pm - 2:00 pm
*Please note that the store is always closed during the noon Mass
Holy Sacrifice of the Mass
Monday-Friday: 12:00pm
1st Saturdays: 10:30 am
​
Confessions Follow all Masses

Adoration Friday: 12:30 - 2:00 pm
Our Lady's Center Marian Shrine is a Catholic lay apostolate within the Archdiocese of Baltimore located outside of Baltimore, Maryland in Ellicott City. We offer the Holy Sacrifice of the Mass and confessions upstairs in our chapel each weekday and on first Saturdays. Downstairs in our beautiful store, we carry a large selection of Catholic books and religious articles to meet every need. We have many events and activities throughout each month.