Merry
Christmas

from Ed's Emporium!
Christmas is coming! It may look different in so many ways this year, but one thing that's still the same is that we appreciate each and every one of you. (Hopefully you feel the same!) We're having a 12 Days of Christmas Sale and that should make everyone happy! You'll get a deal and we'll get to see you! (Not to mention that if you buy from us instead of online, you help us keep our doors open which means you can pick our brains with questions when you come in. Win, Win, right?
Need a Home Project?
Go to the bottom of the page. Stained Glass and Fused Glass Kits Avalable!
Holiday Hours
Christmas Eve - Thursday, December 24: 10-1
Christmas Day - Friday, December 25: Closed
Saturday, December 26: Closed
New Year's Eve - Thursday, December 31: 10-1
New Year's Day - Friday, January 1: Closed
Saturday, January 2: Closed
Sheet Glass

20% off!
No cuts, please.
50% off Spectrum Glass Only

Molds

20% off!
Many to choose from
Solder

60/40: Sale $14.95 (reg $18.95)
50/50: Sale $12.95 (reg $17.95)

Glass Frit

Buy one, Get one 1/2 off
(Limit 3)
Copper Foil

Buy one, Get one 1/2 off
(Limit 3)

Lead Came

Buy 5, get one FREE!
(No Limit)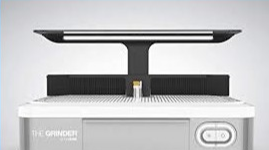 THE GRINDER
20% off
It's a great time to upgrade your grinder from the one you found at a garage sale, or to add another grinder. That way you have one with a coarse bit and one with a smooth bit and don't have to deal with changing them out. (Or one with a smaller and one with a larger bit. Whatever floats your boat.) Also, as I've heard from the big man himself, Santa loves to deliver glass grinders!
"Home Projects in a Box"





Stained Glass Garden Stakes





Cost: 1- $39.95


2 or more $35.00 each
Includes Glass and framing

MORE INFO

"Home Projects in a Box"





Fused Glass Garden Stakes





Cost: 1- 26.95




2 for $45




Includes fusing and stake

MORE INFO
Store Hours
Our Studio Hours
Tuesday thru Friday 10am-4pm
Saturday 10am-1pm
318-742-6555