410-461-5066 • 240-581-8013​ (C)

3301 S. Rogers Avenue, Ellicott City, MD 21043

Turn between the blue mailbox and guardrail
and follow our lane to a lovely oasis of peace. UPDATE: COUNTY STREAM RESTORATION PROJECT UNDERWAY ON PREMISES. USE CAUTION. www.ourladyscenter.net • email@ourladyscenter.net
"To Jesus through Mary"
Hours: Mon-Thurs 10am-4pm with Rosary at 11:30 am and Mass at 12:00 noon.
Fridays 10am-7:30pm with Rosary at 11:30 am, Mass at 12:00 Noon, Adoration from 12:30-7:30 pm. Friday evening Mass 7:30 pm followed by Exposition & Devotions until 9 pm.
First Saturdays only: Open 10 am -2 pm, Mass at 10:30 followed by Exposition & devotions.
Confessions follow every Mass. Bookstore always closed during Mass.
SNOW in the Forecast?
Call 410-461-5066 and press "5" for up-to-the-minute weather related announcements or check Facebook before heading out.
We will be open if possible and prudent. We do not follow County closings.

Our Lady's Center wishes you a very
Happy and Blessed New Year!
We dedicate the January newsletter to the Holy Name of Jesus. The name Jesus was given at God's command (Luke 1:31). It is all-powerful because of the Person Who bears it. We honor it because of the command of Christ that we should pray in His Name, because it reminds us of all the blessings we receive through our Holy Redeemer, and because through this devotion we also make amends for improper use of the Holy Name." At the Name of Jesus let every knee bow, of those that are in heaven, on earth, and under the earth and let every tongue confess that the Lord Jesus Christ is in the glory of God the Father.
​
NEW YEARS SCHEDULE:

OPEN Thursday, December 31st regular hours.

CLOSED Friday, January 1st, New Years Day.
Please celebrate New Years Day at your local parish, if possible to honor the Blessed Mother on this day, traditionally a Holy Day of Obligation.

OPEN this Saturday, January 2nd
for First Saturday Mass & Devotions.
​
First Saturday Mass
& Devotions
January 2nd, 10:30 am
Exposition of the Blessed Sacrament, Confessions & Devotions will follow Mass and end with Benediction. Shop will be open 11:15 am - 2:00 pm
Our Lady's First Saturday Promises

Join us in making reparation for the sins committed against the Sacred Heart of Jesus and the Immaculate Heart of Mary. Our Lord and Our Lady will grant you a peace beyond all understanding and guard your heart in these troubled times.
Introducing:
Universal Year of St. Joseph Wednesday Devotions! Every Wed. following 12 Noon Masses The world desperately needs the intercession of St. Joseph, patron of fathers, families, the Universal Church and the Terror of Demons! Prayers will be prayed with the purpose of receiving a plenary indulgence, other necessary conditions being met. Learn more about the plenary indulgences for the Year of St. Joseph HERE and how it all came about, through the efforts of Fr. Calloway and the Marians, HERE.

Additionally, every FIRST Wednesday of the month is especially dedicated to St. Joseph. Learn about the Nine First Wednesdays HERE.

Father Calloway's book flew off the shelves when it was released in 2019. We find it significant that the very last planned event we did at OLC last spring was to hold an outdoor Consecration to St. Joseph on his Feast Day before the pandemic shut everything down.
Holy Hour of Reparation to the Sacred Heart before the Blessed Sacrament


SECOND FRIDAYS OF THE MONTH


Friday, January 8th following 12:00 Noon Mass. Booklets provided


In light of the affronts against God and his creation which are being perpetrated and increasingly promoted in our world, we are again making this powerful devotion a regular activity. Come join in these vocal prayers of thanksgiving and reparation to the Blessed Trinity and especially our Savior, prayers through our dear Blessed Mother, and all the saints for unity in the Church, for sinners of all types, for a just and lasting peace in the world and more!
Eucharistic Adoration during the March for Life
Friday, January 29th, 12:30 pm - 7:30 pm
The 48th Annual March for Life in Washington DC takes place on January 29th. Whether in person or virtually, hundreds of thousands will take part, people of all walks of life who share the deep conviction that the sanctity of all human life must be defended for a just culture to exist. If you are not physically able to attend the March, please join us in spirit by coming to the OLC chapel that day anytime between our 12:00 Noon and 7:30 pm Masses to pray before the Blessed Sacrament for the cause of Life, that hardened hearts will be softened and eyes opened to the beauty and dignity that each human life inherently contains, from the moment of conception to natural death. If we see with the eyes of Christ, every single human life is infinitely valuable.
Flame of Love Cenacle

s

Tues. at 10 am, Thurs. at 10 am & 2 pm. These prayer groups meet weekly in the Chapel to pray for the Flame of Love of the Immaculate Heart of Mary, which is Christ Himself, to be enkindled in our hearts and bring about a new Pentecost. There is no denying that this is exactly what our broken and hurting world needs. Learn more about this powerful and growing devotion HERE. Contact Board Member Ada Vergne for the materials and to sign up. Live streaming available for those who cannot attend in person.
Christmas Basket Raffle Nets Over $3700 for OLC!
Our annual Christmas Basket Raffle was another enormous success! All the contents had been donated, so 100% of proceeds will go to support OLC. Thank you to all who donated items and to all who entered. We wish that every single one of you who entered could have won, but it is our hope that you at least feel rewarded in knowing that your kind, generous, enthusiastic support enables us to continue this unique and holy ministry of bringing people to
Christ through Mary.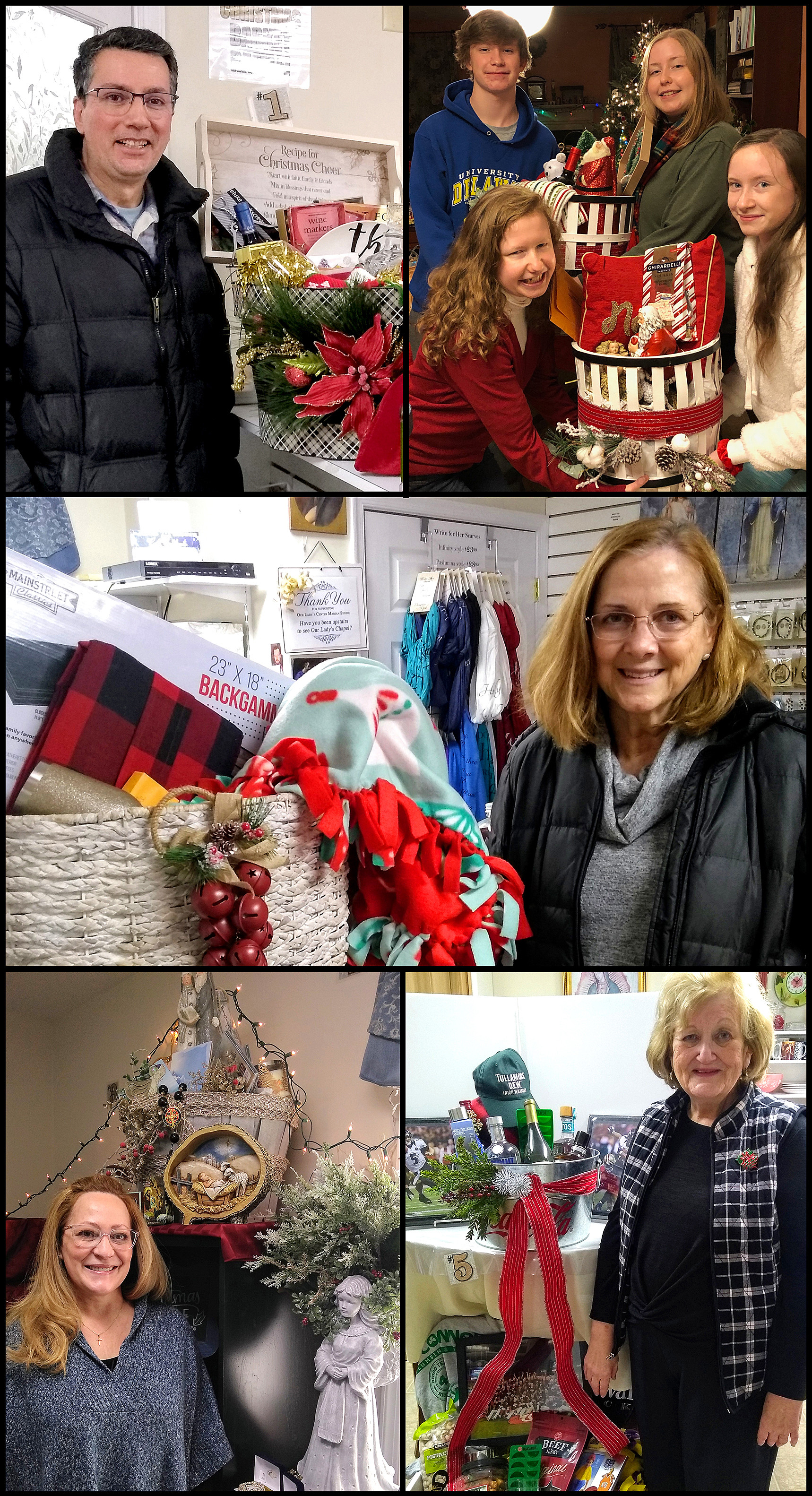 Raffle Basket Winners:
#1 Elegant Entertainer: Kevin Morgan. Amazingly,
he was also the winners of a Raffle Basket and cake that we raffled off five years ago!
#2 Family Game Night: Mary Matthews (center photo). This basket was created and donated by a patron who won a basket last year. The bearer of the first ticket drawn donated this basket right back again to spread the joy. It truly can be far better to give than to receive.

#3 Tis the Season: The Carey Family. The four children are pictured.They are absolutely delighted.

#4 Hark the Angels Sing: Lourdes Collazo. Incredibly, Lourdes entered the day the basket was drawn. She told the angel planter it would be hers, and she was right! (We really did mix up the tickets!)

#5 The Merry Man Cave: Elizabeth (Roxanne) Nash. Elizabeth says she has many sons and adult grandsons who are very happy she won. She feels especially blessed, as the day she won she had narrowly avoided a serious accident, praise God.

Our wonderful priests drew the winning tickets (after celebrating Mass and hearing confessions): Fr. Maurice Akwa, Fr. Emile Yuban, and Fr. Ambrose Onwuebuchulem are shown below. We are so blessed to have these devout, humble, joyful priests celebrating our Masses!
St. Nicholas's Virtual Visit
Thank you to all the families who joined us virtually for the annual visit from St. Nicholas. He enjoyed seeing all the children and telling them about his life, his love for the Lord and the joy of giving. He can't wait to return next year in person. And yes, we agree St. Nick bears an uncanny resemblance to our wonderful and devoted President of the Board, Jack Kissane.
Road Crew Comes Through!




One benefit of having Howard County working on the grounds for months on its stream management project is that they have taken on the responsibility of clearing the snow and ice from the lane and parking area and salting for us. They did a fantastic job, and we are very grateful. We were able to open on time the morning after the snowstorm, and we had no ice issues whatsoever. In fact, we were in better shape than most other places. When inclement weather threatens, don't assume we will have to close. See above section "SNOW in Forecast" for our weather policy.
A Message from the President of the Board
Dear Patrons & Benefactors of OLC:
We are hearing it from everyone lately. It really was a difficult year. We started with this unknown threat and quickly found ourselves in a statewide lockdown. After two months of that, we began with outdoor Masses and "to go" orders in the bookstore. Through the steamy summer, we continued with outdoor Masses, only occasionally moving indoors for rain. Colder weather and construction work finally forced us indoors at 50% capacity. We briefly moved up to 75%, but then returned to the present 50%. To increase our capacity, we live stream Masses to the Conference room.

So far, it has been a challenging ride with many unknowns, but we have been praying and trusting all along the way. On behalf of the staff and Board of Directors, we would like to thank each one of you for your faithful patronage through this difficult year, for your generous support as donors (as we have not taken up a collection in 9 months), and for your undying love for Our Lord Jesus and his holy, blessed Mother. We believe that our combined efforts here are having an effect in many lives. By that I mean, all of us, as we interact with each other and with the teaching of our outstanding priests who have courageously brought the sacraments to us this whole year, in order to extend the message of Our Lord at Christmas in our daily life.

May you and your family receive a special blessing this Christmas for the extra effort you all have given this year. And may we all enjoy a peaceful, prosperous and healthy New Year.

Thank you and Merry Christmas.
Jack Kissane, President

PS: Please remember Msgr. Lizor in your prayers as he struggles with the isolation this pandemic has brought to older folks. And drop him a note if you get a chance. Email us for his contact information.
01: Solemnity of Mary, Mother of God
02: Sts. Basil & Gregory.
06: Epiphany of the Lord,
Most Holy Name of Jesus
04: St. Elizabeth Ann Seton
05: St. John Neumann
06: St. Andre Bessette
10: Baptism of the Lord
13: St Hilary
20: St. Sebastian

21: St. Agnes
22: Day of Prayer for Legal
Protection of the Unborn
23: St. Vincent, St. Marianne Cope
24: St. Francis de Sales
25: Conversion of St. Paul
26: Sts. Timothy & Titus
28: St. Thomas Aquinas
31: St. John Bosco

IN THE BOOKSTORE*
*We are a non-profit. All sales go towards supporting the Shrine!

Celebrate the Universal Year of St. Joseph!
What better way than to Consecrate yourself to St. Joseph through the book by Fr. Calloway MIC! and receive a plenary indulgence for doing so! We also have many other books, devotionals, framed prints, statues, rosaries and other items in stock.
Christmas Clearance starts NOW!
Our Christmas and Advent items are now on sale. Come scoop up something pretty for next year. And we still have Advent candles in stock!

JANUARY NO-CLIP COUPON:
BUY 5 BOOKS
GET 20% OFF ALL OF THEM
Some book exclusions. No coupon necessary. Valid on in-stock items only. Previously purchased and discounted items excluded. Cannot be combined with other coupons or discounts.
Expires 01/31/2021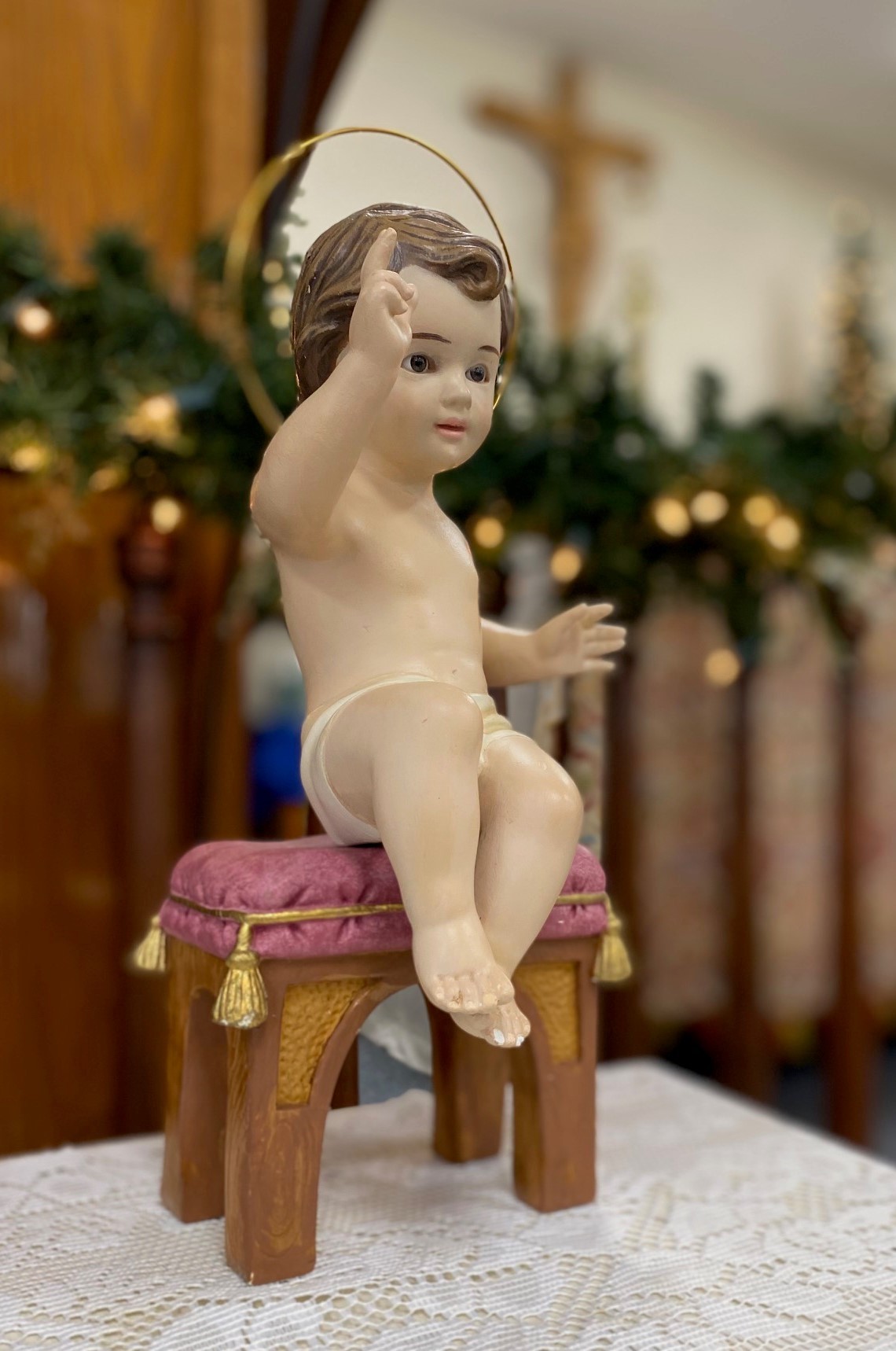 Our lovely chapel remains decorated throughout the Christmas Season. Many thanks to Board Member Diane Andrews for her dedication!
Ways to Help Support OLC:


Through the last 46 years, countless patrons have paid it forward to help this little family apostolate grow and thrive, ensuring that countless lives and hearts would be touched by the gentle hand of Mary through our efforts. If you are so moved, please consider helping us continue this beautiful legacy which is needed perhaps now more than ever. Help us continue our mission to bring people to Christ through Mary. We are registered 501 (c)3 non-profit. Thank you, and God bless you!

Set up a Monthly Electronic Donation. Any amount will help! Contact us for details.


Purchase a Gift Certificate to use in the future. We'll mail it to you or to a loved one anytime.



Make a donation through PAYPAL anytime.
Store Hours
Monday - Thursday: 10:00 am - 4:00 pm*
Friday: 10:00 am - 7:30 pm*
First Saturday: 10:00 am -10:30 am; 12:30 pm - 2:00 pm
*Please note that the store is always closed during the noon Mass
Holy Sacrifice of the Mass:
Monday-Friday 12:00pm
Friday Evenings 7:30 pm
1st Saturdays 10:30 am
​
Confessions follow all Masses
Adoration Friday: 12:30 - 7:30 pm
Our Lady's Center Marian Shrine is a Catholic lay apostolate within the Archdiocese of Baltimore located outside of Baltimore, Maryland in Ellicott City. We offer the Holy Sacrifice of the Mass and confessions upstairs in our chapel each weekday and on first Saturdays. Downstairs in our beautiful store, we carry a large selection of Catholic books and religious articles to meet every need. We have many events and activities throughout each month.