"To Jesus through Mary"
410-461-5066 • 3301 S. Rogers Avenue, Ellicott City, Maryland 21043
Turn between the blue mailbox and guardrail and follow our lane to lovely oasis of peace!
www.ourladyscenter.net • email@ourladyscenter.net

OLC will be OPEN on LABOR DAY
Monday, Sept. 6th, regular hours
The Noon Mass intention will be for the welfare and safety of all our patrons who are employed, unemployed, and in danger of losing employment.
Come to me, all you who labor and are burdened, and I will give you rest. Matthew 11:28.

ACTIVITIES & EVENTS...
Complete Event Calendar HERE
First Fridays Mass & Devotions

Sept. 3rd at 12:00 Noon & 7:30 pm Masses


Masses are followed by Exposition, Devotions and Confessions. Adoration continues between Masses.
Shop open 10 am - 12 pm & 1 pm - 7:30 pm
First Friday Promises
First Saturdays Mass & Devotions




Sept. 4th, 10:30 am Mass




followed by Exposition, Devotions and Confessions. Concluding with Benediction around 12:00 noon.

Shop 10-10:30 am and 11:30 am-2 pm
First Saturday Promises

Many who attend Mass join in praying a 100 FOOT LIVING ROSARY on the sidewalk in front of the Hillcrest abortion mill in Catonsville at 9 am before coming to First Saturday Mass. What a special way to honor the Immaculate Herat of Mary, to save the lives of her unborn children. More info HERE.
A Birthday Celebration for Mother Mary
Wednesday, September 8th
Join us on the Nativity of the Blessed Virgin Mary as we celebrate the beautiful gift of our sweet Mother!
10:30 am: Storytime & Craft for the children will feature a book about the Blessed Virgin Mary
1:00 pm: A Birthday Celebration after noon Mass in the conference room with prayer and song. Birthday cake provided by OLC!

Holy Hour of Reparation
to the Sacred Heart before the Blessed Sacrament

Second Fridays of the Month following Noon Mass
Friday, September 10th

In light of the affronts against God and his creation which are being perpetrated and increasingly promoted in our world, we are again making this powerful devotion a regular activity. Come join in these vocal prayers of thanksgiving and reparation to the Blessed Trinity and especially our Savior, prayers through our dear Blessed Mother, and all the saints for unity in the Church, for sinners of all types, for a just and lasting peace in the world and more! Booklets provided.
Blessing with a Relic of the True Cross


on the Feast of the Exultation of the Holy Cross




Tuesday, September 14th, 12:00 Mass




Join us for another special opportunity to to be blessed with a sliver of the actual cross upon which Our Lord died for our salvation! Our Lady's Center is the humble steward of this relic which is displayed only twice a year, during Lent and on the Feast of the Exultation of the Holy Cross, when we celebrate St. Helena's discovery of the cross of our Lord Jesus Christ.
Blanket Making Workshops


2nd & 4th Tuesdays,
1:00 pm in the Conference Room


September Dates: 9/14 & 9/28


All are welcome after Mass in the Conference room to help knot more blankets for Project Linus. If you can cut and make knots, you can make a blanket! Material and supplies are provided.


Over 700 blankets have been donated through OLC to date!
Sorrowful Mother Devotion
Wednesday, September 15th, 12:45 pm
Join us on the Feast of Our Lady of Sorrows as we pray the Seven Sorrows of Mary. This devotion will follow noon Mass and the devotions to St. Joseph which are being prayed regularly on Wednesdays.

The Blessed Virgin Mary grants seven graces to the souls who honor her daily by saying seven Hail Mary's and meditating on her tears and dolors (sorrows). The devotion was passed on by St. Bridget. Learn more about this devotion and the graces promised HERE.

Children's Storytime & Craft

2nd & 4th Wednesdays of the month,
10:30-11:30 am in the Conference Room


September Dates: 9/8 & 9/22

Bring the children to hear Mrs. Ginny read entertaining and wonderfully virtuous Catholic children's books, do a fun craft, and enjoy a snack. RSVP so we know how many snacks and crafts to have on hand, but last minute drop-ins are always welcome!
Flame of Love Cenacles

Every Tuesday at 10 am and Thursday at 10 am & 2 pm (choose one)


Come join us to pray for the Flame of Love of the Immaculate Heart of Mary, which is Christ Himself, to be enkindled in our hearts and bring about a new Pentecost. There is no denying that this is exactly what our broken and hurting world needs. Learn more about this powerful and growing devotion HERE. Contact Board Member Ada Vergne for the materials and to sign up. Live streaming available for those who cannot attend in person.
Your Presence and Prayers are Needed to Save Lives!


PLEASE consider signing up HERE for the Fall 40 Days for Life campaign to end abortion. It runs from September 22 through October 31, 2021. There are many slots still open. The vigil hours are 7 am to 6 pm. Over 19,000 lives have been saved since it began in 2007! Also, mark your calendars for the October 9, 2021 Eucharistic Procession starting at 8:00 am. The procession will start at St. Agnes Church and end at Hillcrest abortion mill.
In Full Swing!
God has been very good to us. OLC is 47 years old, and it has been three years since we ran a capital campaign to raise funds for our upkeep. We are so very grateful for all the support we have received from our patrons, through various private donations and through the patronage of our non-profit bookstore and gift shop. Many of you will be receiving our appeal letter in the mail, but many of you have not provided mailing addresses yet, so this is our only way of reaching you.
Please read our President's letter HERE,
and prayerfully consider if you might have some funds to share to help keep our beautiful, unique shrine going strong.
Clicking the button below will bring you directly to the secure Our Lady's Center Paypal page where you can conveniently make an online, tax-deductable, one-time or recurring donation toward our capital campaign.
To ensure you receive a thank you letter (for tax purposes) please include your mailing address. Be assured of our prayers and our heartfelt gratitude! And remember, every First Saturday Mass at OLC is offered for the prayers and intentions of our patrons and benefactors, and that means you!
Thank you from the bottom of our hearts! We love that you love OLC!
Thank You to our Awesome Envelope Stuffers!
We put out a plea after several Masses for help stuffing envelopes for our Grateful Hearts Campaign, and a small army came to our rescue, stuffing over two thousand envelopes in record time. We can't thank you enough for your prompt diligent and cheerful help. We have prayed special prayers for graces to be poured forth upon each of you. We are SO blessed!
Farewell, Fr. Emile!

Fr. Emile Yuban has set off on his next adventure, having earned his advanced degree in Sacred Theology from St. Mary's Seminary. He has secured a scholarship to pursue his Masters in Theology from Santa Clara University in CA. We were so very sorry to have to say goodbye to another of our beloved regular priests. Carolyn Niebauer, who serves on the Board and has overseen the Friday Night Masses and Devotions, has very much appreciated Fr. Emile's dedication in regularly offering these masses over the past several years. We all enjoyed throwing Fr. Emile a bountiful send forth party complete with a cake and a purse we collected to alleviate some of his travel expenses. We wish him all the best and invite all of you to keep him in your prayers.

More priests have arrived from Cameroon to begin studies for their advanced degrees. We can't wait to welcome them to OLC!

IN THE BOOKSTORE*
*We are a non-profit. All sales go towards supporting the Shrine!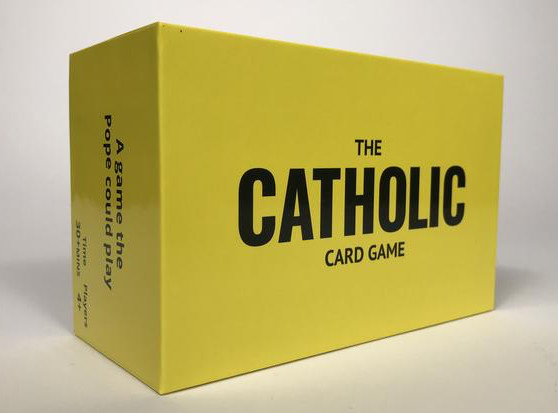 A Party Game for Catholic Adults
While other party games make you feel like you need Confession after playing,
The Catholic Card Game
provides clean entertainment without sacrificing quality or fun. It's easy to play, relatable, and hilarious. Crowd-funded and very popular, it makes a great gift!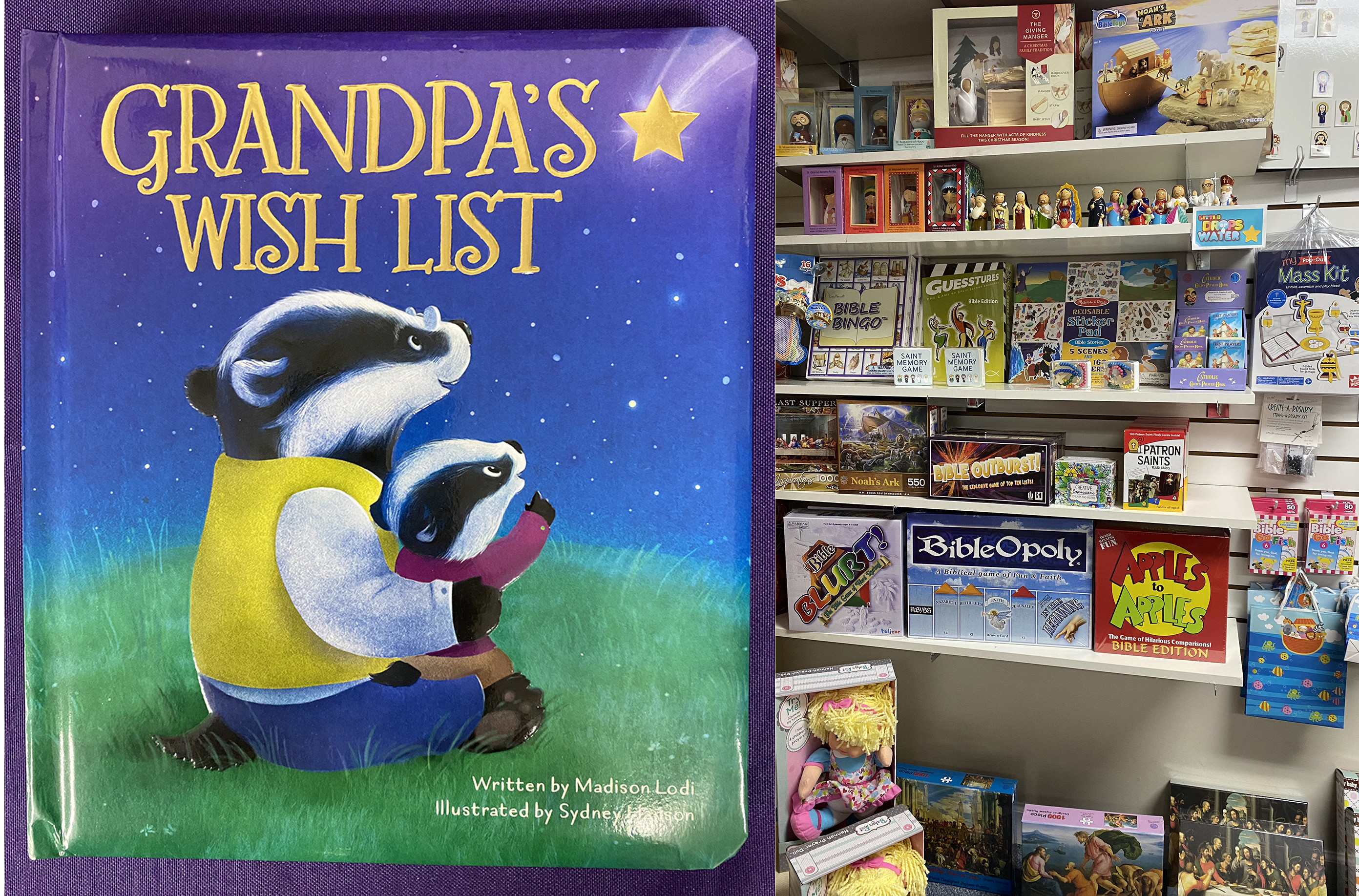 Check out our wide selection of Children's Books, Toys and Games for the Whole Family!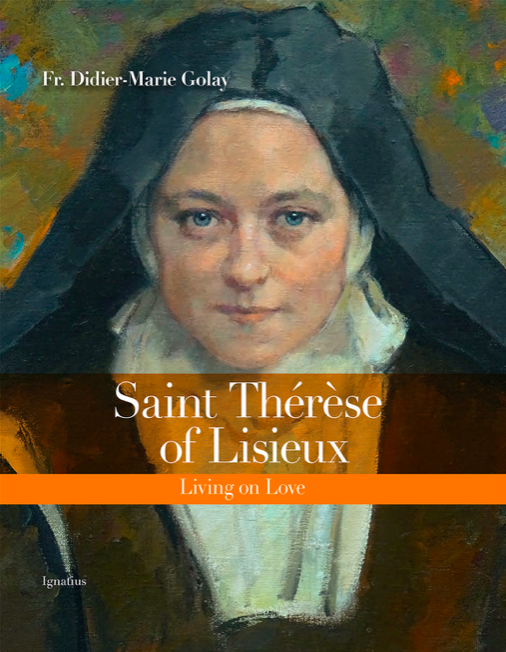 Hot off the presses! A beautiful 318 page coffee table book loaded with 150 stunning photos and in-depth text of our sweet St. Therese of Lisieux. Pick it up before her feast day, October 1st.
$

5

BOOK
Clearance Continues! We have added more wonderful books from our extensive inventory to the clearance section, all marked just $5 ea!

Many of you have already found treasures to give as gifts and to supplement your home library so you are never without vital

resources for your spiritual life. We still have a nice selection to choose from. Come take a look!
SEPTEMBER NO-CLIP COUPON:
One Adult or Children's Book
15
% OFF
No coupon necessary. Valid on regularly priced, new, in-stock items only.
Cannot be combined with other coupons or discounts. Some exclusions apply.
Expires 09/30/2021
Store Hours
Monday - Thursday: 10:00 am - 4:00 pm*
Friday: 10:00 am - 7:30 pm*
First Saturday: 10:00 am -10:30 am; 12:30 pm - 2:00 pm
*Please note that the store is always closed during the noon Mass
Holy Sacrifice of the Mass
Monday-Friday: 12:00pm
1st Saturdays: 10:30 am
​
Confessions Follow all Masses

Adoration Friday: 12:30 - 2:00 pm
Our Lady's Center Marian Shrine is a Catholic lay apostolate within the Archdiocese of Baltimore located outside of Baltimore, Maryland in Ellicott City. We offer the Holy Sacrifice of the Mass and confessions upstairs in our chapel each weekday and on first Saturdays. Downstairs in our beautiful store, we carry a large selection of Catholic books and religious articles to meet every need. We have many events and activities throughout each month.