October 2021 Newsletter
October is dedicated to the Holy Rosary, our spiritual weapon.
Come pray the Rosary 11:30 am Monday-Friday, prior to 12:00 noon Mass.
"One day, through the Rosary and the Scapular, Our Lady will save the world." ~St. Dominic.
"To Jesus through Mary"
410-461-5066 • 3301 S. Rogers Avenue, Ellicott City, Maryland 21043
Turn between the blue mailbox and guardrail and follow our lane to lovely oasis of peace!
www.ourladyscenter.net • email@ourladyscenter.net
SPECIAL OCTOBER EVENTS...
Complete Event Calendar HERE
Rosary on the Feast of Our Lady of the Rosary


Thursday, October 7th, 11:30 am
Join us for the Rosary at 11:30 am on the day we recall Our Lady of Victory and her spectacular miraculous intercession in the Battle of Lepanto where all hope seemed lost and Christians were facing certain defeat. As we are besieged by forces that seem to be gaining in strength, power and momentum, let us remember that Our Lady of the Rosary is with us and call upon her in our distress. Even the secular military wiki site mentions credit being given to Our Lady and the Rosary HERE.

The Flame of Love of the Immaculate Heart of Mary cenacles meet in the chapel at 10 am & 2 pm. The Rosary is also prayed then, and you are welcome!
Learn to Make Rosaries


Thursday, October 7th, 1 pm
Come to the Conference room after Mass to learn how to make plastic knotted cord rosaries (or help instruct if you know how to make these!) You may keep one rosary, and the rest will be collected, blessed and donated to help spread this beautiful and powerful devotion!

Read this amazing, true story at Catholic Convert HERE about the Rosary and the Blessed Mother and be inspired!
Defend Life Speaker:




Monsignor Jeremiah Kenney, PhD


Author, Rector, Parish Priest
"Great Saints I Have Known & Others: 50 Years as a Priest in the Archdiocese of Baltimore"


TUESDAY, October 12th, 1:00 pm in the Chapel




Msgr. Kenney served 34 years as

judicial vicar of the Interdiocesan Tribunal of Appeals for the Province of Baltimore. Following his ordination, he served as associate pastor of Immaculate Conception in Towson and taught at Towson Catholic High School. He is the former rector of the Basilica of the National Shrine of the Assumption of the Blessed Virgin Mary. Msgr. Kenney was made a papal knight in the Pontifical Ecclesiastical Equestrian Order of the Holy Sepulchre of Jerusalem in 1997 and was elevated to Knight Commander in 2000. He has authored several books including, " God's Dream Come True: Mary." Come hear this accomplished local shepherd tell of the holy saints he has personally encountered on his long and storied journey. Come for Mass and stay for the talk! Refreshments will be available.


NOTE: SPECIAL TUESDAY DATE!
Prayers to St. Joseph & Our Lady of Fatima on the Anniversary of the

Miracle of the Sun
Wednesday, October 13th following Noon Mass
Did you know that St. Joseph appeared with Our Lady in her final apparition at Fatima on October 13th, 1917, the day the sun "danced"? He was there, silently holding the infant Jesus, a witness to the family as a reflection of the Holy Trinity. After noon Mass, we will pray the regular Wednesday prayers to St. Joseph which we have been faithfully praying throughout this year of St. Joseph, and we will then pray a rosary together for protection for our marriages and families which are under siege. We will also be praying for St. Joseph the Worker's protection over all who are facing the loss of their jobs and livelihood in this time of great upheaval and uncertainty.
​
Annual America Needs Fatima Rosary Rally


Saturday,

October

16th, 10 am Mass


Mass will be followed by exposition. The Holy Rosary prayed before the Blessed Sacrament to be followed by Benediction. Please arrive early so we can begin on time.

America Needs Fatima Public Square Rosary Rallies are always held on the Saturday closest to the date of the last apparition of Our Lady of Fatima and the Miracle of the Sun. There will be thousands of rosary rallies in cities all across America. Last year, there were more than 21,000 groups of faithful Catholics simultaneously praying for our country and the world! Please pray for peace and the conversion of hearts.

The Bookstore will be OPEN after the rosary until 2 pm for you shopping convenience!
All Saints Day Celebration
Monday, November 1st, 11 am - 12 noon
Calling all our tiniest saints in the making! Little Marys and Josephs, Clares and Francises, Thereses and Patricks and Roses and Nicholases. Come to hear Mrs. Ginny read stories about saints, do a craft, get a treat, and join in a parade of saints into Mass.

Parents, there is time to get a costume together, but it is not mandatory. Also, any child who would like to tell us about their special saint is encouraged to do so!
TWO ALL SAINTS DAY SPECIALS:
1) FREE HOLY CARD FOR EVERY CHILD
2) BUY 4 TINY SAINTS, GET 5TH ONE FREE!
All Souls Day Memorial Mass
Tuesday, November 2nd, 12:00 noon
We shall remember and pray for our loved ones who have passed on and especially remember the souls of all the patrons and benefactors who supported OLC through their time, talent and treasure throughout these past 47 years. The official name of this Mass is the Commemoration of All the Faithful Departed, a day of remembrance. On this important day we Catholics pray, celebrate Mass, visit cemeteries, and give alms in memory of those who may be in Purgatory, in hopes that their souls will be released to Heaven. Come anytime this month to add your loved ones' names to our book of remembrance which will be placed on the altar at Mass on All Souls Day.

REGULAR MONTHLY ACTIVITIES

First Fridays Mass & Devotions

Oct 1st at 12:00 Noon & 7:30 pm


Masses are followed by Exposition, Devotions and Confessions. Adoration continues between Masses.
Shop open 10 am - 12 pm & 1 pm - 7:30 pm
First Friday Promises
First Saturdays Mass & Devotions




Sept. 2nd, 10:30 am




Mass is followed by Exposition, Devotions and Confessions. Concluding with Benediction around 12:00 noon.

Shop 10-10:30 am and 11:30 am-2 pm
First Saturday Promises

Many who attend Mass join in praying a 100 FOOT LIVING ROSARY on the sidewalk in front of the Hillcrest abortion mill in Catonsville at 9 am before coming to First Saturday Mass. What a special way to honor the Immaculate Herat of Mary, to save the lives of her unborn children. More info HERE.
Holy Hour of Reparation
to the Sacred Heart before the Blessed Sacrament

Second Fridays of the Month following Noon Mass
Friday, October 8th

In light of the affronts against God and his creation which are being perpetrated and increasingly promoted in our world, we are again making this powerful devotion a regular activity. Come join in these vocal prayers of thanksgiving and reparation to the Blessed Trinity and especially our Savior, prayers through our dear Blessed Mother, and all the saints for unity in the Church, for sinners of all types, for a just and lasting peace in the world and more! Booklets provided.
Blanket Making Workshops


2nd & 4th Tuesdays,
1:00 pm in the Conference Room


October Dates: 10/12 & 10/26




All are welcome after Mass in the Conference room to help knot more blankets for Project Linus. If you can cut and make knots, you can make a blanket! Material and supplies are provided.




Over 700 blankets have been donated through OLC to date!





Blessing of Blankets




Thursday,

October

26th after Noon Mass
Children's Storytime & Craft

2nd & 4th Wednesdays of the month,
10:30-11:30 am in the Conference Room


October Dates: 10/13 & 10/27

Bring the children to hear Mrs. Ginny read entertaining and wonderfully virtuous Catholic children's books, do a fun craft, and enjoy a snack. RSVP so we know how many snacks and crafts to have on hand, but last minute drop-ins are always welcome!
Flame of Love Cenacles

Every Tuesday at 10 am and Thursday at 10 am & 2 pm (choose one)


Come join us to pray for the Flame of Love of the Immaculate Heart of Mary, which is Christ Himself, to be enkindled in our hearts and bring about a new Pentecost. There is no denying that this is exactly what our broken and hurting world needs. Learn more about this powerful and growing devotion HERE. Contact Board Member Ada Vergne for the materials and to sign up. Live streaming available for those who cannot attend in person.
Your Presence & Prayers Save Lives!


PLEASE consider signing up HERE for the Fall 40 Days for Life campaign to end abortion. It runs through October 31, 2021. There are many slots still open. The vigil hours are 7 am to 6 pm. Over 19,000 lives have been saved since it began in 2007! Also, mark your calendars for the October 9, 2021 Eucharistic Procession starting at 8:00 am. The procession will start at St. Agnes Church and end at Hillcrest abortion mill.

Archdiocesan Rosary Congress
The Archdiocese of Baltimore is presenting its fifth-annual Rosary Congress Oct. 2-8 as a way of encouraging people to pray for peace, grow in faith and develop a deeper relationship with Christ.
In this Year of St. Joseph, the theme for the 2021 Rosary Congress is "In the arms of St. Joseph."
The event commemorates the 104th anniversary of the Blessed Virgin Mary's appearance to three small shepherd children in Fatima, Portugal. Mary promised that if the world would repent, follow Christ and pray the rosary daily, peace would follow. More info HERE.
What a Heartwarming, Generous Response! The once-every-three-years Grateful Hearts Capital Campaign is well underway, and your response to our plea has been so very generous. May the Lord bless all who are helping to support Our Lady's Center Marian Shrine, enabling its mission, bringing souls to Christ through Mary, to continue. What a unique and holy apostolate of love and peace! We are honored to be its guardians and ever grateful for the patronage of our benefactors. Please join us at our First Saturday Masses. They are always offered for your intentions! Our Board especially wishes to convey its gratitude. Letters of

acknowledgment for tax purposes will be mailed out with end of year giving totals.
Basket Raffle Donations Needed!

If you would like to contribute to our legendary Christmas Basket Raffle Baskets, contact us right away! We are accepting gift cards to local businesses and restaurants as well as donated items. This is a wonderful fundraiser for OLC and a tradition much anticipated by our patrons and visitors. And we love to support and help promote the businesses of our patrons! These baskets will then be assembled and tickets will be sold throughout the month of November and early December. The baskets will be raffled off at our annual Christmas Pot-Luck Party. More details coming soon!

IN THE BOOKSTORE*
*We are a non-profit. All sales go towards supporting the Shrine!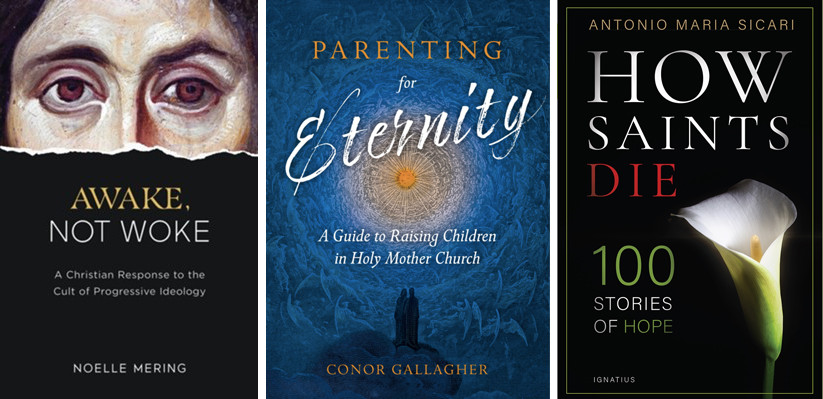 NEW! Excellent books arriving daily to help us grow in wisdom, faith, and hope!
| | |
| --- | --- |
| We're all stocked up again with Trappistine Chocolates & Fudge from the Cistercian nuns of Mount St. Mary's Abbey in Massachusetts | A fresh shipment of Mystic Monk coffees has arrived from cloistered Carmelite monks in Wyoming! |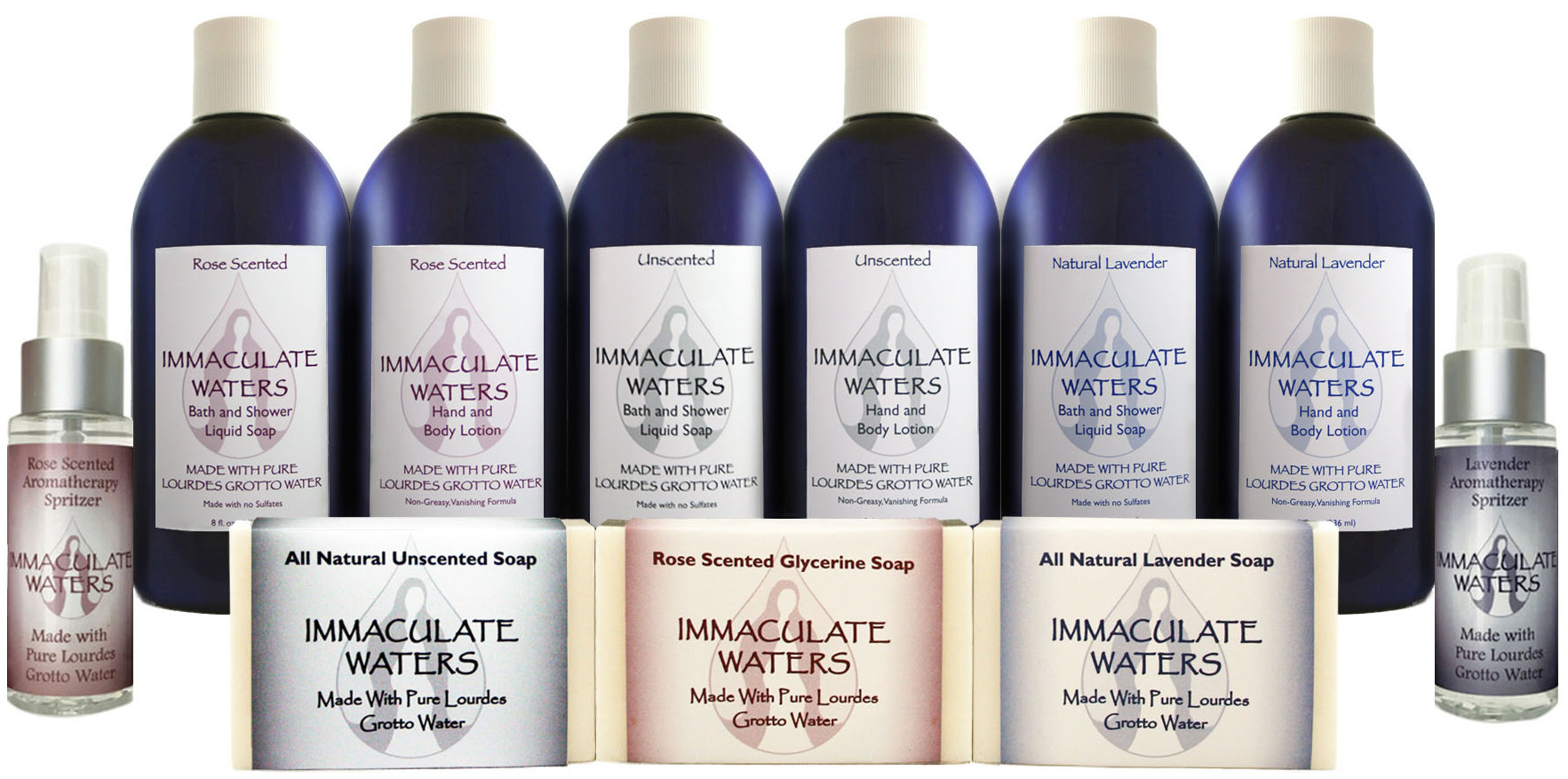 Back in Stock! Immaculate Waters Soaps & Lotions created with pure Lourdes water by a Catholic apostolate.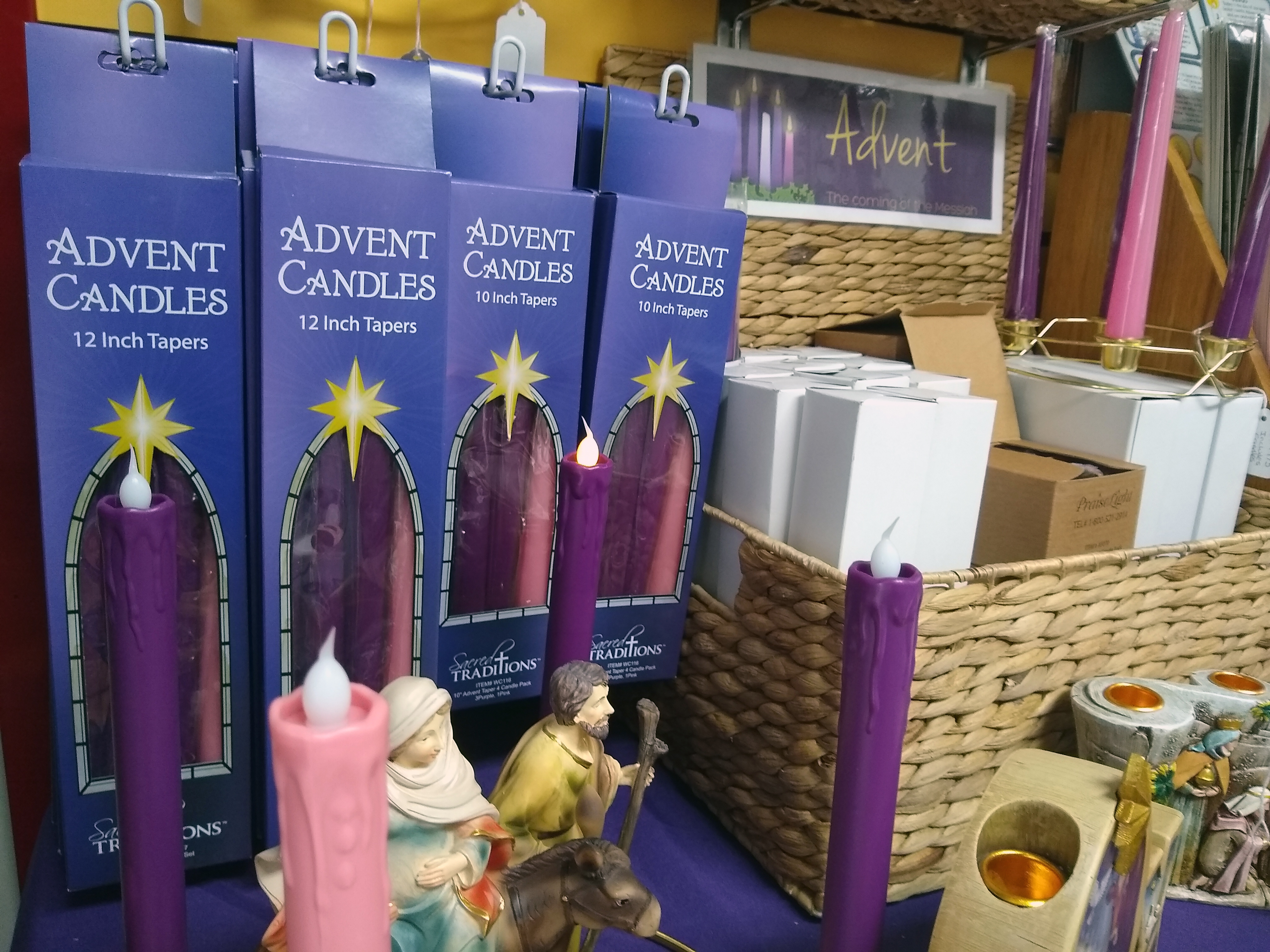 Advent & Christmas items are arriving daily!
Note: Christmas shopping is beginning early this year. Stock is limited due to shipping delays.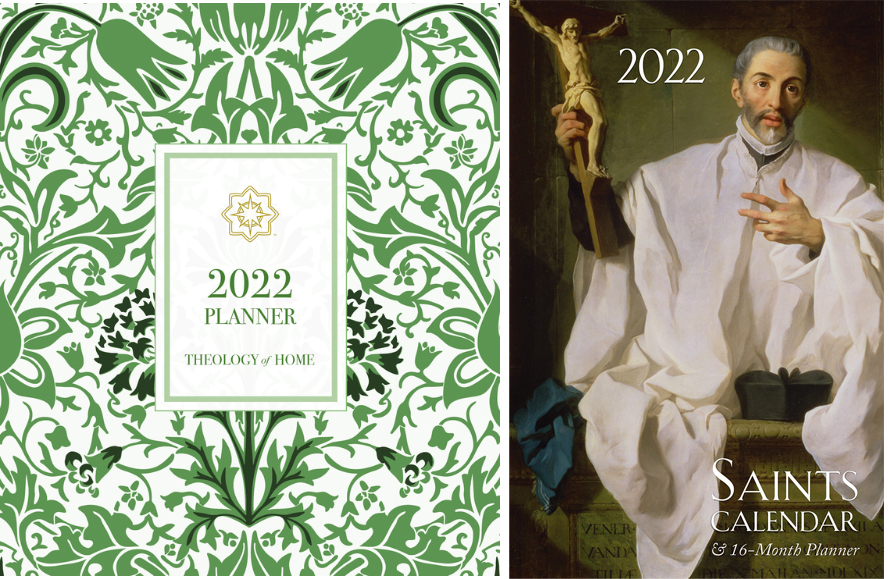 The 2022 Wall Calendars & Spiral Day Planners have finally arrived after extensive delays. You can begin using the Saints Calendar & 16 Month Planner right away.
OCTOBER NO-CLIP COUPON:
One Rosary in Stock
15
% OFF
No coupon necessary. One use per person please. Valid on regularly priced, new, in-stock items only. Cannot be combined with other coupons or discounts. Some exclusions apply.
Expires 10/31/2021
Store Hours
Monday - Thursday: 10:00 am - 4:00 pm*
Friday: 10:00 am - 7:30 pm*
First Saturday: 10:00 am -10:30 am; 12:30 pm - 2:00 pm
*Please note that the store is always closed during the noon Mass
Holy Sacrifice of the Mass
Monday-Friday: 12:00pm
Friday evenings: 7:30 pm
1st Saturdays: 10:30 am
​
Confessions Follow all Masses

Adoration Friday: 12:30 - 2:00 pm
Our Lady's Center Marian Shrine is a Catholic lay apostolate within the Archdiocese of Baltimore located outside of Baltimore, Maryland in Ellicott City. We offer the Holy Sacrifice of the Mass and confessions upstairs in our chapel each weekday and on first Saturdays. Downstairs in our beautiful store, we carry a large selection of Catholic books and religious articles to meet every need. We have many events and activities throughout each month.