REGULAR MONTHLY ACTIVITIES

First Fridays Mass & Devotion

January 7th at 12:00 Noon


Masses are followed by Exposition, Devotions and Confessions. Adoration continues between Masses.
Shop open 10 am - 12 pm & 1 pm - 7:30 pm
First Friday Promises

PLEASE NOTE: 7:30 pm Mass on 1/7 is canceled due to possibility of icing.
Holy Hour of Reparation
to the Sacred Heart before the Blessed Sacrament

Second Fridays of the Month following Noon Mass
Friday, January 14th

In light of the affronts against God and his creation which are being perpetrated and increasingly promoted in our world, we are again making this powerful devotion a regular activity. Come join in these vocal prayers of thanksgiving and reparation to the Blessed Trinity and especially our Savior, prayers through our dear Blessed Mother, and all the saints for unity in the Church, for sinners of all types, for a just and lasting peace in the world and more! Booklets provided.
Blanket Making Workshops


2nd & 4th Tuesdays,
1:00 pm in the Conference Room


January Dates: 1/11 & 1/25




All are welcome after Mass in the Conference room to help knot more blankets for Project Linus. If you can cut and make knots, you can make a blanket! Material and supplies are provided.




Over 800 blankets have been donated through OLC to date!




Children's Storytime & Craft

2nd & 4th Wednesdays of the month,
10:30-11:30 am in the Conference Room


January Dates: 1/12 & 1/26

Bring the children to hear Mrs. Ginny read entertaining and wonderfully virtuous Catholic children's books, do a fun craft, and enjoy a snack. RSVP so we know how many snacks and crafts to have on hand, but last minute drop-ins are always welcome!
Flame of Love Cenacles

Every Tuesday at 10 am and Thursday at 10 am & 2 pm (choose one)


Come join us to pray for the Flame of Love of the Immaculate Heart of Mary, which is Christ Himself, to be enkindled in our hearts and bring about a new Pentecost. There is no denying that this is exactly what our broken and hurting world needs. Learn more about this powerful and growing devotion HERE. Contact Board Member Ada Vergne for the materials and to sign up. Live streaming available for those who cannot attend in person.
Our Lady of Perpetual Help Novena


Thursdays following 12:00 Noon Mass
In this novena to Our Lady of Perpetual Help, we pay tribute to the Blessed Virgin Mary in asking for her assistance. The image has helped her provide strength, comfort and miracles to the faithful for centuries!
St. Nicholas Came to Town!
We loved having St. Nicholas visit on his feast day!
The Most Successful Christmas Basket Raffle Yet!
Christmas Basket Raffle Nets Nearly $7000 for OLC!
Our annual Christmas Basket Raffle was another enormous success! We nearly doubled last year's fundraising total! All the contents had been donated, so 100% of proceeds will go to support OLC. Thank you to all who donated items and to all who entered. We wish that every single one of you who entered could have won, but it is our hope that you at least feel rewarded in knowing that your kind, generous, enthusiastic support enables us to continue this unique and holy ministry of bringing people to Christ through Mary.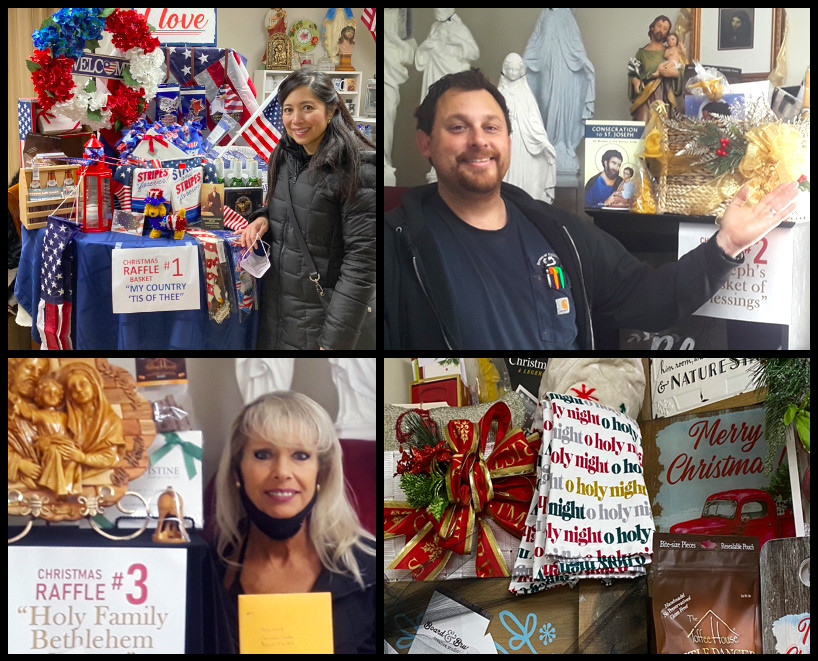 2021 CHRISTMAS RAFFLE WINNERS:
#1 My Country Tis of Thee:
Anna Degracia-Hipolito
; #2 Joseph's Basket of Blessings:
Robert Buck
; #3 Holy Family Bethlehem Plaque:
Dawn Golab
; #4 Merry Country Christmas:
Lisa Carey
Winning tickets were drawn by Msgr. Joseph Lizor and Fr. Cletus Tita.
Celebrating Christ's Birth with Old Friends and New
Many thanks to all who came out to our Patron Pot Luck Party and brought delicious treats to share. We loved having you.
Rosa Mystica Statue Pays a Visit

IN THE BOOKSTORE & GIFT SHOP...

| | |
| --- | --- |
| NEW from Sophia Press, because St. Joseph needs an art book all to himself. | We now carry stunning 19" Flame of Love statues from Equador. |

Beautiful Holy Water fonts from Italy. And we have freshly blessed Holy Water upstairs in the chapel!
JANUARY NO-CLIP COUPON:
One Excellent Catholic Book
to read on a snowy evening
15
% OFF
No coupon necessary. One use per person please. Valid on regularly priced, new, in-stock books only. Cannot be combined with other coupons or discounts. Some exclusions apply.
Expires 01/31/2022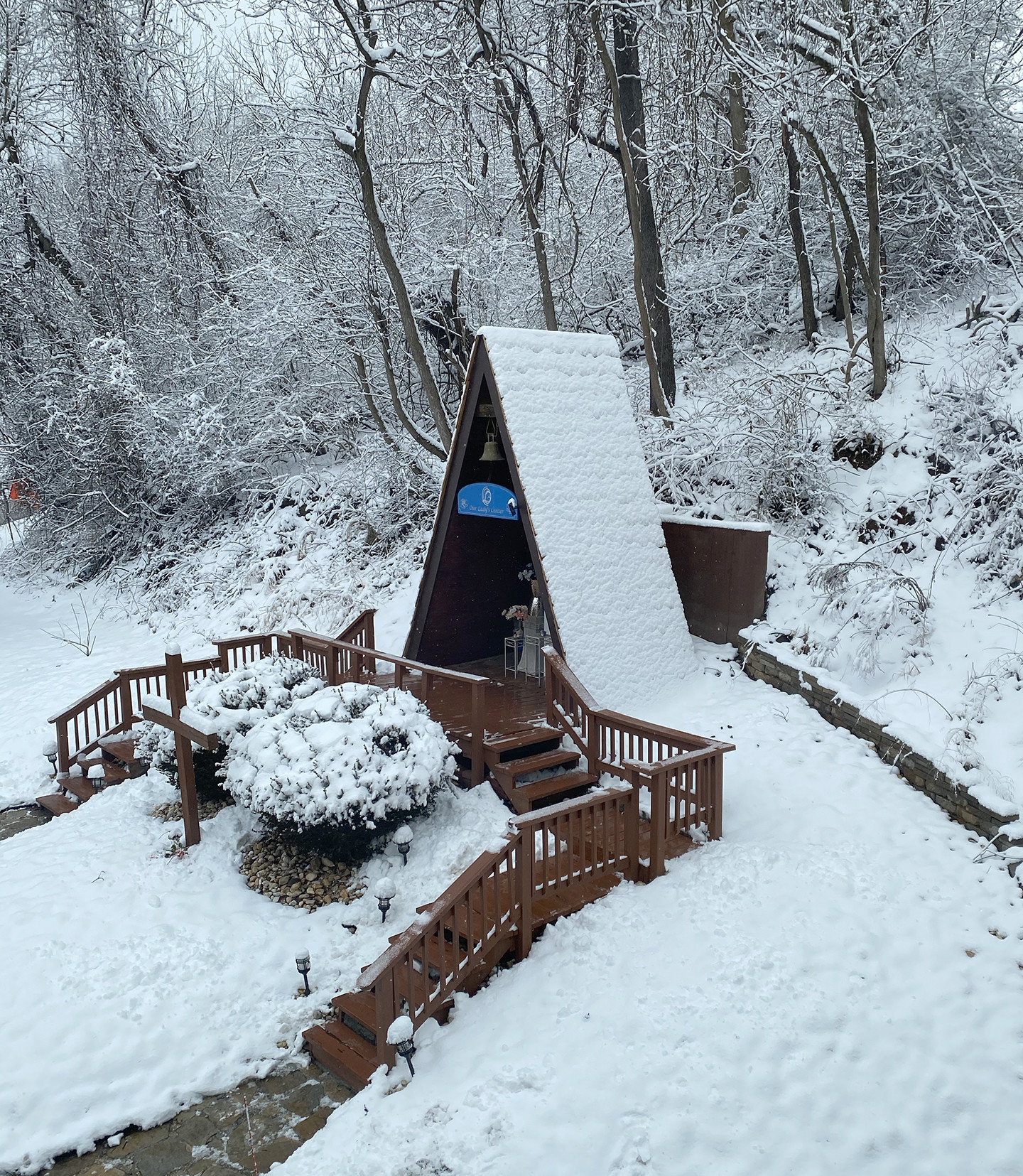 Snow falls like powdered sugar on our gingerbread house A-Frame grotto. Come visit the Blessed Mother statue within. A brand new bench will arrive very soon so you can relax a while and pray.
Ways to Help Support OLC:


Through the last 46 years, countless patrons have paid it forward to help this little family apostolate grow and thrive, ensuring that countless lives and hearts would be touched by the gentle hand of Mary through our efforts. If you are so moved, please consider helping us continue this beautiful legacy which is needed perhaps now more than ever. Help us continue our mission to bring people to Christ through Mary. We are registered 501(c)3 non-profit. Thank you, and God bless you!

Set up a Monthly Electronic Donation. Any amount will help! Contact us for details. (Less fees)


Purchase a Gift Certificate to use in the future. We'll mail it to you or to a loved one.



Make a donation through PAYPAL anytime.