| | |
| --- | --- |
| 410-461-5066 • 240-581-8013​ (C) | |
Hours: Mon-Thurs 10am-4pm with Rosary at 11:30 am and Mass at 12 noon.
Fridays 10am-7:30pm with Rosary at 11:30 am, Mass at 12 Noon, Adoration from 12:30-7:30 pm. Friday evening Mass 7:30 pm followed by Exposition & Devotions until 9 pm.
First Saturdays only: Open 10 am -2 pm, Mass at 10:30 followed by Exposition & devotions.
Confessions follow every Mass. Bookstore always closed during Mass.

UPCOMING EVENTS...
(Another packed newsletter - scroll all the way to the bottom!)

First Friday & First Saturday
Join us in making reparation for the sins committed against the Sacred Heart of Jesus and the Immaculate Heart of Mary. Our Lord and Our Lady will grant you a peace beyond all understanding and guard your heart in these troubled times.
First Friday Mass
April 1st, 12:00 Noon
& 7:30 pm
Exposition of the Blessed Sacrament, Confessions & Devotions will follow both Masses.
Our Lord's First Friday Promises

First Saturday Mass
April 2nd, 10:30 am
Exposition of the Blessed Sacrament, Confessions & Devotions will follow Mass and end with Benediction. Shop will be open 11:15 am - 2:00 pm
Our Lady's First Saturday Promises

Pray the Rosary in Latin
First Saturdays at 10 am
Come early before First Saturday Mass, to pray a Rosary in Latin with us! Preparatory instruction begins at 9:45 am. Print outs provided. Discover the many reasons why we should consider praying in Latin HERE.
JUST ANNOUNCED! DON'T DELAY




"33 Days to Morning Glory" Consecration Group Starting Next Week!


Wednesdays beginning April 6th, 1:00 pm


Have you consecrated yourself to the Immaculate Heart of Mary yet? Now is the time, so that, through our hearts, the Immaculate Heart of Mary will finally triumph. Come join group of others who

will be using the 33 day preparation for Marian Consecration method prepared by Fr. Michael Gaitley, MIC

. Consecration to the Immaculate Heart of Mary will take place at 12:00 Noon Mass at Our Lady's Center on the Feast Day of Our Lady of Fatima, Friday, May 13th. To register and for information on ordering your materials as soon as possible, contact Barbara Naudain at 443-827-5789 or

email

her here.
A Blessing with the
Relic of the True Cross,
the Stations of the Cross
and a Holy Hour of Reparation
Friday, April 8th:
12:00 Noon Mass:
A Blessing by the Relic of the True Cross
during Mass. OLC is a humble steward of this verified sacred relic. Read about relics of the True Cross
HERE
. Mass will be followed by
Exposition of the Blessed Sacrament

,

Confessions
, and
Stations of the Cross and then a
Holy Hour of Reparation
will be prayed, offering to our Lord prayers of thanksgiving and reparation and entreating the intercession of the Blessed Mother and all the saints for unity in the Church, for sinners of all types, for a just and lasting peace in the world and more! Prayers of reparation are most needed for in light of the grievous sins which have been and are being perpetrated. Adoration continues in the chapel until evening Mass.
7:30 PM Mass
A Blessing by the Relic of the True Cross
during Mass will be followed by
Exposition of the Blessed Sacrament

,

Confessions
, and
Stations of the Cross
and regular Friday Night Devotions.
Stations of the Cross during Lent
Fridays after both 12:00 noon & 7:30 pm Masses
April dates: 4/1 & 4/8 (closed 4/15)
There will not be Stations on Good Friday as we will be closed, however our outdoor Stations of the Cross on the banks of the stream out back are available anytime.
OLC SPRING CLEAN-UP DAY!
Saturday, April 9th, 9:00 am until done


Spring has sprung, and it's time to give Our Lady's Center a good scrub, trim, and polish. Come join us for a day full of fun, laughter, service, and food! If you're the outdoorsy type, we'll have tree-trimming, weeding, planting, mulching, and more. Indoors, we'll have polishing and window-washing. Come spend time with your OLC community giving back to Our Lady for all that she does for us, and then enjoy a real feast! Bring yard tools if you have them, especially chainsaws, pole saws, and large tarps (with your names on them). Also bring something to share for our potluck afterwards if you can. Sign up

HERE.
TRIDUUM & EASTER CLOSING SCHEDULE:
We will be closed Holy Thursday & Good Friday, April 14th & 15th.
Please attend services at your parish.
Holy Saturday Tomb Watch
(No Mass)
Saturday, April 16th, 10:30 - 11:30 am
Join us on Holy Saturday to watch and pray for one hour. Booklets will be provided. Mass will not be offered.
Veneration of a First Class Relic of St. Faustina


Tuesday, April 19th, 12:00 Noon Mass


Msgr. Jeremiah Kenney will be bringing a relic from his own collection, an actual bone fragment of St. Maria Faustina Kowalska in a reliquary, for veneration at Noon Mass on the Tuesday between Easter Sunday and Divine Mercy Sunday. St. Faustina is the Apostle of Divine Mercy, and Msgr. Kenney himself worked on the cause for her canonization. What better way to prepare for and anticipate Divine Mercy Sunday than to venerate and ask for the intercession of this humble nun through whom Christ revealed his infinite mercy?
Msgr. Kenney's Golden Jubilee Celebration




April 24th, 2022, Divine Mercy Sunday


St. Bartholomew Church, Manchester
11:30 am Holy Mass
Reception to follow at Ruhlman Brewery, Hampstead.
All patrons of Our Lady's Center have been invited to celebrate the Golden Jubilee of Reverend Monsignor Jeremiah F. Kenney. He was ordained on March 18th, 1972, 50 years ago and has many accomplishments to show for his years of faithful service to Our Lord. We are blessed that Msgr. Kenney has agreed to be a regular celebrant here at OLC, taking on our Tuesdays for now and anticipating more days regularly in the future. His deep devotion to the Blessed Mother drew him to our little shrine, and he has been warmly welcomed. We know he would be delighted to see some of your familiar faces at his Golden Jubilee celebration.
Regular Opportunities to Pray at OLC:
First Wed. Devotions to

St. Joseph


First Wednesday of the Month
April 6th, following 12:00 Noon Mass
The world desperatey needs the intercession of St. Joseph, patron of fathers, families, the Universal Church and the Terror of Demons! Learn about the Nine First Wednesdays HERE.

Our Lady of Perpetual Help Novena


Thursdays following 12:00 Noon Mass
Our Lady of Perpetual Help is the advocate, the hope, and the refuge of sinners. Our world needs her help now more than ever. Come join us in beseeching her intercession.

Flame of Love Cenacles Every Tues. at 10 am and Thurs. at 10 am & 2 pm (choose one)
Praying for the Flame of Love of the Immaculate Heart of Mary to be enkindled in our hearts and bring about a new Pentecost. More about this powerful devotion HERE. Contact Ada Vergne for more info. Live streaming for those who cannot attend in person.
Blanket Making Workshops
2nd & 4th Tuesdays, 1:00 pm
April dates: 4/12 & 4/26
All are welcome after Mass in the Conference room to help knot more blankets for children in need. If you can cut and make knots, you can make a blanket! Material provided.
Over 900 blankets have been donated through OLC to date!

Children's Storytime & Craft
2nd & 4th Wednesdays, 10:30 am
April dates: 4/13 & 4/27
Bring the children to hear a wholesome, edifying story read by Mrs. Ginny, do a fun craft, enjoy a snack and make new friends! RSVP if possible so we have an idea of how many to expect, but drop-ins are always welcome!
Pray for Vocations with the Ecce Homo Traveling Bust of Our Lord & Blessed Chalice
Sign up in the Bookstore to take home the Ecce Homo bust of Our Lord and blessed chalice for a two week interval. Set them up in a place of honor in your home and, during that period, pray for vocations to the priesthood and religious life as well as your own personal intentions. Instructions and optional prayers and devotional materials are included, as well as a diary filled with the entries of those who have hosted the bust and chalice in their homes previously. Many miracles and wonders have happened as a result of this devotion. Email us for more information
Storytime Just Keeps Getting Better and...Butter!
After listening to local author Pamela Love read her delightful children's book, Brigid & the Butter about St. Brigid of Ireland, our youngest patrons actually got to make and enjoy eating their own butter. What could be better than that? Storytime occurs regularly on the second and fourth Wednesdays of the month at 10:30 am. Sign up HERE if you would like an emailed reminder!
An Answer to Prayer!
The Consecration of Russia & Ukraine to the Immaculate Heart of Mary

Thank you to the

50+ Adorers

who attended our 24 Hour Adoration vigil in anticipation of and thanksgiving for the Consecration. We were thrilled with the turnout and the enthusiasm of all who took part in covering all those hours with so little notice, especially the ones who covered the overnight hours (and the staff and board members who kept watch).

Around 180 people attended our two Masses on the Feast of the Annunciation and prayed the Act of Consecration, united with the Holy Father, the Bishops, and all the faithful throughout the world pleading for the promised triumph of the Immaculate Heart of Mary, that war and suffering may end and we may enjoy a time of lasting peace. May this consecration draw down a deluge of graces upon this sinful and suffering world. Our Lady of Fatima, pray for us!

OLC BOOKSTORE & GIFT SHOP
*We are a non-profit. All sales go towards supporting the Shrine!

Sophia Press' Best Selling Book
Get yours before we sell out again!
Specifically covering all alleged and credible Marian apparitions around the world in the century since Our Lady of Fatima appeared, this book lays out chronologically and in great detail just how thoroughly Our Blessed Mother has been trying to warn us to turn back to her Son. She has not, nor could she ever abandon us. Includes apparitions in Ukraine, Medjugorje and America,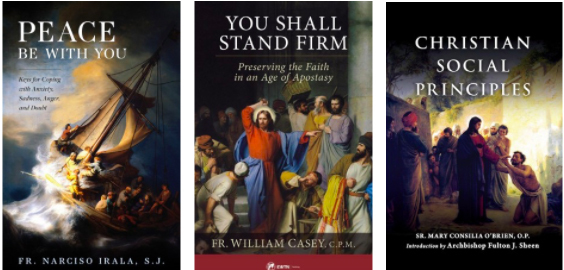 More New Releases from Sophia Press to help us all weather the storm.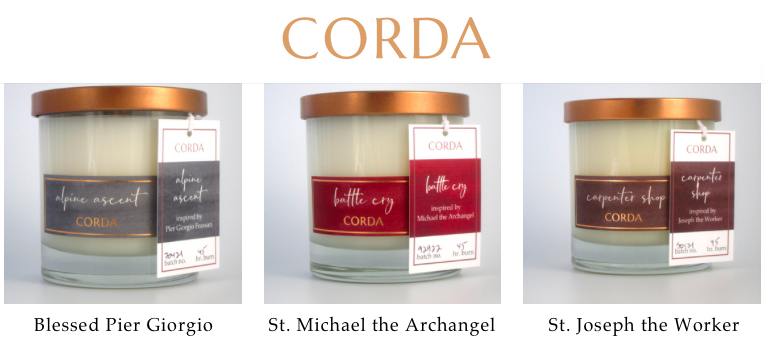 New to OLC! The Corda line of Catholic inspired candles made of coconut oil and beeswax.

Easter is Almost Here!
Celebrate the Resurrection with joy.
| | |
| --- | --- |
| Easter Candy! Chocolate covered caramel bunnies, milk or dark chocolate eggs, Toffee House bark or Trappistine chocolates and penuche, we have something for every Easter basket! | Holy Bears, Bunnies and Lambs are perfect for Easter Baskets! |
First Holy Communion & Confirmation Gifts!
Your one stop shop for sacramental items.

APRIL NO-CLIP COUPON:
15% OFF
One Bag of Toffee House Bark

No coupon necessary. Valid on regularly priced, in-stock items only. Not valid on previously purchased or discounted items. Cannot be combined with other coupons or discounts. Some restrictions apply.
Expires 04/30/2022
Ways to Help Support OLC:


Through the last 46 years, countless patrons have paid it forward to help this little family apostolate grow and thrive, ensuring that countless lives and hearts would be touched by the gentle hand of Mary through our efforts. If you are so moved, please consider helping us continue this beautiful legacy which is needed perhaps now more than ever. Help us continue our mission to bring people to Christ through Mary. We are registered 501 (c)3 non-profit. Thank you, and God bless you!

Set up a Monthly Electronic Donation. Any amount will help! Contact us for details.


Purchase a Gift Certificate to use in the future. We'll mail it to you or to a loved one anytime.



Make a donation through PAYPAL anytime.
Store Hours
Monday - Thursday: 10:00 am - 4:00 pm*
Friday: 10:00 am - 7:30 pm*
First Saturday: 10:00 am -10:30 am; 12:30 pm - 2:00 pm
*Please note that the store is always closed during the noon Mass
Chapel Hours:

Holy Sacrifice
of the Mass
Monday-Friday: 12:00pm
Friday night: 7:30 pm
1st Saturdays: 10:30 am

Rosary


Monday-Friday: 11:30 am



Confessions


Following all Masses



Adoration


Friday: 12:30 - 7:30 pm

Friday Night Devotions



Holy Mass: 7:30 pm
Followed by: Confessions, Rosary, Divine Mercy Chaplet, Adoration of the Blessed Sacrament and Benediction
Our Lady's Center Marian Shrine is a Catholic lay apostolate within the Archdiocese of Baltimore located outside of Baltimore, Maryland in Ellicott City. We offer the Holy Sacrifice of the Mass and confessions upstairs in our chapel each weekday and on first Saturdays. Downstairs in our beautiful store, we carry a large selection of Catholic books and religious articles to meet every need. We have many events and activities throughout each month.