August 2022 Newsletter
We dedicate this month to the Immaculate Heart of Mary.
"...but in the end my Immaculate Heart will triumph." Our Lady of Fatima
"To Jesus through Mary"
410-461-5066 • 3301 S. Rogers Avenue, Ellicott City, Maryland 21043
Turn between the blue mailbox and guardrail and follow our lane to lovely oasis of peace!
www.ourladyscenter.net • email@ourladyscenter.net
Announcement

:

Live-Stream Memorial Service for Beloved Former Board Member Stephen Engel

THIS Friday, July 29th, 11:00 am

Steve Engel passed away earlier this month. His Memorial Service will be held in Ohio and live-streamed through the link HERE. See below for more information on Steve including a link to his obituary and a heartfelt tribute from OLC President Jack Kissane.
The Annual 2000 Hail Marys Day of Devotions
in anticipation of the Feast of the Assumption
Saturday, August 13th, 8 am Mass - 5:30 pm
Come pray this powerful devotion hosted by the Legion of Mary, Our Lady Undoer of Knots Praesidium, in OLC's chapel. The day will begin with
8:00 am Mass
and continue with the Exposition of the Blessed Sacrament and devotions throughout the day, ending around 6:30 pm with Benediction. The devotions begin with praying a complete Rosary, then each of 20 petitions is read and followed by 100 Hail Marys. If you wish to lead a petition, see contact information in link below.
SCHEDULE OF THE DAY
8:00 am: Mass, followed by all day Eucharistic Adoration
8:30 am: 2000 Hail Marys Devotion begins (no breaks and no specified lunch time; take breaks as needed. Packaged snacks and coffee will be provided.)
3:00 pm: Divine Mercy
6:30 pm: Closing of devotions & Benediction

Regular Monthly Activities & Events

First Friday Mass & Devotions

August 5th at 12:00 Noon & 7:30 pm

Masses are followed by Exposition, Devotions and Confessions. Shop open until 7:30 pm. First Friday Promises

First Saturday Mass, Devotions




August 6t

h, 10:30 am

Mass followed by Exposition, Devotions and Confessions.

Shop open 9:45-10:30 am & 11:30 am-2 pm

First Saturday Promises
Daily Rosary
Monday-Friday, 11:30 am in the Chapel

Rosary in Latin
First Saturdays in the Chapel before Mass


NEW TIME: 9:45 am
Blanket Making Workshops


2nd & 4th Tuesdays, 1:00 pm in the Conference Room


AUGUST DATES: 8/9 & 8/23




All are welcome to help make more blankets which will then be blessed and given to Project Linus to distribute to children in crisis situations. Easy-to-follow instructions and all materials are provided. Come enjoy lively conversation and make new friends. Over 900 blankets have been created and donated through OLC to date, and OLC blanketeers are blanketing the world! Carolyn Niebauer reports that 53 blessed blankets created at OLC were shipped to children suffering the effects of war in in Ukraine and 83 were shipped to the Johns Hopkins Children's Center for children there. OLC's blanketers are also joining forces to create 200 blankets for Backpack Buddies, an effort to get blankets to underprivileged children in North Laurel as they begin the new school year.
Children's Storytime & Craft

2nd & 4th Wednesdays of the month, 10:30-11:30 am in the Conference Room

AUGUST DATES: 8/10 & 8/24

Bring the children to hear Mrs. Ginny read entertaining and wonderfully virtuous Catholic children's books, do a fun craft, and enjoy a snack. RSVP so we know how many snacks and crafts to have on hand, but last minute drop-ins are always welcome!
Holy Hour of Reparation


to the Sacred Heart before the Blessed Sacrament

Second Fridays of the Month following Noon Mass
Friday, August 12th

Booklets provided
In light of the affronts against God and his creation which are being perpetrated and increasingly promoted in our world, we are again making this powerful devotion a regular activity. Come join in these vocal prayers of thanksgiving and reparation to the Blessed Trinity and especially our Savior, prayers through our dear Blessed Mother, and all the saints for unity in the Church, for sinners of all types, for a just and lasting peace in the world and more!
Flame of Love Cenacles

Every Tuesday at 10 am and Thursday at 10 am & 2 pm (choose one)


Come join us to pray for the Flame of Love of the Immaculate Heart of Mary, which is Christ Himself, to be enkindled in our hearts and bring about a new Pentecost. There is no denying that this is exactly what our broken and hurting world needs. Learn more about this powerful and growing devotion HERE. Contact Board Member Ada Vergne for the materials and to sign up. Live streaming available for those who cannot attend in person.
OLC Mourns the Loss of Beloved Former OLC Board Member
Our Lady's Center has had many wonderful faithful board members throughout her nearly half-century of existence. One of the brightest-shining examples is

Stephen Engel,

who served in the 1990's and 2000's. Steve passed into eternal life on July 7th, 2022 in Ashland, OH,. He will be dearly missed by the many people whose lives he touched. Many of our long-time patrons will no doubt remember him fondly, such as those who attended Friday night Masses where he was a regular..



A Memorial Mass will be live streamed from St. Edward Catholic Church in Ashland Ohio this Friday, July 29th, at 11:00 am EST and can be viewed at that time HERE

. We are hoping to be able to show the live-stream in the conference room before Mass, if technology allows.

Also, please view his

Obituary

and, if you have any memories to share, leave them on his

Tribute Wall.
Tribute from Jack Kissane, President of OLC

"Steve Engel ("Angel" in German) was a faithful prayer warrior of Our Lady all his life. He was raised in Ohio but went to Johns Hopkins for an electrical engineering degree and Goucher College for a technical writing degree. He joined the Board of Our Lady's Center in the 1990's and served faithfully until he moved to Ohio in 2012. During his time with us, he assumed the duty of prayer warrior and led many various daily prayers and devotions at the Center. This role became even more necessary when the building burned in 2001 and needed to be funded and rebuilt over the course of six years. Steve was generous, humble, pious, thoughtful and an inspiration to all who knew him. One example of his leadership in prayer-- he arranged his day job, technical writing, to allow for his prayer life, and he frequently went to all night Adoration at churches scattered around Baltimore and Annapolis each night of the week. He was truly unique in his approach to life, living very humbly and quietly giving away most of his worldly possessions. He will certainly be missed by all the many people he has touched in this life. May he rest in peace eternally with his very best friend, Our Lady. Let us ask his intercession on behalf of the Center he loved so very much."
OF FINER DONATED CATHOLIC TREASURES
Vintage statues, antique sick call sets, hand carved crucifixes, icons and more!
Our Lady's Center has amassed dozens and dozens of gently-used, lovely, unique and possibly valuable Catholic treasures throughout the years. Many families have brought them to us in hopes that they will find loving homes in faithful households. We have been praying about how to be faithful stewards of these items and how best to reverently and respectfully use them to help raise funds for OLC.
Well, what better way than to feature a choice selection every week, and let our patrons place bids on them? This way, these sacred treasures will go to homes that will treasure them, needed funds will be raised to support OLC, and we will regain much square footage of useable space in our multi-purpose Conference room!
We will feature one or more items per week with suggested starting bids and as much description and information as we can discover about them. These items will be on display for the week prior to the end of the auction. If you would like to place a bid, call us or stop in. Bidders can also request texted updates before the close of the auction to try to avoid being outbid. Bidding ends at 4 pm on each Monday. Winners will then be notified and payment collected as soon as possible. The next highest bidder will be contacted after a reasonable time has been given for payment.
_______________________________________
OLC SILENT AUCTION

#001


Begins NOW. Closes 4 pm, Monday, August 1st.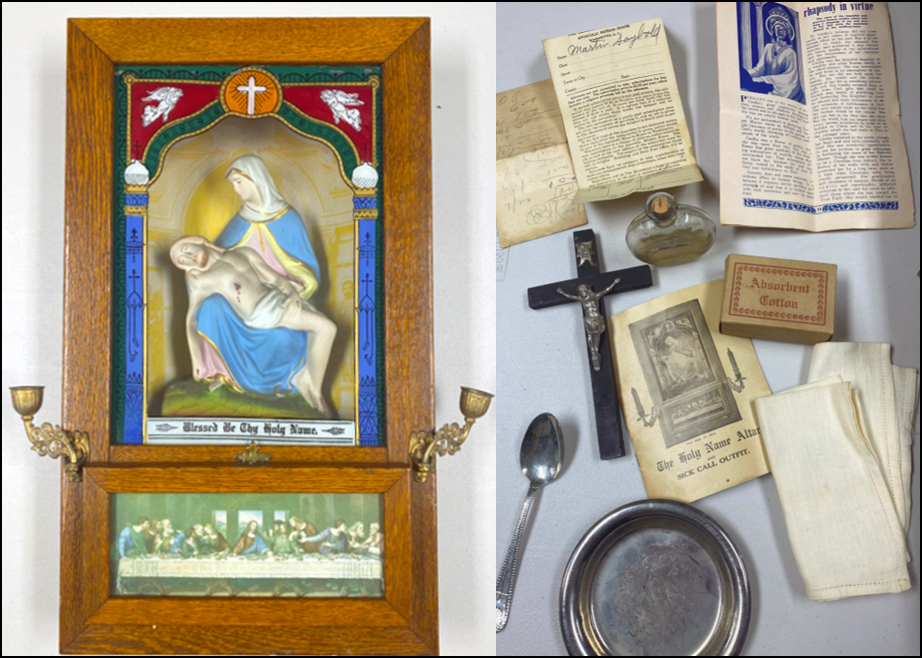 "The Holy Name Altar"
Early 1900's Pieta Sick Call Set in a Solid Oak Shadow Box Cabinet
No Catholic home should be without a sick call set, so that a visiting priest may have what is needed to give the sacrament of Anointing of the Sick (ie: Viaticum, Last Rights).
This beautiful antique set is in very nice, used condition. It measures 23"H x 13"W x4"D and would hang nicely on either a flat wall or in a corner. The painted glass window displays a ceramic color Pieta statue below which is inscribed, "Blessed Be Thy Holy Name." Behind a print of the Last Supper is a hidden altar containing the original documentation, a crucifix; a holy water bottle (with some water still inside); a silver-plated etched paten; two linen cloths; a spoon; two beeswax candles (somewhat melted and wrapped in tissue); two candelabras (shown in holders), absorbent cotton in original box, instructions and even the original receipt with presumably the purchaser's name (to pray for)! It appears this set was purchased for $6 through a layaway plan. This would be equivalent to around $210 today.
Opening bid:
$50.00
Please bid in increments of 10 for this item. Call
410-461-5066
to place a bid. If you need to leave a message, we will call back to confirm bid. You may also
email us,
but you must include your phone number so we can confirm.

IN THE BOOKSTORE*
*We are a non-profit. All sales go towards supporting the Shrine!

NEW! Wooden Phone Stands
in a variety of styles.

NEW! Be A Heart items
like this sweet Trinket Tray!

NEW! R.L. George Studios' latest stunning creation: St. Faustina! We also have all of this talented artist's popular works back in stock and available in a gallery-wrapped prints in two sizes and as boxed greeting cards. We buy directly from the artist and help support his large family.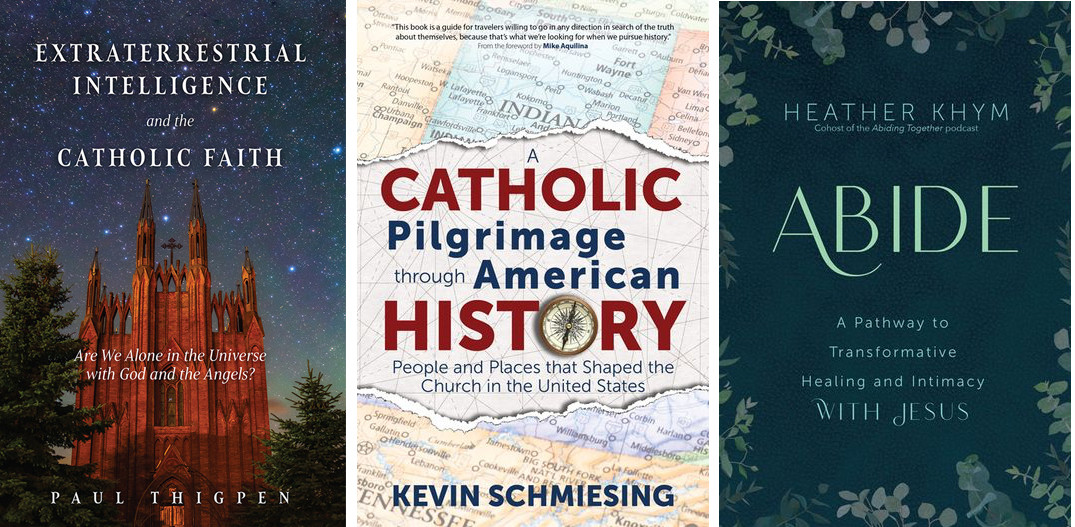 BOOKS, BOOKS AND MORE BOOKS!
We're the region's largest Catholic bookstore, and it shows when you walk in. And we have SO many excellent new releases arriving daily! Too many to feature. You've got to come in and see them all from publishers we know and trust: Sophia Press, Ignatius Press, Tan/Benedict Press, Pauline Books & Media, Scepter, OSV and more. Build your home library on the Catholic foundation of Truth, Goodness & Beauty.
AUGUST NO-CLIP COUPON:
BUY
5+
BOOKS, GET
15
% OFF
ALL OF THEM!
No coupon necessary. Valid on regularly priced, new, in-stock items only.
Cannot be combined with other coupons or discounts.
Expires 08/31/2022
Store Hours
Monday - Thursday: 10:00 am - 4:00 pm*
Friday: 10:00 am - 7:30 pm*
First Saturday: 10:00 am -10:30 am; 12:30 pm - 2:00 pm
*Please note that the store is always closed during the noon Mass
Holy Sacrifice of the Mass
Monday-Friday: 12:00pm
Friday Night 7:30 pm
1st Saturdays: 10:30 am
​
Confessions follow all Masses

Adoration Friday: 12:30 - 7:30 pm
Our Lady's Center Marian Shrine is a Catholic lay apostolate within the Archdiocese of Baltimore located outside of Baltimore, Maryland in Ellicott City. We offer the Holy Sacrifice of the Mass and confessions upstairs in our chapel each weekday and on first Saturdays. Downstairs in our beautiful store, we carry a large selection of Catholic books and religious articles to meet every need. We have many events and activities throughout each month.