October 2022 Newsletter
October is dedicated to the Holy Rosary, our spiritual weapon.
Come pray the Rosary 11:30 am Monday-Friday, prior to 12:00 noon Mass.
"One day, through the Rosary and the Scapular, Our Lady will save the world." ~St. Dominic.
"To Jesus through Mary"
410-461-5066 • 3301 S. Rogers Avenue, Ellicott City, Maryland 21043
Turn between the blue mailbox and guardrail and follow our lane to lovely oasis of peace!
www.ourladyscenter.net • email@ourladyscenter.net
SPECIAL OCTOBER EVENTS...
Complete Event Calendar HERE
This newsletter is packed! Be sure to scroll all the way down!
SPECIAL GUEST SPEAKERS ON THE FEAST OF THE HOLY ROSARY
THIS FRIDAY!
Dave & Joan Maroney
of Mother of Mercy Messengers
​"Preparing the World for the Illumination of Conscience"
Friday, October 7th at 10:00 am
(Doors open at 9:15. Please plan to arrive by 9:50)
Come join Dave & Joan Maroney for a special event discussing the popular topic of a global Illumination of Conscience, what support it has in the Church's heritage, and how our Catholic faith prepares us to live the prayer "Jesus, I trust in You!"

Topics Covered:
• The role of Our Lady of Victory in our times
• Why the message of Divine Mercy now
• St. Faustina's task for the Final Coming
• The Illumination of Conscience: what it is and why people expect it
• How to embrace the time of mercy for ourselves and the world

SCHEDULE:
The Maroney's Talk begins at 10:00 AM.
Rosary at 11:30 AM, Mass at 12:00 Noon, then Friday Devotions & Confessions.
Reception to follow in conference room with the Maroneys.

Dave and Joan Maroney, founders and directors of Mother of Mercy Messengers, will speak at OLC on the Feast of Our Lady of the Rosary, the final day of the 54 Day Novena, and the day before the National Rosary Rally in DC at which they will be featured! The Mother of Mercy Messengers is an apostolate of the Marian Fathers, and the Maroneys have taken the message emanating from the National Shrine of The Divine Mercy in Stockbridge, MA to parishes, schools, and conferences across the United States and beyond since 1999. We are excited to welcome them back to OLC.
Annual America Needs Fatima Rosary Rally


Saturday,

October

15th, 10 am Mass


Mass will be followed by exposition. The Holy Rosary prayed before the Blessed Sacrament to be followed by Benediction. Please arrive early so we can begin on time.

America Needs Fatima Public Square Rosary Rallies are always held on the Saturday closest to the date of the last apparition of Our Lady of Fatima and the Miracle of the Sun. There will be thousands of rosary rallies in cities all across America. Last year, there were more than 21,000 groups of faithful Catholics simultaneously praying for our country and the world! Please pray for peace and the conversion of hearts. Read more about why we need these rosary rallies HERE.

The Bookstore will be OPEN after the rosary until 2 pm for your shopping convenience!
SIGN UP NOW!
33 Days to Morning Glory
Consecration Group at OLC


Thursdays, 1:00 - 2:30 pm


​November 3rd - December 1st
The next 33 Days to Morning Glory group will meet at OLC on Thursdays afternoons

in preparation for Consecration to the Immaculate Heart of Mary which will take place on December 8th, the Feast of the Immaculate Conception at 12:00 Noon Mass in the OLC Chapel. This wonderfully popular and effective preparation method was devised by Fr. Michael Gaitley, MIC based on the teachings of St. Louis de Montfort. It is a simple way to be spiritually renewed and deepen our relationship with Mary, our spiritual mother.



To register and for information on ordering your materials, contact Theresa Fortunak at 301-910-8394 or email her HERE.
Announcing OLC 2022 Basket Raffles! Our Baskets are legendary, and it is that time again!

​First up is the

Thanksgiving Basket Raffle

loaded with nearly everything you need to set a gorgeous table for your Thanksgiving feast. The drawing for this basket will be held on Monday, November 21st after noon Mass & Confessions.

Get your tickets now.

$5

ea.

OR


Get

5

tickets for

$20!

REGULAR MONTHLY ACTIVITIES

First Fridays Mass & Devotions

Oct 7th at 12:00 Noon & 7:30 pm


Masses are followed by Exposition, Devotions and Confessions. Adoration continues between Masses.
Shop open 10 am - 12 pm & 1 pm - 7:30 pm
First Friday Promises
Blanket Making Workshops


2nd & 4th Tuesdays,
1:00 pm in the Conference Room


October Dates: 10/11 & 10/25




All are welcome after Mass in the Conference room to help knot more blankets for Project Linus. If you can cut and make knots, you can make a blanket! Material and supplies are provided.




Over 1000 blankets have been donated through OLC to date!





Blessing of Blankets




Tuesday,

October

11th after Noon Mass
Children's Storytime & Craft

2nd & 4th Wednesdays of the month,
10:30-11:30 am in the Conference Room


October Dates: 10/12 & 10/26

Bring the children to hear Mrs. Ginny read entertaining and wonderfully virtuous Catholic children's books, do a fun craft, and enjoy a snack. RSVP so we know how many snacks and crafts to have on hand, but last minute drop-ins are always welcome!
Holy Hour of Reparation
to the Sacred Heart before the Blessed Sacrament

Second Fridays of the Month following Noon Mass
Friday, October 14th

In light of the affronts against God and his creation which are being perpetrated and increasingly promoted in our world, we are again making this powerful devotion a regular activity. Come join in these vocal prayers of thanksgiving and reparation to the Blessed Trinity and especially our Savior, prayers through our dear Blessed Mother, and all the saints for unity in the Church, for sinners of all types, for a just and lasting peace in the world and more! Booklets provided.
Flame of Love Cenacles Revised times:
Tuesdays at 10 am live-streamed only,
Thursdays at 2 pm In OLC Chapel & live-streamed
Come join us to pray for the Flame of Love of the Immaculate Heart of Mary, which is Christ Himself, to be enkindled in our hearts and bring about a new Pentecost. There is no denying that this is exactly what our broken and hurting world needs. Learn more about this powerful and growing devotion HERE. Contact Board Member Ada Vergne for the materials and to sign up
All Saints Day Celebration
Tuesday, November 1st, 11 am - 12 noon
Calling all our tiniest saints in the making! Little Marys and Josephs, Clares and Francises, Thereses and Patricks and Roses and Nicholases. Come to hear Mrs. Ginny read stories about saints, do a craft, get a treat, and join in a parade of saints into Mass.

Parents, there is time to get a costume together, but it is not mandatory. Also, any child who would like to tell us about their special saint is encouraged to do so!
TWO ALL SAINTS DAY SPECIALS:
1) FREE HOLY CARD FOR EVERY CHILD
2) BUY 4 TINY SAINTS, GET 5TH ONE FREE!
All Souls Day Memorial Mass
Wednesday, November 2nd, 12:00 noon
We shall remember and pray for our loved ones who have passed on and especially remember the souls of all the patrons and benefactors who supported OLC through their time, talent and treasure throughout these past 48 years. The official name of this Mass is the Commemoration of All the Faithful Departed, a day of remembrance. On this important day we Catholics pray, celebrate Mass, visit cemeteries, and give alms in memory of those who may be in Purgatory, in hopes that their souls will be released to Heaven. Come anytime this month to add your loved ones' names to our book of remembrance which will be placed on the altar at Mass on All Souls Day.
PRAY - FAST - ADORE!




1000 Hail Marys for the Election


Monday, November 7th,
following 12:00 Noon Mass to around 5 pm.
Come to OLC to spend some time in prayer and fasting before the Blessed Sacrament with the Legion of Mary, Our Lady Undoer of Knots Praesidium. We will be imploring our Lord's protection upon the integrity of the electoral process and upon all those who seek to serve honorably. The Blessed Sacrament will be exposed from after Noon Mass until after the 100 Hail Mary's are prayed, and we will close with Benediction.
Special Storytime with Local Author
Pamela Love
Wednesday, November 9th, 10:30 am
Popular local author Pamela Love will return to OLC to read her newest book, A Miracle in the Kitchen, a Legend About St. Zita." This delightful children's book follows the astonishing story of a faithful young Italian domestic servant who had Heavenly help as she carried out her duties in charity and love. It's a beautiful story to usher in the season of bountiful goodness with the joy of fresh-baked bread! We carry a number of Pamela's other children's books include, "Brigid & the Butter and Staircase for the Sisters. She will be happy to sign books for you.
Defend Life Speaker Series Returns Featuring




Dr. Alan Keyes


"Right According to God:
America Will Not Survive Unless We Return to the Rights Enumerated in the Declaration of Independence"


Friday, November 11th, 1:00 pm in the Chapel


(Exposition will resume following the talk)
Dr. Alan Keyes is a former United States Assistant Secretary of State for International Organization Affairs and an American conservative political activist, author, and a former presidential candidate, as well as a husband and father. With his Harvard University Doctorate in Government with an emphasis on the US Constitution, extensive experience in American government, and great faith in God, he is able to provide a strong defense of morality in America. Come hear this unparalleled leader speak, and then stay for refreshments and lovely conversation in the Conference room.
Your Presence & Prayers Save Lives!


PLEASE consider signing up HERE for the Fall 40 Days for Life campaign to end abortion. It runs through November 6th, 2022. There are many slots still open. The vigil hours are 7 am to 6 pm. Over 22,000 lives have been saved since it began in 2007! Also, mark your calendars for the October 22, 2022 Eucharistic Procession starting at 8:00 am. The procession will start at St. Agnes Church and end at Hillcrest abortion mill.
Mourning the Loss of Msgr. Joseph Luca


Msgr. Luca, formerly the pastor of St. Louis & St. Francis parishes in Clarksville and Fulton, passed away on October 1st. Many of our patrons and several of our staff and Board members are members of these parishes. Please join us in praying for Msgr. Luca's eternal rest. He had suffered for many years from cancer and had a large brain tumor removed before formally retiring last year. Through it all, he strove to be a faithful shepherd and steward for his parishioners. Read his obituary HERE, and a Catholic Review article HERE.
Letters for Msgr. Lizor
Some friends of our beloved Msgr. Joseph Lizor will be visiting him sometime next week at his new home at Mercy Ridge and will happily hand deliver letters and gifts to him from his many friends who have come to OLC throughout the years. Fr. Lizor was our longtime Monday noon Mass celebrant and OLC board member where he served as the spiritual director of the Board of Directors until his health began to decline significantly. He is no doubt feeling isolated from his community of friends he enjoyed seeing so often, so it would be a morale booster for him to receive a bounty of heartfelt sentiments from those who remember him fondly. Drop your letters off at OLC before October 12th to be included in this delivery. Those arriving later will be brought to him next month. Messages may also be emailed to Msgr. Lizor HERE
A GREAT BIG, NOT-SO-SILENT THANK YOU
to all who placed bids on our Silent Auction items over these last couple of months. We auctioned off 11 unique, antique, and beautiful Catholic treasures which had been donated to us throughout the years. They now have found homes with patrons of OLC where they will be enjoyed and honored, and we raised over $1500 to support the Center! We will auction off more items in the new year, but for now, we will concentrate on selling Raffle Tickets for our legendary Thanksgiving and Christmas Raffle Baskets!

IN THE BOOKSTORE*
*We are a non-profit. All sales go towards supporting the Shrine!

| | |
| --- | --- |
| NEW: A Garden Catechism: 100 Plants in Christian Tradition and How to Grow Them. Perfect gift for the gardener in your life. | NEW from Raymond Arroyo & Sophia Press who brought you The Spider Who Saved Christmas and The Thief Who Stole Heaven. |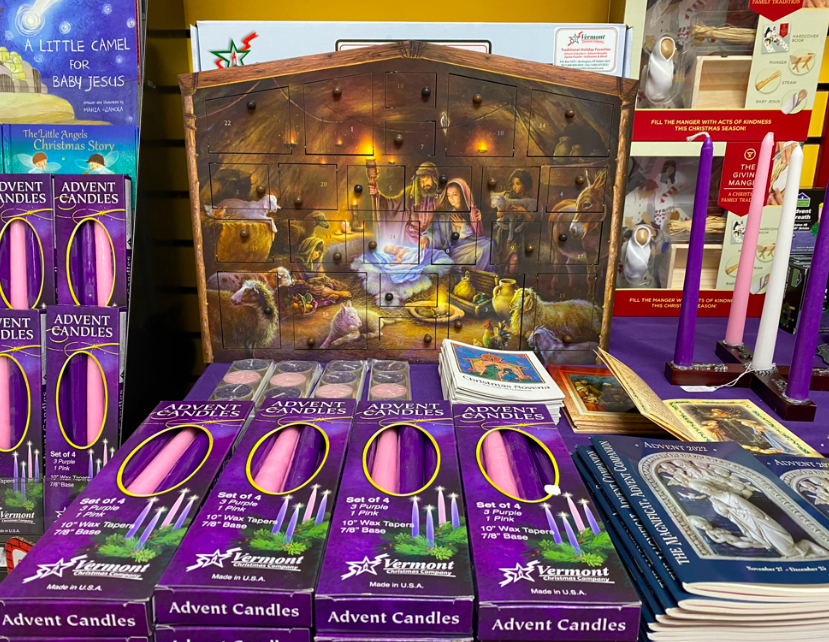 Advent Candles, Wreaths, Calendars, and Devotionals are here! Come now for best selection.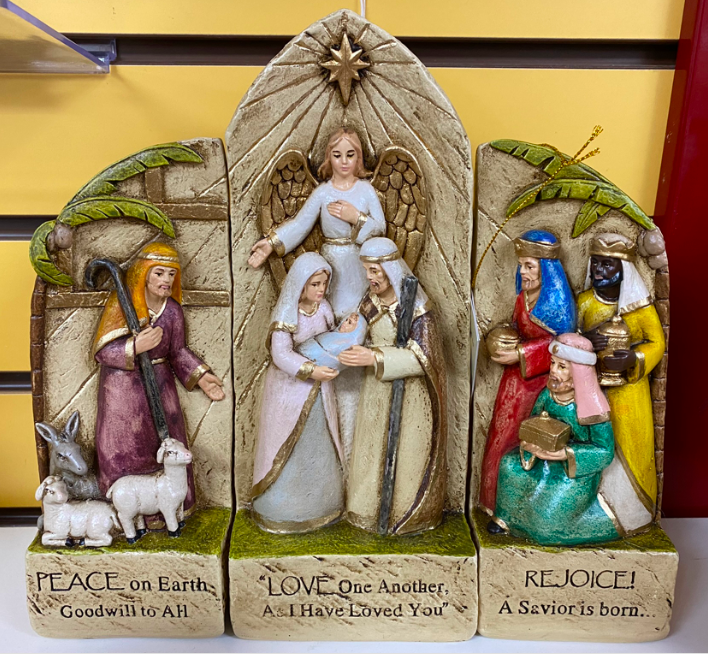 Beautiful selection of Hand-painted Christmas Nativities, Triptychs, Plaques and Crosses from Liscano of Colombia, South America.
The whole family will love these Christmas Jigsaw Puzzles from the Vermont Christmas Company, and we have the best selection of them!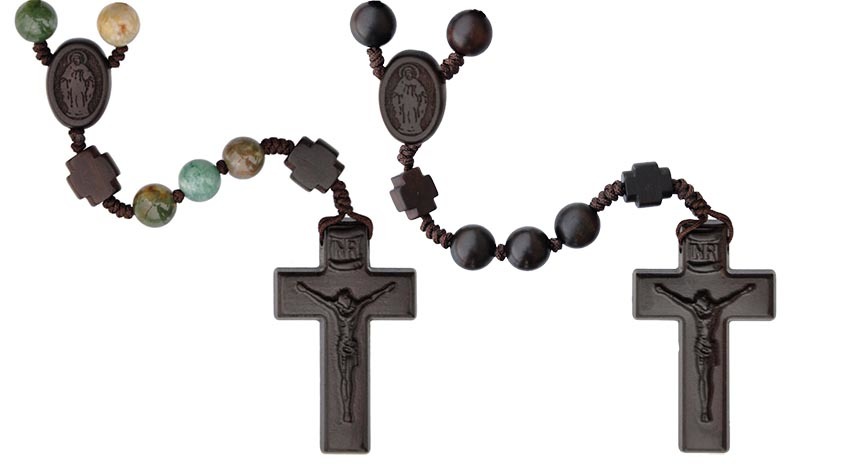 Rosaries to honor the Month of the Holy Rosary. We have them in every style including our popular Jujube Wood and Gemstome Rosaries from South Korea.
OCTOBER NO-CLIP COUPON:
One Rosary in Stock
15
% OFF
No coupon necessary. One use per person please. Valid on regularly priced, new, in-stock items only. Cannot be combined with other coupons or discounts. Some exclusions apply.
Expires 10/31/2022
Store Hours
Monday - Thursday: 10:00 am - 4:00 pm*
Friday: 10:00 am - 7:30 pm*
First Saturday: 10:00 am -10:30 am; 12:30 pm - 2:00 pm
*Please note that the store is always closed during the noon Mass
Holy Sacrifice of the Mass
Monday-Friday: 12:00pm
Friday evenings: 7:30 pm
1st Saturdays: 10:30 am
​
Confessions Follow all Masses

Adoration Friday: 12:30 - 7:30 pm
Our Lady's Center Marian Shrine is a Catholic lay apostolate within the Archdiocese of Baltimore located outside of Baltimore, Maryland in Ellicott City. We offer the Holy Sacrifice of the Mass and confessions upstairs in our chapel each weekday and on first Saturdays. Downstairs in our beautiful store, we carry a large selection of Catholic books and religious articles to meet every need. We have many events and activities throughout each month.