Our Lady's Center Marian Shrine
"To Jesus through Mary"
410-461-5066 •
3301 Rogers Avenue, Ellicott City, MD 21043
Turn between the blue mailbox and guardrail and follow our lane to lovely oasis of peace!
www.ourladyscenter.net • email@ourladyscenter.net
SPECIAL DECEMBER EVENTS...
Scroll all the way down! It's another packed newsletter.
Complete Event Calendar HERE
St. Nicholas Coming to Town!


Tuesday, December 6th 10:30 am
Bring the children to OLC to meet St. Nicholas, Bishop of Myra, on his feast day! Children will leave their shoes in the downstairs hallway and then head up to the Chapel with their parents and grandparents. St. Nicholas will surprise them there and tell them about his life, his love of the Lord, and his joy of giving. Afterwards, all are invited to the Conference room for Cookies, coloring and an opportunity to get photos with St. Nick!

Please RSVP if you can so St. Nicholas knows how many bags of chocolate coins to have on hand for the children's shoes (we'll have some extras for last minute drop-ins). Also, let us know if an alternate treat is needed due to dietary restrictions.
Come join us for a special evening:
VIGIL MASS
for the Solemnity of the Immaculate Conception
of the Blessed Virgin
Mary
Wednesday, December 7th, 7:00 PM
followed by an inspiring talk by local author & writer Kevin Wells!
"An American Saint, an American Hero"
Father Aloysius Schwartz
Wednesday, December 7th, following the Vigil Mass
Biographer Kevin Wells will share the compelling story of Father Aloysius Schwartz, a different kind of American hero, an ordinary priest born in DC who stared down corruption, slander, persecution, and death for the sake of God's poor. Come be introduced to an amazing servant of the poorest of the poor, a venerable servant of God who courageously founded hospitals, orphanages, hospitals, clinics, schools, and a religious order, changing the course of history for a war-torn nation.
The Bookstore & Gift Shop will remain OPEN throughout the afternoon and early evening until the 7:00 pm Mass for extended Christmas shopping!
The Solemnity of the Immaculate Conception is a
HOLY DAY OF OBLIGATION
For those of
you
planning on attending our 12:00 Noon Mass on Thursday, December 8th,
Please be aware that attendance is often high on Marian feast days, so plan to come early to ensure you find a parking space and a seat.
​Learn about the history and theology of this doctrine
HERE
. She is the
patroness of our suffering and torn nation, she who crushes the head of the serpent. Let us turn to her for help.
ANNOUNCING...

A Special Saturday

Shopping Day!

December 17th, 10 am-2 pm

Our regular hours are challenging for those who work or come from a distance, so we have decided to open on a Saturday close to Christmas weekend. Come browse the wonderful selection of gifts at your favorite non-profit Catholic bookstore and gift shop! We will have FLASH SALES & DRAWINGS all day for instant winners of signed books, store merchandise, and store discounts!

We're working on finding a priest to come celebrate Mass that morning and will let you know if we do. We do always try to have Mass celebrated on the days we operate, as HE is the source of all our strength.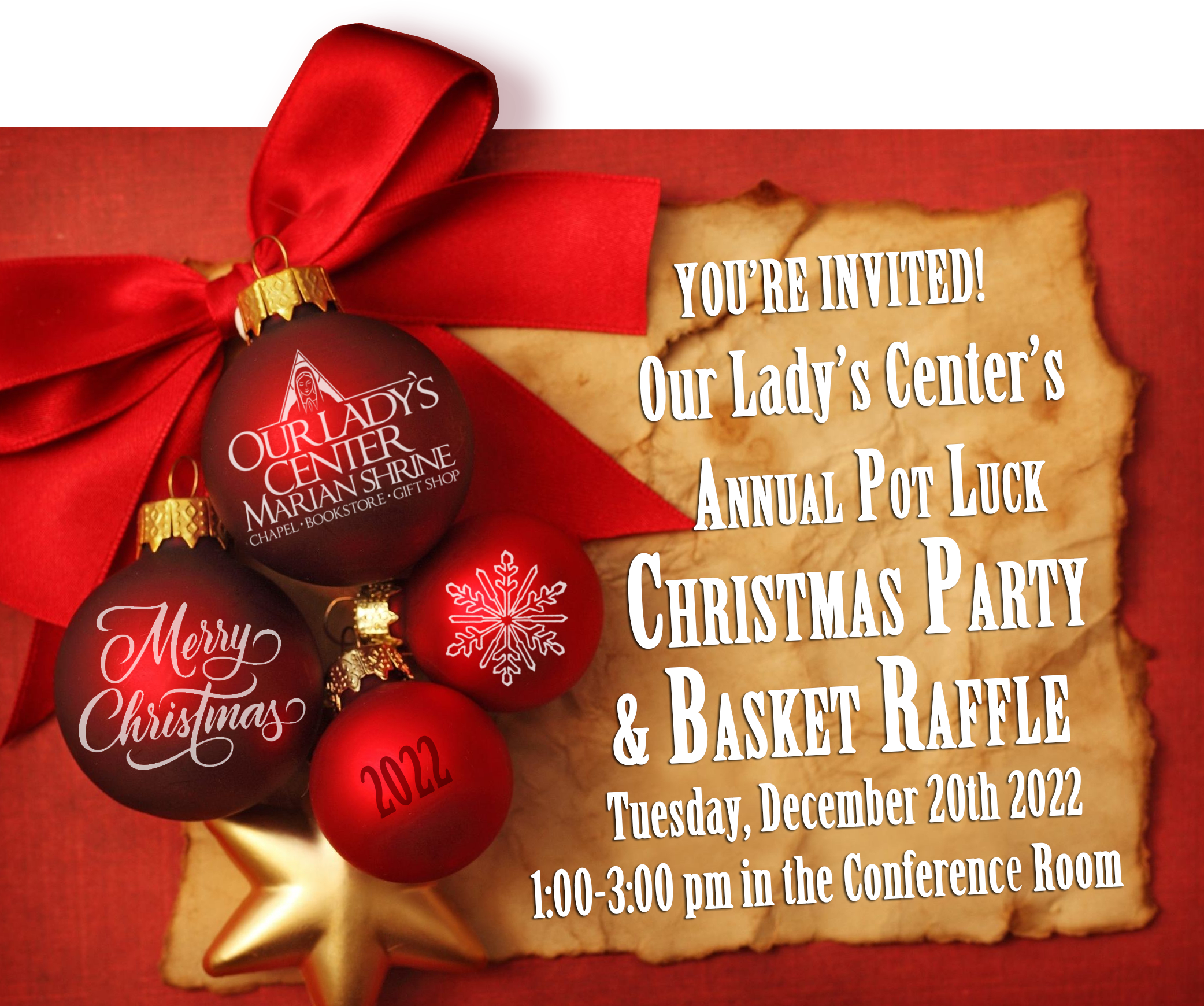 2022 Annual Patron Pot Luck Christmas Party & Basket Raffle
Tuesday, December 20th, 1-3 pm
Our Christmas party is always a fun time and an opportunity to get to know some of the people you see at Mass. Bring something delicious to share. Sign up in the bookstore or email us when you know what you're bringing (so we don't have four hams!)
Get Your Tickets for the Famous OLC
Basket Raffles!
Our Raffle Baskets are legendary, and it is that time again! Get your tickets now.
Four Amazing Christmas Baskets!
Click
HERE! for descriptions of basket contents
including $$$ in GIFT CARDS to local area businesses!
Raffle Tickets:
$5
ea.
OR
5
for
$20
!
(Best deal)
Purchase in person, charge over the phone or click the button below to purchase tickets (Be sure to let us know which baskets to put the tickets in).All tickets can be put in one entry box or divided up among the baskets. You could potentially win them all!
The Christmas Basket winners will be drawn at our Annual Patron Pot-Luck Christmas Party. You need not be present to win any of the raffles, but we hope you are! There will be door prizes for the attendees!
Support these awesome businesses that generously donated Gift Cards for the Raffles!

OLC will be CLOSED
Sat-Mon, Dec. 24-26th as well as Monday, Jan. 2nd


REGULAR MONTHLY ACTIVITIES

First Fridays Mass & Devotions

December 2nd at 12:00 Noon & 7:30 pm


Masses are followed by Exposition, Devotions and Confessions. Adoration continues between Masses.
Shop open 10 am - 12 pm & 1 pm - 7:30 pm
First Friday Promises
First Saturday




December 3rd




Latin Rosary -

9:45 am

, booklets provided.




Mass & Devotions

-

10:30 am


Mass is followed by Exposition, Devotions and Confessions. Benediction around 12:00 noon. Shop 9:45-10:30 am and 11:30 am-2 pm
First Saturday Promises

Every First Saturday Mass is offered for the intentions of our patrons and benefactors, and that means you!
Holy Hour of Reparation
to the Sacred Heart before the Blessed Sacrament

Second Friday of the Month following Noon Mass,
Friday, December 9th

In light of the affronts against God and his creation which are being perpetrated and increasingly promoted in our world, we are again making this powerful devotion a regular activity. Come join in these vocal prayers of thanksgiving and reparation to the Blessed Trinity and especially our Savior, prayers through our dear Blessed Mother, and all the saints for unity in the Church, for sinners of all types, for a just and lasting peace in the world and more! Booklets provided.
Blanket Making Workshops


2nd & 4th Tuesdays,
1:00 pm in the Conference Room


December Dates: 12/13 & 12/27




All are welcome after Mass in the Conference room to help make no-sew blankets for Project Linus to be distributed to children in crisis situations. Material and simple instructions are provided.




Nearly 1000 blankets have been donated through OLC to date!
Children's Storytime & Craft

2nd & 4th Wednesdays of the month,




10:30-11:30 am in the Conference Room

December Dates: 12/14 & 12/28

Bring the children to hear Mrs. Ginny read entertaining and wonderfully virtuous Catholic children's books, do a fun craft, and enjoy a snack. RSVP so we know how many snacks and crafts to have on hand, but last minute drop-ins are always welcome!
Flame of Love Cenacles

Tuesdays at 10 am live-streamed only.
Thursdays at 2 pm In OLC Chapel & live-streamed

Come join us to pray for the Flame of Love of the Immaculate Heart of Mary, which is Christ Himself, to be enkindled in our hearts and bring about a new Pentecost. There is no denying that this is exactly what our broken and hurting world needs. Learn more about this powerful and growing devotion

HERE.

Contact Board Member

Ada Vergne

for the materials and to sign up.
Our Lady of Perpetual Help Novena
Thursdays following 12:00 Noon Mass
In this novena to Our Lady of Perpetual Help, we pay tribute to the Blessed Virgin Mary in asking for her assistance. The image has helped her provide strength, comfort and miracles to the faithful for centuries!
Off Site Parish Shows:
Find us after Masses selling at the following location:
12/3 - St. Nick Night at St. Louis, Clarksville
12/4 - St. Philip Neri, Linthicum
ANNOUNCING... The Seven Sorrows Devotions Tuesdays & Fridays, beginning in January!
More information to come.
Join us as we honor Our Lady of Sorrows. Learn about Our Lady of Kibeho and the promises associated with this devotion, as well as the connection of Our Lady of Sorrows to the founding of Our Lady's Center. Materials will be provided. We also carry a number of items in the bookstore related to this growing devotion, some made in Rwanda. Learn more about it HERE.
Snapshots from November...
The Saints Came Marching In!

What a wonderful turnout of little saints-in-the-making we had this year! St. Giana Molla (aka Mrs. Ginny) read and did a craft with the children. Fr. Patrick gave a very special blessing, and then

Sherry Hohl led the children up to the chapel singing. (Pictured: The Ellrod family).

A Real Love of Reading!

Local guest author Pamela Love returned to read her latest book, "Miracle in the Kitchen," at a very special Children's Storytime. We are excited to feature books from our extensive selection. It is our hope that we foster a lifelong love of reading that which honors the Good, True and Beautiful!
Alan Keyes Shook the Walls

Alan Keyes gave a compelling and spirited talk "Right According to God: America Will Not Survive Unless We Return to the Rights Enumerated in the Declaration of Independence."

We Bring the Shop to You!

We enjoys displaying our beautiful religious articles and giftware at churches and events to help get holy things into peoples hands and homes. (Shown: Cele Daub, Mgr. Christine Cunningham and Karen Smith at St. Louis).
Thanksgiving Basket Raffled

The enormous Thanksgiving basket was won by patron Colleen S. Usually we have a priest pick the winning ticket, but Fr. Gerard had actually entered the raffle himself! Our young assistant, Kevin M. was happy to oblige. A total of 365 tickets were entered into the drawing. Thanks to all for your support!

All Hallows Eve at the Grotto

The vigil of All Saints Day was eerily still. The statue of the Blessed Mother, like a beacon in the gathering twilight, silently gazed over the solitude of her Center. This photo expresses the joy, hope and peace Our Lady readily offers to all, even amidst the darkest of our days. She is always near.

IN THE BOOKSTORE & GIFT SHOP...

Come Get Your Christmas Presents!
Why Shop at OLC?

You can feel good about shopping here! We have been trying for some time now, for both ethical and quality reasons, to source most of our items from the USA, Italy, Portugal, Colombia, Equador, Brazil, South Korea and various other countries.

Our products are produced by Catholic companies, religious orders, apostolates and local artisans. We trust our vendors, and they stand behind their work. Buying from us supports them too, and they need it.

OLC is a non-profit 501c3, and all revenue generated goes toward supporting our little shrine and ministry of bringing people to Christ through Mary.

While Amazon will likely not miss your support, we are very, very grateful for it! Every First Saturday Mass is offered for the intentions of our patrons and benefactors, and this means you!

For those items you do need to purchase on Amazon, please use AmazonSmile and select "Our Lady's Center" as your charity. We will receive a donation from each sale. Thank you! - OLC Staff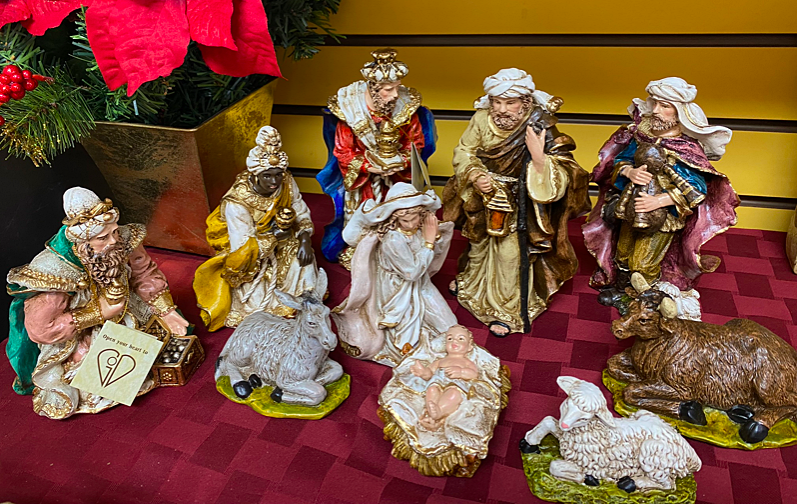 Beautiful hand-painted nativities are in stock. Liscano is a line of statues, crucifixes & plaques made and painted by 13 widows and their families in Colombia, South America. We buy directly from the source. They are grateful for your support.
| | |
| --- | --- |
| Christmas Around the Fire: Stories, Essays, & Poems for the Season of Christ's Birth | Our Lady of Guadalupe and her Dear Juanito, a beautiful new release just in time for her Feast Day on December 12th. |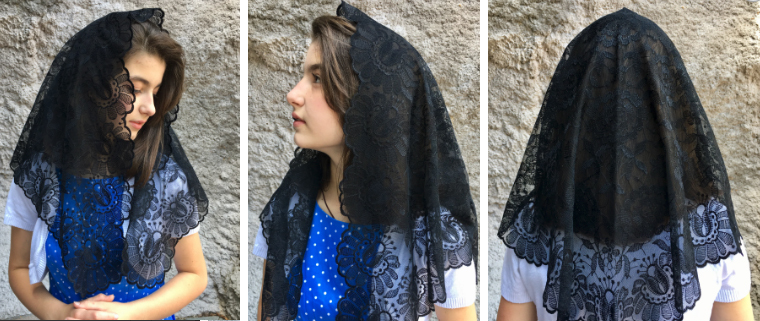 Lovely chapel veils in stock.
Watch this video
to understand why many are choosing to veil.
| | |
| --- | --- |
| Another fresh batch of Trappistine chocolates, fudge and penuche has arrived. An easier, more pleasing hostess gift can't be found. | The Biblical Roots of Marian Consecration, a new release from Tan Books that will set your heart ablaze for love of the Blessed Mother (or your money back!) |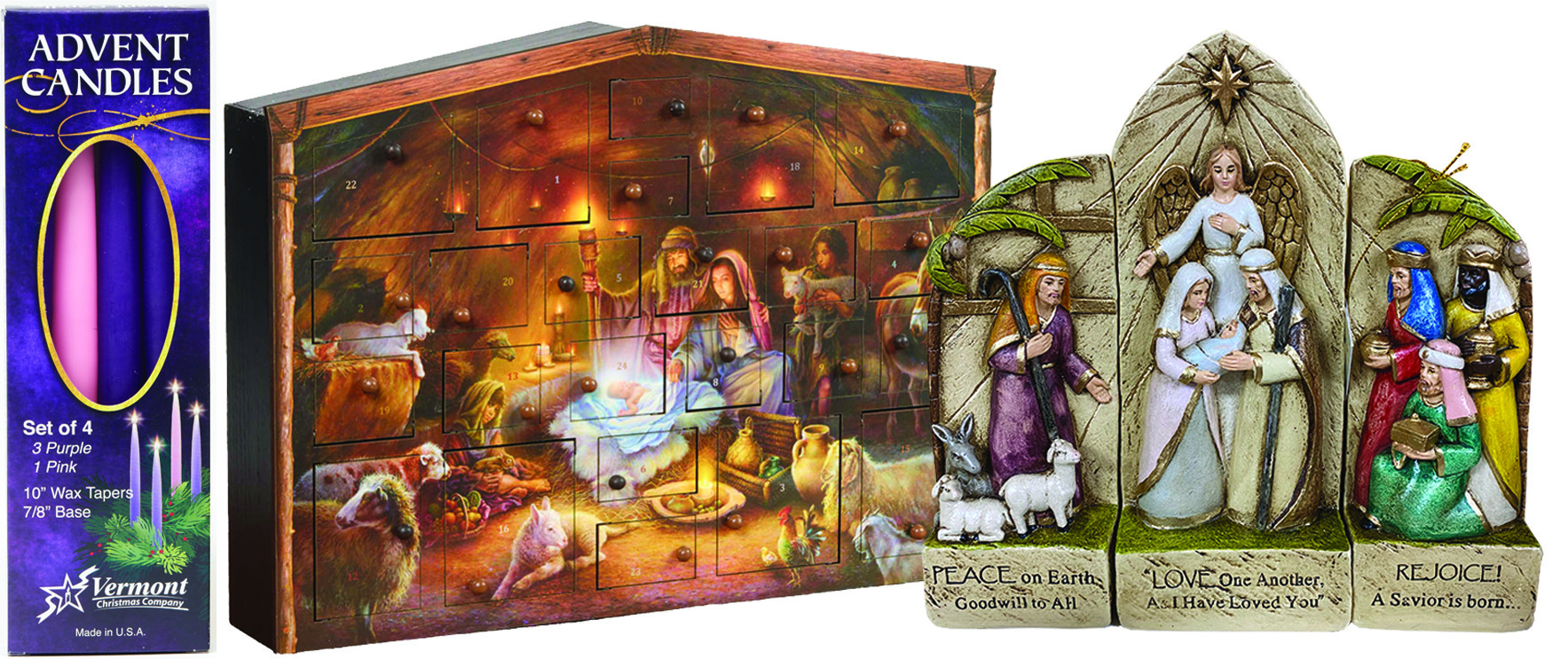 We still have a nice selection of Advent and Christmas items in stock, but we don't know if we'll get more in, so come get what you need now.
Beautiful Christmas Cards - Mix & Match!
Printed by Baltimore's own Barton Cotton, Inc.
We even have some printed in Spanish.

Excellent stocking stuffers: Catholic Doctrine Playing Cards created by a priest to help us all learn our faith.
DECEMBER NO-CLIP COUPON:
One CHRISTMAS ITEM in Stock
10
% OFF
No coupon necessary. One use per person please. Valid on regularly priced, new, in-stock items only. Cannot be combined with other coupons or discounts. Some exclusions apply.
Expires 12/31/2022
Mass Times:
Holy Sacrifice of the Mass
Monday-Friday: 12:00pm
Friday evenings: 7:30 pm
Firstt Saturdays: 10:30 am
​Confessions Follow all Masses
Adoration Friday: 12:30 - 7:30 pm

Store Hours
Monday - Thursday: 10:00 am - 4:00 pm*
Friday: 10:00 am - 7:30 pm*
First Saturday: 10:00 am -10:30 am; 12:30 pm - 2:00 pm
*Please note that the store is always closed during the noon Mass
Our Lady's Center Marian Shrine is a Catholic lay apostolate within the Archdiocese of Baltimore located outside of Baltimore, Maryland in Ellicott City. We offer the Holy Sacrifice of the Mass and confessions upstairs in our chapel each weekday and on first Saturdays. Downstairs in our beautiful store, we carry a large selection of Catholic books and religious articles to meet every need. We have many events and activities throughout each month.