Our Lady's Center Marian Shrine
July 2023 Newsletter

July is dedicated to the Precious Blood of our Lord...The early Fathers say that the Church was born from the pierced side of Christ, and that the sacraments were brought forth through His Blood. "The Precious Blood which we worship is the Blood which the Savior shed for us on Calvary and reassumed at His glorious Resurrection; it is the Blood which courses through the veins of His risen, glorified, living body at the right hand of God the Father in heaven; it is the Blood made present on our altars by the words of Consecration; it is the Blood which merited sanctifying grace for us and through it washes and beautifies our soul and inaugurates the beginning of eternal life in it."
(Catholicculture.org)
.
| | |
| --- | --- |
| 410-461-5066 • 240-581-8013​ (C) | |
Hours: Mon-Thurs 10am-4pm with Rosary at 11:30 am and Mass at 12 noon.
Fridays 10am-7:30pm with Rosary at 11:30 am, Mass at 12 Noon, Adoration from 12:30-7:30 pm. Friday evening Mass 7:30 pm followed by Exposition & Devotions until 9 pm.
First Saturdays only: Open 10 am -2 pm, Mass at 10:30 followed by Exposition & devotions.
Confessions follow every Mass. Bookstore always closed during Mass.

YOUR RESPONSE IS REQUESTED...

Nearly

50

Years of OLC!





We are excitedly preparing to celebrate our

50 Year Anniversary

next year, and we need your help! We're trying to track interest in a celebration and also to locate early patrons who have knowledge, stories and/or photos of our early history for possible publication. Please fill out this survey and contact Manager Christine with any info or materials you may have.





PLEASE click the button below to take the survey. It just takes just a few minutes & means a lot to us!
| | |
| --- | --- |
| Photo: Possibly the only image we have of the first building OLC occupied, known as The Lodge. This building was purportedly located in a wooded area off Rte 40 where the Acura Dealership now stands. | |
REGULAR DEVOTIONS & ACTIVITIES...
First Friday Mass & Devotions Friday, July 7th at 12:00 Noon & 7:30 pm Masses
Masses are followed by Exposition and Confessions.
First Friday Promises

Seven Sorrows Rosary
Every Tues. and Fri. at 11:00 am in the Chapel.
(followed by our regular rosary at 11:30 pm)
Join us as we honor Our Lady of Sorrows. Learn about Our Lady of Kibeho and the promises associated with this devotion. Booklets provided and materials available in the store. Learn more HERE.

Flame of Love Cenacles Every Tues. at 10 am virtually. Every Thurs. at 2 pm in Chapel & virtually.

Praying for the Flame of Love of the Immaculate Heart of Mary to be enkindled in our hearts and bring about a new Pentecost. More

HERE.

Contact

Joan & Paul Kane

for more info. Live streaming for those who cannot attend in person.
First Wednesdays Devotions to

St. Joseph


First Wednesday of the Month
following 12:00 Noon Mass
JULY DATE: 7/5.
The world desperately needs the intercession of St. Joseph, patron of fathers, families, the Universal Church and the Terror of Demons! Learn about the Nine First Wednesdays HERE.

Our Lady of Perpetual Help Novena


Thursdays following 12:00 Noon Mass
Our Lady of Perpetual Help is the advocate, the hope, and the refuge of sinners. Our world needs her help now more than ever. Come join us in beseeching her intercession.

Holy Hour of Reparation
to the Sacred Heart before the Blessed Sacrament
Second Fridays following 12:00 pm Mass
JULY DATE: 7/14


Come join in these vocal prayers of thanksgiving and in reparation for sins committed against His Most Sacred Heart. Booklets provided.
Pray for Vocations with the Traveling Bust of Our Lord & Blessed Chalice Sign up to take home the Ecce Homo bust of Our Lord and blessed chalice for a two week interval. Set them up in a place of honor in your home and pray for vocations to the priesthood and religious life as well as your own personal intentions. Instructions and devotional materials included. Email us for more information

Blanket Making Workshops
2nd & 4th Tuesdays, 1:00 pm
July dates: 7/11 & 7/25
All are welcome after Mass in the Conference room to help knot more blankets for children in need. If you can cut and make knots, you can make a blanket! Material provided.

Children's Storytime & Craft
2nd & 4th Wednesdays, 10:30 am
July dates: 7/12 & 7/26
Bring the children to hear a wholesome, edifying story read by Mrs. Ginny, do a fun craft, enjoy a snack and make new friends! RSVP if possible so we have an idea of how many to expect, but drop-ins are always welcome!
Newly Ordained Fr. John Bilenki Offers Mass at OLC!
What an honor for OLC that a newly ordained priest would ask to offer one of his first Masses here! Fr. John Bilenki was just ordained as a priest of the Archdiocese of Baltimore on June 24th, and then within the week, he celebrated Mass for the patrons of OLC. Afterwards, we enjoyed a reception with him and his very proud parents. Fr. John was kept quite occupied bestowing blessings upon all who asked. Below is a letter from Fr. John expressing his gratefulness for all the support.
A Message from Fr. John Bilenki

Dear Brothers and Sisters in Christ,
I wish to express my heartfelt thanks to you for your warm welcome on June 30 as I offered Holy Mass and for the reception afterward on the occasion of my recent ordination to the priesthood. It was a beautiful afternoon, giving our praise and thanks to God for His providence and love manifest in so many ways in our lives. I am grateful also for the generous spread of food and drink, the fellowship, and your generosity in the collection taken up. I am truly humbled and grateful. Thank you for your continued prayerful support and encouragement of vocations. Know of my prayers for you all!
The Changing of the Guard
OLC employee Kevin Molino is heading off to college at the Franciscan University of Steubenville in Ohio. Kevin has been a diligent, respectful, joyful employee and an excellent asset for OLC. We are immensely grateful to have had his help for the last two years and wish him well in his studies. He actually recommended and then trained his replacement, another very promising young man, Matthew Melka. Matthew has caught on quickly and stepped right in to fulfill the duties of this position. Our staff appreciates the help in this position, which often includes more strenuous lifting, restocking and stairs-running than our own energy levels allow.
A Surprise Visit from
a Dear Old Friend!

Fr. Emmanuel Fale, back from Cameroon for a visit, dropped in right when we needed some Mass coverage. It was wonderful to see him again and to help him raise awareness of his apostolate,

Kumbo Kids

, which helps children in his war-torn community back home get educations. OLC Board member Carolyn Niebauer is pictured with her friend, Fr. Emmanuel.

OLC at the 145th Annual Clarksville Picnic

OLC was once again invited to exhibit at the annual St. Louis and St. Francis parish picnic. Fr. DeAscanis wants very much to have religious articles and sacramentals available for people to have in their homes. This year, we featured items for a home altar, a place of prayer in our domestic churches: Bibles, rosaries, crucifixes, framed prints, devotionals and holy water fonts.
OLC at the CMN Show in Alabama!
The Annual International Catholic Marketing Network Conference was held in Birmingham AL this year, so Mgr. Christine and Asst. Mgr. Ginny hopped on a plane and flew on down South to take part in the multi-day event, leaving the store in Karen's very capable hands. Many thanks to our wonderful volunteers who assisted her the four days we were away and made our trip possible: Partricia Zumbrun, Maria Wittlin, Mary Dan & Barb Jermann!

Christine and Ginny met up with old friends, discovered potential new vendors and placed orders for exciting new products to carry. Pictured top right is Orlando Liscano, our supplier for beautiful hand-painted statuary from Colombia, South America. Orlando represents 13 widows and their families who are supported by statue sales. We placed another big order with them, as these statues are top sellers. Ginny discussed teaming up OLC's Children's Storytime with the Pelican Project, a wonderful apostolate with materials supporting parents and families as they navigate these unchartered waters. Of course, a photo op could not be missed with keynote speaker, Fr. Mitch Pacwa!

See below for some of the items we've decided to bring in to the shop. These and much more are on the way!

OLC BOOKSTORE & GIFT SHOP
*We are a non-profit. All sales go towards supporting the Shrine!

NEW ITEMS ARRIVING DAILY
!
Look what we are bringing in from the CMN Show!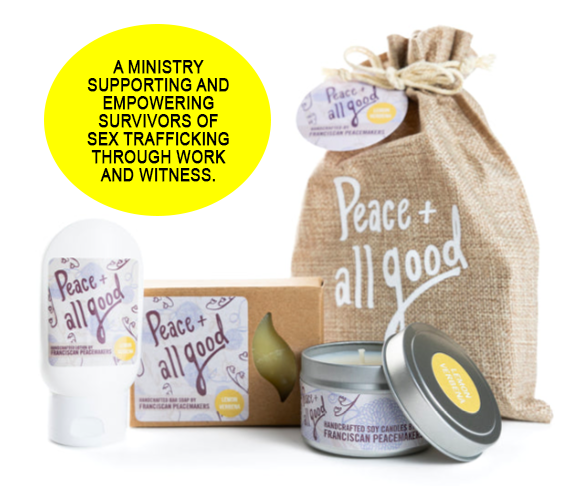 We are
SO
excited to bring in this amazing line of personal care items produced by survivors of sex trafficking through the Franciscan Peacemakers and inspired by the faith and spirituality of St. Francis of Assisi. We were blessed to meet some of these amazing women at the CMN show and are so inspired by the transformation in their lives as they embraced their dignity as beloved daughters of God through this ministry. These products are delightful and make wonderful gifts! Learn all about them
HERE
. If you buy through us, we will be able to expand the line of products we carry.
| | |
| --- | --- |
| Beautifully embossed and framed Irish prayer prints purchased from the Irish artist himself at the CMN show. For Baptism, Confirmation, Weddings & more. | Written by the sister of the founder of the Taste program, this is an excellent and highly recommended book for anyone struggling to support suffering loved ones with grace. |
| | |
| --- | --- |
| We loved seeing in person these Catholic toys and games from Saintly Heart! This is one of the items shipping in, a complete Mass set! Also coming in, the Nativity Set and an Alphabet Game, all in natural wood. | Absolutely stunning and weighty hand-made natural stone rosaries from Oklahoma. We ordered only a select number to start. If you like them, we'll bring more in! |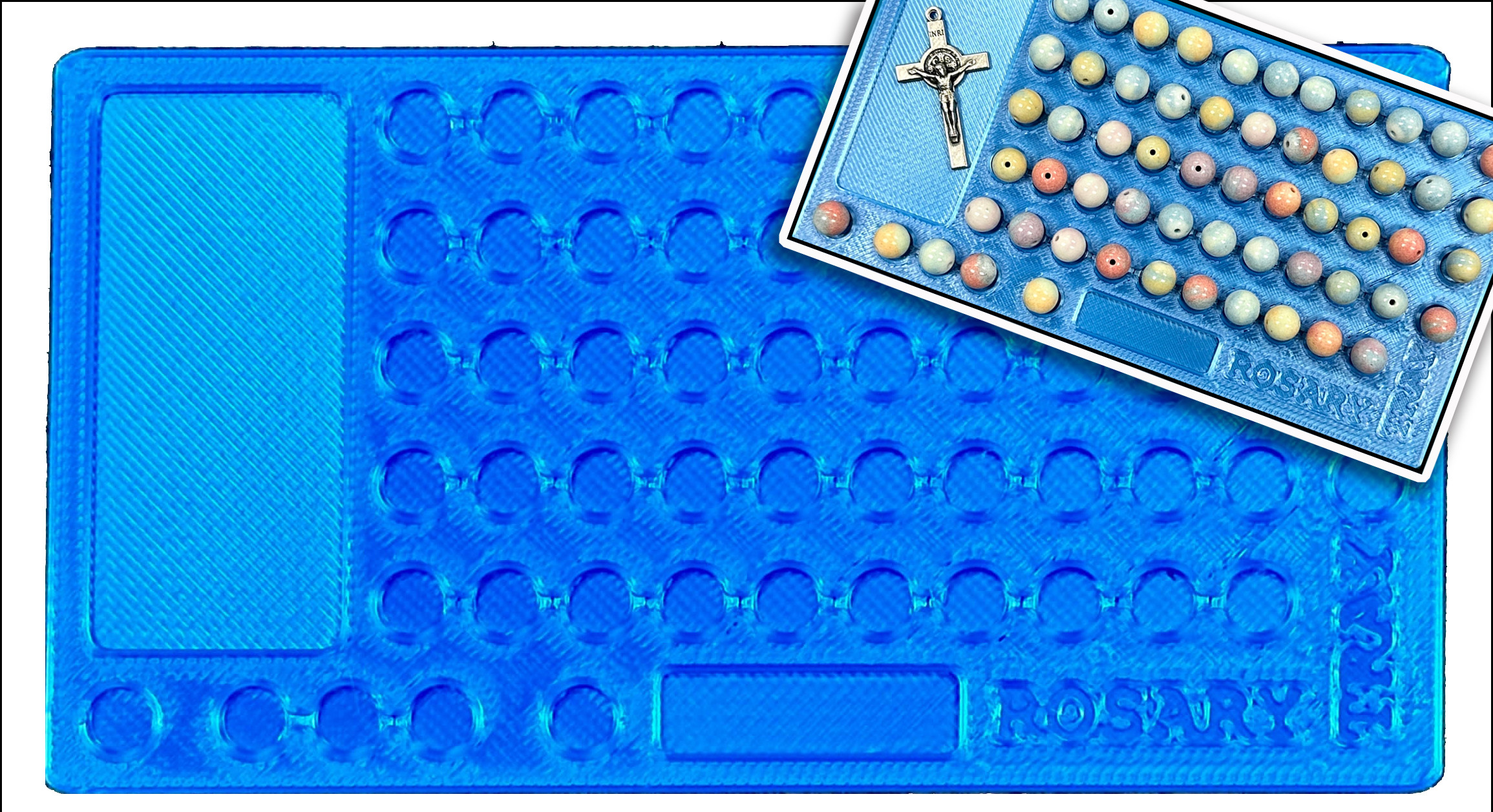 We brought back Rosary Trays for all you rosary makers out there! Produced and sold directly by a very crafty Franciscan priest. The inset shows how nicely it will hold your beads to make stringing a breeze. We can also order the tray with the beads included as shown. Let us know if you are interested!
SALE CONTINUES THROUGH JULY!
MORE ITEMS BEING ADDED DAILY!
CLEARANCE SALE!
40% OFF
Excellent Catholic books & gifts.
Come browse our largest clearance sale in years! Hundreds of items are being put on sale to make room for new stock. Shop early for best selection. Markdowns will be taken at register.

And don't forget to check out our $5 Books!
Store Hours
Monday - Thursday: 10:00 am - 4:00 pm*
Friday: 10:00 am - 7:30 pm*
First Saturday: 10:00 am -10:30 am; 12:30 pm - 2:00 pm
*Please note that the store is always closed during the noon Mass
Holy Sacrifice
of the Mass:
Monday-Friday: 12:00pm
Friday night: 7:30 pm
1st Saturdays: 10:30 am

Chapel otherwise open during regular store hours for private meditation.

Rosary


Monday-Friday: 11:30 am



Confessions


Following all Masses



Adoration Fridays


12:30 - 7:30 pm

Friday Night Devotions


Holy Mass: 7:30 pm
Followed by: Confessions, Rosary, Divine Mercy Chaplet, Adoration of the Blessed Sacrament and Benediction
Our Lady's Center Marian Shrine is a Catholic lay apostolate within the Archdiocese of Baltimore located outside of Baltimore, Maryland in Ellicott City. We offer the Holy Sacrifice of the Mass and confessions upstairs in our chapel each weekday and on first Saturdays. Downstairs in our beautiful store, we carry a large selection of Catholic books and religious articles to meet every need. We have many events and activities throughout each month.