OUR LADY'S CENTER MARIAN SHRINE
October 2023 Newsletter
October is dedicated to the Holy Rosary, our spiritual weapon and shield.
Come pray the Rosary 11:30 am Monday-Friday, prior to 12:00 noon Mass.
"One day, through the Rosary and the Scapular, Our Lady will save the world." ~St. Dominic.
"To Jesus through Mary" for 49 years!
410-461-5066
• 3301 S. Rogers Avenue, Ellicott City, Maryland 21043
Turn between the blue mailbox and guardrail and follow our lane to lovely oasis of peace!
www.ourladyscenter.net • email@ourladyscenter.net
SPECIAL ACTIVITIES THIS MONTH
THIS FRIDAY!
Michelle Lache Johnson:
"Finding God Through Caregiving"
Friday, October 6th. 1:00 pm
in the Conference Room
Michelle is the author of "Walking the Way of the Cross for Caregivers," an excellent resource for those of us struggling to provide emotional and physical support for those we love who are suffering or incapacitated. Michelle cared for her own beloved husband until his passing and also experienced the loss of her vibrant sister, Marian Frentz, founder of the TASTE Program at St. Mary's in Laurel. Michelle will be signing copies of her book after her talk!
First Saturday Mass on the Feast of Our Lady of the Rosary:
SATURDAY, OCTOBER 7TH
THREE Opportunities to Pray the Rosary Together!
Join us for a very special First Saturday! We will pray with special fervor recalling the day Our Lady of Victory provided her spectacularly miraculous intercession during the Battle of Lepanto in 1571, where all hope seemed lost and Christians were facing utter destruction. As we are besieged by forces that seem to be gaining in strength, power and momentum, let us remember that Our Lady of the Rosary is with us and call upon her for protection.
Rosary Prayed in Latin
9:45 am in the chapel

,
p
rayers and instructions provided.
Mass & First Saturday Devotions
10:30 am in the Chapel,
including the Rosary
Rosary Coast to Coast
4:00 pm, Conference Room


Join us as we unite our prayers with thousands of others people all over the country and the world as part of the Annual Rosary Coast to Coast Effort! We will have the Rosary live-streaming from DC where Cardinal Burke and others will be assembled. More details on the event HERE.
Blessing of the Blankets


Tuesday, October 10th, after 12:00 Noon Mass
It's time to bless our next bevy of freshly-knotted blankets at 12:00 Noon Mass so they can be distributed to area children in need through Project Linus. Those who helped create the blankets also receive a special blessing! Donations are always needed to cover the cost of the fleece. The blankets will be on display in the chapel during and after Mass. We are up to nearly 1600 blankets!



Blanket Making Workshop


2nd & 4th Tuesdays, 1:00 pm in the Conference Room


October Dates: 10/10 & 10/24




All are welcome after Mass to help tie more blankets for Project Linus. Material and simple instructions are provided.
Defend Life Speaker Series presents

Dr. Monica Miller "Sidewalk Counseling:
A Key to Ending Abortion" Wednesday, October 18th, 1:00 pm
in the Chapel

Dr. Miller theologian and mother of three, is the founder

Red Rose Rescue

and

Citizens for a Pro-Life Society,

as well as the author of "

Abandoned: The Untold Story of the Abortion Wars."

Dr. Miller spent 32 days in jail for her efforts to defend the unborn. Come for the talk and stay for lively refreshments and lively conversation in the conference room.

Please note this Defend Life Talk will take place on Wednesday (not Friday) in order to accommodate Dr. Miller's schedule.
DAVE & JOAN MARONEY TALK: Holy Souls, "Lost" Souls & Divine Mercy

Friday, October 27th. 1:00 pm in the Chapel


(Blessed Sacrament will be reposed during talk)

Witnessing the monstrosities and injustices being perpetrated in our world, it is easy to feel that some people are so evil that they would never, could never, turn to Divine Mercy. They appear to be hopeless cases, but are they? And how much actually relies on us and our prayers for them? Will we be held accountable for our lack of faith in the power of the Holy Spirit to convert even the hardest of hearts? Are there loved ones (and loathed ones) foundering in Purgatory with no one to pray for them? As we approach the Feast of the Holy Souls, let us examine our understanding of Divine Mercy and our own role in the salvation of sinners, even those who have long since passed.

Dave and Joan Maroney, directors of Mother of Mercy Messengers, are returning to speak at OLC in anticipation of the Feast of the Holy Souls. Their previous talk on Divine Mercy and the Illumination of Conscience, recorded in the OLC Chapel last Spring, has garnered over 177,000 views on YouTube in just four months!
SAVE THE NOVEMBER DATES...
All Saints Day Celebration
& Parade Up to Mass

Wednesday, November 1st, 11 am - 12 noon

Calling all our tiniest saints in the making! Little Marys and Josephs, Clares and Francises, Thereses and Patricks and Roses and Nicholases. Come to hear Mrs. Ginny read stories about saints, do a craft, get a treat, and join in a parade of saints into Mass.

Parents, there is time to get a costume together, but it is not mandatory. Also, any child who would like to tell us about their special saint is encouraged to do so!

TWO ALL SAINTS DAY SPECIALS:
1) FREE HOLY CARD FOR EVERY CHILD
2) BUY 4 TINY SAINTS, GET 5TH ONE FREE!
All Souls Day Memorial Mass
Thursday, November 2nd, 12:00 noon
We shall remember and pray for our loved ones who have passed on and especially remember the souls of all the patrons and benefactors who supported OLC through their time, talent and treasure throughout these past 47 years. The official name of this Mass is the Commemoration of All the Faithful Departed, a day of remembrance. On this important day we Catholics pray, celebrate Mass, visit cemeteries, and give alms in memory of those who may be in Purgatory, in hopes that their souls will be released to Heaven. Come anytime this month to add your loved ones' names to our book of remembrance which will be placed on the altar at Mass on All Souls Day.
THURSDAYS FOR 6 WEEKS:
33 Days to Morning Glory
Small Group Retreat
Beginning Thursday, November 2nd,
1:00 pm in the Conference Room


Join us as we meet on Thursdays for 6 weeks in Preparation for

Consecration

to the Immaculate Heart of Mary on December 8th, the Feast of the Immaculate Conception. This retreat is based on the popular book, workbook and DVD series by Fr. Michael Gaitley of the Marian Fathers of the Immaculate Conception in Stockbridge, MA and ponder the inspirations of St. Louis de Montfort, St. Maximilian Kolbe, St. Theresa of Calcutta, and Pope St. John Paul II.

Don't miss this opportunity to learn to love and trust Mary like these and so many other great saints!





Contact

Theresa Fortunak

for information on ordering materials and to sign up.
REGULAR ACTIVITIES & EVENTS...
Complete Event Calendar HERE
Devotions to St. Joseph
First Wednesday of the Month


October 4th, following 12:00 Noon Mass


The world desperately needs the intercession of St. Joseph, patron of fathers, families, the Universal Church and the Terror of Demons! Learn about the Nine First Wednesdays HERE.
Our Lady of Perpetual Help Novena
Thursdays after 12:00 Noon Mass
Join millions of Catholics who have called upon Our Lady of Perpetual Help in their great needs and have been given consolation.
First Fridays Mass & Devotions

in reparation for sins committed against the Sacred Heart of Jesus


October 6th at 12:00 Noon & 7:30 pm Masses


Masses are followed by Exposition, Devotions and Confessions. Adoration continues between Masses.
Shop: 10 am - 12 pm & 1 pm - 7:30 pm First Friday Promises
First Saturdays Mass & Devotions


in reparation for sins committed against the Immaculate Heart of Mary


October 7th,

10:30 am

Mass followed by Exposition, Devotions and Confessions. Benediction around 12:00 noon.
Shop: 9:45-10:30 am & 11:30 am-2:00 pm
First Saturday Promises

Rosary in Latin

,

9:45 am




instructions provided
Children's Storytime & Craft

2nd & 4th Wednesdays of the month,
10:30-11:30 am in the Conference Room


October Dates: 10/11 & 10/25

Bring the children to hear Mrs. Ginny read entertaining and wonderfully virtuous Catholic children's books, do a fun craft, and enjoy a snack. RSVP so we know how many snacks and crafts to have on hand, but last minute drop-ins are always welcome!
Holy Hour of Reparation
to the Sacred Heart before the Blessed Sacrament

Second Fridays of the Month following Noon Mass
October 13th, following Noon Mass

Come join in these vocal prayers of thanksgiving and reparation to the Blessed Trinity and especially our Savior, prayers through our dear Blessed Mother, and all the saints for unity in the Church, for sinners of all types, for a just and lasting peace in the world and more! Booklets provided.
Flame of Love Cenacles

Tuesdays at 10 am live-streamed only
Thursdays at 2 pm In OLC Chapel & live-streamed
Come join us to pray for the Flame of Love of the Immaculate Heart of Mary, which is Christ Himself, to be enkindled in our hearts and bring about a new Pentecost. There is no denying that this is exactly what our broken and hurting world needs. Learn more about this powerful and growing devotion HERE.
REGISTER TODAY!
2023 MARYLAND CATHOLIC WOMEN'S CONFERENCE:
November 11th, St. John the Evangelist Catholic Church, Severna Park, MD
Learn about the holy women we can look to for inspiration for living holy lives as women in the modern world. This day-long conference is an opportunity for up to 600 women to deepen their faith through confession, adoration, and Mass, as well as listen to dynamic Catholic speakers and enjoy fellowship. Women of any age or stage of life, including young adults, stay-at-home moms, business professionals, retirees, religious, mothers, daughters, aunties, and grandmas are invited. This year, there will be talks in Spanish and limited childcare services to make the conference accessible to even more women.

OLC will be there selling our wonderful religious articles. Stop by and say hello!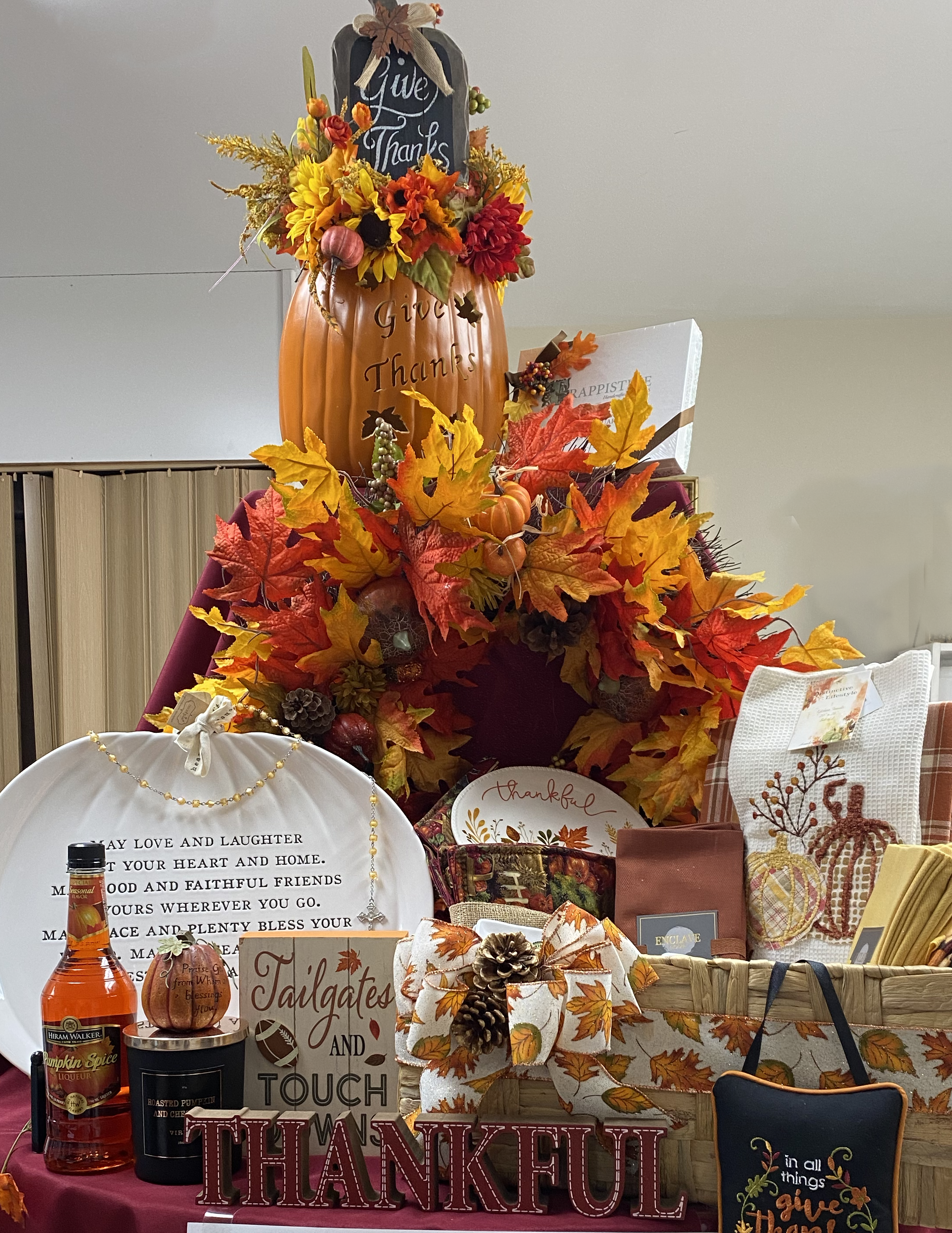 Annual Thanksgiving Basket Raffle
Remember last year's gorgeous basket? This year's basket is being put together right now and arriving within the next couple weeks!
Christmas Baskets are also being assembled. These are wonderful fundraisers for OLC.
Ticket sales start now! 1 ticket for $5, 5 tickets for $20.

IN THE BOOKSTORE*
*We are a non-profit. All sales go towards supporting the Shrine!

Call Us! We'll be your personal shoppers for quality gifts.

| | |
| --- | --- |
| Advent devotionals are arriving daily, like this popular one, Welcoming the Christ Child with Padre Pio. | More 2023 16-Month Spiral Saints 16-Month Planners and Wall Calendars just arrived! Get yours before they sell out again. |
| | |
| --- | --- |
| Now that it's cooler, the Trappistine Candy has arrived!! Milk & Dark Squares and Chocolate fudge, all with and without Almonds. Penuche, Butternut Munch, Samplers and Pairing Chocolates. Yum! | NEW! ADVENT JIGSAW PUZZLE Complete a 1000 piece puzzle for Advent! 24 sections in 24 days, each in it's own numbered box! Something the whole family can enjoy together. |
| | |
| --- | --- |
| The Giving Manger: Start a new Advent tradition highlighting good works for Jesus and fill his manger with straw. | Mary Around the World: A large sweet wooden puzzle with Marian apparitions. Mary really has appeared all over the world! |
OCTOBER NO-CLIP COUPON:
15
% OFF
One ROSARY
No coupon necessary. Valid on regularly priced, new, in-stock items only.
Cannot be combined with other coupons or discounts. Some exclusions apply.
Expires 10/31/2023
OLC Bookstore & Gift Shop Payment Preferences
As credit card fees rise and margins shrink, we thought it would be helpful to note our payment preferences. Not only do we still take cash, but we prefer it. We also now have the option to round up when charging, as well as donating at check-out.
Thank you so much!
Store Hours
Monday - Thursday: 10:00 am - 4:00 pm*
Friday: 10:00 am - 7:30 pm*
First Saturday: 10:00 am -10:30 am; 12:30 pm - 2:00 pm
*Please note that the store is always closed during the noon Mass
CHAPEL SCHEDULE:

Holy Sacrifice of the Mass:
Monday-Friday: 12:00pm
Friday night: 7:30 pm
1st Saturdays: 10:30 am

Rosary:
Monday-Friday: 11:30 am
Confessions:
Following all Masses
Adoration:
Friday: 12:30 - 7:30 pm

Friday Night Devotions:
Holy Mass: 7:30 pm
Followed by: Confessions, Rosary, Divine Mercy Chaplet, Adoration of the Blessed Sacrament and Benediction
Our Lady's Center Marian Shrine is a Catholic lay apostolate within the Archdiocese of Baltimore located outside of Baltimore, Maryland in Ellicott City. We offer the Holy Sacrifice of the Mass and confessions upstairs in our chapel each weekday and on first Saturdays. Downstairs in our beautiful store, we carry a large selection of Catholic books and religious articles to meet every need. We have many events and activities throughout each month.