| | |
| --- | --- |
| www.ourladyscenter.net • 410-461-5066 | |

November is dedicated to the Holy Souls in Purgatory.
It opens with the Feast of All Saints, then continues with the Feast of All Souls. Through our intensified prayers for the Holy Souls throughout November, we find perhaps the greatest expression of the connection between the Church Triumphant, the Church Suffering and the Church Militant
.
More here.
Eternal rest grant unto them, O Lord. And let the perpetual light shine upon them.
And may the souls of all the faithful departed, through the mercy of God, rest in peace. Amen.
Thy Word Newsletter
November 2015
Military Mass in Honor of Veterans Day
November 11, 12:00 pm

"The Miracle of Marriage"
by Msgr. Charles Pope
November 13, 1:00 pm

Monthly Latin Mass
with Fr. Canisius Tah
November 24, 6:30 pm
We are so thankful for our patrons!
November Booklovers Raffle Win a Huge
Basket of Books!

14 NEW SIGNED EDITIONS


by inspiring Catholic authors!

What a way to get a jump on your Christmas shopping! From now through November 30, every $5 you spend on new books at OLC will give you another chance to win! These inspirational books will make excellent gifts for family and friends. The drawing will be held Tuesday, 12/1/15 at 1:00 pm. Winner need not be present. A complete list of the books is posted in the store.

Remember, the more you spend on books, the more entries you receive, and the greater your chances of winning!
Thanksgiving Basket Raffle
Win a Basket Filled with Delicious Items!
In deep, heartfelt gratitude to our patrons, we have stuffed a festive Giving Thanks basket full of Trappestine chocolates & fudge, Mouth Party caramels, Mystic Monk coffee, wine and giftware to be raffled off to one lucky patron of OLC. Raffle tickets are available for purchase in the book store. The drawing will be held Wednesday, 11/25/15 at 1:00 pm. Winner need not be present. See book store for more details.

Veteran's Day
Military Mass
Wednesday, November 11, 12:00 pm
Our Lady's Center invites all those who have served in or who have family members currently serving in the Armed Forces to a special Military Mass on Wednesday, 11/11/15 at 12 pm. Join us as we honor our veterans and ask for God's blessings upon those loved ones who are currently serving as they offer their service and protection for our country.
No one has greater love than this, to lay down one's life for one's friends.
"The Miracle of Marriage" by
Msgr. Charles Pope Friday, November 13, 1:00 pm

The Fall Defend Life Lecture Tour concludes with Monsignor Charles Pope giving what promises to be a riveting talk. Many problems beset Holy Matrimony today, yet the vision of God is set forth clearly and thoroughly through the Gospel's fundamental teachings on marriage. Msgr. Pope is the Pastor of Holy Comforter-Saint Cyprian Church, 13 blocks east of America's Capitol in Washington, D.C. He attended Mount Saint Mary's Seminary, and is an accomplished pianist and organist. He also writes a daily blog you can read

here.
Come Experience the Beauty of the Latin Mass! Tuesday, November 24, 6:30 pm

Please join us for a meditative low Mass

offered by Fr. Canisius Tah of Resurrection Parish.

Missals are provided with Latin on one side and English on the other, so it is not difficult to follow along. After Mass, we will enjoy another fun potluck in the conference room. Please bring something to share if you can and take advantage of a great chance to ask Father questions and to make some new friends. Find out why Traditional Latin Mass is so awesome here.
St. Nicholas is Coming
To Our Lady's Center!
Monday, December 7, 10:30 am
Bring the kids! St. Nicholas, Bishop of Myra, will once again be visiting Our Lady's Center to tell the children all about his love for the Lord and the joy of giving. Children will have an opportunity to sit on St. Nick's lap for a photo, color Christmas pictures, and leave their shoes under the Christmas tree for a surprise. Last year was a huge success as dozens of children came on the Feast of St. Nicholas. Since his feast day falls on a Sunday this year, we will be celebrating on Monday, December 7. Mark your calendar now!
The Divine Mercy Jubilee Year
begins December 8th!
OLC has an extensive selection of framed Divine Mercy prints, books, devotions in stock. Learn more about the upcoming Year of Mercy
here.
OLC at the 2015 MD Catholic Women's Conference
Our Lady's Center had a wonderfully successful weekend exhibiting at the 2015 MCWC which was held at Mount St. Mary's in Emmitsburg, MD. This year, we enjoyed a much larger area on the main level in which to showcase and display our wide variety of Catholic products. From children's games to Advent and Christmas items, to framed prints, and even new items such as delectable Trappist candy and pretty prayer scarves, it did appear like we packed up half the store and brought it with us - but it was well worth it! Not only did we enjoy a fine amount of attention, positive feedback, and sales, but our staff also had the great joy of running into many friends and acquaintances, even some from out of state. It truly is a small Catholic world.
Our Lady's Center takes part in the Rosary Crusade
Our Lady's Center once again took part in the Rosary Crusade, hosting one of 14,108 rosary rallies all across the nation on the Saturday closest to the Feast of Our Lady of the Rosary. It is said that, within one hour, 31,500,000 Hail Mary's were offered up all across the country for our beloved nation and for world peace. Our rally was led once again by Ada Vergne and attended by many of the area faithful. Mass was offered by our own Msgr. Joseph Lizor, who is a member of our Board of Directors and the center's spiritual director, as well.
Fr. Imbarrato Gives Impassioned Pro-Life Talk
Pro-life speaker Fr. Stephen Imbarrato traveled all the way from New Mexico to give a talk for the Defend Life Speaker Series on how to use the Planned Parenthood expose to end abortion in America. Following his talk, there was a lively, fascinating discussion which lasted all afternoon. We are grateful to Fr. Imbarrato for spending so much time with us even with such a busy schedule. Be sure not to miss the next talk which will be given at OLC by Msgr. Charles Pope of Holy Comforter-Saint Cyprian Church in DC on yet another topic of vital importance: The Miracle of Marriage on Friday, November 13 at 1:00 pm.
November Special Feasts


All Saints Day


November 1



All Soul's Day


November 2



St. Martin de Porres


November 3



St. Charles Borromeo


November 5



Dedication of St. John Lateran Basilica


November 9



St. Leo the Great


November 10



St. Martin of Tours; Veterans Day


November 11



St Frances Xavier Cabrini


November 13



St. Margaret of Scotland; St Gertrude


November 16



St. Elizabeth of Hungary


November 17



Presentation of the Blessed Virgin Mary


November 21



Feast of Christ the King; St Cecelia


November 22



Thanksgiving


November 26



St. Catherine Labore


November 28



First Sunday of Advent


November 29



St. Andrew


November 30


Employee Spotlight:
Mary B. Sharp
Mary Sharp, who assists in the bookstore, is by nature a gentle, compassionate, nurturing person. Her presence contributes much to the general sense of peace here at OLC, even in our busiest of times. Manager Christine especially appreciates her strong faith, level head, thoughtful suggestions, and eye for creative details. Others here greatly appreciate that lunch, prepared with care and always delicious, seems to miraculously appear whenever she is around. Besides working for OLC, Mary is a piano instructor (isn't her married name just too perfect?) She and her husband Bill are the proud parents of William, who attends Mount St. Joe's, and they are active members of Our Lady of Perpetual Help Parish in Ellicott City. Mary, thank you for all you do to make OLC such a wonderful place to be. Like St. Therese of Lisieux, you do small things with great love, and it shows!
Who's On Board:
Deacon Brandon Justice

Deacon Justice, a member of OLC's Board of Directors since 2009, is the spiritual director for the Legion of Mary O.L. Undoer of Knots presidium and also assists us with various Marian devotions and Benedictions. He was ordained in 2010 and serves at Our Lady of the Mills Parish in Laurel where he gives spiritual direction, takes students on days of service and retreats as Asst. Chaplain to the high school, moderates the Pro-Life club, serves in the Hispanic ministry, preaches, and performs baptisms and marriages. He is also often a featured speaker at various venues. Originally from DC near Georgetown, Deacon Justice attended Mount St. Mary's and served as a Baltimore City and Ho. Co. police officer before being ordained. He and his wife Erin of 17 years have five children. Thank you, Deacon Justice, for being such a strong example of active, vibrant faith for all those whom you serve.

IN THE BOOK STORE:
Lovely Christmas Decorations and Gifts!
Shop early for best selection!

A limited selection of gorgeous painted wood panels have just arrived!

A new, exquisitely illustrated
children's book that will be treasured.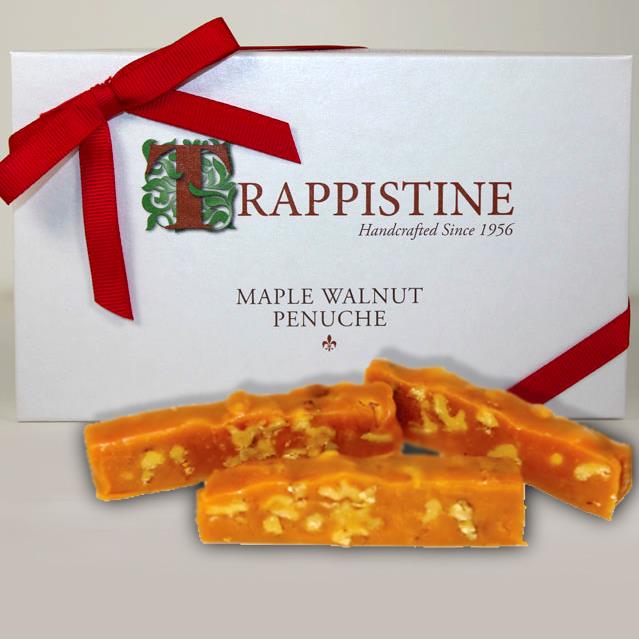 New! Trappistine Chocolates, Fudge & Penuche
Fresh, delicious candies made by Trappistine nuns. Excellent hostess gifts!
| | |
| --- | --- |
| Some pretty adorable Christmas figurines and ornaments in stock now. | A gift that's a mug that they can whisk up a cake in. |
SAVE YOUR INK!
Click
here
for a printer-friendly coupon.
20
% OFF
Any one
Christmas
Item
Check out our beautiful selection of Nativities, Ornaments, Statues, Children's Books
Seasonal items only. Must present at time of purchase. May present coupon on phone.
Limit one coupon per visit.
Expires 11/30/2015
Our Lady's Center Marian Shrine

Can't Get to our Store?


Our homebound and out-of-town patrons have found shopping at our online store convenient and helpful. We carry a wide variety of medals, crucifixes, and rosaries there for your convenience. You can shop anytime and choose to have your items shipped either to your home address or to anywhere you need them sent. We thank you for supporting OLC and appreciate any and all patronage as the proceeds of all sales go toward supporting our unique apostolate. Click here to visit now:
Feeling Called to Serve at Our Lady's Center?
Please let us know! We'd love to have you join us, and we can't begin to describe the graces that flow to and through those who serve Our Lady here.
Email us
or stop in the book store.
Volunteer Help Wanted:
• ALTAR SERVERS - Dedicated men needed to serve at our Masses
• EVENT LIASON - Email announcements to area parishes for print in bulletins
• SCOUTS - Let's discuss ideas for your Eagle Scout projects

Store Hours
Monday - Thursday: 10:00 am - 4:00 pm*
Friday: 10:00 am - 7:30 pm*
First Saturday: 10:00 am -10:30 am; 12:30 pm - 2:00 pm
*Please note that the store is always closed during the noon Mass
Chapel Hours:

Holy Sacrifice
of the Mass

Monday-Friday: 12:00pm
Friday night: 7:30 pm
1st Saturdays: 10:30 am

Rosary


Monday-Friday: 11:30 am



Confessions


Following all Masses



Adoration


Friday: 12:30 - 7:30 pm


Friday Night Devotions



Holy Mass: 7:30 pm
Followed by: Confessions, Rosary, Divine Mercy Chaplet, Adoration of the Blessed Sacrament and Benediction
| | |
| --- | --- |
| Our Lady's Center Marian Shrine is a Catholic lay apostolate within the Archdiocese of Baltimore located outside of Baltimore, Maryland in Ellicott City. We offer the Holy Sacrifice of the Mass and confessions upstairs in our chapel each weekday and on first Saturdays. Downstairs in our beautiful store, we carry a large selection of Catholic books and religious articles to meet every need. We have many events and activities throughout each month. | |