| | |
| --- | --- |
| www.ourladyscenter.net • 410-461-5066 | |
May is dedicated to the Blessed Virgin Mary. Our newsletter is called
"Thy Word"
in honor of Mary's fiat, her yes to God. Let us pray for the grace to say yes! More
HERE.
"Hail Mary, full of grace. The Lord is with thee. Blessed are thou among women, and blessed is the fruit of thy womb, Jesus. Holy Mary, Mother of God, pray for us sinners, now and at the hour of our death. Amen."
Thy Word Newsletter
May 2016
May Procession & Crowning of Mary
Monday, May 9th after
12:00 Noon Mass

Spring Clean Up Day
& Pot Luck
Saturday, May 21st,
9:30 am - whenever!

Latin High Mass on the Trad. Feast of Corpus Christi, Thurs., May 26,
6:30 pm
First Saturday is the Day Before Mother's Day!
Mass is at 10:30 am, followed by Benediction, Confessions, and devotions
to Our Lady before the Blessed Sacrament. More on the devotion
HERE
.
>>> EXTENDED GIFT SHOP HOURS FOR MOTHER'S DAY SHOPPING <<<
Saturday, May 7th, 11:30 am-5:00 pm
May Procession
& Crowning of
the Blessed Mother
Monday, May 9th after Noon Mass
Following Mass, all are invited to process outside with Msgr. Lizor to our lovely grotto to crown the statue of Our Lady. We shall sing beautiful hymns to her and lay flowers before her, and any children who have recently celebrated their First Holy Communion are encouraged to come in their dresses and suits to help lead the procession. Let us honor our lovely mother with this beautiful tradition! Confessions will follow, and we will have a cake in the conference room!
OLC's 2016 Spring Clean Up Day
Saturday, May 21st, 9:30 am until whenever
It's that time of year again! Spring cleaning is upon us, and it's time to give Our Lady's Center a good scrub, trim, and polish. Come join us for a day full of fun, laughter, cleaning, and food! If you're the outdoorsy type, we'll have tree-trimming, weeding, planting, mulching, and more. Indoors, we'll have polishing and window-washing. Come spend time with your OLC community giving back to Our Lady for all that she does for us, and then enjoy a real feast! Bring something to share for our big potluck. We'll provide the burgers, hotdogs, & buns! Sign up in the bookstore and let us know what you're bringing!...or email
HERE
Traditional Latin High Mass & Pot Luck Thursday, May 26, 6:30 pm,

We will have a Latin High Mass celebrated, complete with visiting Schola, on the traditional Feast of Corpus Christi (on a Thursday like the Last Supper). As always, m

issals will be provided with Latin on one side and English on the other, so it is not difficult to follow along. After Mass, we will enjoy a potluck in the conference room. Bring something to share and take advantage of a great chance to ask the priest questions and make some new friends. Find out why Traditional Latin Mass is so awesome HERE and HERE.
"Ecce Homo"
Traveling Bust of Our Lord & Chalice

Be a Vocation Prayer Warrior

!

Sign up to host the Traveling Statue of Our Lord's Face and a Blessed Chalice for a two-week period. When you receive the statue and chalice, simply arrange them in a special place in your home (a table, mantle, or home altar), then make a concerted effort to pray daily for an increase in vocations to the priesthood and consecrated life as well as your own intentions. We provide many pamphlets and prayer aids as well. Come in to the book store to sign up!
Check Out Our Beautiful New Bookcases!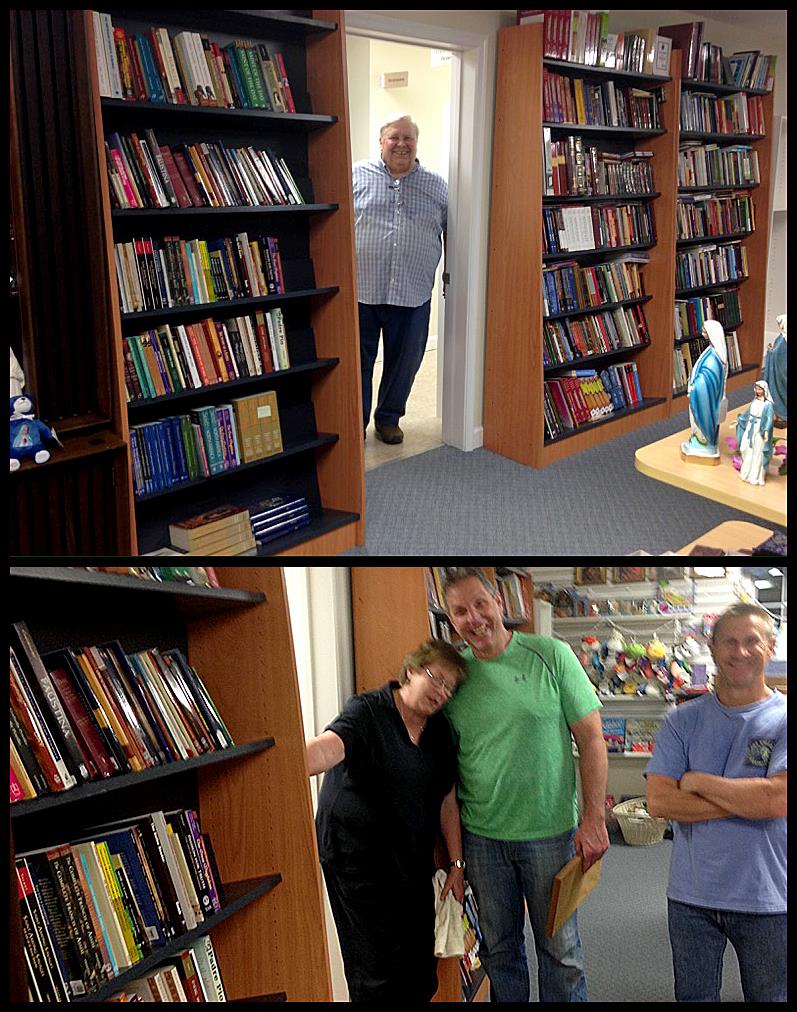 Well, the bookcases are not exactly new, but they look fantastic, and they are most definitely up to the task of valiantly supporting our vast treasury of printed and bound Catholic knowledge! Many thanks to President of the Board Jack Kissane and his thoroughly devoted wife Grace, Board Members Doug Schenk and Carl Kleinschmidt, and Doug's friend Sean for giving up a whole weekend day to haul these heavy bookcases and transfer onto them our entire inventory of books. The bookcases are from His Way Christian Book Store which recently closed their Normandy Shopping Center location. We are so sorry to see these good neighbors go. They sent us many customers in search of Catholic items throughout the years, in the true spirit of Christian unity (some of you may have in fact discovered us in this way). Keep them in prayer that they are able to find a suitable new location.
Joan Andrews Bell Inspires with her Fearless Defense of the Unborn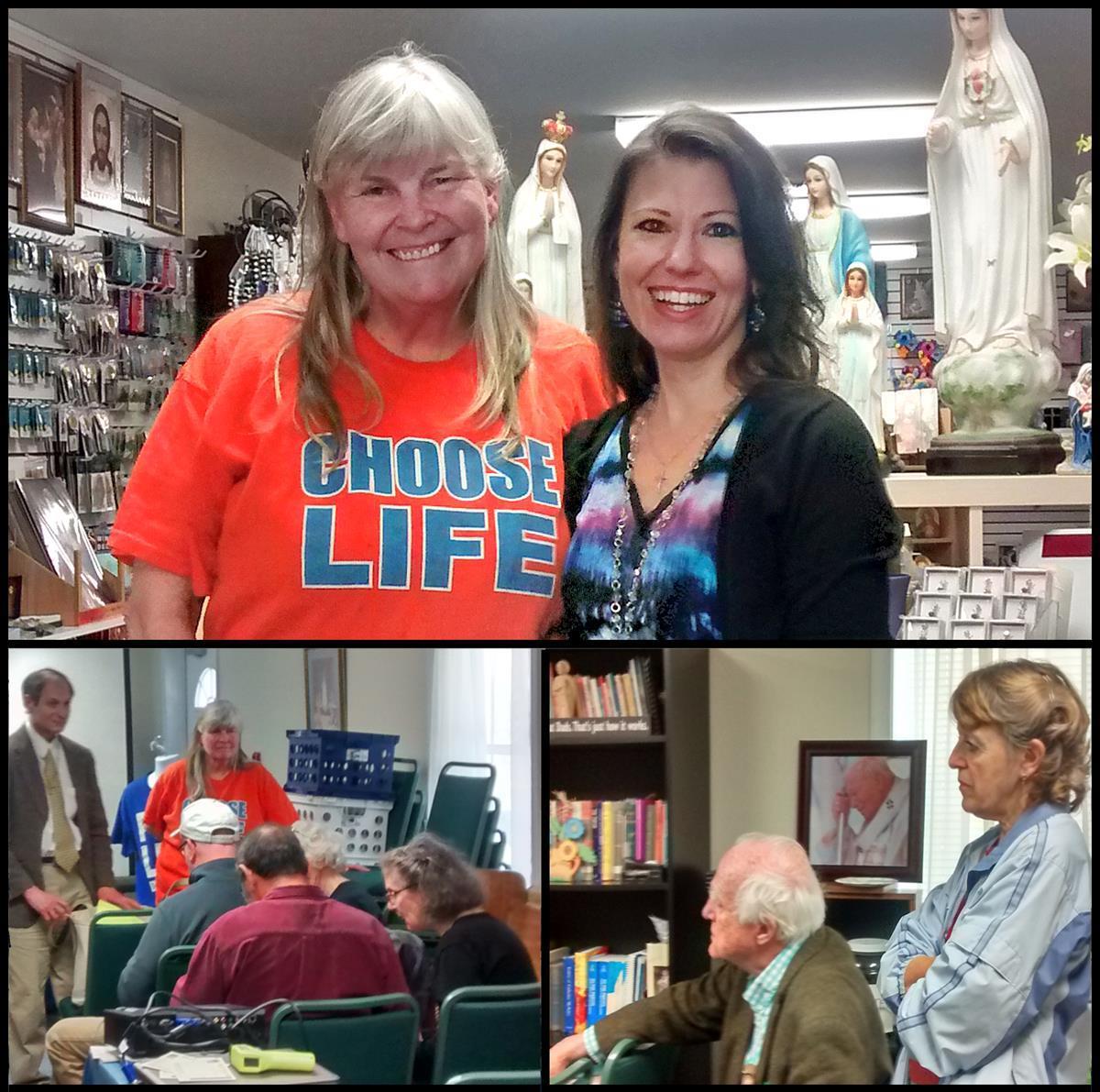 The Spring Defend Life speaker tour concluded with a talk and slideshow presentation by fearless pro-life pioneer, Joan Andrews Bell, who has been arrested hundreds of times and spent years in incarceration for following her conscience and defending the innocent regardless of the personal cost. Her faithful witness and sacrifices have inspired countless others to move outside of their comfort zones in spreading the culture of life. Read more on her
HERE
. We were honored to meet this strong, humble, faith-filled servant of God.
OLC's New Volunteer Coordinator: Mary Ellen Cote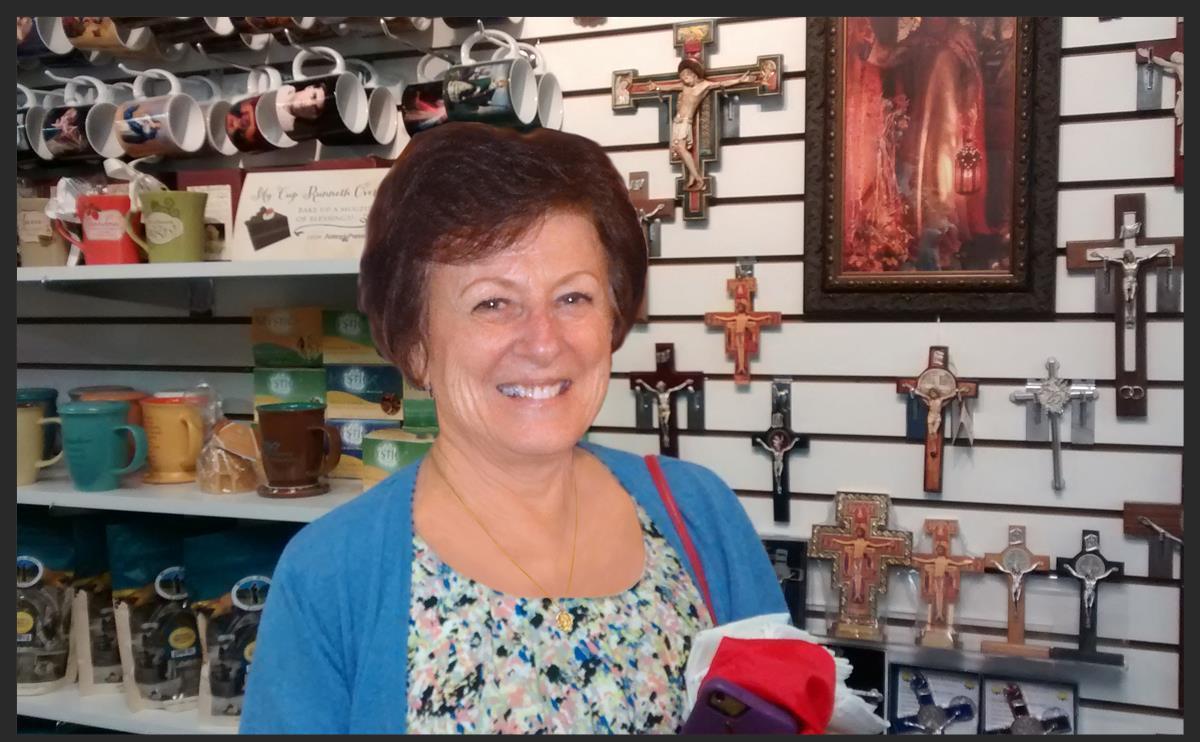 Anyone familiar with OLC knows we could not function without a hefty cadre of dedicated volunteers. In a long overdue improvement, Our Lady's Center now has a Volunteer Coordinator to help with the task of matching skills to needs and manning the various projects that need attention throughout the year. Mary Ellen Cote, who has been meticulously laundering our altar linens for years, has agreed to take on the position. Mary Ellen has herself mastered the art of volunteering (and some think possibly bi-locating) as she seemingly effortlessly stretches her available time to meet needs at the Shrine of St. Anthony and St. Louis Church as well as at OLC. If you have already expressed interest in volunteering at OLC, expect a call or email from Mary Ellen in the near future. If you are interested in helping us out, you can email her directly
HERE
. We'd love to have your help!
Our New Neighbors Have a Honkin' Big Family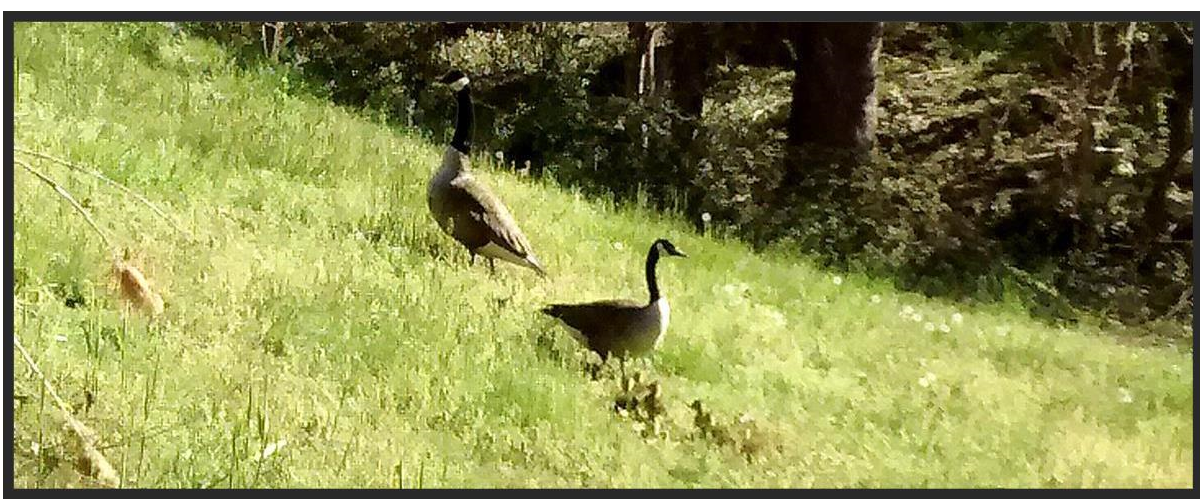 Some of our Monday noon Mass attendees may recall several weeks ago having their cars challenged by a rather agitated wild goose. Manager Christine had to go out with a broom and quietly but firmly stare down the goose in order for patrons to park (much to Msgr. Lizor's amusement). As suspected, there must have been a nest in the area, because we have a very proud couple with their newly hatched goslings enjoying the lovely grounds of OLC. Please take care when driving up and down the lane to watch for them and all the wild creatures who make their homes here. As a side note, the Irish called the Holy Spirit the Wild Goose, and there is a fantastic video series by that name
HERE
with Fr. Dave Pivonka, TOR.


May Special Feasts



Feast of St. Joseph the Worker
May 1

St. Athanasius
May 2

Sts. Philip & James, Apostles
May 3

The Ascension of The Lord
May 5

Our Lady of Fatima
May 13

St Matthias the Apostle
May 14

Pentecost, St. Isidore
May 15

St. Rita of Cascia
May 22

Feast of Pentecost
May 24

St. Philip Neri
May 26

St. Joan of Arc
May 30

The Visitation
May 31

Our Lady's Handmaiden: Lisa Brosenne

For over a year now, Lisa Brosenne has provided OLC with her top-notch, professional cleaning services, keeping the Center tidy and clean, dusting every statue, vacuuming up every tiny ball of styrofoam packing material, chasing away any unpleasant aromas, and best of all, sharing generously of her loving heart, deep faith, and wonderfully quirky sense of humor. Lisa also regularly cleans the home of one of our board members and comes highly recommended. Anyone in need of cleaning services can

email

us for more info. Lisa, we are so glad we have you here. You are a blessing to OLC!
IN THE BOOK STORE:
Do your last minute shopping for Mom with us!
We will be open with extended hours May 7th after First Saturday Devotions. Shop 11:30 am-6 pm.
Divine Mercy for Moms - a perfect Mother's Day gift for the Year of Mercy!

Help Mom cultivate her faith
throughout the year

Rosaries, twistable rosary bracelets and magnetic rosary bracelets!
Would Mom like a luminous onyx stone
Blessed Virgin Mary statue?

...Or how about an outdoor statue
for her Mary Garden?
SAVE YOUR INK!
Click
HERE
for a printer-friendly coupon.
MAY SPECIAL!
20
% OFF
One Blessed Mother Statue
Must present coupon at time of purchase. Valid on regularly priced items only.
Coupon not valid on previously purchased items and cannot be combined with other coupons. Limit one coupon per visit.
Expires 05/31/2016
Our Lady's Center Marian Shrine

Can't Get to our Store?

Our homebound and out-of-town patrons have found shopping at our online store convenient and helpful. We carry a variety of medals, crucifixes, and rosaries there for your convenience. You can shop anytime and choose to have your items shipped either to your home address or to anywhere you need them sent. We thank you for supporting OLC and appreciate any and all patronage as the proceeds of all sales go toward supporting our unique apostolate. Click here to visit now:
Store Hours
Monday - Thursday: 10:00 am - 4:00 pm*
Friday: 10:00 am - 7:30 pm*
First Saturday: 10:00 am -10:30 am; 12:30 pm - 2:00 pm
*Please note that the store is always closed during the noon Mass
Chapel Hours:

Holy Sacrifice
of the Mass

Monday-Friday: 12:00pm
Friday night: 7:30 pm
1st Saturdays: 10:30 am

Rosary


Monday-Friday: 11:30 am



Confessions


Following all Masses



Adoration


Friday: 12:30 - 7:30 pm


Friday Night Devotions



Holy Mass: 7:30 pm
Followed by: Confessions, Rosary, Divine Mercy Chaplet, Adoration of the Blessed Sacrament and Benediction
| | |
| --- | --- |
| Our Lady's Center Marian Shrine is a Catholic lay apostolate within the Archdiocese of Baltimore located outside of Baltimore, Maryland in Ellicott City. We offer the Holy Sacrifice of the Mass and confessions upstairs in our chapel each weekday and on first Saturdays. Downstairs in our beautiful store, we carry a large selection of Catholic books and religious articles to meet every need. We have many events and activities throughout each month. | |