June is dedicated to the Most Sacred Heart of Jesus. More about the devotion
HERE.
"
O Sacred Heart of Jesus, fountain of eternal life, Your Heart is a glowing furnace of Love. You are my refuge and my sanctuary."
- St. Gertrude the Great
Thy Word Newsletter
June 2016
Spring Clean Up Day
New Date!
Saturday, June 18th
9:30 am - whenever!

Children's Story Time
& Coffee Hour
Friday, June 24th
10:30 am

Monthly Latin Mass
& Pot Luck
Tuesday, June 28th
6:30 pm
New Date

for 2016
Spring Clean Up Day Saturday, June 18th,
9:30 am until whenever

With May being such a wash out, let's pray for this to be a dry day so we can give Our Lady's Center a good scrub, trim, and polish. Come join us for a day full of fun, laughter, cleaning, and food! If you're the outdoorsy type, we'll have tree-trimming, weeding, planting, mulching, and more. Indoors, we'll have polishing and window-washing. Come spend time with your OLC community giving back to Our Lady for all that she does for us, and then enjoy a real feast! Bring something to share for our big potluck. We'll provide the burgers, hotdogs, & buns! Sign up in the bookstore and let us know what you're bringing...or email

HERE.
Father's Day is for Fathers of all kinds!

Father's Day is June 19th. What a perfect time to let your spiritual father know how much you appreciate everything he does for you. Here are some ideas: have a Mass offered for him; purchase an image of the Sacred Heart for your home and ask him over to dinner to bless it (more about this devotion is

here

); give him a Gift Certificate to OLC to use along with his regular priest discount of 20%; send a card with a spiritual bouquet blooming with Masses, rosaries and novenas; fill a gift basket with Mystic Monk Coffee and a mug and a CD or a book.
Children's Story Time and Coffee Hour

Friday, June 24th, 10:30 am

The "lazy" days of summer are upon us. Encourage your children to put away the electronics and develop a lifelong love of reading awesome books. Join us on June 24th at 10:30 am in the conference room for a storybook reading and a fun craft. We will be providing a snack and juice for the kids and fresh-brewed Mystic Monk coffee for the accompanying adults. And, since you'll be here anyway, why not stay for Mass?

RSVP

so we have an idea of how many snacks and crafts to have on hand!
Traditional Latin Mass
& Pot Luck Tuesday, June 28, 6:30 pm,

Come join us for a meditative Low Mass. It will be offered by Fr. Canisius Tah of Resurrection in Ellicott City. As always, m

issals will be provided with Latin on one side and English on the other, so it is not difficult to follow along. After Mass, we will enjoy a potluck in the conference room. Bring something to share and take advantage of a great chance to ask the Father questions and make some new friends. Find out why Traditional Latin Mass is so awesome HERE and HERE.
This Eagle Scout Project Floored Us!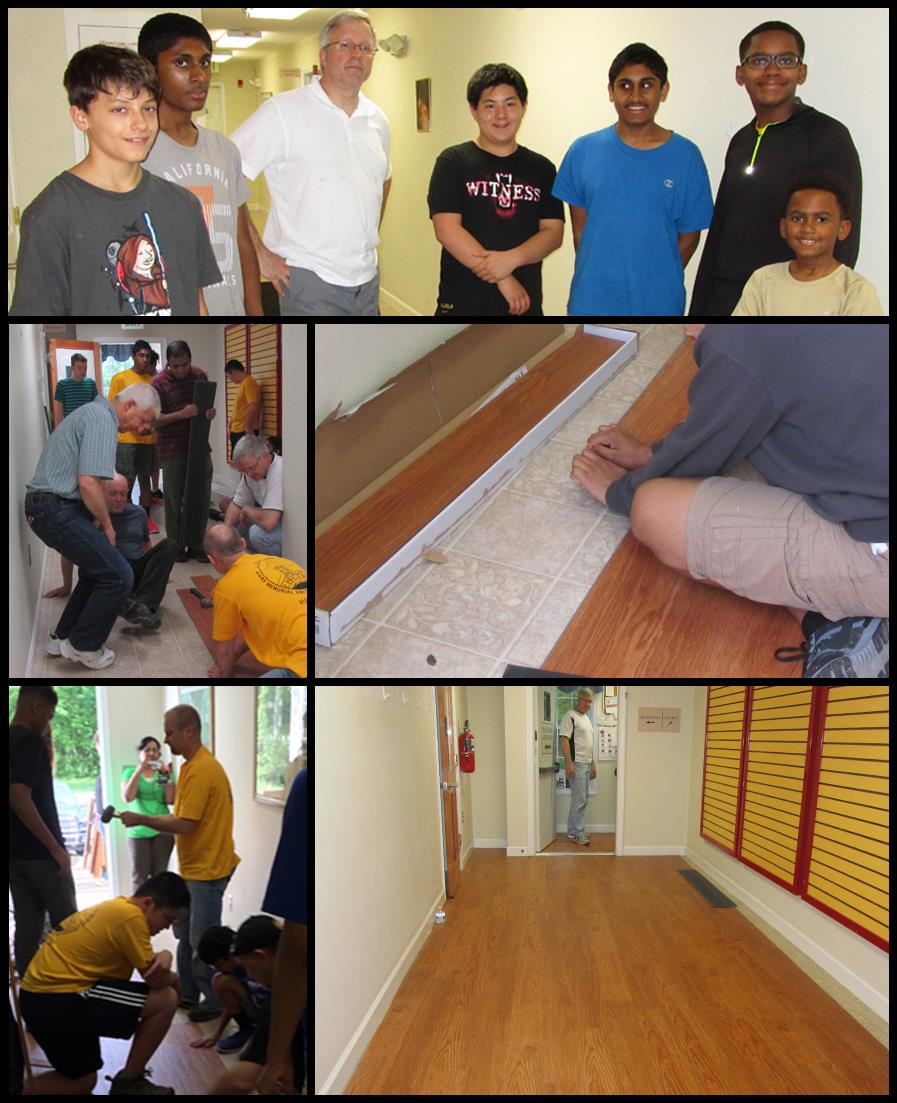 Nagavenkata Nages of Troop 1997 in Ellicott City chose for his Eagle Scout project to install wood laminate flooring in the entranceway, hall and bathrooms at Our Lady's Center. Nagavenkata's ambitious project was completed with the assistance of a cadre of fellow scouts and parents, operating under the oversight of board member Carl Kleinschmidt. What a beautiful result! The old flooring had been becoming not only an eyesore but a little dangerous as it was peeling up in places. We are so grateful to Nagavenkata and to all the scouts who have chosen to help us out here at OLC. May God bless them in all their future endeavors as they continue in their mission of service to the community.
Showers Could Not Dampen our May Crowning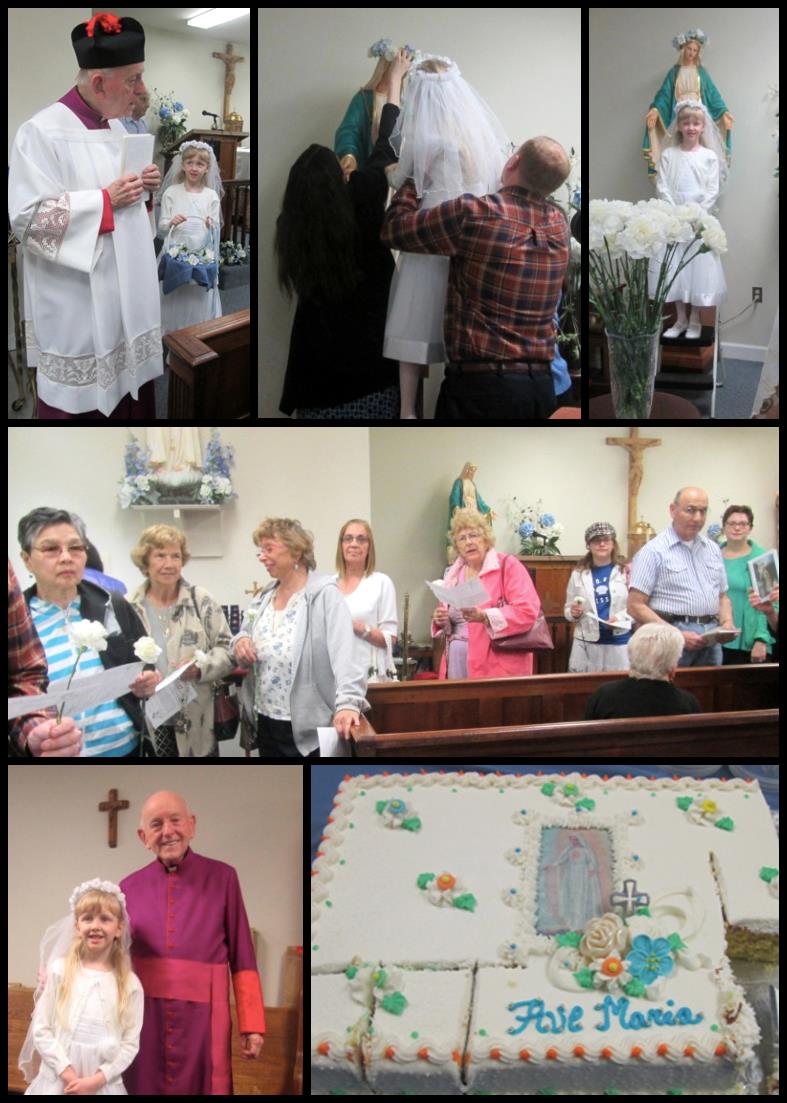 Our Lady's Center hosted the annual May Procession and Crowning of the Blessed Mother under the threat of a downpour. Adding some color to the overcast day, Msgr. Lizor wore his cassock and beretta. The rain started just as we were about to process outside, and Msgr. Lizor, a former Army chaplain, promptly called an about face at the door. Maria Gilbert, who attends daily Mass at OLC and who had just received her First Holy Communion only two days before, crowned the Our Lady of Grace statue on the altar of our chapel. She had a little help from her mother and her father, who lifted her up high enough to reach. After prayers and singing, all were invited to enjoy cake in the conference room in the Blessed Mother's honor.
Attendance was High for May's Latin High Mass!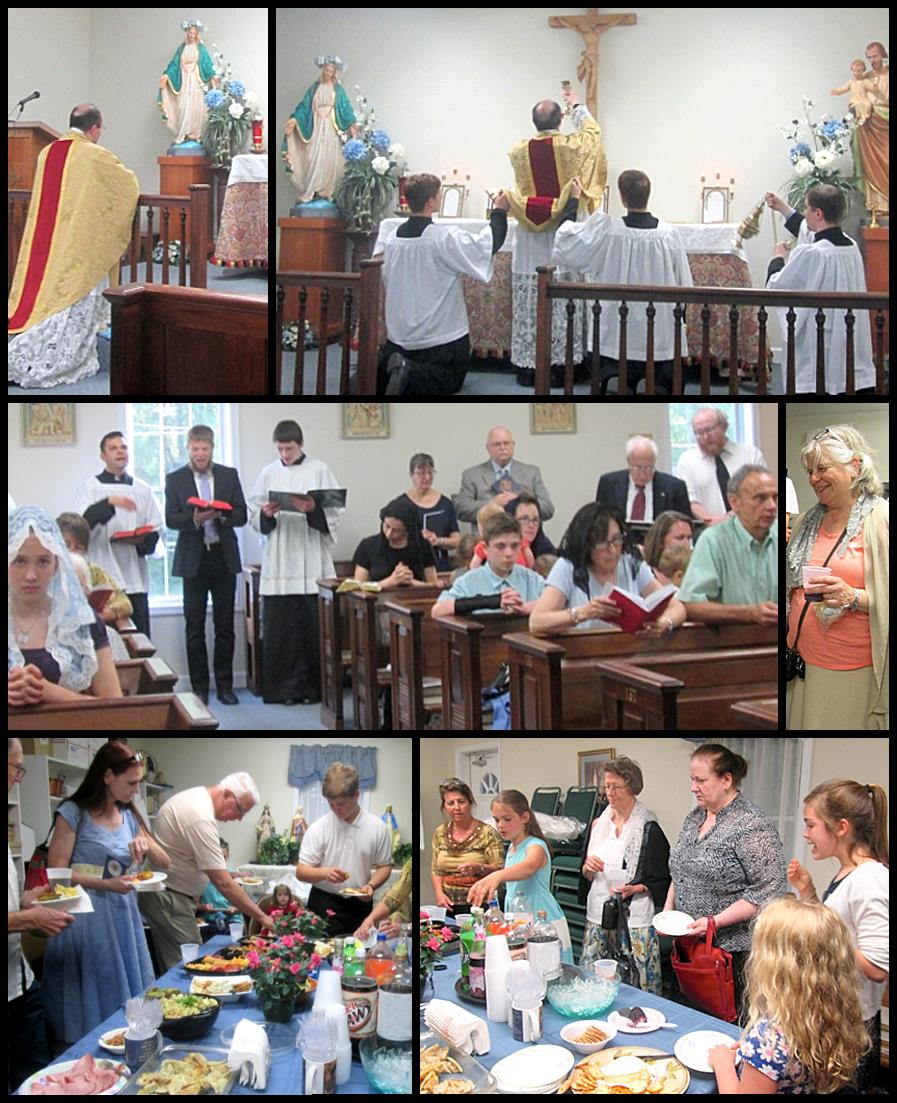 Since the Feast of Corpus Christ has traditionally been celebrated on a Thursday, in accord with the day of the Last Supper, we decided to have the May Latin Mass celebrated on that feast day. Fr. Ernest Cibelli presided over a solemn Hign Mass, with the wonderful schola from St. John the Evangelist Parish in Severna Park in attendance. What a heavenly Mass it was. Some of us were brought to tears with the beauty. This was our most well attended Latin Mass yet, with well over 70 people there of all ages. Most stayed to socialize and enjoy the food at the pot luck afterwards. Much gratitude to Sue Krebs for all she does to coordinate our beautiful Latin Masses and to sons Paul and Xavier for serving so reverently!

June Special Feasts



Most Sacred Heart of Jesus
June 3

Immaculate Heart of Mary
June 4

St. Barnabus
June 11

St. Anthony of Padua
June 13

St. Aloysius Gonzaga
June 21

St. Thomas More
June 22

Nativity of St. John the Baptist
June 24

Sts. Peter & Paul
June 29

First Martyrs of the Holy Roman Church
June 30

Honoring Our Lady in the Home
OLC patron Claudia recently completed her consecration to Our Lady of Fatima and, in commemoration of the event, purchased from us a beautiful 27" Our Lady of Fatima statue made of luminous crushed onyx to grace her home altar. What a lovely placement. The backlighting is perfect for making her face glow. If you have set up a home altar with a statue or other item from OLC and would like it featured in the newsletter, please
email
a photo of it to us! We'd love to see what you've done! More on home altars
HERE
.
IN THE BOOK STORE:
Gifts for Fathers of all Kinds!
| | |
| --- | --- |
| From the Pope's table to yours, a cookbook by the Pontifical Swiss Guard | The new Manual for Eucharistic Adoration with a beautiful leather cover |
| | | |
| --- | --- | --- |
| "Ora et Labora" (Pray and work) St. Benedict caps | Sure he may have ties...but does he have a Catholic tie? | Cowboy blend coffee for some giddy up and go! |
SAVE YOUR INK!
Click
HERE
for a printer-friendly coupon.
JUNE SPECIAL!
15
% OFF
One Non-Discounted Item
Must present coupon at time of purchase. Valid on regularly priced items only.
Coupon not valid on previously purchased items and cannot be combined with other coupons. Limit one coupon per visit.
Expires 06/30/2016
Our Lady's Center Marian Shrine

Can't Get to our Store?

Our homebound and out-of-town patrons have found shopping at our online store convenient and helpful. We carry a variety of medals, crucifixes, and rosaries there for your convenience. You can shop anytime and choose to have your items shipped either to your home address or to anywhere you need them sent. We thank you for supporting OLC and appreciate any and all patronage as the proceeds of all sales go toward supporting our unique apostolate. Click here to visit now:

How Would You Describe Our Lady's Center?
A Secret Garden...because who can even find it?
A Little Slice of Heaven...served up daily at Noon
A Sanctuary of Peace...in a sea of crazy
A Catholic Candy Shop...delectable goodies for the soul!
Treasure Island...a secret cache of spiritual gems
Home...because your Mother is here, waiting for you to come visit.
Our Lady's Center is all this and more, and it exists on your prayers and your support. Spread the word! Bring a friend! Volunteer! Donate! Help this apostolate grow, that we may spread the kingdom of God through the intercession of the Blessed Mother. Please prayerfully consider how you may be uniquely equipped to assist us and call us...or just drop us a note HERE!
Store Hours
Monday - Thursday: 10:00 am - 4:00 pm*
Friday: 10:00 am - 7:30 pm*
First Saturday: 10:00 am -10:30 am; 12:30 pm - 2:00 pm
*Please note that the store is always closed during the noon Mass
Chapel Hours:

Holy Sacrifice
of the Mass

Monday-Friday: 12:00pm
Friday night: 7:30 pm
1st Saturdays: 10:30 am

Rosary


Monday-Friday: 11:30 am



Confessions


Following all Masses



Adoration


Friday: 12:30 - 7:30 pm


Friday Night Devotions



Holy Mass: 7:30 pm
Followed by: Confessions, Rosary, Divine Mercy Chaplet, Adoration of the Blessed Sacrament and Benediction
| | |
| --- | --- |
| Our Lady's Center Marian Shrine is a Catholic lay apostolate within the Archdiocese of Baltimore located outside of Baltimore, Maryland in Ellicott City. We offer the Holy Sacrifice of the Mass and confessions upstairs in our chapel each weekday and on first Saturdays. Downstairs in our beautiful store, we carry a large selection of Catholic books and religious articles to meet every need. We have many events and activities throughout each month. | |