September is dedicated to Our Lady of Sorrows. Learn more about the devotion
H
ERE
.
Blessed Mother, in joining our sorrows with yours, may we find the joy of eternal salvation with Jesus Christ, Our Lord. We look to you as a model of forbearance and endurance, obedience and meekness, love, patience, and joyful suffering. Amen
Thy Word Newsletter
September 2016
Blessed Mother's
Birthday Party
Thursday, Sept. 8th
1:00 pm

Veneration of the
True Cross
Wednesday, Sept. 14th
12:00 noon Mass

David Bereit, Founder
40 Days For Life
Friday, Sept. 16th
1:00 pm
We will be
CLOSED
for Labor Day, Monday, September 5th.
First Saturday Mass will be held September 3rd at 10:30 am followed by Benediction, Confession and Devotions. More on First Saturdays
HERE.
Our Blessed Mother's
Birthday Party
Thursday, September 8th, 1:00 pm
OLC's Legion of Mary "Our Lady Undoer of Knots" Praesidium is hosting a birthday party following Mass to celebrate the Feast of the Nativity of the Blessed Virgin Mary. Although the exact date of her birth was not recorded, The 8th of September follows nine months after the Feast of the Immaculate Conception of Mary, celebrated on December 8th. Join us for refreshments and a cake in our Mother Mary's honor, as we give thanks for the gift of a mother who loves us so well!
Venerate the True Cross on the Feast of the Exultation
of the Holy Cross,
Monday, Sept. 14th, 12:00 Mass

Join us for another special opportunity to venerate a sliver of the actual cross upon which Our Lord died for our salvation! Our Lady's Center is the humble steward of this relic, and we will be making it available for veneration for a brief time following noon Mass on the Feast of the Exultation of the Holy Cross, when we celebrate St. Helena's discovery and glory in the cross of our Lord Jesus Christ, for he is our salvation, our life, and our resurrection. Through him we are saved and made free.
David Bereit, Founder,
40 Days for Life

"Saving America Before it's Too Late"
Friday, Sept. 16th, 1:00 pm The Fall Defend Life Speaker Tour kicks off with David Bereit, Founder and CEO of 40 Days for Life. America is at a crossroads, embroiled in cultural chaos, moral breakdown, and political turmoil. Faith, family, and freedom are under relentless attack, yet the Pro-life movement is making significant gains at the local and state levels. David's hope-filled presentation will reveal how your role in the pro-life movement is crucial in saving lives and in saving America. Refreshments to follow in the Conference room.
Traditional Latin Mass
& Pot Luck Tuesday, Sept. 27th, 6:30 pm

Come join us for a meditative Low Mass offered by Fr. Canisius Tah of Resurrection in Ellicott City. As always, m

issals will be provided with Latin on one side and English on the other, so it is not difficult to follow along. After Mass, we will enjoy a potluck in the conference room. Bring something to share and take advantage of a great chance to ask Father questions and make some new friends. New veils are in stock too! Find out why Traditional Latin Mass is so awesome HERE and HERE.

Our Lady's Center is excited to once again be invited to exhibit at the 6th Annual Maryland Catholic Women's Conference taking place on the weekend of October 7th-9th at Mount St. Mary's University in Emittsburg. This year's theme is
"Witness of Mercy", An Inspirational Retreat celebrating the Jubilee Year of Mercy.
This conference will feature Dynamic Speakers, Peaceful Adoration, Mass with Archbishop Lori, Confession, Holy Rosary, Chaplet of Divine Mercy, Catholic Exhibitors and more! More info
HERE.
Register now, and we'll see you there with lots of our most exciting merchandise!
2016 Rosary Rally
Saturday, October 15, 10:30 am
Our Lady's Center will once again be hosting a Rosary Rally as part of the annual America Needs Fatima Public Square Rosary Crusade. These rallies are always held on the Saturday closest to October 13, the date of the last apparition of Our Lady of Fatima and the Miracle of the Sun. There will be thousands of rosary rallies in cities all across America on October 10th. In 2015, there were 14,108 groups simultaneously praying for our country and the world. Mass at 10:30 am will be followed by Exposition of the Blessed Sacrament and the Rosary Rally.
24 Hour
Election Prayer Vigil
in the Chapel Before
the Blessed Sacrament


November 4th & 5th


From Noon Mass on First
Friday through 10:30 am
First Saturday Mass & Devotions


SIGN UP HERE


for a one hour time slot
(or stop by the book store).

We'd like at least two people praying in the chapel for each one-hour time slot.
Certainly we at Our Lady's Center are far from alone in our deep concern for the future of our beloved nation, especially for the ability of all to continue to enjoy the religious freedom guaranteed by our Constitution and to live free from the persecution of coercive governmental policy which seeks to force citizens to go against their consciences. In light of the gravity of the upcoming election, please join us for 24 hours of prayer, for a just and moral outcome, that God will give us the leaders we need, and that all things will work together for good for those who seek His purpose. Prayer sheets will be provided. Remember how Jesus could work no miracles in his own home town and that he was astonished at their lack of faith. Let us not allow that to happen in our own homeland. Jesus wants to work miracles for us, and we must believe so that he can. Remember also that, throughout the Bible, God raised up leaders who were not perfect but through whom God's perfect plan was accomplished, as long as His people humbled themselves and sought His will.
Month of Prayer & Fasting
Shields OLC from Calamity
Yes, prayer works! In mid-July, we sent out the unusual call for a Month of Prayer and Fasting to begin on the Feast of Our Lady of Mt. Carmel and end on the Feast of the Assumption. Our prayer intentions were for the protection of Our Lady's Center and all who come here. This was actually in response to discovering that our little shrine had been designated, without our knowledge or consent, as a destination site for the newly launched mobile gaming sensation called Pokemon Go. We had no idea how the arrival of gamers would affect the Center but were determined to protect our patrons as well as present a loving Christian presence to all who found their way here. Thankfully, we have not been adversely affected by the activity, however...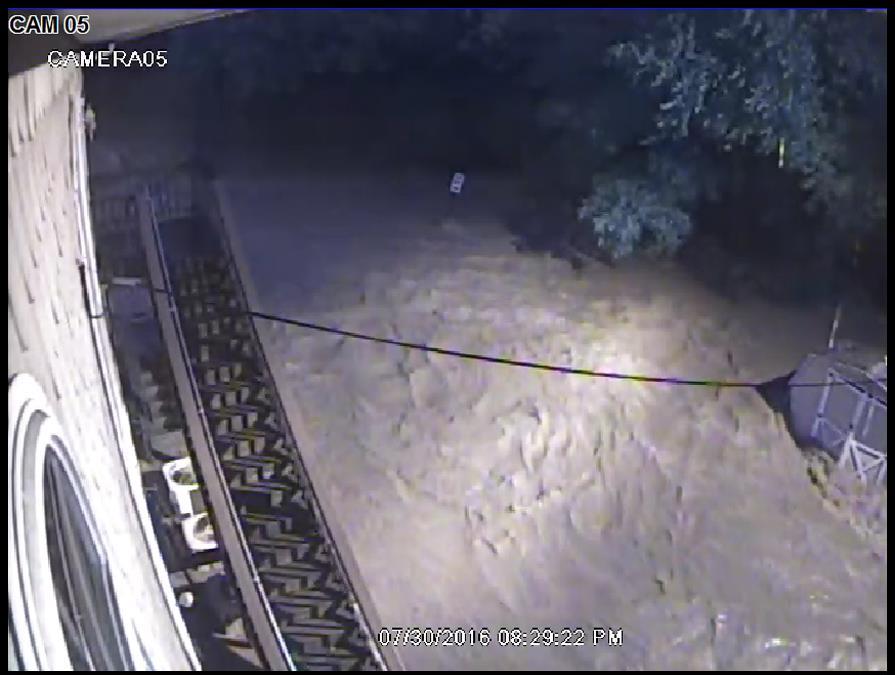 ...exactly two weeks after we began praying, we were hit with the worst flooding in recent memory. Yet, even though our dam in back broke and three feet of water flooded the grounds, the Center itself was spared significant damage. The security camera photo above shows our shed just before it was shredded. Thankfully, no one was imperiled as we were closed at the time. Furthermore, just one week after the flood, Jack Kissane, our devoted President of the Board, needed emergency quadruple bypass surgery! Thankfully, the surgery was a success, and Jack is recovering well. He is so grateful for all your prayers.

Although we had no idea at the time what difficulties lay ahead, the Lord did. We are convinced that we were divinely inspired to plead the Lord's protection upon us with our Month of Prayer and Fasting. Many thanks to all who heeded our call and covered OLC in prayer!
Astonishing Flood Recovery Efforts!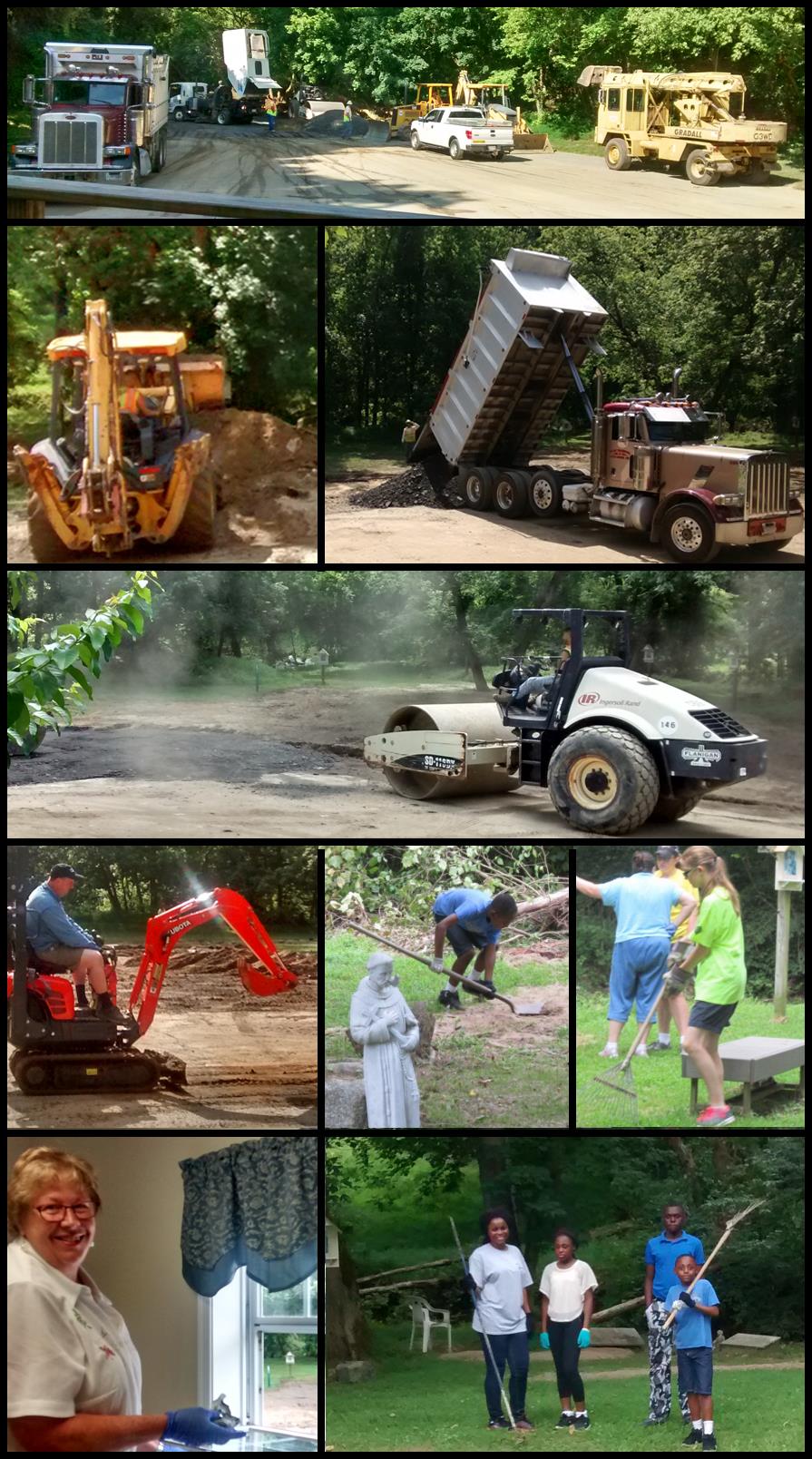 Our Lady's Center's idyllic location, cradled by the gurgling Sucker Branch stream, turned harrowing during the flooding that hit Ellicott City July 30th. The record flash flood caused the usually unassuming creek which winds around the Center to burst through the earthen dam in back and allowed a torrent of water three feet deep to rip through our grounds and parking lot, causing significant damage (photos and info in the previous newsletter HERE). Thankfully, the Center itself, which sits 42" above ground, and our lovely Grotto escaped major flood damage, and even our HVAC system was inexplicably spared.

The day after the devastating flood, OLC put out the call for volunteers with heavy equipment to help us with the initial recovery so we could reopen. State Senator Bill Ferguson saw our post on Facebook and immediately put us in contact with P. Flanigan & Sons, a company specializing in transportation infrastructure construction, maintenance, and improvement. With their help, we were able to reopen just five days after the flood. They spent three days clearing SIX TONS of debris, repairing our dam in the back larger and stronger than ever, cold paving the damaged areas of our blacktop, even extending the rear parking lot so we could fit more cars - something we desperately needed!

The Knights of Columbus have been fantastic in their response, with the St. Agnes Council #4449 providing us with an immediate and generous donation. St. Francis of Assisi Fulton Council #12524 is organizing members from various councils within the Archdiocese to handle remaining clean up efforts and repairs. We also received help from a number of other volunteers who arrived, initially as well as after our reopening, to shovel silt off our grounds, remove remaining debris, recover shed items from the river and clean the siding of the center. We wish we could name and thank them all! We are so indebted to everyone who has come to our rescue in large ways and small. We have an amazing community, and we thank God for all His Divine Providence manifested through His diligent, resourceful, and generous servants. Every First Saturday Mass at OLC is offered for the intentions of the patrons and benefactors of OLC. Know that you are included! We also are planning an appreciation party for all who have helped.
Storming Heaven with a 2000 Hail Marys
Day of Devotions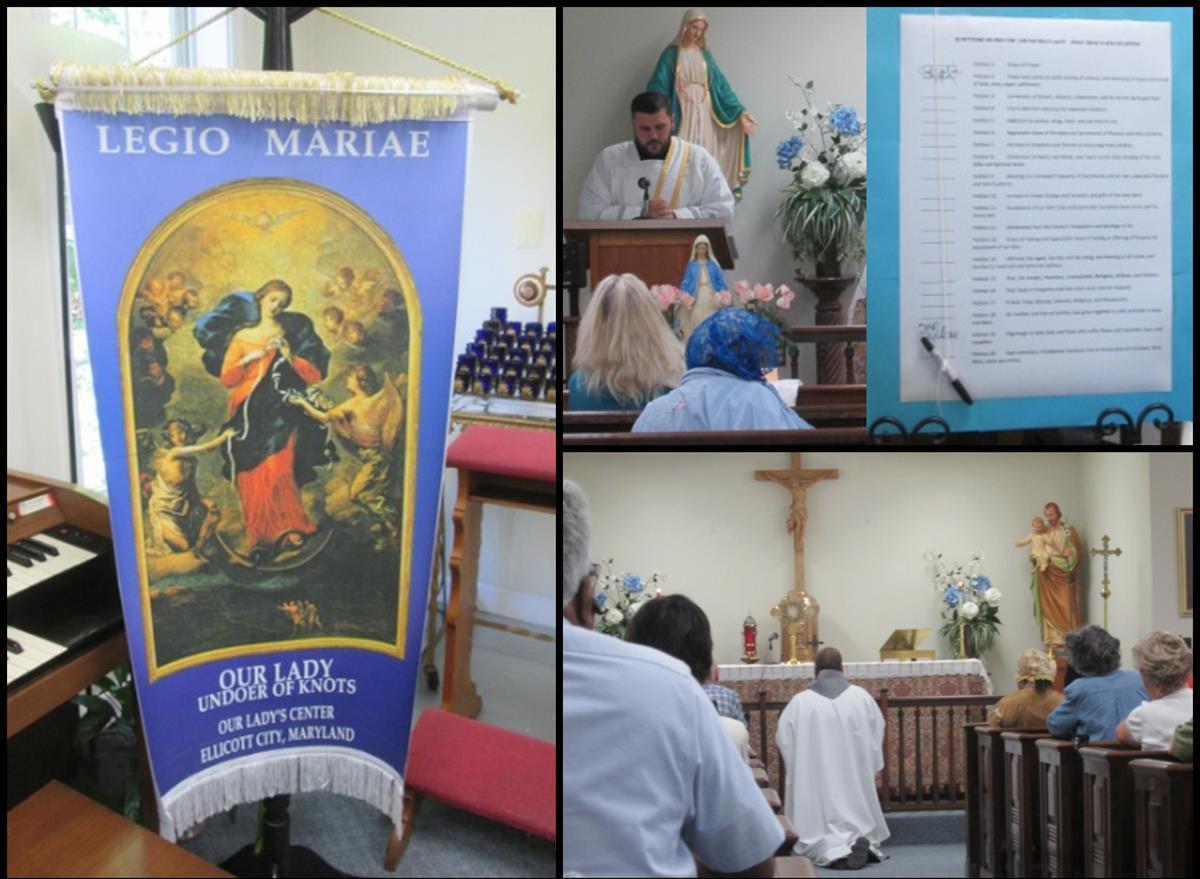 The 2nd Annual 2000 Hail Marys Day of Devotions was held on August 13th, hosted by the Legion of Mary, "Our Lady Undoer of Knots" Praesidium, which meets here at OLC on Fridays. Fr. Michael Heine began the day by celebrating Mass and the Blessed Sacrament was exposed. Then a diligent group of prayer warriors joined together to pray 20 petitions covering the many aspects of our desperate, suffering, fallen world in which we need the Lord's assistance. After each petition, a decade of the rosary was prayed, and then 200 Hail Marys followed. The day concluded with Benediction and a very enlightening talk by Deacon Brandon Justice. Thank you to all who turned out to storm Heaven. We know amazing things are already happening as a result of your efforts.
A Surprise Visit from a Dear Friend!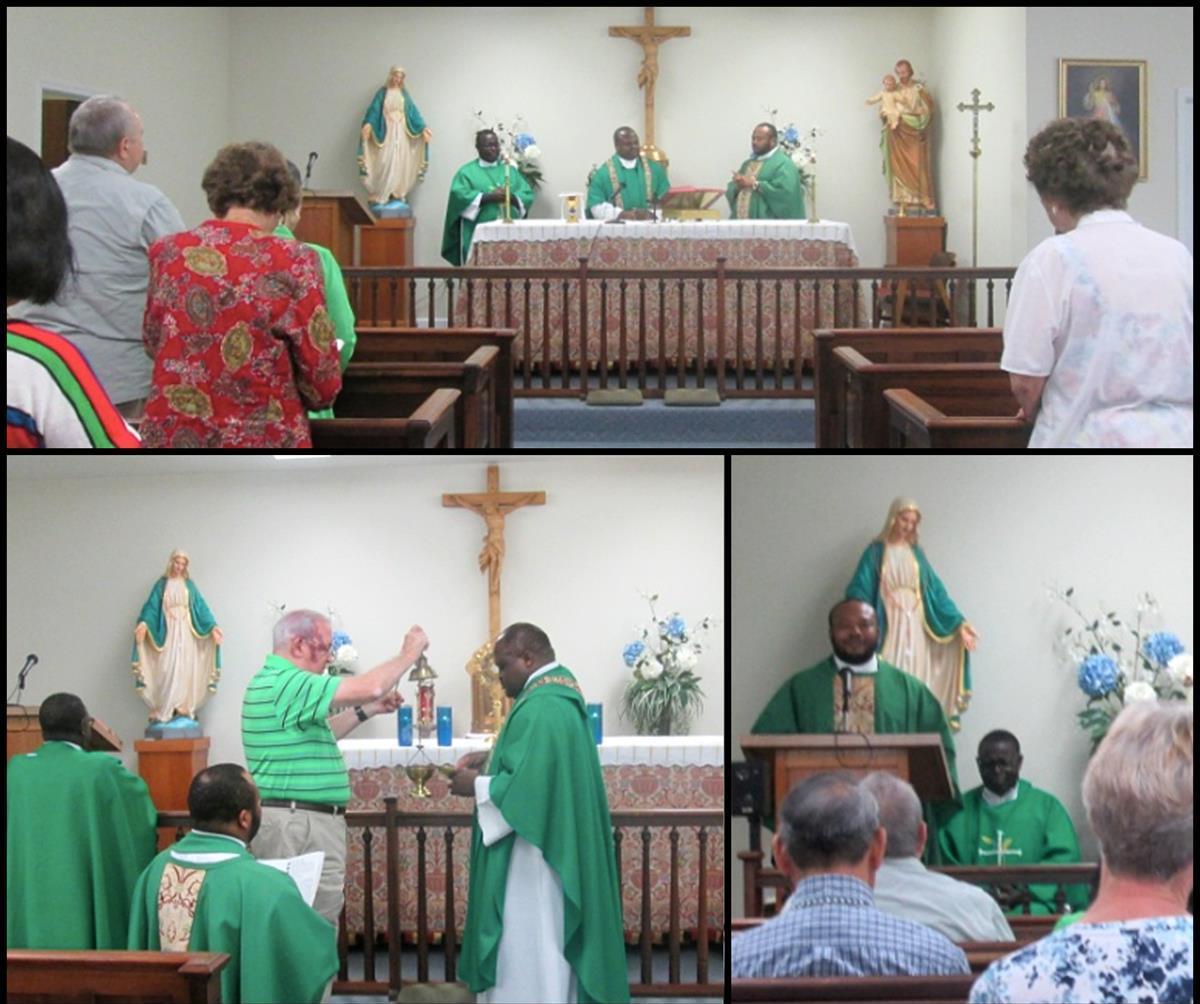 Nearly a full year after we said good bye to a deeply faith-filled, dedicated priest and dear friend, he surprised us with a visit. Fr. Emmanuel Fale stopped in on Friday, August 26th with his rector, Fr. John from Cameroon, and they were invited to concelebrate the noon Mass with Fr. Anthony. What a wonderful blessing for all who attended! Fr.Emmanuel is dearly missed, but he knows he has a home here whenever he is in town. He deeply appreciated the send-off and the purse into which many of you so generously contributed a year ago when he headed off to complete his studies in Ohio. OLC loves our priests!
Our Summer Reading Basket Raffle Winner
is Such a Joy to us!
The winner of our Summer Reading Basket Raffle was Joy Culver. Her name was drawn after noon Mass by Fr. Canisius on August 4th, the first day we were able to be open following the flood. Manager Christine always enjoys calling the owner of the winning ticket, and Joy was...well...overjoyed to win such a nice selection of signed books!
OLC at the Howard County Fair!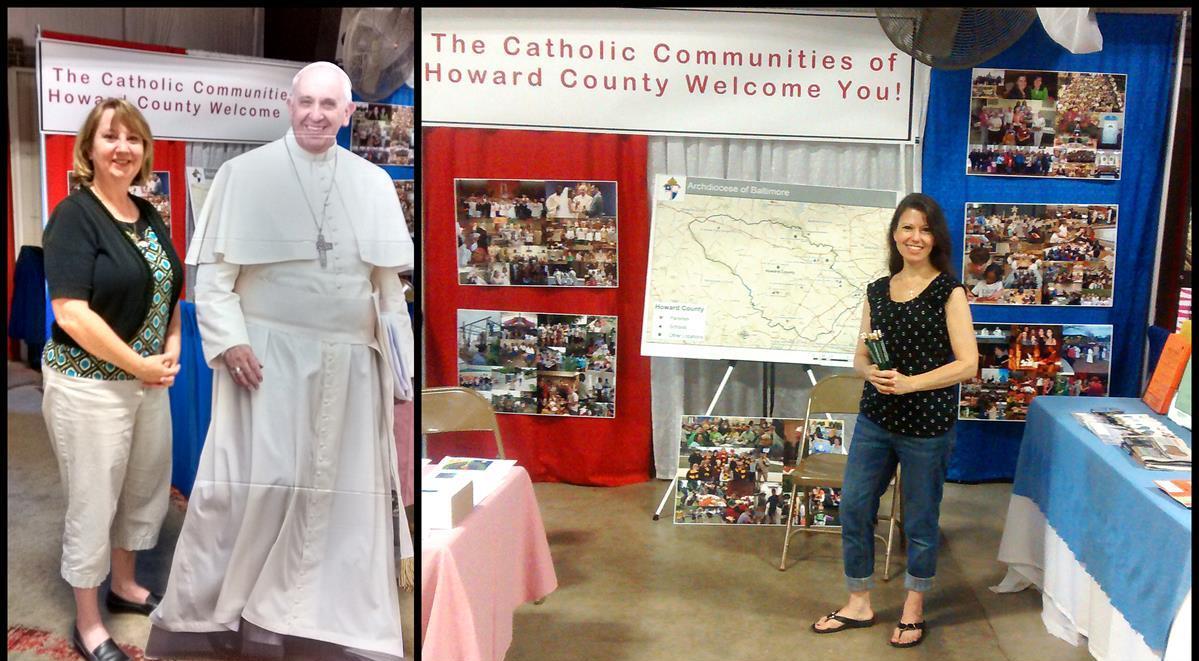 For the first time, the Catholic parishes and communities of Howard County hosted a booth at the Howard County Fair to raise awareness of the Catholic Church's vibrant, active presence in our county. Representatives from all the various parishes, as well as Our Lady's Center, the Shrine of St. Anthony, and Bon Secours Retreat and Conference Center took shifts at the booth, greeting visitors, and sharing information on available resources. Quite a few people stopped and spoke with Mary and Christine who manned the booth for OLC. The visitors enjoyed having their pictures taken with the life-size cut out of Pope Francis, writing notes which will be sent to the Vatican, and learning all about the Catholic Church's presence in Howard County. The booth was designed and the volunteer staff was coordinated by Gina McLean under the direction of Msgr. Dietzenbach of the Church of the Resurrection in Ellicott City.

Upcoming Events:

SEPTEMBER:

First Friday Mass & Devotions
9/2, Friday, Noon & 7:30pm Masses

First Saturday Mass & Devotions
9/3, Saturday, 10:30 am



Labor Day - OLC CLOSED


9/5, Monday

Blessed Mother's Birthday Party for the Nativity of the Blessed Virgin Mary
9/8, Thursday, 1:00 pm

OLC at Holy Trinity, Linthicum
9/11, Sunday, 9:00 am

Veneration of the Relic of the True Cross for the Feast of the Exaltation of the Holy Cross
9/14, Wednesday, 12:00 Noon Mass

Speaker David Bereit,
Founder of 40 Days for Life
9/16, Friday, 1:00 pm

OLC at St. Philip Neri
9/18, Sunday, 9 am

Monthly Latin Mass & Pot Luck
9/27, Tuesday, 6:30 pm

OCTOBER:

First Saturday Mass & Devotions
10/1, 10:30 am

First Friday Mass & Devotions
10/7, 12:00 & 7:30 pm Masses

OLC Exhibits at the MD
Catholic Women's Conference
Mount St. Mary's, Emittsburg, MD
10/8 & 10/9

Speaker Eric Scheidler, Executive Director, Pro-Life Action League

10/14, 1:00 pm

2016 Rosary Rally
10/16; 10:30 am

Monthly Latin Mass & Pot Luck
10/25, 6:30 pm

September
Special Feasts:



St. Gregory the Great
September 3

St. Teresa of Calcutta's
Canonization
September 4

St. Teresa of Calcutta
September 5

Feast of the Nativity
of the Blessed Virgin Mary
September 8

St. Peter Claver
September 9

Feast of the Most Holy
Name of Mary
September 12

St. John Chrysostom
September 13

Exaltation of the Holy Cross
September 14

Our Lady of Sorrows
September 15

St. Matthew
September 21

St. Padre Pio
September 23

St. Vincent de Paul
September 27

St. Michael, Gabriel, & Raphael, Archangels
September 29

St. Jerome
September 30








In the Book Store:
​Super Saintly Items for September!

Are you ready for Mother Teresa of Calcutta's canonization on Sept. 4th? Come see all we have in stock on this holy woman who lived only a couple decades ago!
| | | |
| --- | --- | --- |
| The 2017 spiral bound Saints Calendar & 16 Month Planners are in here! | The most comprehensive book ever written on the rosary by Fr. Calloway | Spirit-filled daily reflections and prayers for busy moms from 80 authors! |
SAVE YOUR INK!
Click
HERE
for a printer-friendly coupon.
SEPTEMBER SPECIAL!
20
% OFF
Any One Mother Teresa
Item in Stock
Must present coupon at time of purchase. Valid on regularly priced items only.
Coupon not valid on previously purchased items and cannot be combined with other coupons. Limit one coupon per visit.
Expires 09/30/2016
Our Lady's Center Marian Shrine

Can't Get to our Store?

Visit

Our Lady's Center Online Rosary, Medal and Crucifix Store.

Our homebound and out-of-town patrons have found shopping at our online store convenient and helpful. We carry a variety of medals, crucifixes, and rosaries there for your convenience. You can shop anytime and choose to have your items shipped either to your home address or to anywhere you need them sent. We thank you for supporting OLC and appreciate any and all patronage as the proceeds of all sales go toward supporting our unique apostolate.
Store Hours
Monday - Thursday: 10:00 am - 4:00 pm*
Friday: 10:00 am - 7:30 pm*
First Saturday: 10:00 am -10:30 am; 12:30 pm - 2:00 pm
*Please note that the store is always closed during the noon Mass
Chapel Hours:

Holy Sacrifice
of the Mass

Monday-Friday: 12:00pm
Friday night: 7:30 pm
1st Saturdays: 10:30 am

Rosary


Monday-Friday: 11:30 am



Confessions


Following all Masses



Adoration


Friday: 12:30 - 7:30 pm


Friday Night Devotions



Holy Mass: 7:30 pm
Followed by: Confessions, Rosary, Divine Mercy Chaplet, Adoration of the Blessed Sacrament and Benediction
| | |
| --- | --- |
| Our Lady's Center Marian Shrine is a Catholic lay apostolate within the Archdiocese of Baltimore located outside of Baltimore, Maryland in Ellicott City. We offer the Holy Sacrifice of the Mass and confessions upstairs in our chapel each weekday and on first Saturdays. Downstairs in our beautiful store, we carry a large selection of Catholic books and religious articles to meet every need. We have many events and activities throughout each month. | |