| | |
| --- | --- |
| www.ourladyscenter.net • 410-461-5066 | |

October is dedicated to the Most Holy Rosary. From the Latin rosarium, rosary means "garland of roses." With every prayer, we hand the Blessed Mother another fragrant blossom. "Of all the prayers, the rosary is the most beautiful and the richest in graces...the one most pleasing to Mary." (Pope St. Pius X). More here.
Heavenly Father, we ardently pray for a new wave of devotion to the rosary, that many may be drawn closer to you through meditating on the mysteries. Amen.
Thy Word Newsletter
October 2016
Fall Defend Life Lecture:
Eric Scheidler, Friday
October 14th, 1:00 pm

2016 Rosary Rally
Saturday, October 15th
10:30 am

Traditional Latin Mass
Tuesday, October 25th
6:30 pm
Flood Recovery Appreciation Mass & Dinner
Wednesday, October 19th • Mass at 6:00 pm, dinner at 7:00 pm
To all those who helped OLC recover from the flood through a monitory donation or physical labor: we are SO very thankful, and we want very much to express to you our gratitude! The Board of Directors is cordially inviting all those who contributed to our flood recovery efforts to a special Appreciation Mass and Dinner in thanksgiving for all the help we received. RSVP by 10/12/16 to 410-461-5066.
Defend Life Lecture:
Eric Scheidler Executive Director of the
Pro-Life Action League
Friday, October 14, 1:00 pm
Eric Scheidler is the son of the great Joe Scheidler, the Father of the Pro-Life Movement! He lives in Aurora, Illinois with his wife and eight children where he led the battle to keep Planned Parenthood from opening America's largest abortion facility. Visit ProLifeAction.org to find out more about the remarkable work Eric is doing. Following the talk, please join us in the conference room to continue discussion over cake and refreshments.
2016 Rosary Rally Crusade
Saturday, October 15, 10:30 am
Our Lady's Center will once again be hosting a Rosary Rally as part of the annual America Needs Fatima Public Square Rosary Crusade. These rallies are always held on the Saturday closest to October 13, the date of the last apparition of Our Lady of Fatima and the Miracle of the Sun. There will be thousands of rosary rallies in cities all across America on October 15th. In 2015, there were 14,108 groups simultaneously praying for our country and the world. Mass at 10:30 am will be followed by a Rosary in the presence of the Blessed Sacrament and Benediction.
Come Experience the Beauty of the Latin Mass! Tuesday, October 25, 6:30 pm

Please join us for a meditative low Mass

celebrated by Fr. Canisius Tah of Resurrection Parish.

Missals are provided with Latin on one side and English on the other, so it is not difficult to follow along. After Mass, we will gather in the conference room to enjoy refreshments. Bring something to share if you can and take advantage of a great chance to ask Father questions and to make some new friends. Find out why Traditional Latin Mass is so awesome here.
Maryland Catholic Women's Conference

October 7th-9th,
Mount St. Mary's University

We are

excited to once again be invited to exhibit at the 6th Annual Maryland Catholic Women's Conference taking place on the weekend of October 7th-9th at Mount St. Mary's University in Emittsburg. This year's theme is "Witness of Mercy", An Inspirational Retreat celebrating the Jubilee Year of Mercy. This conference will feature Dynamic Speakers, Adoration, Mass with Archbishop Lori, Confession, Holy Rosary, Chaplet of Divine Mercy, Catholic Exhibitors and more! More info HERE. Register now, and we'll see you there!
All Day Eucharistic Election Prayer Vigil
NEW DATE: November 8th •

9:00 am - 11:00 pm
Sign up for a ONE HOUR time slot HERE or call 410-461-5066
On election day, come pray and fast before the Blessed Sacrament, and be sure to vote! Certainly we at Our Lady's Center are far from alone in our deep concern for the future of our beloved nation, especially for the ability of all to continue to enjoy the religious freedom guaranteed by our Constitution and to live free from the persecution of coercive governmental policy which seeks to force citizens to go against their consciences. In light of the gravity of the upcoming election, please help us cover the day in prayer and fasting. Let us pray for a fair election, for a just and moral outcome, that God will give us the leaders we need, and that all things will work together for good for those who seek His purpose. Consider how Jesus could work no miracles in his own home town and that he was astonished at their lack of faith. Let us not allow that to happen in our own homeland. Jesus wants to work miracles for us, and we must believe so that he can. Remember also that, throughout the Bible, God raised up leaders who were not perfect but through whom God's perfect plan was accomplished, as long as His people humbled themselves and sought His will. So, although your ideal candidate may not be in the running, it is still our civic and moral duty to vote for the viable candidate that most closely supports a culture of life. It is not choosing the lesser of two evils but allowing God the opportunity to work through a leader who recognizes and supports our inalienable rights, especially the right to life.
OLC Welcomes David Bereit of 40 Days for Life
Our Lady's Center was excited to welcome David Bereit, the high-energy dynamo who founded the 40 Days for Life movement in 2007. His vision has grown to cover the entire country and much of the world in prayer, fasting, vigil and outreach. The numbers are phenomenal: 4,168 total campaigns, 636 cities, 36 countries, 700,000 individual participants, 18,500 churches, 11,796 lives saved from abortion, 133 abortion workers quit, and 73 abortion facilities closed! David's fascinating talk revealed how it all began, from quitting his full-time job and stepping out in faith to the actual and mystical cleansing of an abortion facility and its subsequent conversion into a place of peace, healing, and hope. We are so excited that we were able to host David just before the launch of the Fall 40 Days for Life Campaign. If you haven't already done so, sign up HERE. Lives are being saved.

Manager Christine's daughters, who just co-foundered LifeCulture Apparel pro-life clothing with their two brothers, attended the talk. They were excited just to meet David Bereit in person and were surprised and honored to be asked by him to speak to those present about their own mission. LifeCulture Apparel uses hand-drawn, upbeat, beautiful designs to "spark conversations and change hearts," and they donate a portion of their earnings to a pro-adoption group. David Bereit had actually already seen their launch video, which had been shared with him by OLC patron Ann Boland!

Product Spotlight:
Our St. Teresa of
Calcutta Apron
Sandra Escobar, one of our wonderful regular patrons, stopped by to model an apron she recently bought from OLC. The St. Teresa of Calcutta apron features the beautiful quote, "If you can't feed a hundred people, feed just one."

We have a beautiful selection of St. Teresa items still available, as well as a variety of aprons with various Catholic quotes printed on them. And remember to send us a photo of what you have done with your purchases from Our Lady's Center, such as an out door shrine with one of our statues, a home altar with a plaque or standing crucifix, or even cuisine made from the Vatican cookbook (hint, hint Leo!) We love to feature them in our newsletter!


Upcoming Events


Catholic Women's Conference
Friday-Sunday, October 7th-9th.
Mount St. Mary's College, Emittsburg, MD

Defend Life Lecture Series Talk
Friday, October 14th, 1:00 pm

2016 Rosary Rally
Saturday October 15, 10:30 am

Traditional Latin Mass & Potluck
Tuesday, October 25th, 6:30 pm


October Special Feasts


St. Therese of Lisieux


October 1



The Holy Guardian Angels


October 2



St. Francis of Assisi


October 4



St. Faustina Kowalska


October 5



Our Lady of the Rosary


October 7



St. John XXIII; St. Damien of Molokai


October 11



Columbus Day


October 12



St Teresa of Avila


October 15



St. Margaret Mary Alacoque


October 16



St. Luke


October 18



St. John Paul II


October 22



St. Simon; St. Jude Thaddeus


October 28

IN THE BOOK STORE...
Rosaries, Calendars & Candies!

| | |
| --- | --- |
| Beautiful Rosaries in Stock! Like this Lourdes Rosary with Lourdes Water | Get your 2017 Calendar now so you can note all those upcoming appointments! |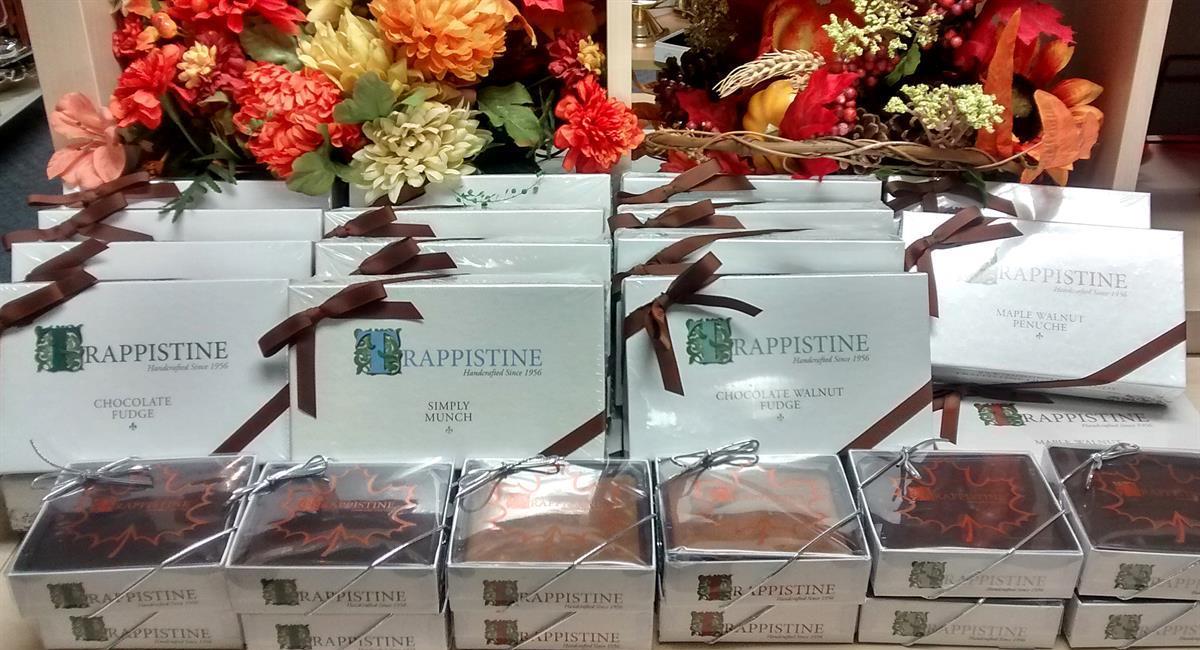 Trappistine Chocolates, Fudges and Maple Walnut Penuche are back in stock!
Help support the Trappestine nuns who so prayerfully handcraft them. These candies are absolutely delicious and essentially guilt free!
SAVE YOUR INK!
Click
here
for a printer-friendly coupon.
20
% OFF
Any One ROSARY in stock
Coupon must present at time of purchase (may be shown on device at check out).
Expires 10/31/2016
Our Lady's Center Marian Shrine
Can't Get to our Store?

Our homebound and out-of-town patrons have found shopping at our online store convenient and helpful. We carry a wide variety of medals, crucifixes, and rosaries there for your convenience. You can shop anytime and choose to have your items shipped either to your home address or to anywhere you need them sent. We thank you for supporting OLC and appreciate any and all patronage as the proceeds of all sales go toward supporting our unique apostolate. Click here to visit now:
Store Hours
Monday - Thursday: 10:00 am - 4:00 pm*
Friday: 10:00 am - 7:30 pm*
First Saturday: 10:00 am -10:30 am; 12:30 pm - 2:00 pm
*Please note that the store is always closed during the noon Mass
Chapel Hours:

Holy Sacrifice
of the Mass

Monday-Friday: 12:00pm
Friday night: 7:30 pm
1st Saturdays: 10:30 am

Rosary


Monday-Friday: 11:30 am



Confessions


Following all Masses



Adoration


Friday: 12:30 - 7:30 pm


Friday Night Devotions



Holy Mass: 7:30 pm
Followed by: Confessions, Rosary, Divine Mercy Chaplet, Adoration of the Blessed Sacrament and Benediction
| | |
| --- | --- |
| Our Lady's Center Marian Shrine is a Catholic lay apostolate within the Archdiocese of Baltimore located outside of Baltimore, Maryland in Ellicott City. We offer the Holy Sacrifice of the Mass and confessions upstairs in our chapel each weekday and on first Saturdays. Downstairs in our beautiful store, we carry a large selection of Catholic books and religious articles to meet every need. We have many events and activities throughout each month. | |