| | |
| --- | --- |
| www.ourladyscenter.net • 410-461-5066 | |

January is dedicated to the Holy Name of Jesus.
The name Jesus was given at God's command (Luke 1:31). It is all-powerful because of the Person Who bears it. We honor it because of the command of Christ that we should pray in His Name, because it reminds us of all the blessings we receive through our Holy Redeemer, and because through this devotion we also make amends for improper use of the Holy Name.
More here.
In the Name of Jesus let every knee bow, of those that are in heaven, on earth, and under the earth and let every tongue confess that the Lord Jesus Christ is in the glory of God the Father.
Thy Word Newsletter
January 2017
We will be CLOSED Monday, January 2nd for the New Years Holiday.
Traditional Latin Mass
Thursday, January 5th
6:30 pm

2000 Hail Marys on Inauguration Day
Friday, January 20th

Eucharistic Adoration for Life
Friday, January 27th
12:30 pm-7:30 pm
Inventory Reduction Sale Going on Now!!!
Big Discounts on many items! See Book Store section below for details!
Traditional Latin Mass
& Pot Luck Thursday, January 5th, 6:30 pm

Please join us for a meditative low Mass

. Missals are provided with Latin on one side and English on the other, so it is not difficult to follow along. After Mass, we will enjoy refreshments and good conversation in the conference room. Please bring something to share if you can and take advantage of a great chance to make some new friends. Find out more about Traditional Latin Mass HERE.
2000 Hail Marys on Inauguration Day

Friday, January 20th
7:00 am until complete
The Legion of Mary, Our Lady, Undoer of Knots Praesidium, will be hosting a Marian day of prayer to pray 2000 Hail Marys. The purpose of this devotion is to seek Our Blessed Mother's protection of and intercession for the United States Presidential inauguration, the new administration, peace in our nation, one nation under God, conversions, poor souls in purgatory, an end to abortion, personal intentions and more. We will pray the 2000 Hail Mary's with 20 petitions. Each petition has 100 Hail Mary's. The devotion will pause for Noon Mass and then continue before the Blessed Sacrament until complete. Come for all or part of the day, and bring your rosary!
Eucharistic Adoration during March for Life Friday, January 27th
12:30 pm - 7:30 pm
The Annual March for Life in Washington DC takes place on January 27th. Hundreds of thousands will march, people of all walks of life who share the deep conviction that the sanctity of human life must be defended for a just culture to exist. Many area parishes will have busses ready to transport those who can attend. If you cannot physically attend, please join us in spirit by coming to the chapel that day anytime between the 12:00 Noon and 7:30 pm Masses to pray before the Blessed Sacrament for the cause of Life. More about the March here.
Be sure to call ahead in inclement weather.
Like us on
Facebook
for the most up to date info!
Annual St. Nicholas Visit Brings Dozens of Smiles
O
ur Lady's Center celebrated the Feast of St. Nicholas with another lively visit by the great Bishop of Myra. St Nick was convincingly portrayed by a longtime OLC patron, Don Schmidt, who stepped up on short notice to fill the Bishop's shoes with our regular Jack Kissane out of town. Around 30 children sang Christmas carols, learned all about St. Nick's life and mission of charity, had their pictures taken with him, and were excited to discover gold coins and other treats in their shoes which they had left under the Christmas tree. This was the third year in what has become a happily anticipated tradition here at OLC, and we hope it will continue for years to come!
Our 2016 Patron Christmas Party Was Full of Cheer
OLC warmly welcomed our friends, patrons, and benefactors to a Christmas celebration in their honor in the week before Christmas. There were many delectable dishes and goodies furnished by those who attended, along with Christmas ham and all the fixings. The conference room became a bit cozy for a good portion of the day (but we are all basically family anyway!) New acquaintances and friendships were formed, and many who came lingered into the afternoon to talk with each other and to witness the Christmas raffle drawings which took place that afternoon. The joy of the season was evident, but even more so, the joy that permeates Our Lady's Center throughout the year was on full and glorious display. We are so blessed by all of you!
Christmas Basket Raffle Winners Get the Call!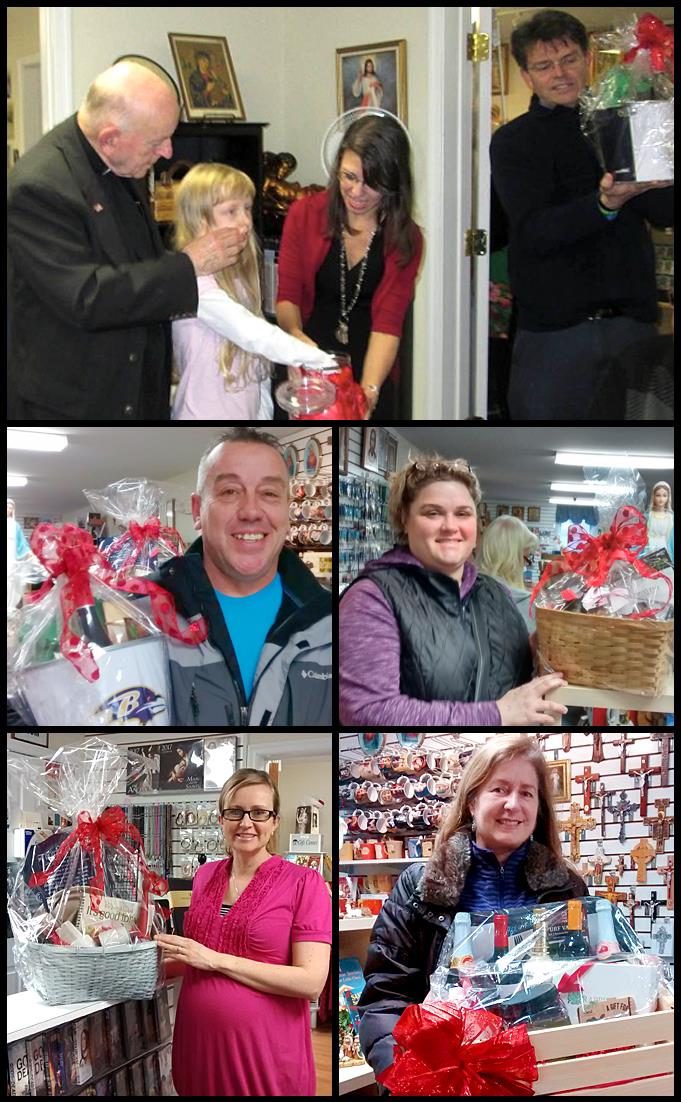 Our Lady's Center raffled off four wonderful baskets full of prizes procured by the Board of Directors from area businesses. Monsignor Joseph Lizor, who is one of our Board members, oversaw the drawing of the tickets, which was accomplished by his assistant, Maria Gilbert, our recent May Crowning Crown Bearer and First Communicant.

#1: Jennifer Holder won the Looney's Bucket, and her husband came to retrieve their prize.
#2: Laura Kocorowski won the Romantic Basket which she and her husband will enjoy.
#3
: Johanna Ream won the Pampered Chef Basket, perfect for cooking for her growing family!
#4: Lauren Stock won the Big Christmas Crate. Lauren was delighted to find among the contents a stay for two at Turf Valley Country Club, and she told us she and her husband were coming up on their 25th and it would be the perfect getaway.

Congratulations to all our winners!

We at OLC thank all who entered the raffles and all who contributed to them as we raised a nice amount for the upkeep of the Center. We look forward to doing it all again next year. If you or someone you know would like to donate items or gift certificates for our next raffle, let us know. We love to support local businesses while giving our patrons wonderful opportunities to win fantastic prizes!
All's Swale That Ends Swale!
Please excuse Manager Christine's corny sense of humor in copy writing. She simply cannot resist a good pun. What she is trying to convey is that the Department of Public Works, under the direction of Brian Cleary,
returned recently to install a swale along the corner of our parking lot. This swale will allow storm water to drain harmlessly into the river instead of pooling excessively in the depressed area as it has been doing. Once again, many thanks to Brian Cleary and his crew for their continued assistance in recovering our grounds from this summer's flood and improving them. May they and all who have helped us be abundantly blessed!
All is Calm, All is Bright in our Beautiful Chapel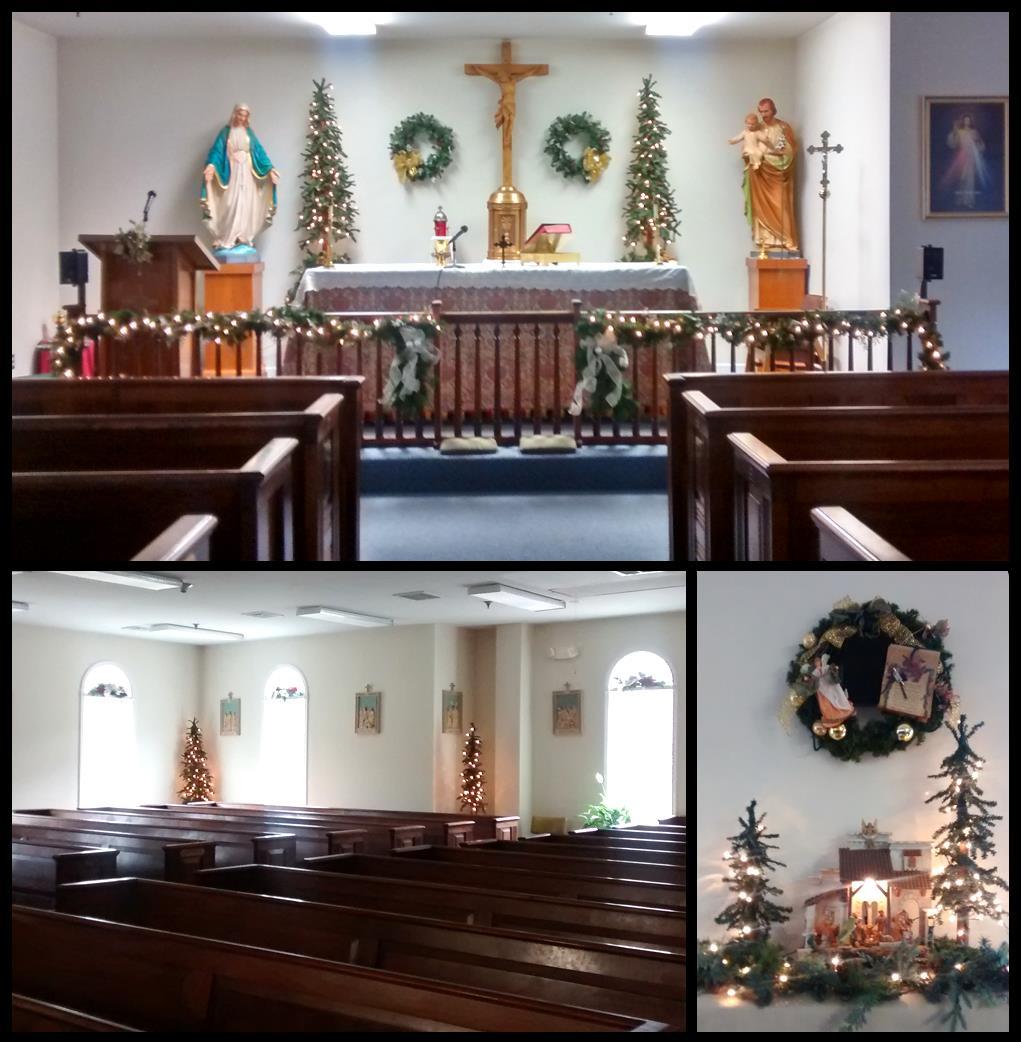 We'd like to give another huge thank you to Diane Andrews for again decorating our chapel so elegantly for Christmas. Decorations included a beautiful Advent wreath on a stand with flickering LED candles, white lights and greenery swags bedecking the altar rails, wreaths and lighted trees behind the altar, arrangements on the windows, lighted trees in the back of the chapel, and Diane's own magnificent Fontanini nativity! If you haven't seen the decorated chapel yet, please come in soon before the end of the Christmas season. Diane, thank you for your readiness to assist us in such a special task as preparing our chapel to honor and glorify the birth of Our Savior, Jesus Christ.

Let your New Year's Resolution be about getting your soul in shape. St. Ignatius Loyola knew spiritual exercises prepare our souls for the difficult tasks and heavy lifting that life brings, and OLC is committed to helping you however we can. Here are a few suggestions:
Pray a Daily Rosary...join us at 11:30 am in the Chapel or pick up a Rosary CD and pray along in the car.
Attend Daily Mass as often as you can. Come to OLC on your lunch break!
Pray the Divine Mercy Chaplet every day at 3:00 pm.
Sign up for a regular Holy Hour each week. OLC has Adoration right here every Friday.
Do the 33 Day Consecration to the Blessed Mother either on your own or in a group.
Go to Confession at least once a month. We have Confession after every Mass here.
Start the First Saturdays devotion. OLC has Mass at 10:30 am on First Saturdays.
Make a list of Spiritual Reading goals for the year and stick to it. Consider reading Consoling the Heart of Jesus, The Imitation of Christ, I Believe in Love, or The Secret of the Rosary. Stop in the book store for more suggestions.
Begin wearing the Brown Scapular, the garment of grace.
Spiritually Adopt a priest and pray for him. Priests do the heaviest lifting of all as they take up their crosses daily and follow Christ. They need our prayers.
Join us for the Novena to Our Lady of Perpetual Help on Thursdays after Mass.
Become a regular donor to OLC and help financially support this amazing apostolate!

Join one of our new Volunteer Teams and give whatever time and energy you can to helping Our Lady's Center's staff in much needed areas of support. See below for more details...
OLC Volunteer Teams Forming Now!
INVENTORY TEAM:
Help us keep up to date inventory of our store stock.
SHOW TEAM:
Help with set up and take down of merchandise when we visit area parishes.
GROUNDS TEAM:
Help on special clean up days to keep our grounds lovely.
Contact our Volunteer Coordinator, Mary Ellen Cote,
HERE
to learn more!

January Special Feasts


1/01: Solemnity of Mary, Mother of God 1/02: Sts. Basil & Gregory. OLC CLOSED 1/03: Most Holy Name of Jesus 1/04: St. Elizabeth Ann Seton 1/05: St. John Neumann 1/06: St. Andre Bessette 1/08: The Epiphany of the Lord 1/09: Baptism of the Lord 1/21: St. Agnes 1/24: St. Francis de Sales 1/25: Conversion of St. Paul 1/26: Sts. Timothy & Titus 1/28: St. Thomas Aquinas 1/31: St. John Bosco

OLC's Spring Parish Tour

OLC is ordering now for First Holy Communion Season, our busiest time of year! We will soon be displaying a huge selection of gifts at the Center. But if you can't come to us, don't worry. We very likely will be coming to you! Many area parishes host us on weekends throughout the Spring season, and we bring with us a beautiful assortment of First Holy Communion merchandise, including medals, rosaries, missals, children's bibles, gift sets, greeting cards and gift bags. Check with your parish office for dates and times or to place a request that we come.
IN THE BOOKSTORE:
TWO BIG SALES GOING ON NOW...

Inventory Reduction Sale!
40% OFF
All Red Dot Items on our Special Display!


After-Christmas Sale!
25% OFF
Remaining Christmas & Advent Items in Stock!


SAVE YOUR INK!
Click
HERE
for a printer-friendly coupon.
JANUARY SPECIAL!
15% OFF
One DVD or CD in Stock
Must present coupon at time of purchase. Valid on regularly priced items only.
Coupon not valid on previously purchased items. Limit one coupon per visit.
Expires 01/31/2017

Can't Get to our Store?

Our homebound and out-of-town patrons have found shopping at our online store convenient and helpful. We carry a wide variety of medals, crucifixes, and rosaries there for your convenience. You can shop anytime and choose to have your items shipped either to your home address or to anywhere you need them sent. We thank you for supporting OLC and appreciate any and all patronage as the proceeds of all sales go toward supporting our unique apostolate. Click here to visit now:
Our Lady's Center Marian Shrine

3301 Rogers Ave

Ellicott City, MD 21043

(410) 461-5066

Store Hours

Monday - Thursday: 10:00 am - 4:00 pm*
Friday: 10:00 am - 7:30 pm*
First Saturday: 10:00 am -10:30 am; 12:30 pm - 2:00 pm
*Please note that the store is always closed during the noon Mass
Chapel Hours:

Holy Sacrifice
of the Mass

Monday-Friday: 12:00pm
Friday night: 7:30 pm
1st Saturdays: 10:30 am

Rosary

Monday-Friday: 11:30 am



Confessions


Following all Masses



Adoration


Friday: 12:30 - 7:30 pm

Friday Night Devotions



Holy Mass: 7:30 pm
Followed by: Confessions, Rosary, Divine Mercy Chaplet, Adoration of the Blessed Sacrament and Benediction
| | |
| --- | --- |
| Our Lady's Center Marian Shrine is a Catholic lay apostolate within the Archdiocese of Baltimore located outside of Baltimore, Maryland in Ellicott City. We offer the Holy Sacrifice of the Mass and confessions upstairs in our chapel each weekday and on first Saturdays. Downstairs in our beautiful store, we carry a large selection of Catholic books and religious articles to meet every need. We have many events and activities throughout each month. | |