O come, O come, Emmanuel and ransom captive Israel that mourns in lonely exile here until the Son of God appears. Rejoice! Rejoice! Emmanuel shall come to thee, O Israel.
December is dedicated to Advent. While the secular world rushes ahead in festivities and activities often entirely devoid of their primary purpose, we are called to wait, pray, and prepare ourselves to welcome the Christ Child into our hearts. More HERE.


ADVENT BEGINS SUNDAY, DECEMBER 2ND. DO YOU HAVE YOU ADVENT CANDLES? WE STILL HAVE THEM IN STOCK IF YOU NEED THEM!
OLC HOLIDAY SCHEDULE:
CLOSED Monday & Tuesday, 12/24 & 12/25.
OPEN Monday, 12/31. CLOSED Tuesday, 1/1.
SPECIAL ANNOUNCEMENT:
OLC will be OPEN on Saturday,
12/22
with Mass at 10:30 am
The Bookstore & Gift Shop will be open 11 am - 4 pm
for Last Minute Christmas Shopping!
(Store is always closed during Mass)
We are aware that some of you may find it challenging to visit us during our normal hours of operation, so we have decided to open on the last Saturday before Christmas. We always try to have Mass celebrated on the days we operate, keeping Christ at the center of all our efforts and as the source of all our strength. We are, therefore, delighted to announce that we have secured a celebrant in this especially hectic time of year. Holy Mass will be
celebrated by Fr. Justin Okoro, our regular Tuesday and Wednesday noon Mass celebrant. This will actually be Fr. Justin's final Mass at OLC, as he will be relocating back to his native Nigeria just a few days after. This is our chance to wish Fr. Justin well, so please come. We will also be accepting donations for a purse to present to him in thanksgiving for his wonderful service.

After Mass, come downstairs to browse our wonderful selection of gifts at your favorite
non-profit Catholic bookstore and gift shop! We will have
FLASH SALES & DRAWINGS
all day for instant winners of signed books, store merchandise, and store discounts.
Mass and Christmas shopping at OLC...
get your goods and your grace all in one place!
First Saturday Mass & Devotions
Saturday, December 1st: 10:30 am Mass
followed by Exposition of the Blessed Sacrament and a First Saturday Holy Hour during which Confessions are heard, and closing with Benediction. The Bookstore is open 10-10:30 am and 12-2:00 pm.
St. Nicholas Visit
Bring the kids and their friends! St. Nicholas, Bishop of Myra, will once again be visiting Our Lady's Center on his feast day to tell the children all about his love for the Lord and the joy of giving. Children can pose with St. Nick for a photo, color Christmas pictures, enjoy some Christmas cookies, and leave their shoes under the Christmas tree for a surprise. (SHHHH! RSVP if possible so St. Nicholas has an idea of how many bags of chocolate coins to bring).
Blessing of the Blankets
​Tuesday, December 11th at 12:00 Noon Mass
It's time again for another round of freshly-knotted bevy of blankets to be blessed at 12:00 Noon Mass and distributed to area children in need through Project Linus. Those who made the blankets also receive a special blessing.
After Mass, come to the conference room for our Blanket Making Workshop
and learn to make colorful, knotted fleece blankets for Project Linus, a non-profit organization which provides snuggly handmade blankets to children in need. If you can cut and make knots, you can make a blanket! Material and supplies provided. Workshops are normally held on the second and fourth Tuesdays of the month, but
there will be just one session this month.
Children's Storytime & Craft
Wednesday, December 19th, 10:30 AM
Bring the children to hear Mrs. Ginny read a Christmas Story, do a fun craft, and enjoy a snack. RSVP so we know how many snacks and crafts to have on hand, but last minute drop-ins are always welcome.
CHRISTMAS

PARTY!!!
Wednesday, December 19th, 1-3pm
All of our beloved patrons and supporters, are invited to come celebrate with us after Mass on Wednesday, 12/19, so mark your calendars now! It's a POT LUCK, so let us know what dish you'd like to share (so we don't have 20 hams!)
OUR RAFFLE BASKETS ARE LEGENDARY!
Drawings will take place at 3 pm during our Christmas party for
these five raffle baskets. They are absolutely LOADED with many wonderful items, gift certificates, and gift cards worth hundreds of dollars which have been generously donated by area businesses and friends of OLC. This is our way of saying THANK YOU to our fantastic patrons! Tickets are on sale now and will be sold right up until the drawings. $1 per ticket.; 6 for $5; 10 for $12 or the best deal:
30 tickets for $20!
All of these amazing baskets were beautifully organized and arranged by our newest board member, Diane Andrews, who also happens to be our chapel and grotto decorator. What amazing talent! We are glad to have her on board!
A Heartwarming, Generous Response!
The 2018 Grateful Hearts Capital Campaign is well underway, and your response to our plea has already been so very generous. May the Lord bless all who are helping to support Our Lady's Center Marian Shrine, enabling its mission, bringing souls to Christ through Mary, to continue. What a unique and holy apostolate of love and peace! We are honored to be its guardians and ever grateful for the patronage of our benefactors. Please come to First Saturday Mass. It is offered for your intentions!
Merry Christmas from the Board of Directors at OLC!
- Jack Kissane, President; Carolyn Niebauer, Secretary/Treasurer; Msgr. Joseph Lizor; Spiritual Advisor; Ada Vergne; Carl Kleinschmidt; Bob Nichols; Jean Ayoub; Nick Nucci; Diane Andrews; Doug Schenk
The Saints Came Marching In!
All Saints Day is one of our favorite days at OLC! We just love welcoming our little saints-in-the-making in their creative little costumes. This year, St. Teresa of Calcutta was very popular. St. Clare, The Immaculate Conception, St. Bernadette, St. Kateri, and St. George also made appearances. We enjoyed seeing them all!
Election Day was Covered in Prayer
Once again, the Legion of Mary, Our Lady Undoer of Knots Praesidium, led us in an amazing day of prayer and petitions for our beloved nation and countrymen, for peace and civility throughout the election process, and for God's most perfect will to be accomplished. The 1000 Hail Marys Day of Fasting and Prayer was steadily attended as people came from and headed off to the polls. It is hard to comprehend the fragility of order in our society and the necessity of voting for leaders who will safeguard our God-given rights, such as the freedom of religion, lest we lose them. "Pray, vote and don't worry" was the motto of the day.
Honoring Our Veterans
As is our tradition, Our Lady's Center invited all who have honorably served in the United States Armed Forces and family members to a special Military Mass on Veteran's Day. which was celebrated by our own Msgr. Joseph Lizor, a retired Army Chaplain. The President of our board, Jack Kissane, who is a former U.S. Marine Corps Major recognized those veterans who were present by branch. We are so thankful to all who have served our country with honor! Never forget!
December Events


Saturday, December 1st:
First Saturday Mass & Devotions, 10:30 am

Thursday, December 6th:
St. Nicholas Visits OLC, 10:30 am

Tuesday, December 11th:
Blessing of the Blankets 12:00 Mass
Linus Blanket Making Workshop 1:00 pm

Wednesday, December 19th:
​Children's Storytime and Craft, 10:30 am
Patron Pot Luck Party & Basket Raffle,
1:00 pm

Saturday, December 22, 10 am-4 pm
OLC OPEN for last minute shopping

Monday & Tuesday, December 24th & 25th
OLC Closed for Christmas

Tuesday, January 1
OLC closed for New Years

Ongoing at OLC


Flame of Love Prayer Cenacles: Choose one day/time per week: Tues. 10:00 am, Thurs. 10:00 am, OR Thurs. 2:00 pm


Legion of Mary, Our Lady, Undoer of Knots Praesidium: Fridays 5:30

December Special Feasts

2 - First Sunday of Advent
3 - St. Francis Xavier 6 - St. Nicholas 7 - St. Ambrose 8 - Immaculate Conception 9 - 2nd Sunday of Lent

12 - Our Lady of Guadalupe 13 - St. Lucy 14 - St. John of the Cross 16 - 3rd Sunday of Advent 23 - 4th Sunday of Advent 25 - Nativity of the Lord 26 - St. Stephen

27 - St. John

28 - Holy Innocents 29 - St. Thomas Becket

30 - Holy Family

IN THE BOOKSTORE*
*We are a non-profit. All sales go towards supporting the Shrine!

Advent is Here! Are you Ready?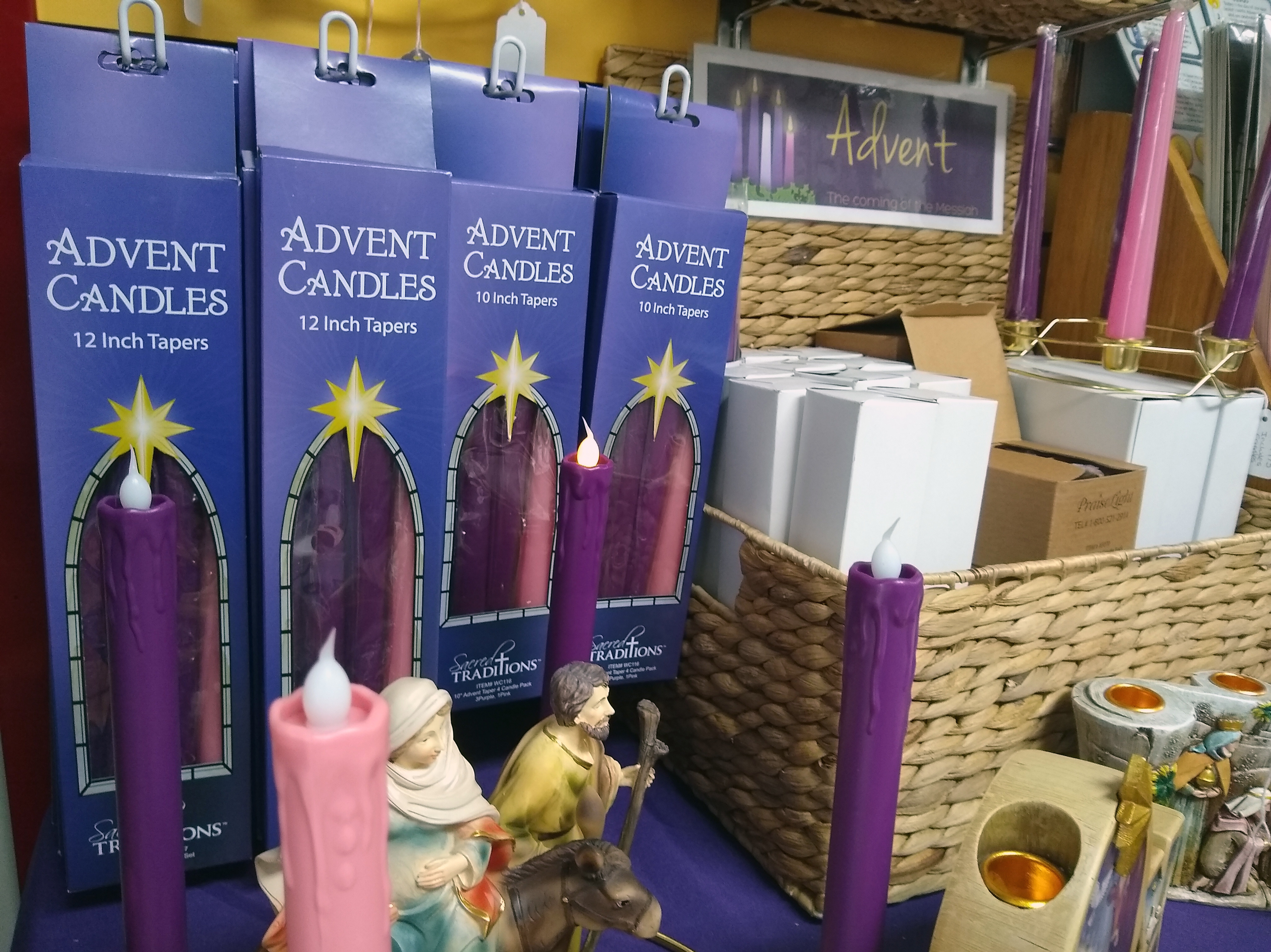 We still have 10" & 12" tapers, LED candles, and votives in stock, as well as some nice wreaths and candle holders. But you'd better not wait. Advent begins December 2nd!
Christmas Gift Ideas:
All 2019 Wall Calendars now 25% OFF!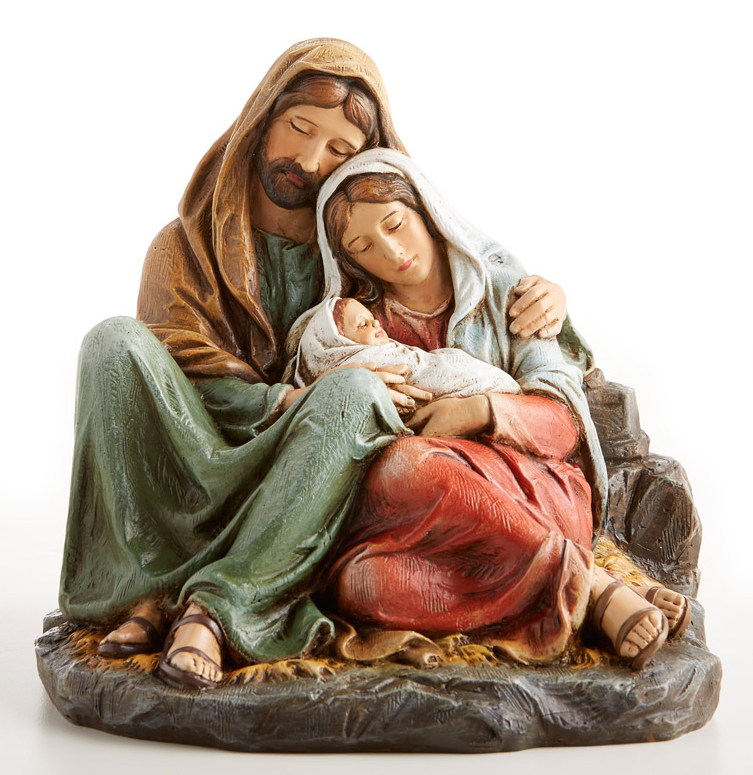 So many beautiful Christmas statues and ornaments to choose from
like this sweet "Sleeping Holy Family.'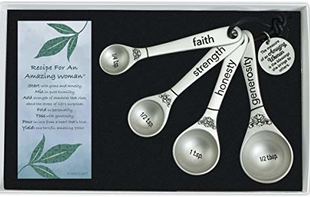 Recipe for an Amazing Woman Measuring Spoons! Thoughtful AND practical!

Candy Cane Coffee..one delicious sip
is almost like winning Raffle Basket #1!


A wonderful selection of tea towels
and aprons to suit every every taste!
A beautiful CD from the Dominican Sisters of Mary, Mother of the Eucharist. They just sang at the lighting of the National Christmas Tree in DC!

The Chants of Christmas
by the Gloria Dei Cantores Schola. We have many other wonderful Christmas CDs to choose from.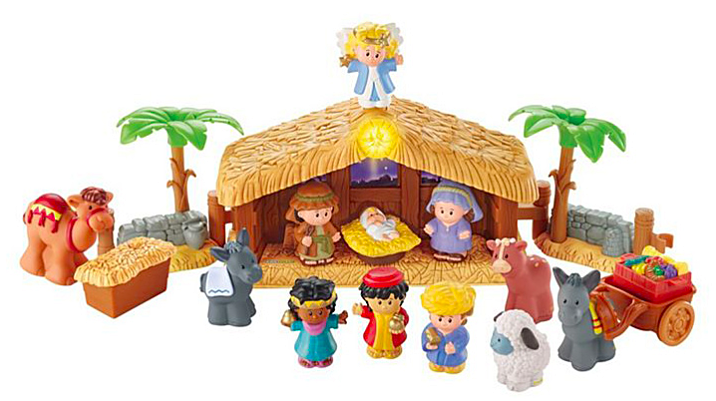 The Fisher Price Little People Nativity, a perennial favorite
and sold out almost everywhere. But we have several left!
Christmas Nativities, Ornaments, Statues and More!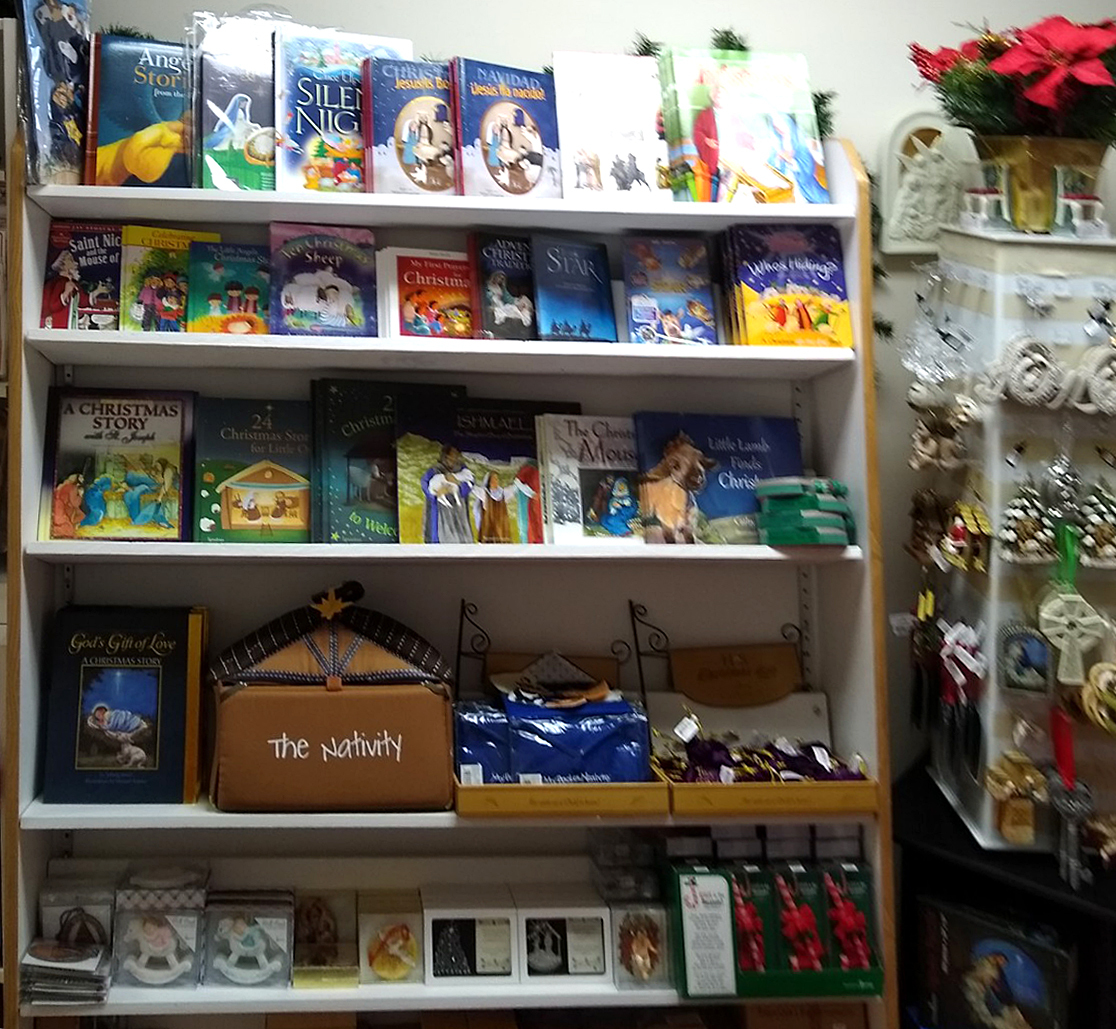 Our best selection of Christmas gifts, ornaments, and decorative items is on display now. Come see our lovely nativities!
DECEMBER NO-CLIP COUPON:
15% OFF
Christmas Item in Stock
No coupon necessary. Just mention you saw the no-clip coupon in the newsletter. Cannot be combined with other coupons or discounts. In stock items only. One time use per person, please!
Expires 12/31/2018
Our Lady's Chapel is Decorated!
Come visit us during these Advent and Christmas seasons
and see how pretty it is.